The advent of Hublot's Big Bang essentially launched the provocative, innovative and disruptive brand. The brainchild of horological mega-doyen Jean-Claude Biver, the Big Bang arrived on the scene way back in 2004, and since then, it has not only reinvigorated but redefined what Hublot stands for. The evocatively named, plus-sized timepiece has been the wrist-worn proving ground for myriad material and technical revolutions that have broken boundaries and exceeded expectation time and time again.
Not all Big Bangs are equal though, at least as far as recognition goes. The lesser-known, tonneau-shaped Spirit of Big Bang has always been somewhat left in a shadow cast by its older, more traditional, rounder sibling. That's a real shame, because there are a fair few enthusiasts out there, myself included, who reckon it's one of Hublot's best offerings.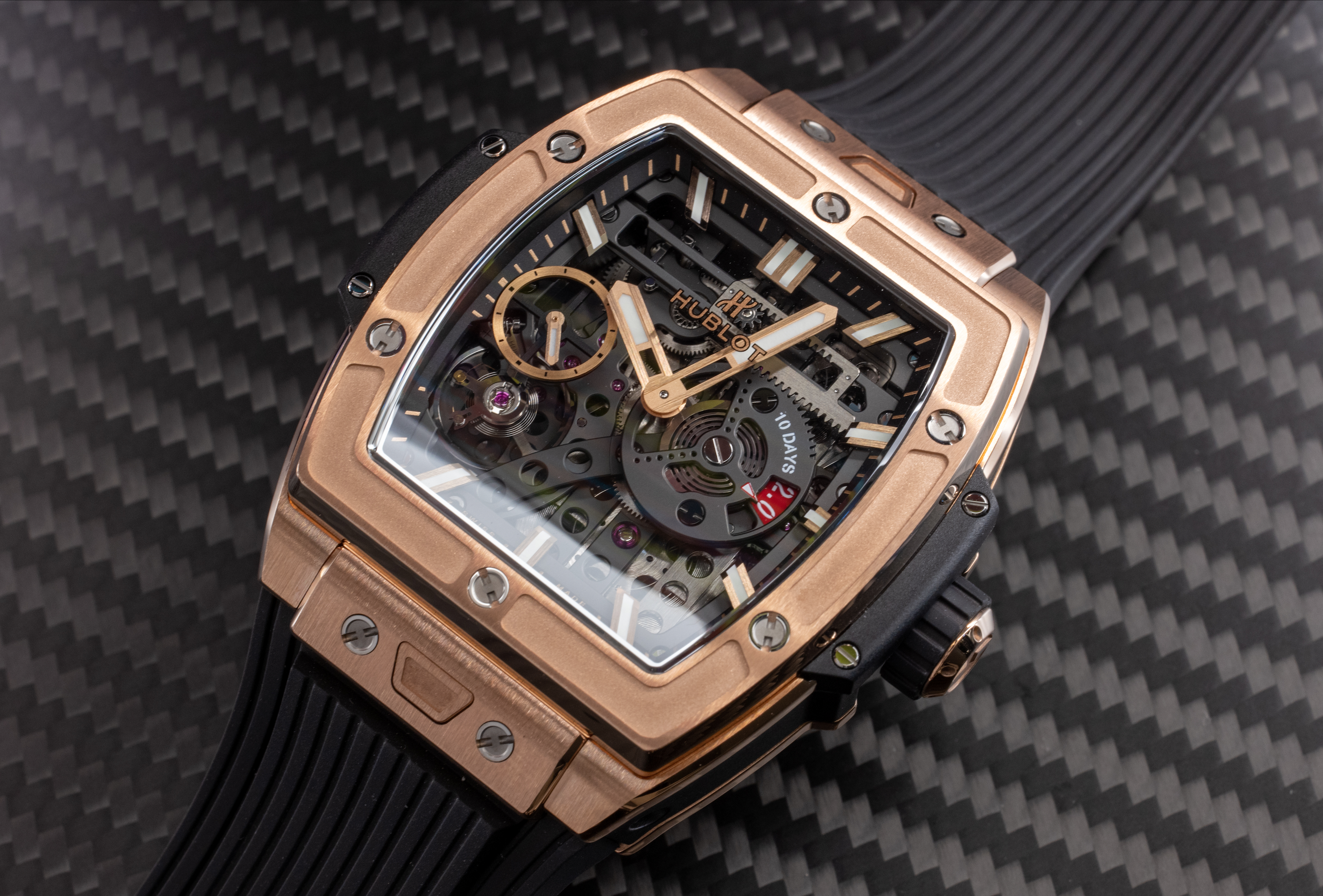 Now, though, Hublot is starting to give the angular timepiece the love it deserves, by equipping it with one of their most technical, flagship manufacture movements – the Meca-10. For those of you who don't know about this new leviathan of haute horology, keep reading, because it's one hell of a movement.
As for the watches themselves, the Hublot Spirit of Big Bang Meca-10 will be available in three different materials – titanium, King Gold and ceramic. Each model looks wonderful (titanium, yum!), but Hublot was kind enough to let us get Hands-on with the most expensive variant of the range, the King Gold, so we could tell you lovely folks about it. And, boy oh boy, is there some positives about this timepiece.
The case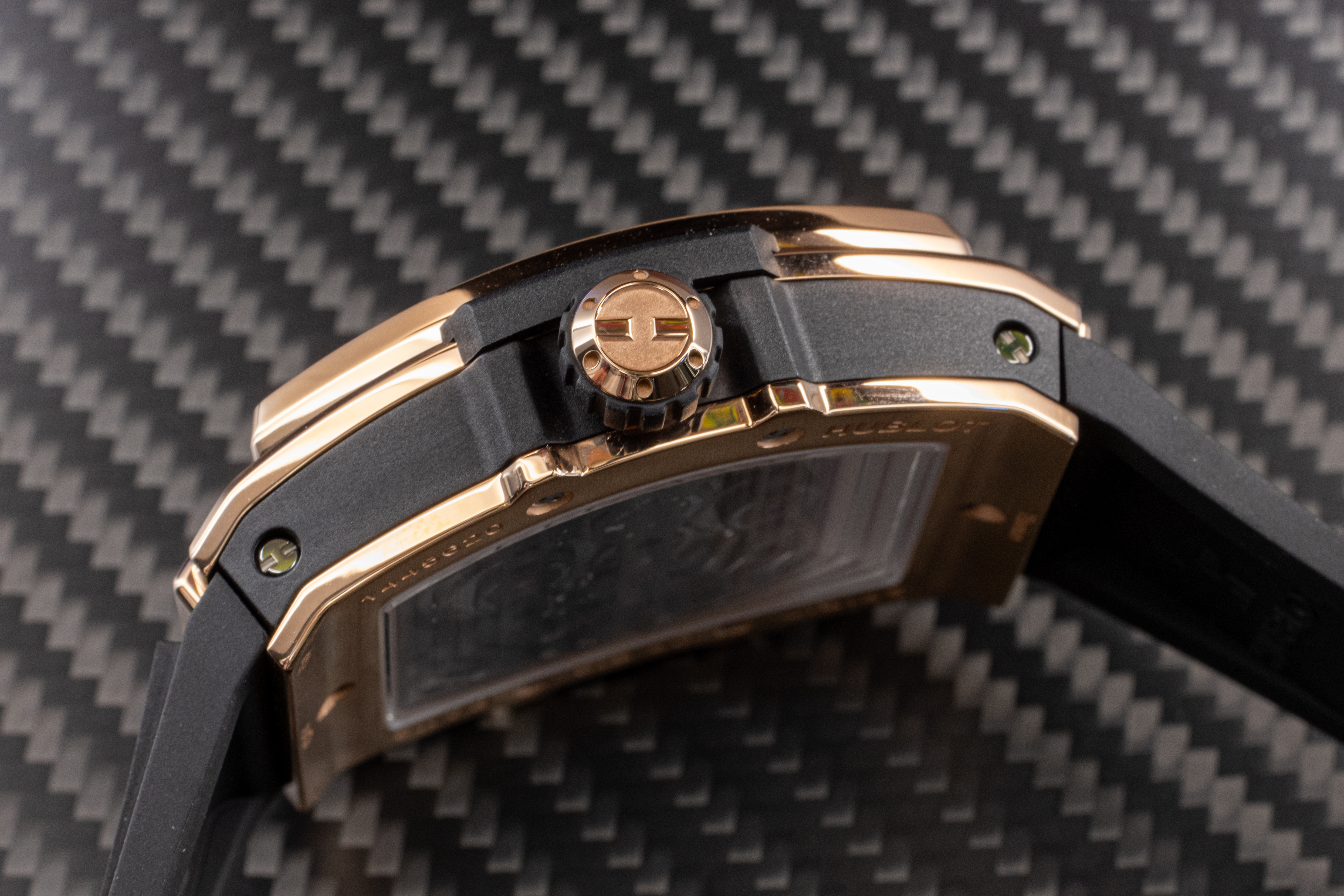 Satin-finished with glossy, polished chamfered edges, the angular and curvaceous case of this Spirit of Big Bang Meca-10 is, as its name would suggest, hewn from Hublot's lauded "King Gold". For those who don't know, aside from sounding completely badass, King Gold is the watchmaker's proprietary blend of precious metals such as gold, platinum and copper. We'll skip all the deets on the alchemist wizardry needed to create the finished product, but needless to say, the result is a metal with tangible regality, and one richer and more lustrous than any type of pink or red gold that you're likely to find.
And in contrast to the black composite materials used in the rest of the case construction, it's a heady, intoxicating item to have resting on your wrist. Mind you, it'll need to be a big wrist, because the case is a substantial 45mm, and it looks every bit its on-paper measurements. The majestic case is, like almost all Hublots, sandwiched in sapphire crystal, giving wearers ample opportunity to gaze at this watch's most valuable asset.
The movement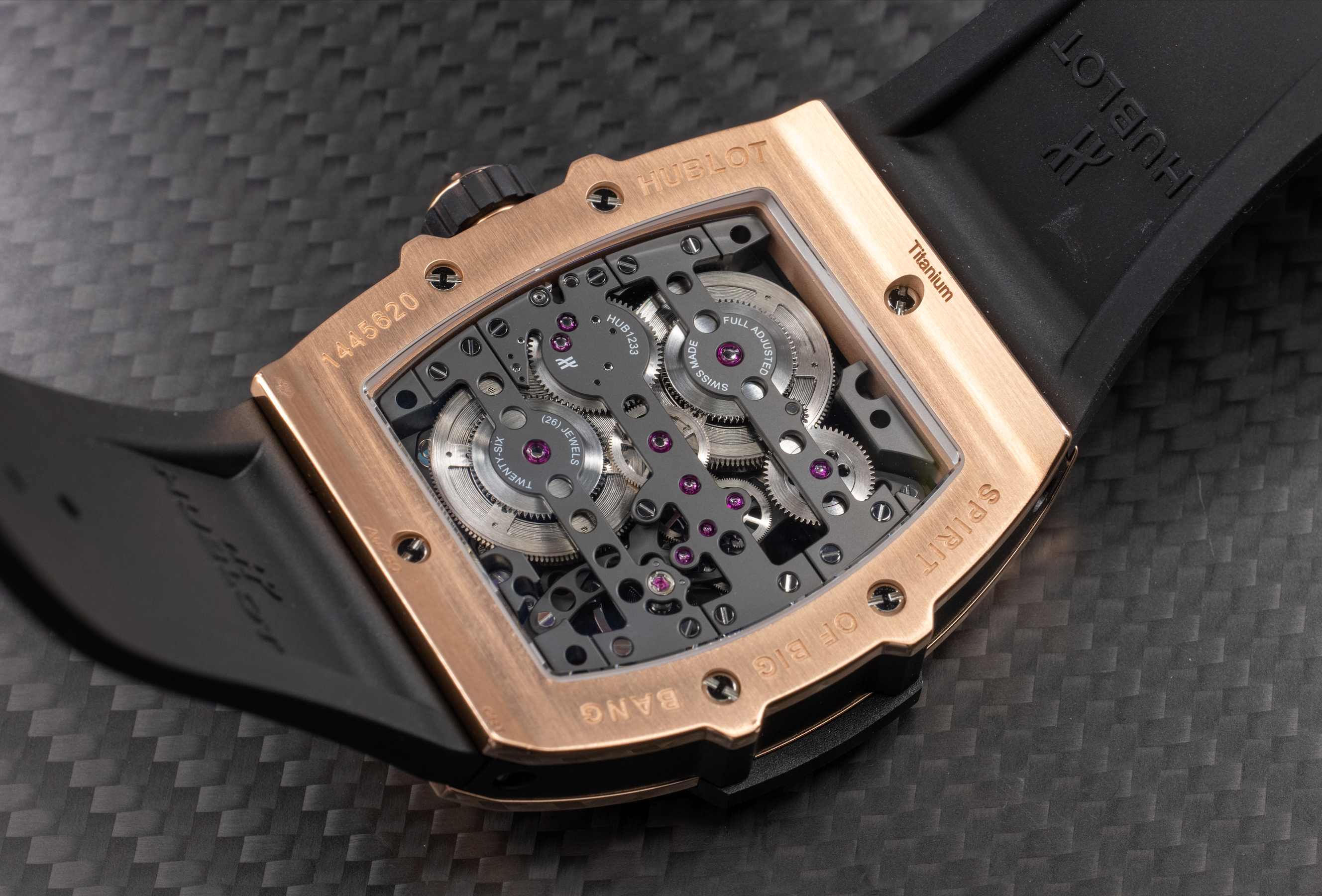 Any guesses what the power reserve of Hublot's manufacture Calibre Meca-10 is? I'll give you a hint – the clue is in the name. Say it with me now, "10 days" … 10 frickin' days or, in another metric, 240 hours. That is obscene, and regardless of the Herculean movement's additional power reserve complication, even the most forgetful of Freddys could use this watch and not lose the time due to a lack of energy. Speaking of energy, the skeletonised movement gains its drive, rather obviously, from manual winding. For some, manually winding a watch's movement can be a pain, but when you've got enough oomph to power five timepieces, it's not really a bother. And even if you chose to wear this watch each and every day, you'd only have to wind it 36.5 times a year. How cool is that?
The dial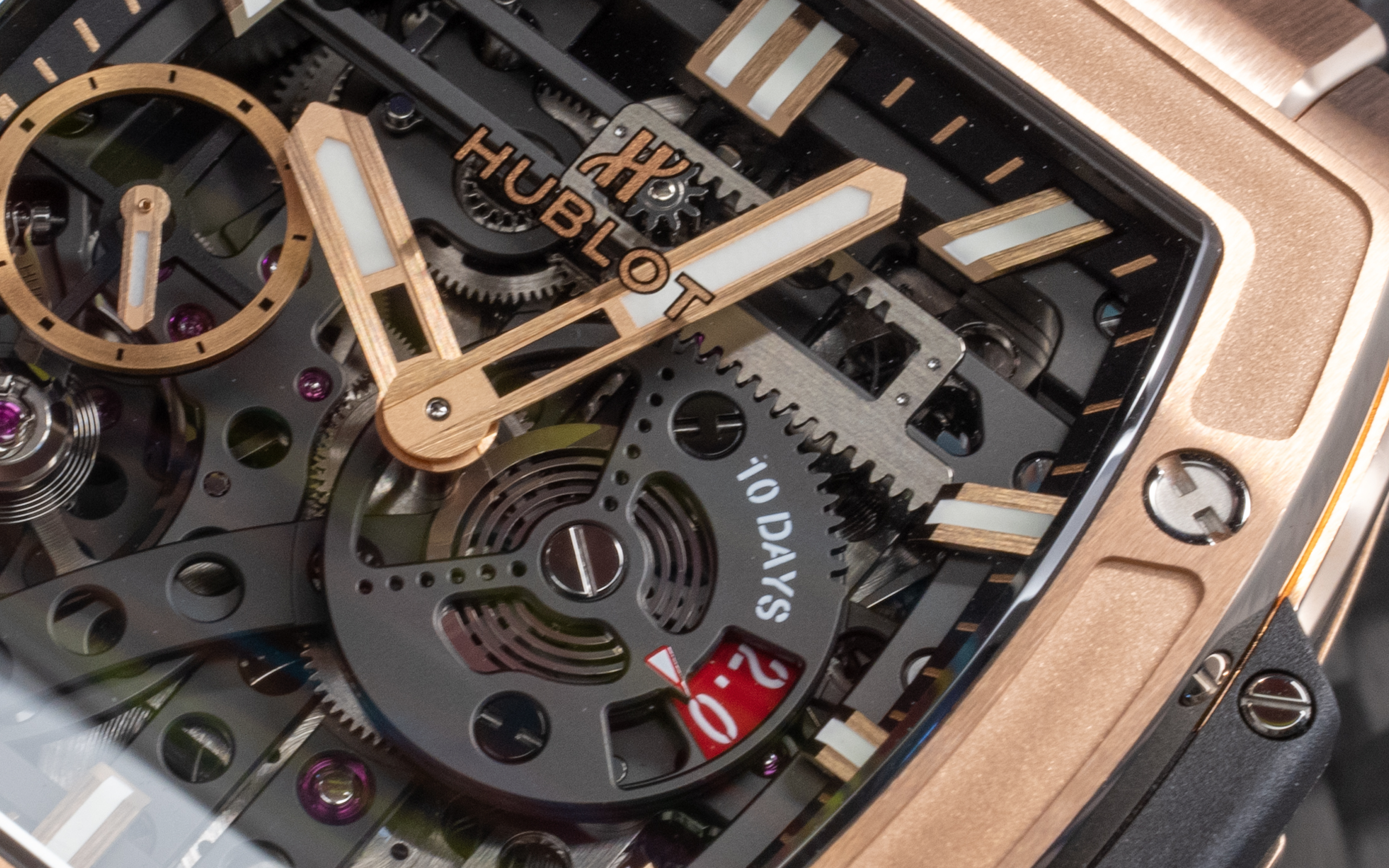 Like the rest of the watch, the dial of the Spirit of Big Bang Meca-10 King Gold is, to say the least, avant-garde. The matt black skeletonised movement almost entirely dominates the face of the watch. However, Hublot has created brilliant contrast and therefore, legibility, by making the handset, indices, minute track and small seconds (located at nine o'clock) all King Gold. Both the indices and handset are applied with Super-LumiNova, which is very handy indeed. The power reserve complication, located off-centre and to the right of the dial at three o'clock, is very easily read, too, and wearers are warned of the power reserve running low by the bottom portion of the display painted in bright red.
The strap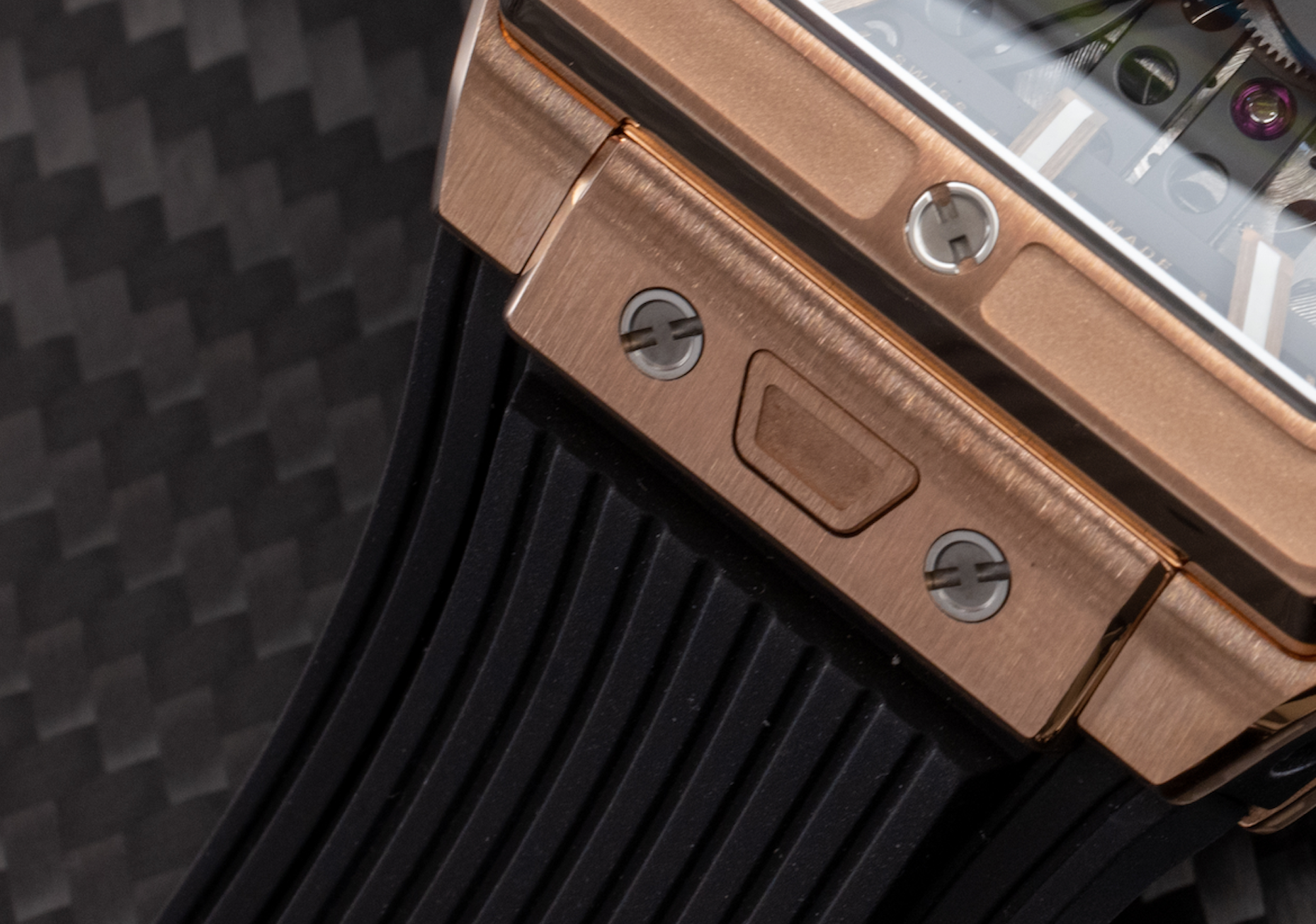 Hublot has always been known for its rubber straps – it's one of the company's founding tenets. It is unsurprising, then, that the structured black rubber strap used on the Spirit of Big Bang Meca-10 is nothing short of wonderful to have wrapped around the wrist. It is one of the superlative rubber straps in the watchmaking game, and I'd happily have it attached to my person 24/7, 365. The textured rubber strap is accompanied by a King Gold and titanium deployant clasp with dual push-button actuation, and it is silky smooth and easy to use, and further complements the predominant aesthetics of the timepiece.
On the wrist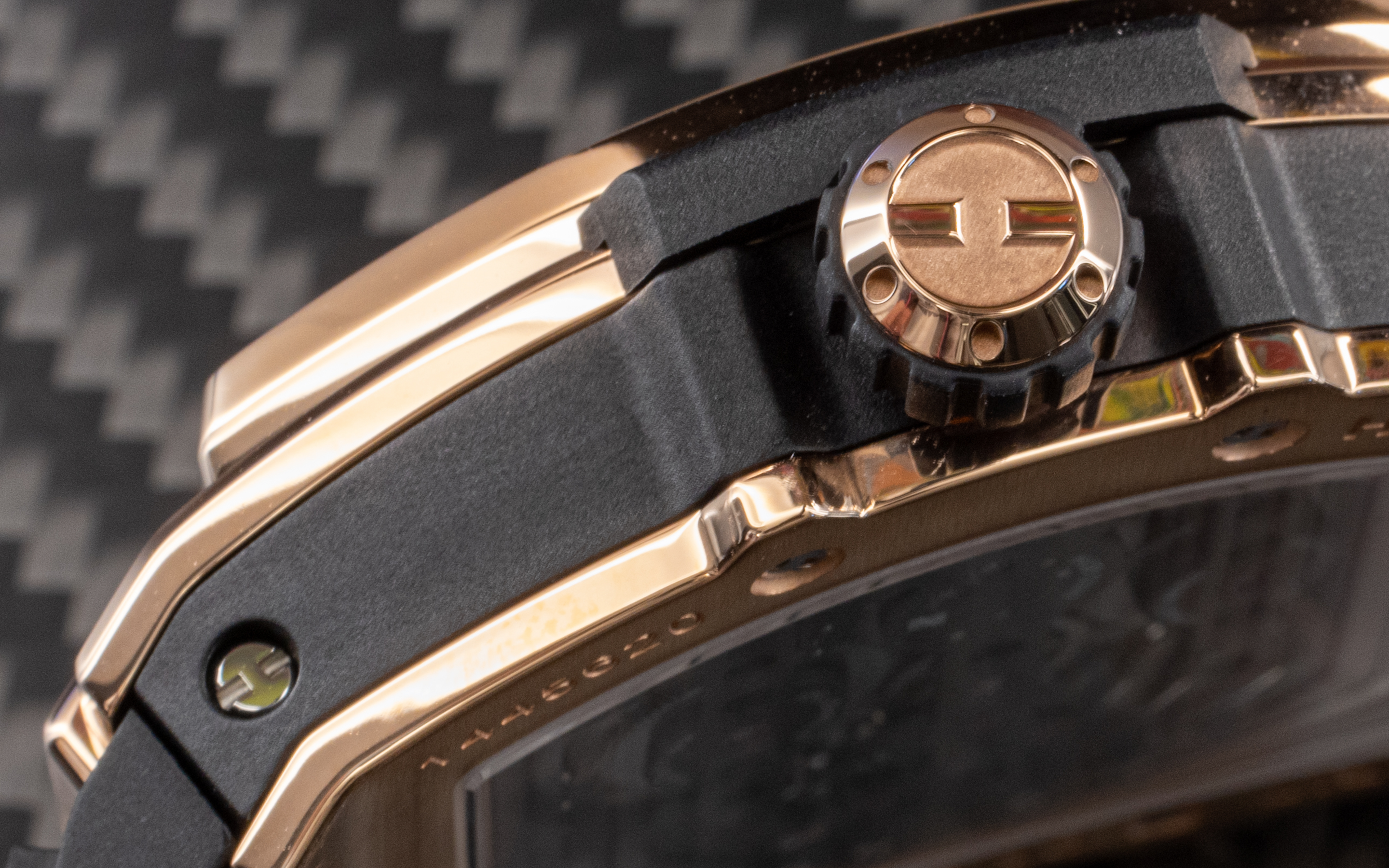 Predictably, having a timepiece with rock star looks, awesome technical capability and a price tag comparable to that of a medium-sized German saloon car attached to your wrist is a pretty wonderful thing. It makes you feel like a bona fide baller, and that effect cannot be discounted – it is a powerful sensation. It is also surprising how comfortable it is to wear, despite its size … it just feels effortless.
The verdict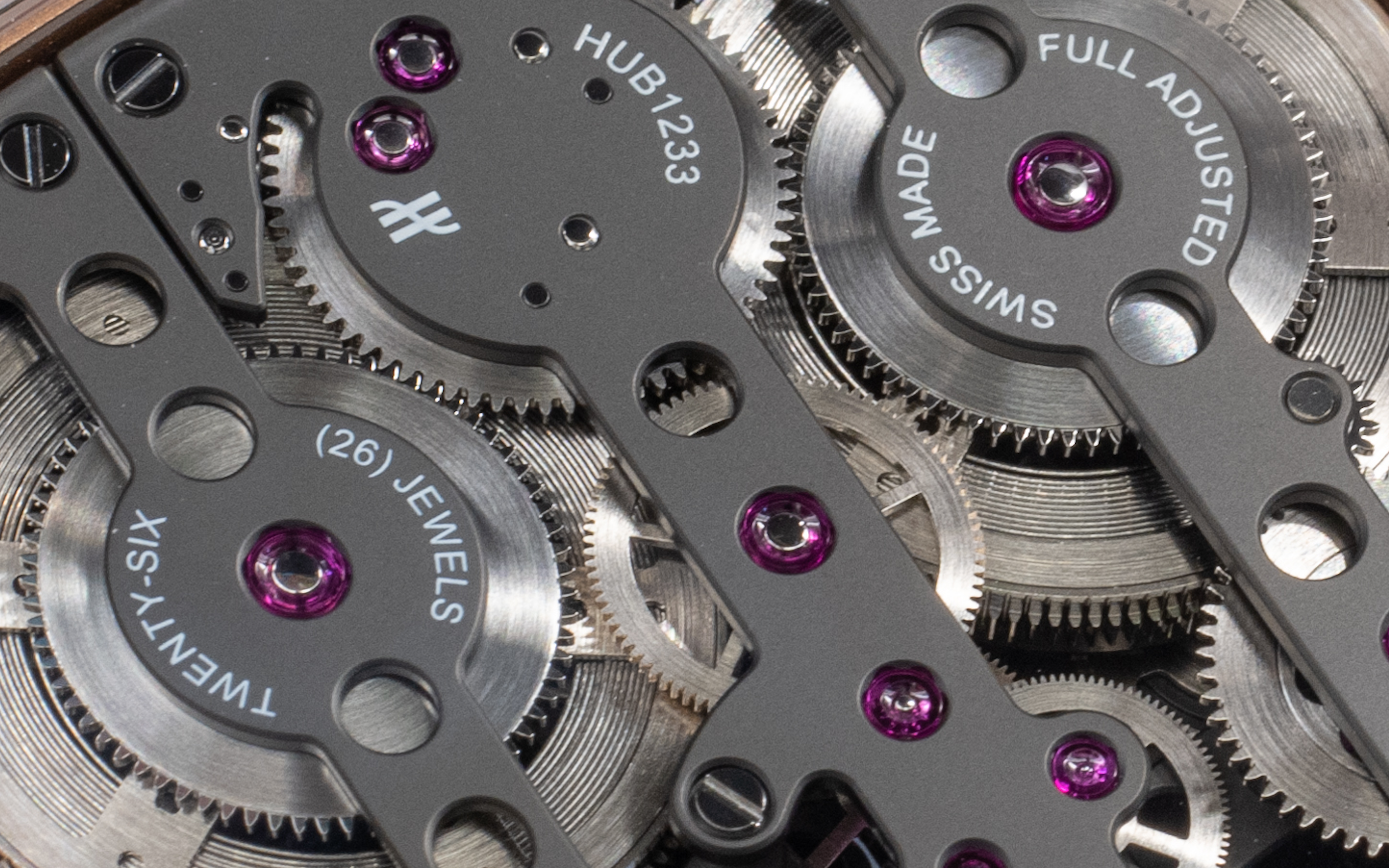 It may not be to everyone's taste, and if you like looking over your shoulder to the hits of the past rather than what's ahead of you, this definitely isn't the watch for you. But for those who want something that feels resolutely modern, both aesthetically and technically, then the Hublot Spirit of Big Bang Meca-10 King Gold is a pretty marvellous bit of kit.
The Hublot Spirit of Big Bang Meca-10 King Gold pricing and availability:
The Hublot Spirit of Big Bang Meca-10 King Gold is $61,500 AUD and is available at both the Hublot boutique and authorised dealers across the country.