One of the most interesting things about the Coronavirus pandemic is how everyone has had to adapt to the new norm. Social distancing, working from home, Zoom catch-ups and stockpiling booze and toilet paper like it's gold bullion. All part of a day's work in 2020. It's also been fascinating and, for the most part, motivating to see how sports franchises across the globe have dealt with essentially not being able to operate since March.
Now, for some disciplines, nothing much could be done – NFL, NBA, MLB, AFL, NRL, EPL … they all had to pack up shop for a fair chunk of the year. But other sports, thanks to the ever-growing popularity of Esports, have been able to not only survive online, but thrive.
Motorsport is one such discipline that very quickly adapted to the digital-only era, and it's been brilliant to see that it's made the sport, if anything, more accessible and inclusive. What was once a grossly expensive spectacle, reserved for a privileged few, can now be enjoyed by anyone with an internet connection, sim racing set-up and a desire to clip apexes and dive-bomb opponents in breaking zones.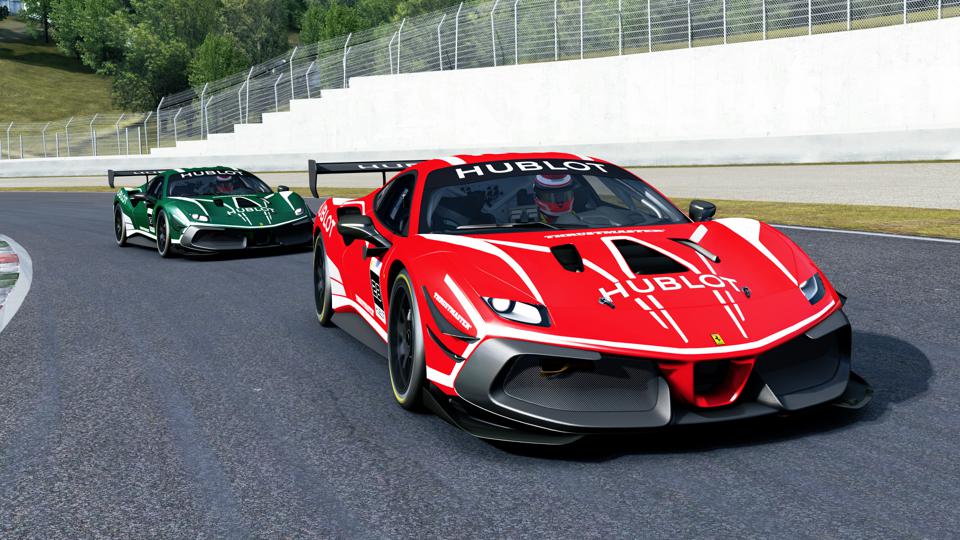 That's why Hublot and Ferrari have teamed up to create a brand new amateur Esports series for petrolheads everywhere. Set to launch in September, it will start with a GT series organised by Ferrari that will utilise gaming studio Kunos Simulazioni's famed sim racing title, Assetto Corsa. Unfortunately, this inaugural running will be restricted to European residents only, though the series is set to expand globally, and anyone with a screen can tune in to watch the mayhem unfold.
Champions of the new amateur series won't just get a virtual pat on the back and a bevy of thumbs-up emojis either – victors will get to progress to a Pro Series, which will feature some of Esports' biggest names. Ferrari Formula 1 ace Charles Leclerc will also be taking an active part, offering participants advice about how to get the best out of their virtual race cars (Ferrari 488 Challenge Evos, in case you're wondering).
Speaking about the new E-series, Hublot CEO Ricardo Guadalupe said, "We are really proud to be title sponsor of this competition organised by Ferrari. Hublot is at the cutting edge of technology in the luxury watchmaking industry and, for me, being part of the Esports discipline was a given, even more so as we are doing it with our longtime partner, Ferrari."
It's a great move by the two powerhouses of the automotive and horological worlds … we can't wait to tune in and watch the pixelated carnage unfold.