Green, lean and not at all mean – Hublot's Classic Fusion Titanium Green
Time+Tide
Editor's note: For all that Hublot is a name strongly associated with big, bold colours (and rightly so, might we add), they're not afraid to show their more subtle side on occasion. Take, for example, this Classic Fusion Titanium Greed – what a dial!
This week we're looking at Hublot watches that aren't the Big Bang. Yep, you read that right. For all that the brand is virtually synonymous with their iconic (or is that iconoclastic?) sports watch, it turns out Hublot isn't afraid to show their softer side on occasion. You know what else Hublot has never been afraid of? Colour. Both these characteristics are very much in evidence with this stylish Classic Fusion Chronograph in green.
First of all, a quick primer on the Classic Fusion line — the collection, introduced in 2010, is intended as a slightly more subtle (dare we say dressier?) offering than the traditional Big Bang, while still possessing some of those indisputable Hublot hallmarks — the 'H' screws on the bezel, the solid end links on the strap, and those contrasting 'ears' on the case at three and six. It's a softer Hublot, sure, but it's still a Hublot.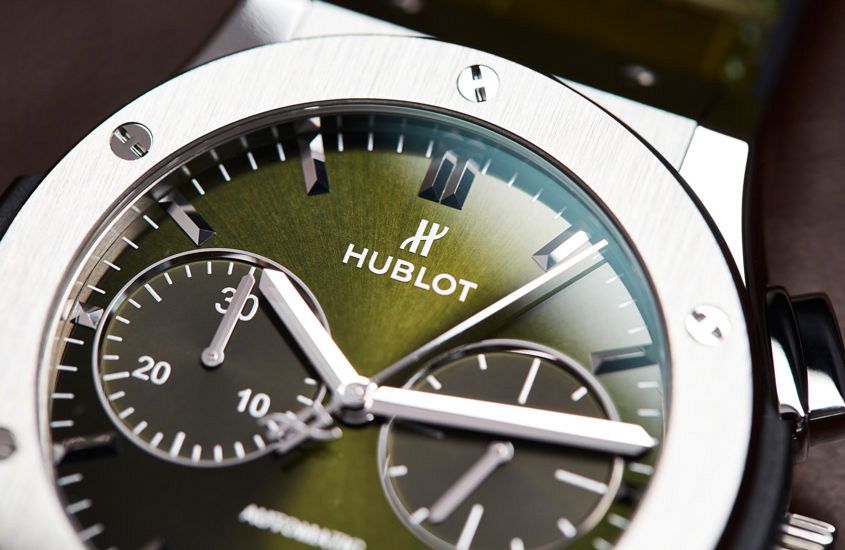 It's also an incredibly stylish watch. The green they've opted for is a rich olive, dark, and far from garish. The satin-finished green sunray dial is a wonder to behold, throwing light all over the place thanks to the polished, faceted markers and hands, not to mention the rich texture of the dial itself. The colour is beautifully picked up in the rubber-backed alligator strap, with slightly brighter green contrasting stitch. And then there's the case itself, 45mm of titanium goodness, a mix of polish and vertical brush ensuring that checking the time is never dull. Visible through the back is Hublot's HUB1143 movement, not one of their newest movements but one that's totally fit for purpose, though it's worth noting that this watch comes with 50m of water resistance — one of the payoffs for a less sporty watch.
To me, though, this watch is another great example of what Hublot do so well, and why so many people like the brand. It's got undeniable wrist presence — you can tell what it is from across a room, but beyond that, it's a genuinely good-looking and stylish piece, thanks largely to the smart use of colour. And while it's true that this watch is *only* a new colour variant, I think that mentality diminishes the skill and work involved in doing colour well. And if you look at this watch — or indeed Hublot's wider catalogue, jam-packed with watches like the Red Magic, or the All Black Sapphire Rainbow, or even their Texalium models — I think you'll find it hard to argue that Hublot aren't masters of colour.

Hublot Classic Fusion Titanium Green Australian pricing
Hublot Classic Fusion Titanium Green, $14,000