The 2019 Cricket World Cup is underway in the UK, and official timekeepers Hublot are there, busily timing every single match. The brand has been busy in other ways, too – coming up with a tremendously on point limited edition to celebrate. It's their second World Cup watch (you might remember the first from 2015), and we've got to say they really nailed it with the Aerofusion Chronograph Cricket World Cup 2019.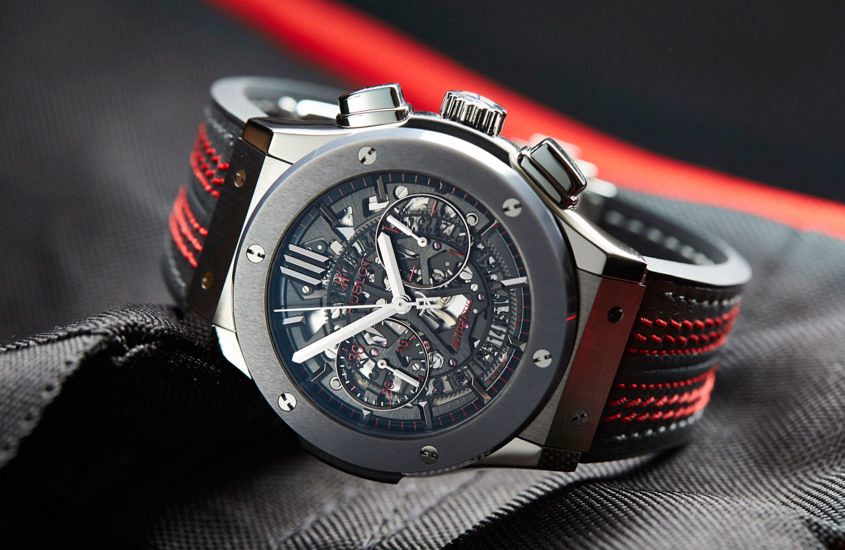 This watch strikes just the right level of balance for a sporting tie-in piece. There's lots of cricket details at play, but you're never beaten over the head with them. Plus, the colour scheme is just plain hot.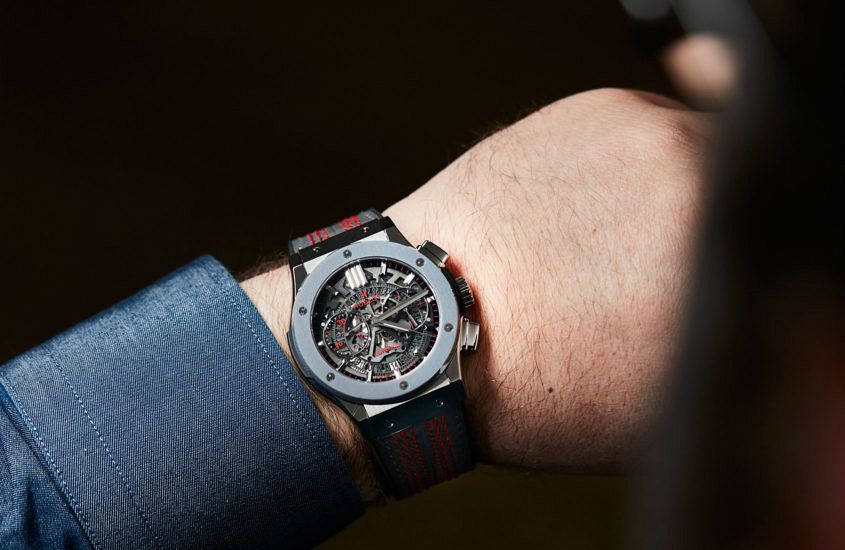 Perhaps the most obvious nod to the game is the strap: rubber-backed grey calf with a distinctive six rows of bright red stitching that will feel instantly familiar to anyone who's bowled a ball down a pitch. In some ways, this strap is more of an attention-seeker than the 45mm watch itself. The open dial picks up the red highlights, in the dial text, chronograph registers and the minute track.
There's a couple of nice nods to cricket here, too — notably the three batons at 12 that bear more than a passing resemblance to wickets. Likewise, the shape of the hands is inspired by the sharply angled blade of a cricket bat (it's particularly noticeable on the chronograph hands). The sapphire caseback is printed with the ICC World Cup Logo.
One touch I really loved about this Aerofusion was the bezel. Sure it's got those exposed H-head screws, but the bezel material itself is smooth grey ceramic that's been vertically brushed on the front and polished at the sides. The effect is subtle, stonelike and somewhat unexpected. It also really brings the tones of the dial, titanium case and strap together beautifully.
Hublot has really planted a fast one down the crease with this limited edition – it's a cracking watch, even if the World Cup isn't your speed.
Hublot Aerofusion Chronograph Cricket World Cup 2019 price
Hublot Aerofusion Chronograph Cricket World Cup 2019, limited to 100, $22,100 AUD