How did my $200 Seiko become worth $1200?
Fergus Nash
Resale value is a can of worms like no other, turning the discussion of wristwatches from a matter of taste into an investments debate. On one end of the spectrum are people who are happy to buy watches at their retail price, because they've got no plans to sell them as soon as they're paid for. On the other hand, you have people like this, who hoard a ridiculous number of popular watches only to flip them for an extortionate profit after they've been sitting in a safe for a few years. In my own collecting I've strived to be mindful of resale value when spending large sums on watches, but less so when it comes to something below the $500 AUD mark. So, you can imagine my surprise when I saw that a quartz Seiko I'd bought new in June 2020 for $200 was now selling for well over $1,000 more.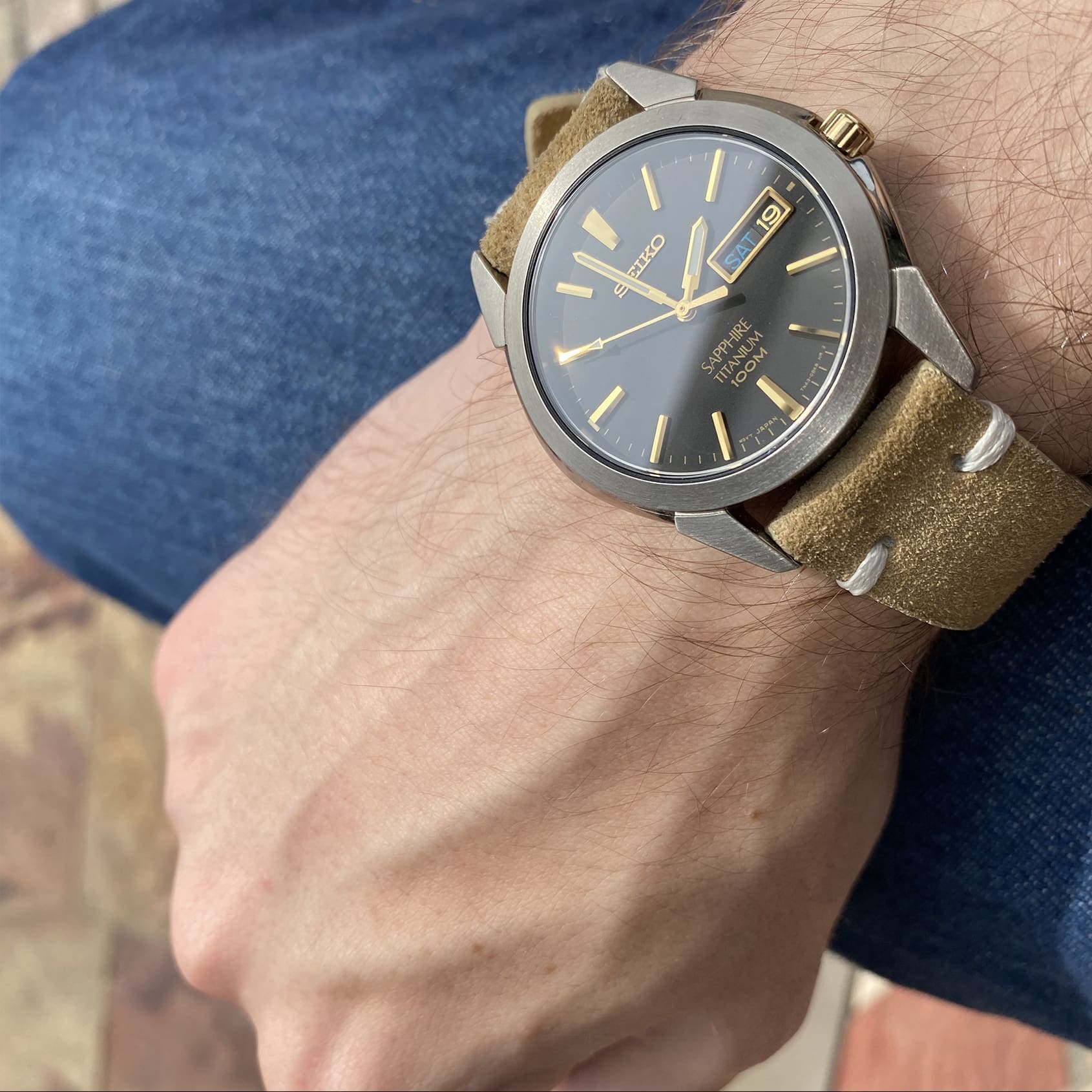 My introduction to the Seiko SGG735 began when I was craving a cheaper watch that I didn't need to worry about while on holiday. I wanted something with a quartz movement, a sapphire crystal, at least 100m of water resistance, and some kind of quirky characteristic to feed my own tastes. As a big Seiko fan, the SGG735 popping up on my eBay search caught me completely off guard. Not only did it fulfil my list of prerequisites, but it was also made with a solid titanium case, and a titanium (albeit rather flimsy) bracelet. The specifications alone were mind-boggling for a recognisable brand below $200 AUD, and that's even before considering how gorgeous the charcoal-grey dial looked with its yellow gold applied indices and hands.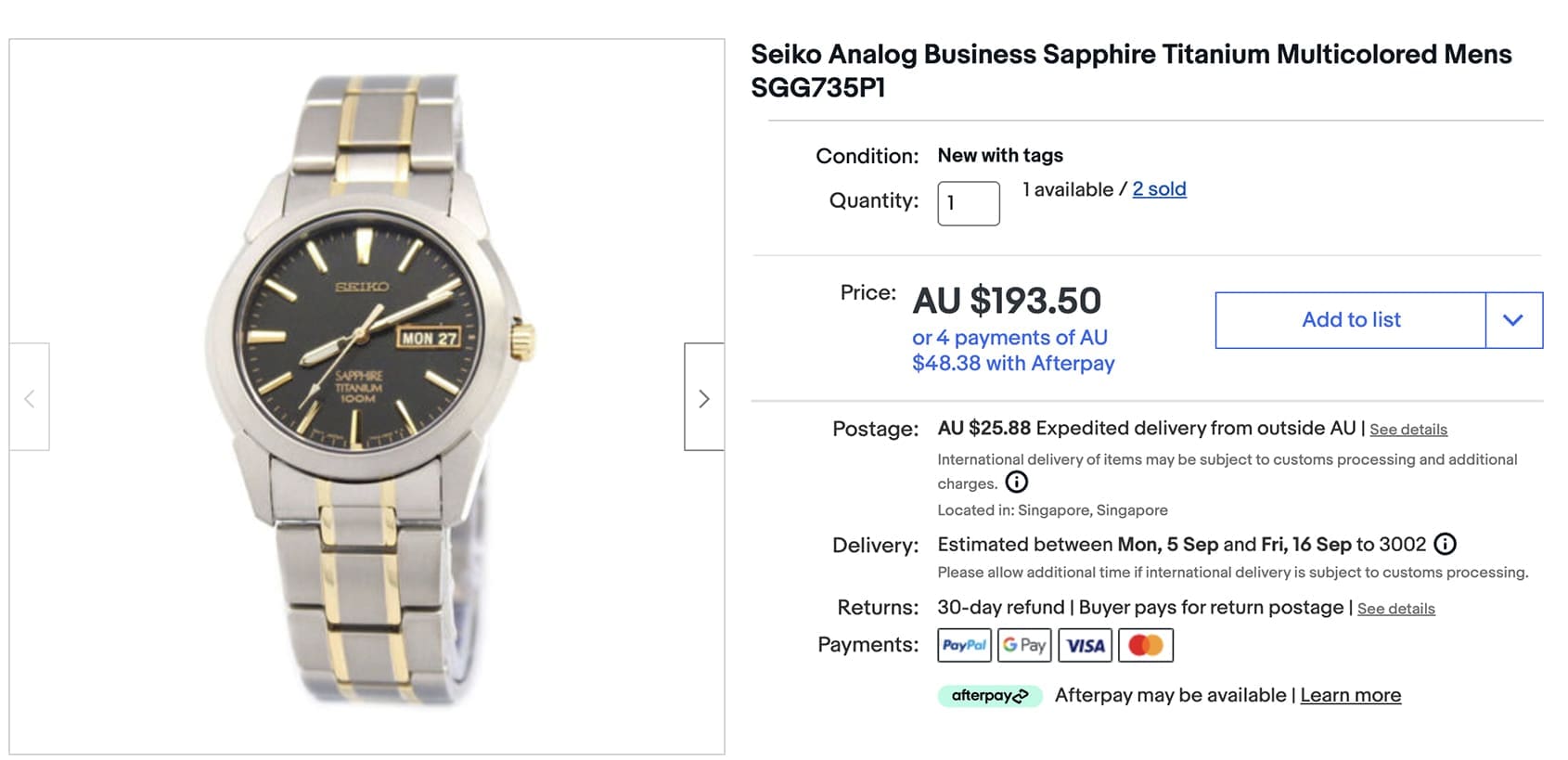 When I got it, I slapped on a tan suede strap, and it just looked delicious. I couldn't believe how good it looked for s0 little money, and in the following two years I would happily pick it back up, swapping between the suede, bracelet, and a rubber Barton strap without much more thought. It wasn't until I was planning out an article about the best discontinued Seiko bargains (keep an eye out for that in the future) that I searched up the SGG735 on eBay, and this is what I saw: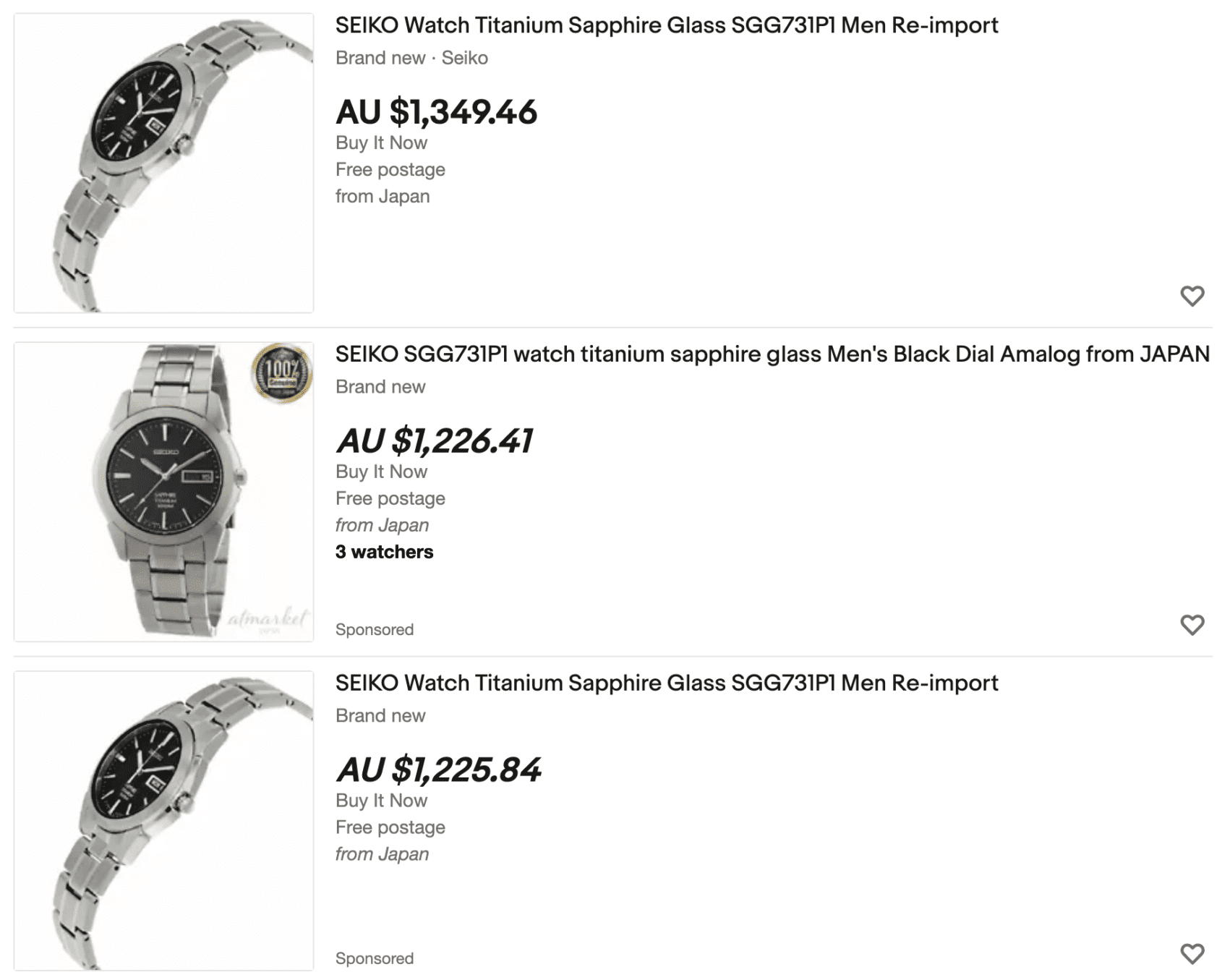 Now, this reference is technically the SGG731, which is the same watch but with silver dial details instead of gold. The SGG735 which I own isn't for sale on eBay, but I did find a single one left in stock in Australia advertised for $699 AUD plus $49.99 for shipping. To be totally transparent and spoil the clickbait headline, I don't believe this means I could sell my $200 Seiko for a $1,000 profit, but it does point out an interesting phenomenon that's increasingly common among Seiko watches, and indeed any major watch brand.
The tipping point for Seiko as a brand was 2019/2020, discontinuing swathes of collections in favour of a more streamlined design approach that focused energy on automatic sports watches such as the Seiko 5 and Prospex lines. Whether due to inflation, the pandemic, or just market strategy, this coincided with Seiko moving away from the "bargain" reputation their lower-end watches held to a higher baseline of quality and consistency. Yes, we all miss the SARB033 which now commands four-figure prices from resellers, but for every spec-heavy value buy like the SARB and SGG735, there were dozens more references that weren't as popular and just saturated Seiko stockists' catalogues.
There are a few lessons to take away from this story, and the most positive one is that you really can get into the resale games at a low price point. Even though I got lucky with my Seiko, a collector with their ear to the ground can definitely work out which niche options stand to become in demand soon. Ultimately, I'm far too fond of my SGG735 to sell it, and unlike the Omega Planet Ocean I sold in January, there's not enough dough wrapped up in it to worry.