From Chris Hemsworth in Extraction to American Sniper, why G-Shocks are the ultimate bad-ass watches
Luke Benedictus
"The least believable part of Extraction is that at no point do any of the 183 people that Chris Hemsworth kills mention how ridiculously good looking he is…"
That's what Netflix said in a recent tweet about their new balls-to-the-wall action extravaganza that's set to become their biggest movie ever (90 million households watched the film in the first four weeks). The pleasantly ludicrous shoot-em-up finds Hemsworth weaving through a barrage of bullets in his role as Tyler Rake, a mercenary tasked with recovering the son of an Indian drug lord. Suffice to say, he doesn't take a softly-softly approach to his mission. The body-count is truly apocalyptic.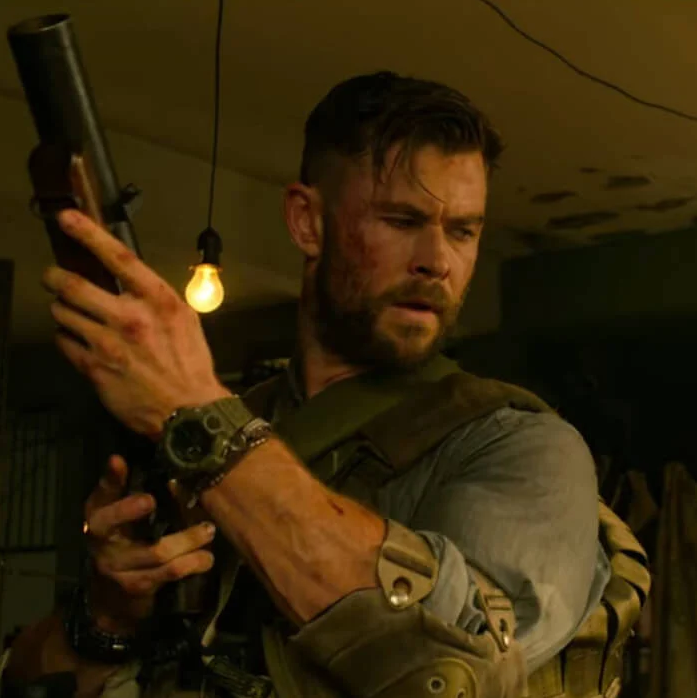 Consequently, there's some pretty stiff competition when it comes to the "least believable" elements of the film (one single-take action scene includes a car chase, a dramatic rooftop escape, another car chase, hails of bullets, a knife-fight and a crazy number of explosions…). Yet one area that requires no willing suspension of disbelief is Hemsworth's wristwear. Throughout Extraction, Australia's favourite action-hero wears a Casio G-Shock Rangeman GW-9400.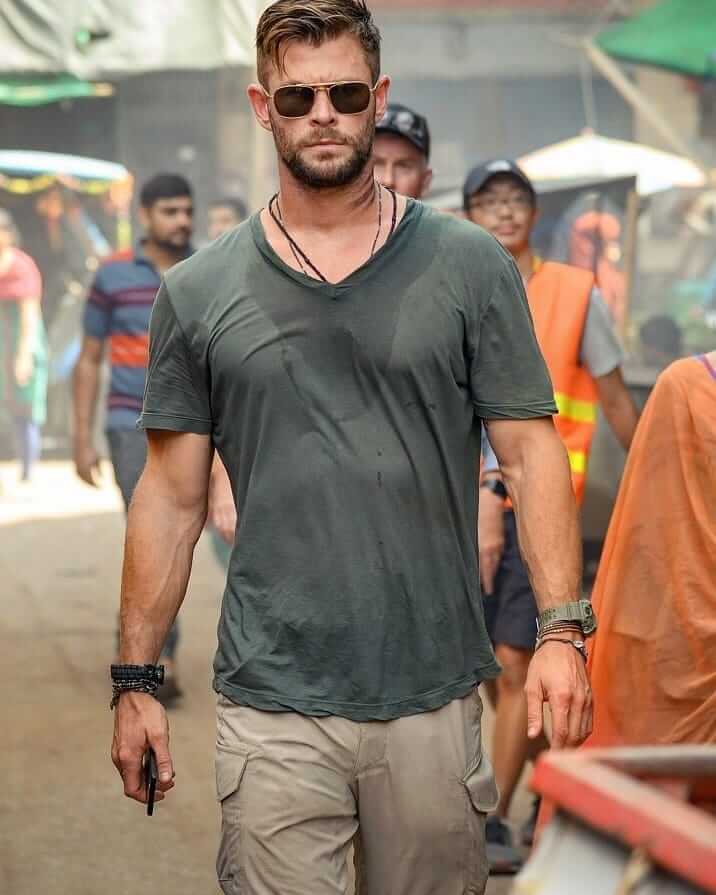 From a functional perspective this is a spot-on choice. The Rangeman series is billed by Casio as being able "to stand up to the most gruelling conditions imaginable" – circumstances for which Hemsworth's blood-soaked impersonation of a one-man army presumably qualify.
Aside from offering next-level toughness, the watch comes with a predictable arsenal of digital functions including altimeter, barometer, compass and thermometer. Even the stopwatch is hardcore – it can measure up to 1000 hours – while there's also a neat sunrise/sunset function that's handy for plotting nocturnal manoeuvres. If, like Hemsworth, you're planning to take on the Bangladeshi army, more or less single-handedly, then you need a sturdy survival watch.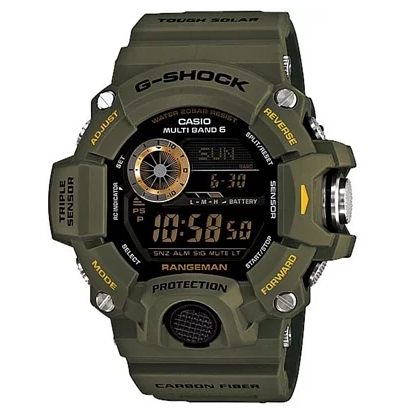 G-Shock have some form in this particular department. Essentially, they've become the watch of choice for any stone-cold killing machine with a vaguely military bearing. Rewind to 2014 and American Sniper hit the big screen to emerge as the highest-grossing war film of all time. Based on a true story, Bradley Cooper played Chris Kyle who turned into the deadliest marksman in US military history after notching up 255 kills from four tours of Iraq.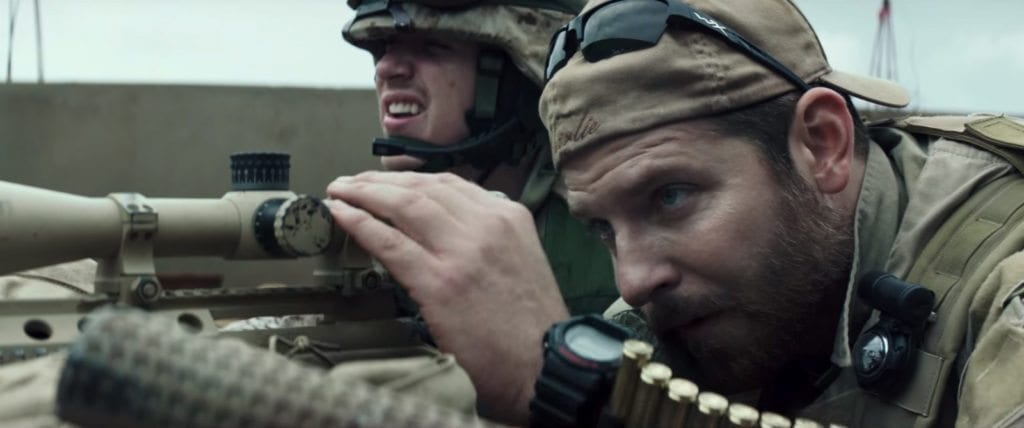 Notably, Cooper's character wears a G-Shock DW-6600 that was actually the standard issue watch to Navy SEALs during the 1980s (after they took over from the Rolex Submariner). Discontinued by Casio in 2010, its military popularity came from its shock-protection, 200-metre water resistance and backlighting that illuminated the entire display.
Cooper's wristwear, in other words, was not some idle hunch by the props department. In Kyle's autobiography – on which director Clint Eastwood based the film – he even talks specifically about his choice of watch during active service.
"On my wrist, I'd wear a G-Shock watch," he writes. "The black watch and its rubber wristband have replaced Rolex Submariners as standard SEAL equipment. (A friend of mine, who thought it was a shame the tradition died, recently got me one. I still feel a little strange wearing a Rolex, but it is a throwback to the frogmen who came before me.)"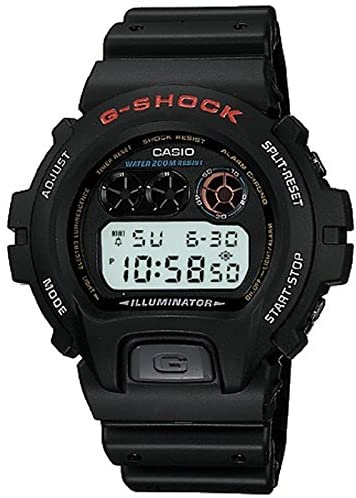 The reason why the G-Shock became the Navy SEALs' preferred wristwatch stemmed from its insane durability. Created in 1983 by Kikuo Ibe, it was purpose-built  to pass the "Triple 10" test that required a watch to survive a 10-metre drop, remain water-resistant to 10 atmospheres (100 metres) and possess a battery that would last for 10 years.
While there's no standard-issue watch for Navy SEALS today, G-Shocks still have plenty of advocates. Jocko Willink and Leif Babin are former Navy SEAL commanders who've become bestselling authors on the back of books that apply their military leadership principles to the business world. Willink himself favours a Timex Ironman T66801 that gets plenty of exposure every morning when he posts his heinously early wake-up time to his 1.3 million Instagram followers.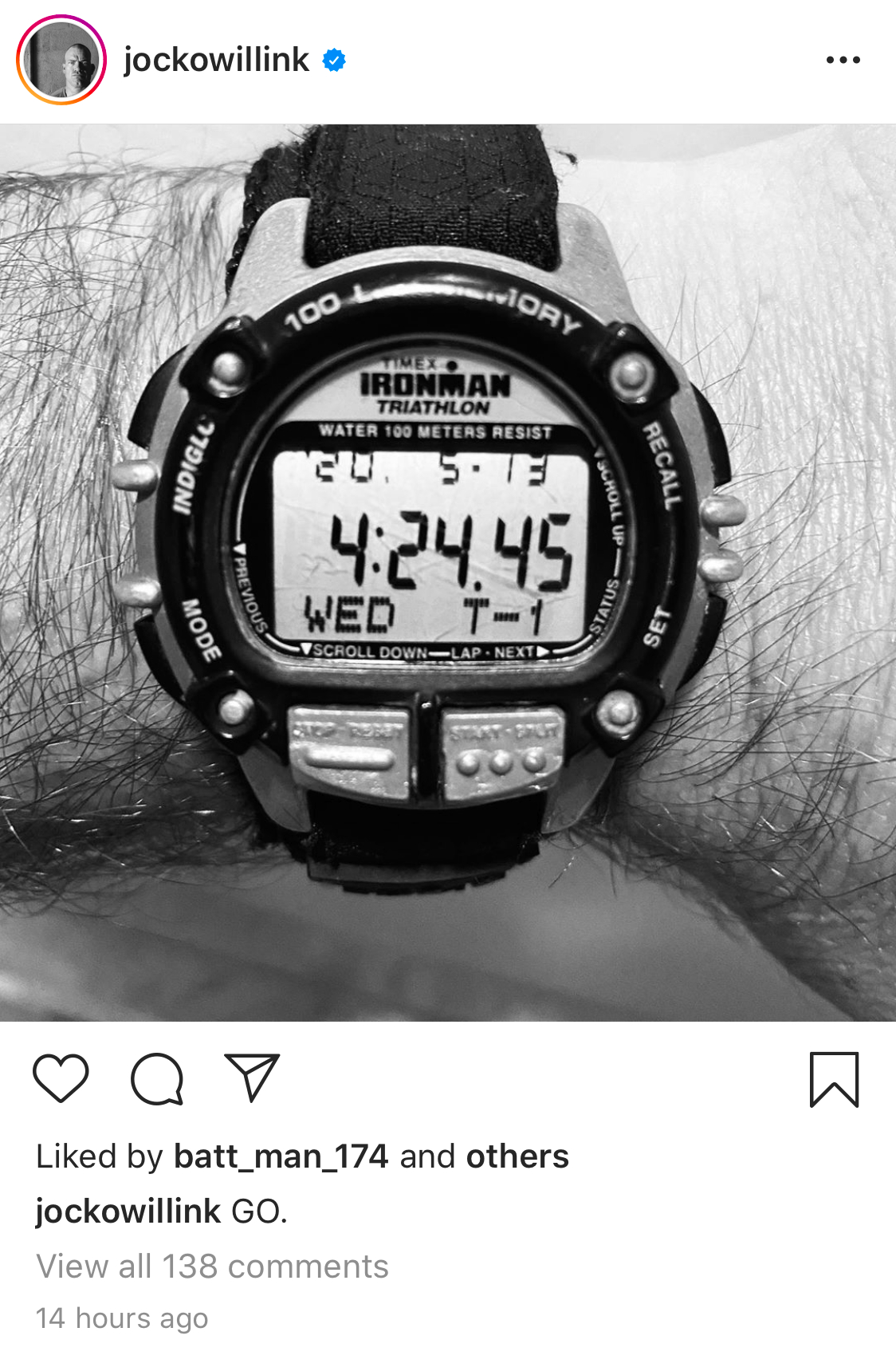 Nevertheless, both Willink and Babin have testified on social media to the G-Shock's enduring appeals among Navy SEALs.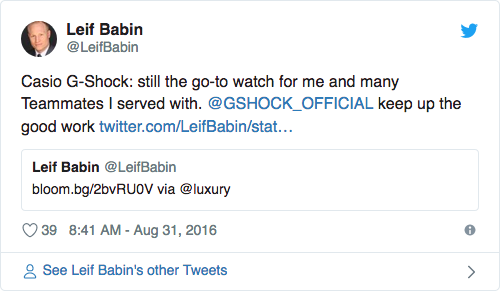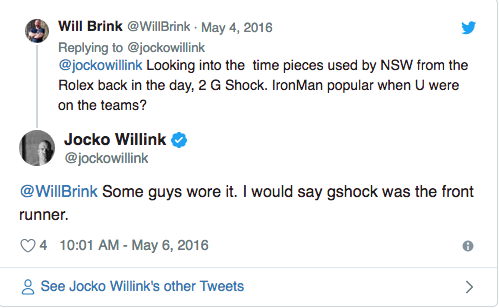 Back to the movies and plans are already underway for Extraction 2 with director Joe Russo confirming the film is already in the "formative stages". T+T's early predictions for the sequel? More lavish explosions, outrageous gunfights and Hemsworth strapping another G-Shock onto his muscular wrist.