One watch leapt out at me from Oris' 2017 collection – the Chronoris Date. Not only is the colour scheme and tonneau case shape pretty eye-catching, but it's also an honest and authentic homage to the timepieces of the '70s. In fact the Chronoris name refers to a 1970 design that was the brand's first chronograph. This reinterpretation isn't a chrono, but it's certainly an era appropriate design. Given that I've got an incredibly soft spot for this sort of fun and funky design (I've been wanting an Omega Memomatic for ages, and – until it died – a compressor cased Bulova Accutron was one of my all time faves) my attraction to the Chronoris is perhaps unsurprising.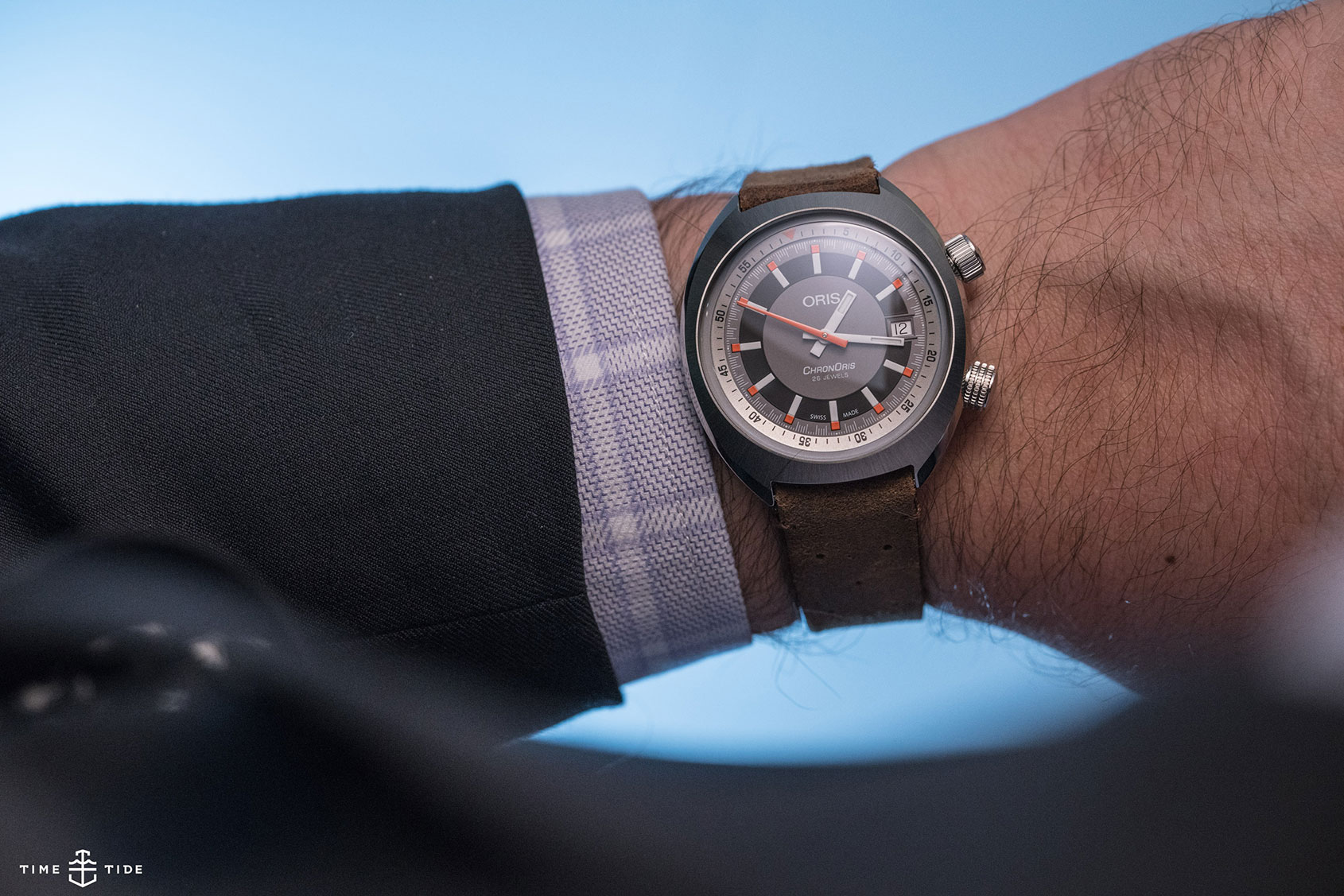 Personal bias aside, the Chronoris Date is a winner of a watch, with a solid 39mm cushion shaped case with a pleasing radial brushed finish, paired with a domed sapphire crystal, 100m of water resistance and, as we've come to expect from Oris, it comes on a range of solid strap options. However, my favourite part of this watch is the dial. Seriously, look at it. The colour scheme of white, grey and black, with orange accents is just hot. I particularly like the broad tapering seconds hand and contrasting block hour hands.
This Chronoris clearly isn't a chronograph but that doesn't mean it can be used for timing. The lower crown rotates the internal bezel in crisp minute intervals, allowing you to time events of up to an hour thanks to the elapsed time scale. If I had one gripe about the watch it's that the two crowns don't match. But this isn't enough to cool my jets on my Chronoris Date-crush.
Oris Chronoris Date Australian pricing
Oris Chronoris Date on leather, rubber or fabric strap $2300, on metal bracelet $2500