Ancient Greek and Roman mythology furnish Bulgari with emblems from across the epochs, but their love affair with bold women in history also holds sway on their aesthetic. Like serpents, these dangerous beauties are sinful and sinuous — and nothing less than paradoxical. Fittingly, their latest Serpenti watch is a timepiece that can literally shed its skin.
I regret not unravelling my tape measure to record the length of the thin double tour strap of the Bulgari Serpenti Skin, but it just felt so at ease on me I was happy to let it linger a while, almost unobtrusive except for its expansive curvature.
This watch is a subtle charmer, and that was the point. Fabrizio Buonamassa Stigliani, Director of Bulgari Watches Design Centre in Neuchâtel, Switzerland, was evidently looking to diverge from the statement dressing of the potent Tubogas and explore personalisation and transformability with this first release on a leather or skin strap. Beyond choosing watch elements and one of the two straps the watch is accompanied by, the way your Serpenti Skin is wrapped to your wrist is uniquely your own. Whether anticipating a combatant or work ally, your snake head dial may be tilted towards a particular corner, with an angled placement of the strap.
The Serpenti Skin is less about the micro-engineered metal articulation helmed by the Tubogas than the elegant serpentine ease of its strap. Don't be fooled by the more casual mood though, especially its more sedately classic colours of black, brown and white straps and dials from six main options — there's an undeniable dose of bondage to the inaugural leather specimen. The pleasing tactility of its strap can be applied more firmly if desired.
The latest homage to the slinky icon is particularly seductive in the emerald green version and either of the red versions. Ok, my pick is the diamond-set rose gold bezel on red incarnation. Not all of us can dream of diamonds of the wattage of Bulgari patron Elizabeth Taylor's, but a determinedly chic watch is definitely achievable with the Serpenti Skin.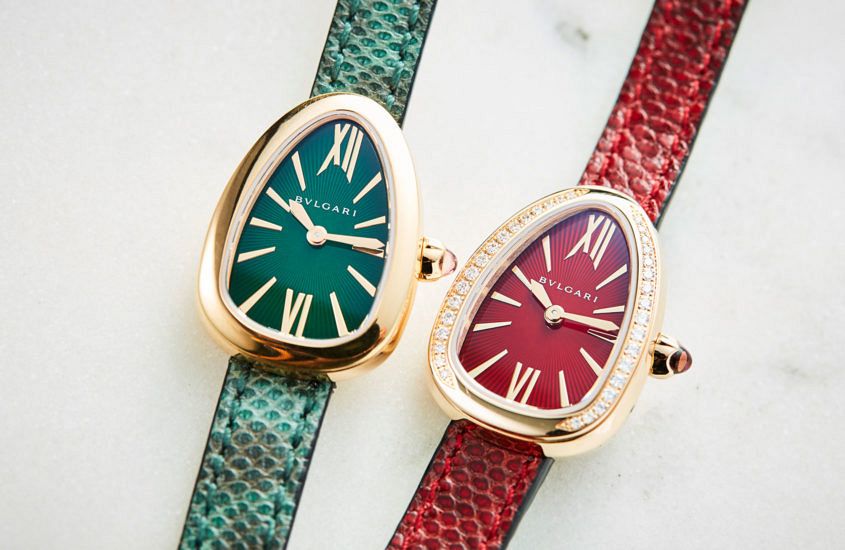 The watch comes with a 27mm curved case in steel or gold, with or without diamonds, plus a second strap in calfskin. There's also an app that allows you pick from 300 customised options. Continuing with the mixing-and-matching, Bulgari is actually hoping you might wear more than one Serpenti Skin at a time. But one snake talisman per dressing is enough for me.
It may not have Cleopatra-level drama but there is more than enough to talk about when it comes to the strap. In the instance of this, horologically-speaking, simply watch the strap is on equal footing with the snake's head or watch face. It is hard to dim Bulgari's uninhibited use of colour and here, interest is created not with exuberant gems but with guilloché dials and straps in fervid tones. The double-twirl karung (or elephant trunk snake) leather strap provides an understated textural effect via its small rough adjacent scales — and apparently in the wild, these help the non-venomous, supple water dweller hold onto fish. A classic ardillon buckle keeps the Serpenti Skin on a low profile. There is also a small flare of radiance from every crown's cabochon-cut pink rubellite.
Over its illustrious history, Bulgari has played with vipers through to gently hypnotising ophidians like the Serpenti Skin, a more welcome friend to have unfurl itself from your wrist. Who thought a cold-blooded reptile could be so well-loved or well behaved?
Bulgari Serpenti Skin Australian pricing
The Bulgari Serpenti Skin ranges from $6,000 to $18,000
Images by Jason Reekie.