HANDS-ON: The Grand Seiko SBGX335 delivers wrist presence and epic functionality
Nick Kenyon
When it comes to dive watches from Grand Seiko, we've come to expect watches that are large and in charge. We certainly aren't holding our breath for a vintage-inspired sub-40mm diver with a subtly tapering faux-riveted bracelet. It isn't going to happen. Instead, the Japanese watchmaker tends to make their technically sophisticated dive watches in angular cases hewn from solid blocks of steel or titanium, with points of structural weakness that are almost non-existent. The dials and bezels are exaggerated in their contrast and clarity, offering nothing but utilitarian legibility and bracelets that are built for strength over style. One such diver that nicely encapsulates this practical and robust design language is the Grand Seiko SBGX335, a quartz dive watch that offers some unflinching, function-forward pragmatism.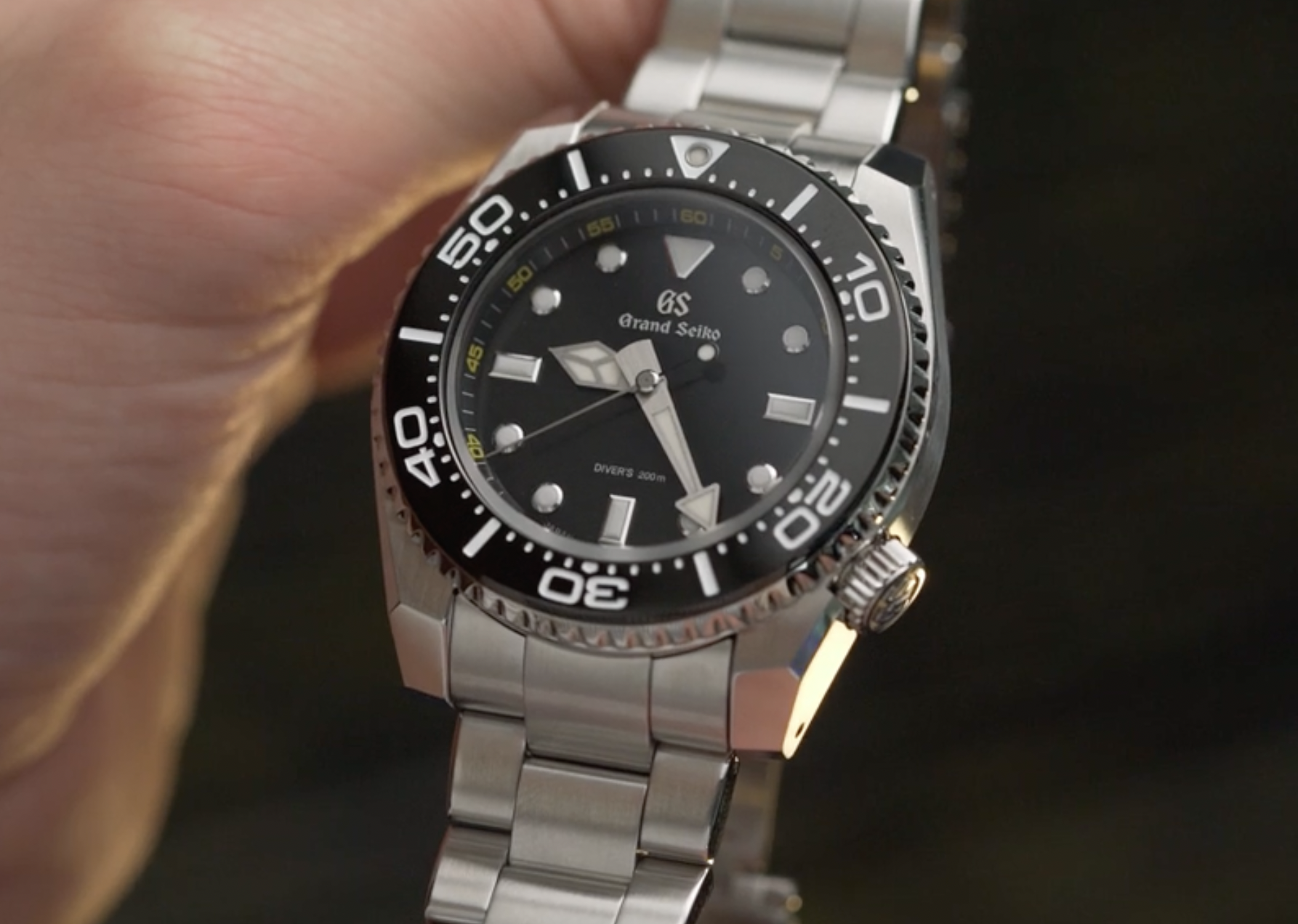 The case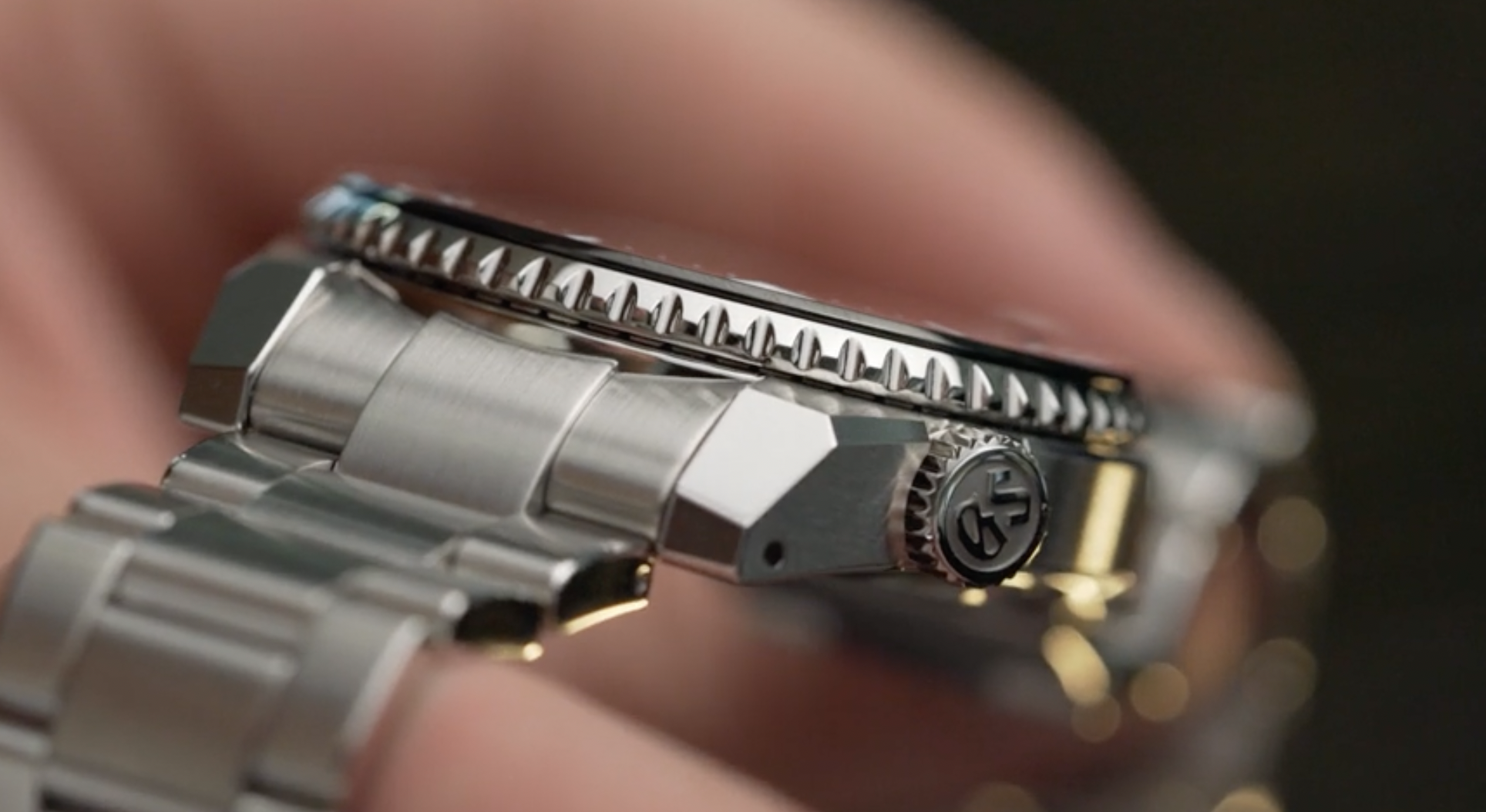 The 43.6mm stainless-steel case is a very solid piece of metal, with aggressively angled facets that form the lugs of the watch. As you'd expect from a brand that is so well known for their polishing prowess, the case lines are razor-sharp, with a considered blend of brushed and polished finishings across the sides and tops of the case.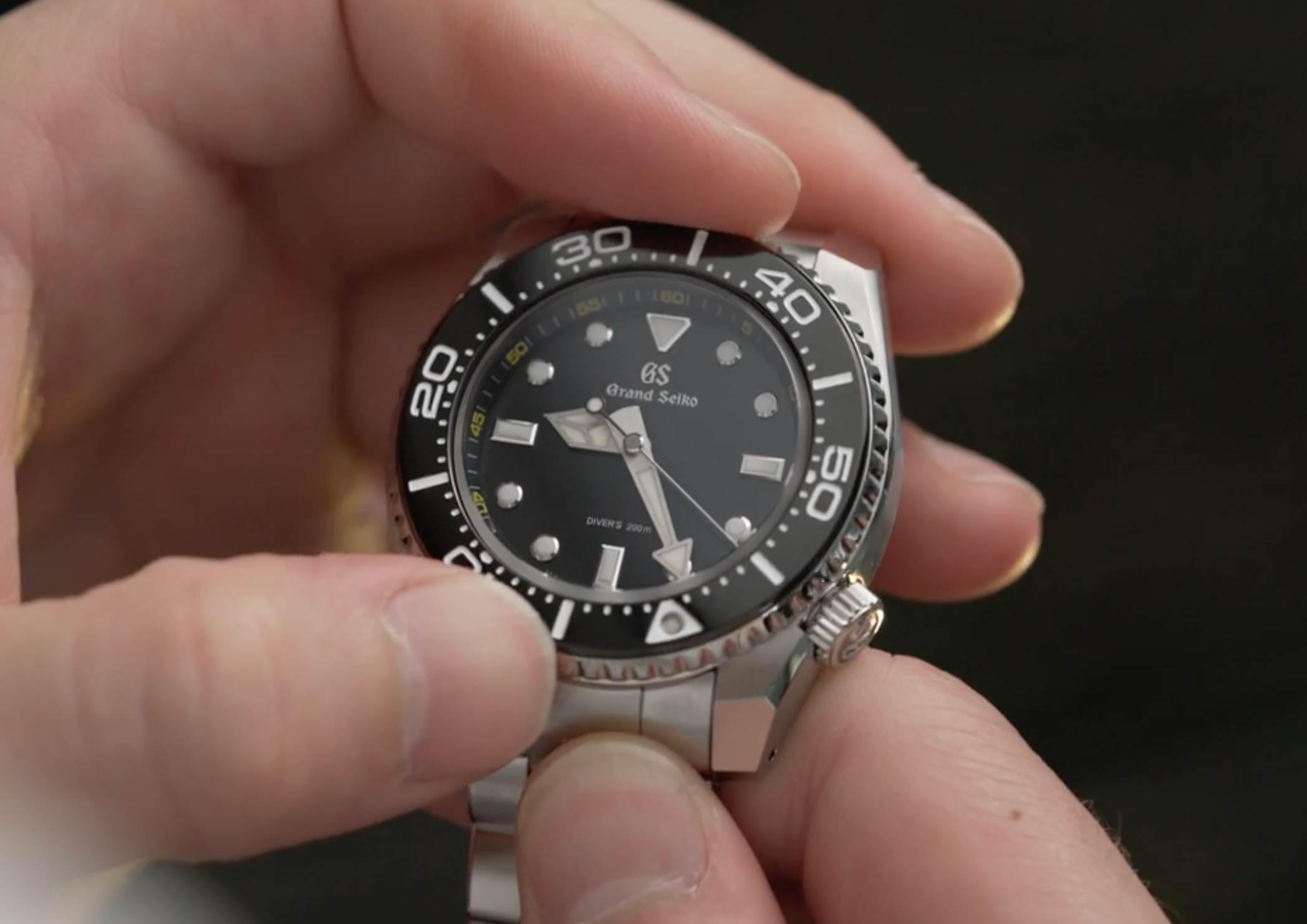 As with most Grand Seiko watches, the crown is located at 4 o'clock, maintaining a more flush profile on the side of the case and the black 120-click dive bezel offering a stark frame for the dial.
The dial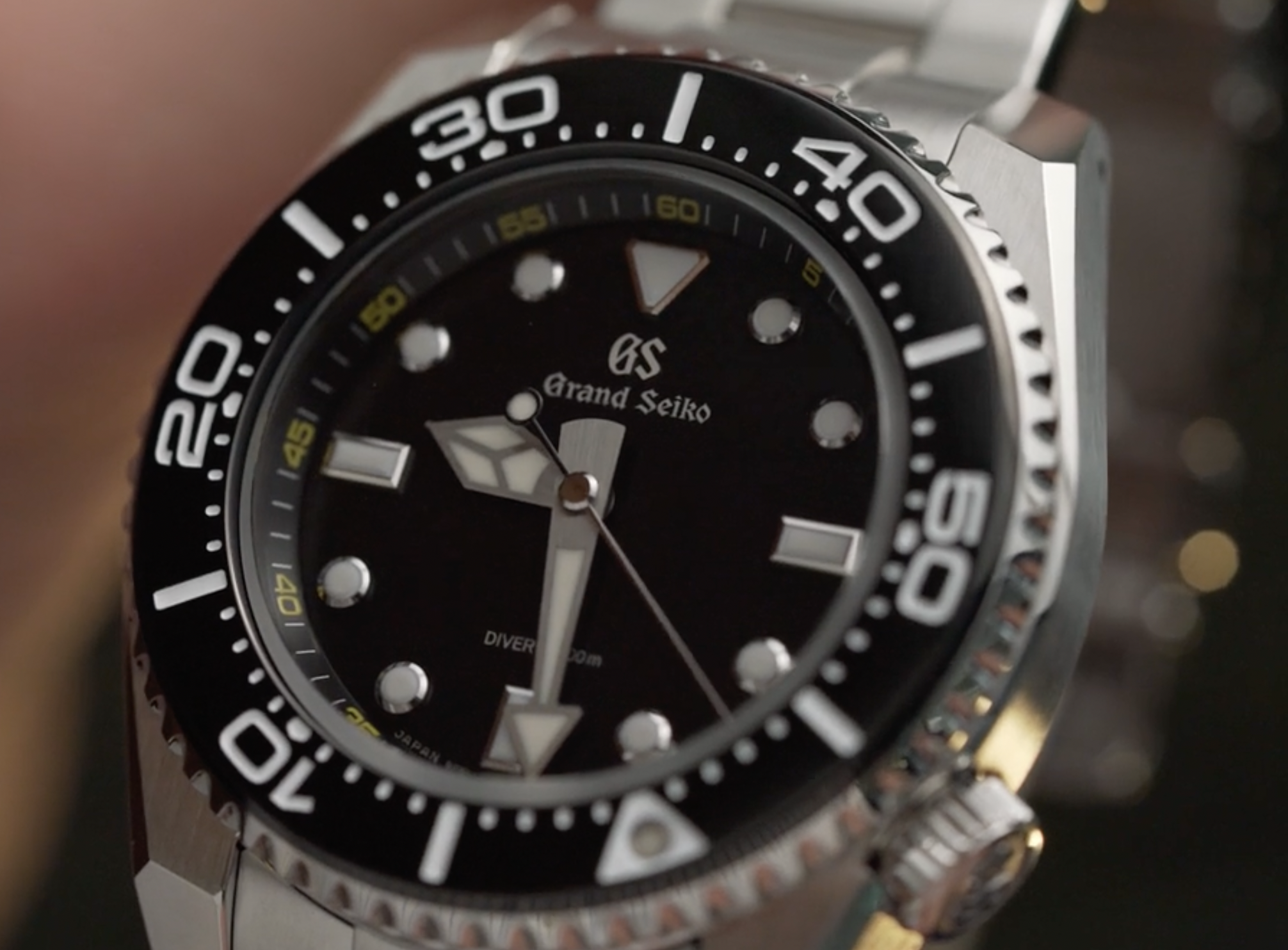 There's a lot to like about the dial of the Grand Seiko SBGX335, be it the large hands, lume-laden hour markers or blissfully symmetrical no-date layout. The only colour on the dial is found in the printed numbers within the minute track, but is otherwise fairly plain with just the Grand Seiko logo and "Diver's 200m" at 6 o'clock.
For a quartz watch, you'll likely be thrilled to see that the seconds hand perfectly lines up with its respective markers around the circumference of the dial – a bugbear of anyone who has brought themselves to accept quartz technology as a legitimate path of horological regulation.
The movement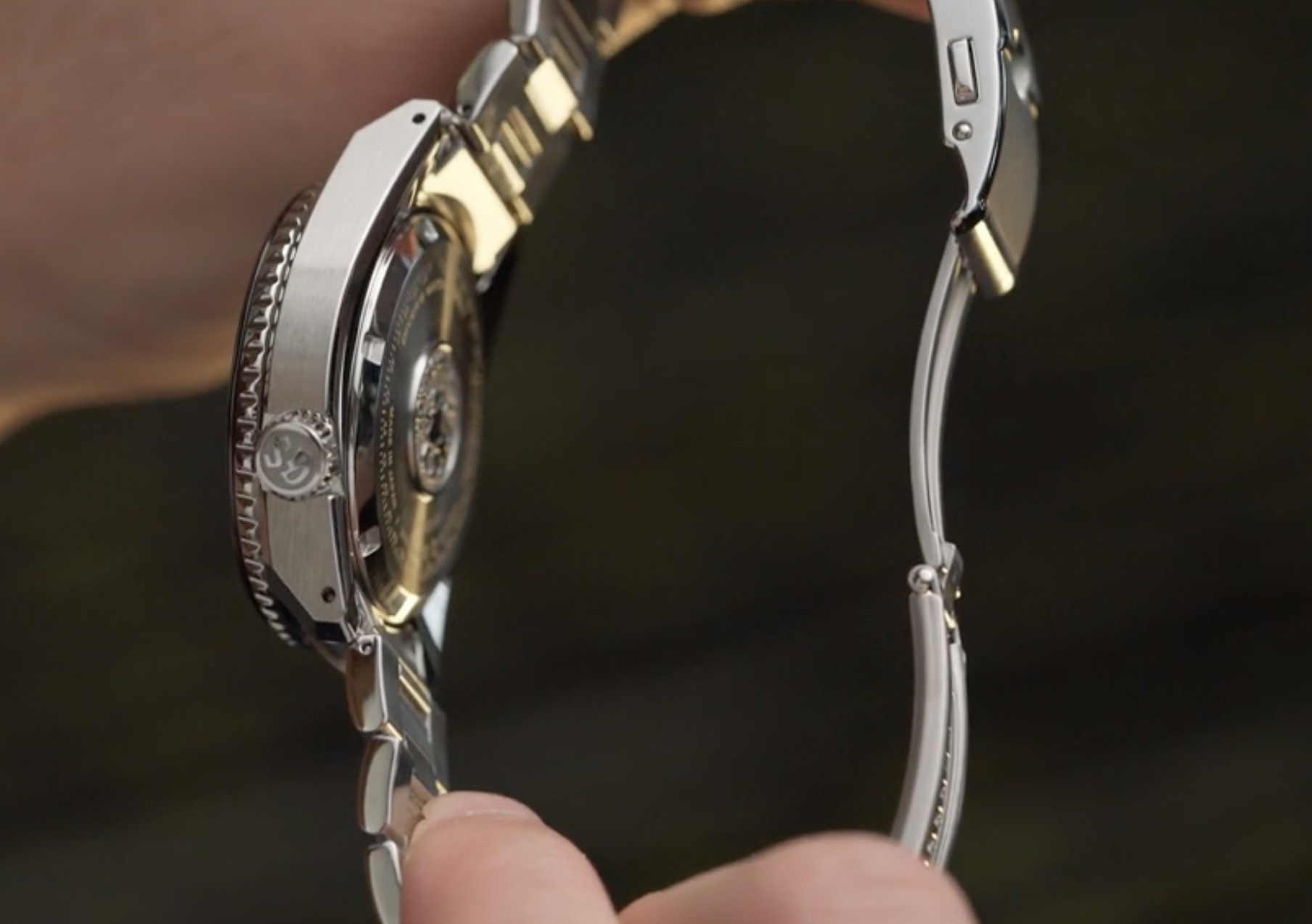 The caliber powering this quartz killer is the venerable Grand Seiko 9F61, with the 9F a movement family that has dramatically re-established what we should expect from our quartz watches. Not only is it significantly more accurate than most quartz movements (typically around +/-15secs per month) at +/-10 sec per year, but the battery will last at least three years before needing a replacement.
The 9F caliber family also has a temperature-control system that ensures the watch is unaffected by swings in temperature (the biggest factor in quartz watch accuracy) making it more accurate and extending the battery life. The seconds hand will also land perfectly on each dial marker, without shuddering like most seconds hands do when they pause on each second, thanks to an anti-backlash system.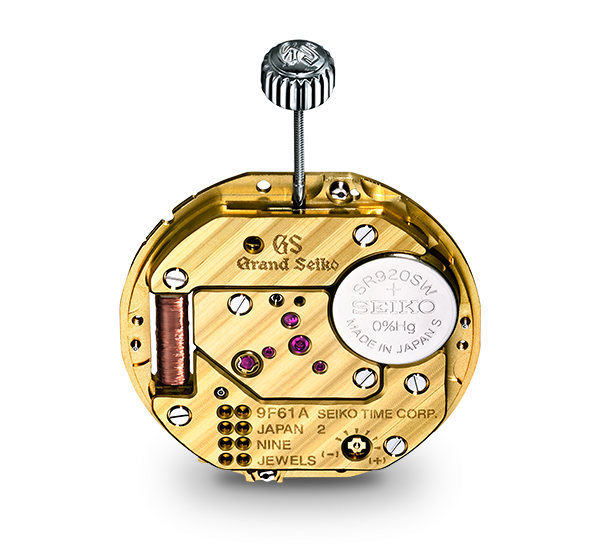 If that wasn't enough, Grand Seiko also grow their own quartz crystals for their movements. That's right, they make their own quartz crystals and test them by running a current through them for three months, before those with least variation in their oscillating frequency are selected to be used in watches. Finally, there is a protective shield in each movement that hermetically seals the moving parts from the outside world, making sure that dust or debris will never enter the movement when changing the battery or servicing it.
The bracelet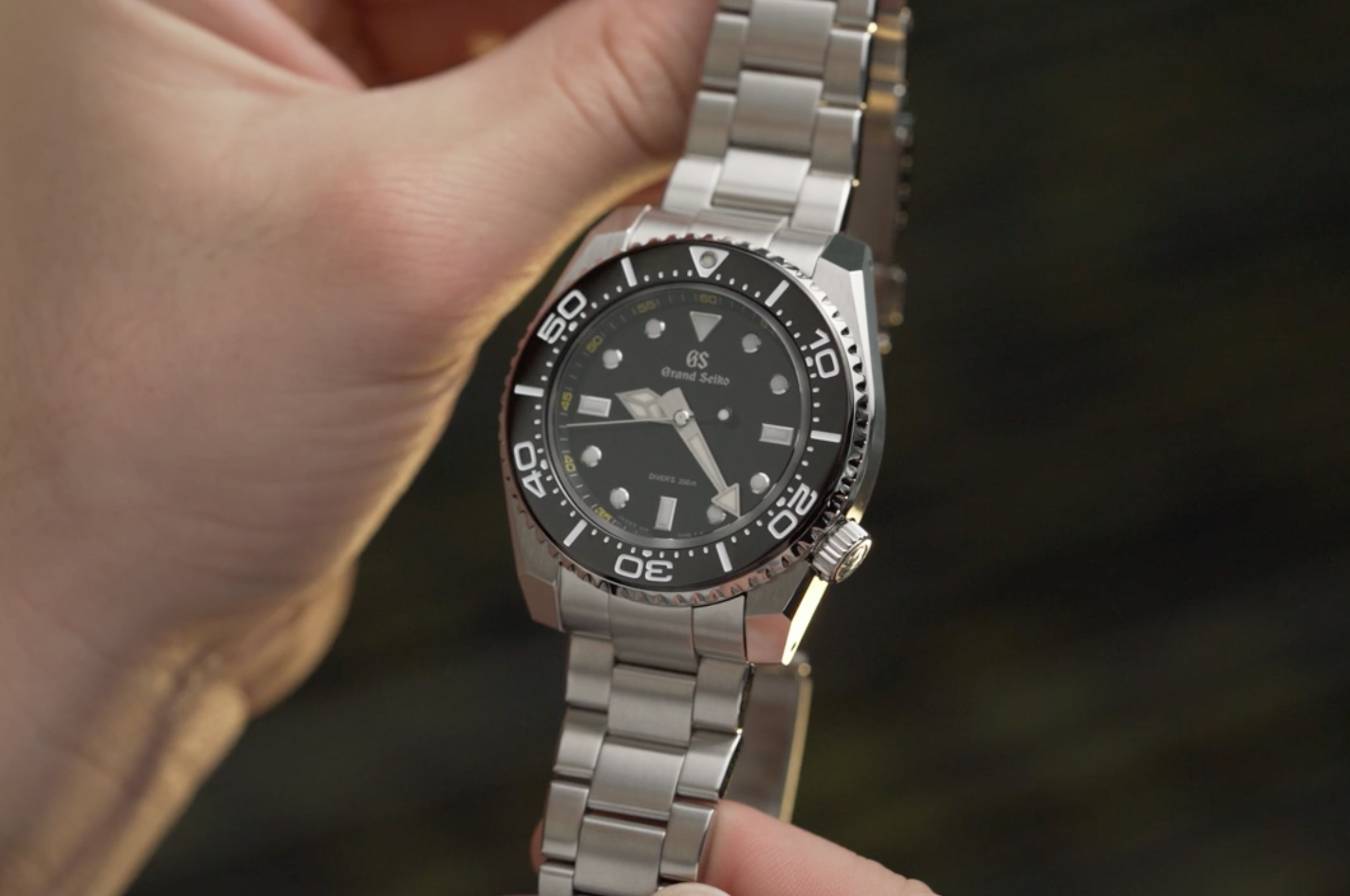 The three-link steel bracelet is designed for its strength and robustness, keeping a low profile with an entirely brushed surface. It is secured with a triple-folding clasp that also has a twin-button release. There's no way it should slip off your wrist accidentally.
The verdict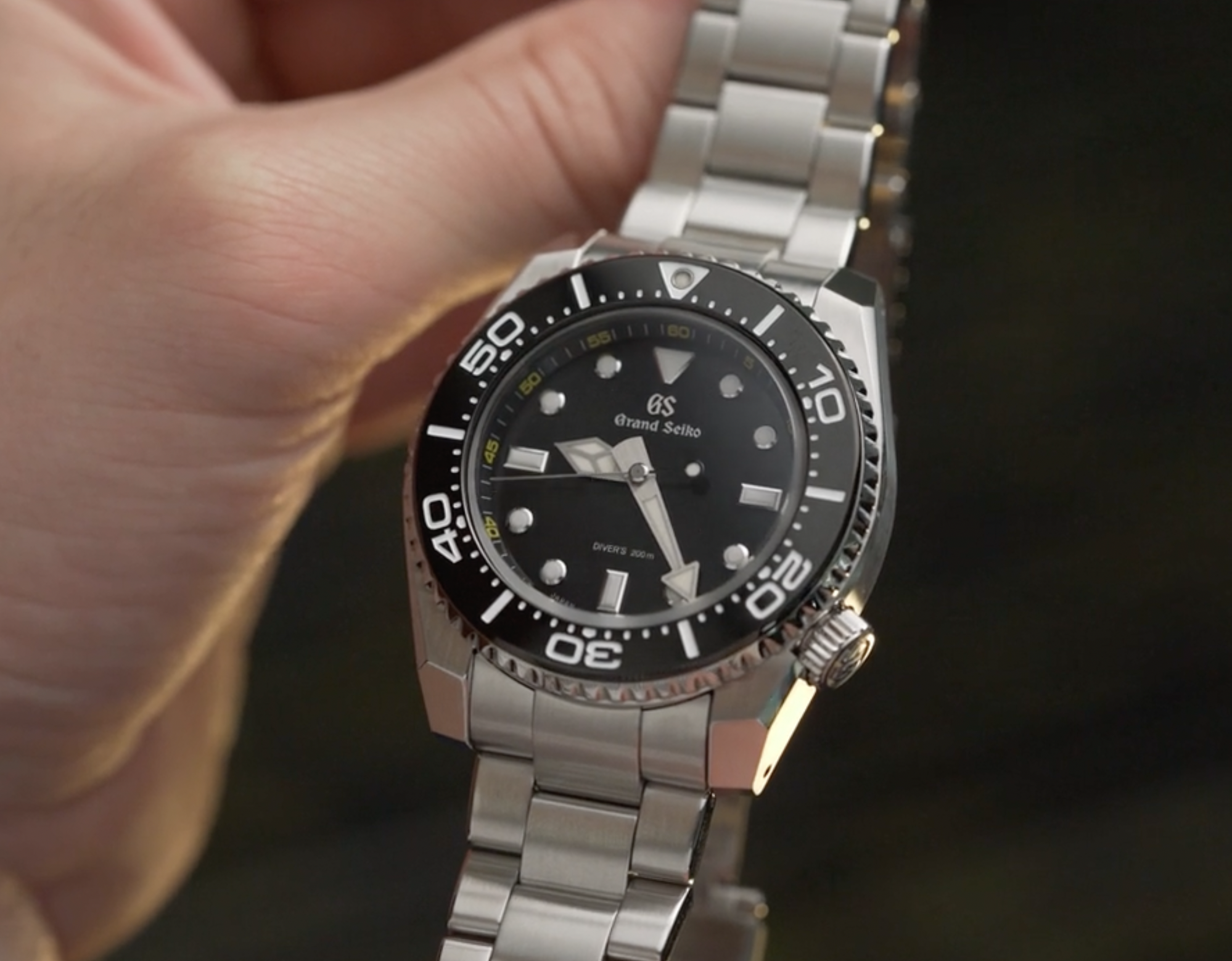 All in all, the Grand Seiko SBGX335 is an aggressive expression of the brand's dive watch making capacity, at the more affordable end of what the Japanese watchmaker offers. If you were looking for a relatively similar watch in terms of aesthetic with a Spring Drive movement (such as the larger SLGA001) you'd be paying AUD$16,500, or if you wanted a hi-beat caliber (like in the SBGH255 that is also slightly larger) it will cost you AUD$14,950. Yes, they are both technically more sophisticated dive watches with titanium cases and bracelets, but as far as case shape and dial layout goes, the comparison is definitely there and makes a compelling case for the quartz-powered SBGX335. You won't be able to dive down to 600m like you can with the other two references, but that's likely to not be an issue for most of us who just enjoy the odd snorkelling trip.
Grand Seiko SBGX335 price and availability: 
The Grand Seiko SBGX335 is AUD$5800 and is currently available. For more details, visit Grand Seiko right here.
Made in partnership with Grand Seiko. However, the opinions expressed in this article are our own in accordance with our Editorial Policy.