HANDS-ON: The Ulysse Nardin Executive Skeleton X in Carbonium Gold
Felix Scholz
With a name that sounds like it comes straight from the Marvel Cinematic Universe, it should come as no surprise that the watch looks more than a little out of this world.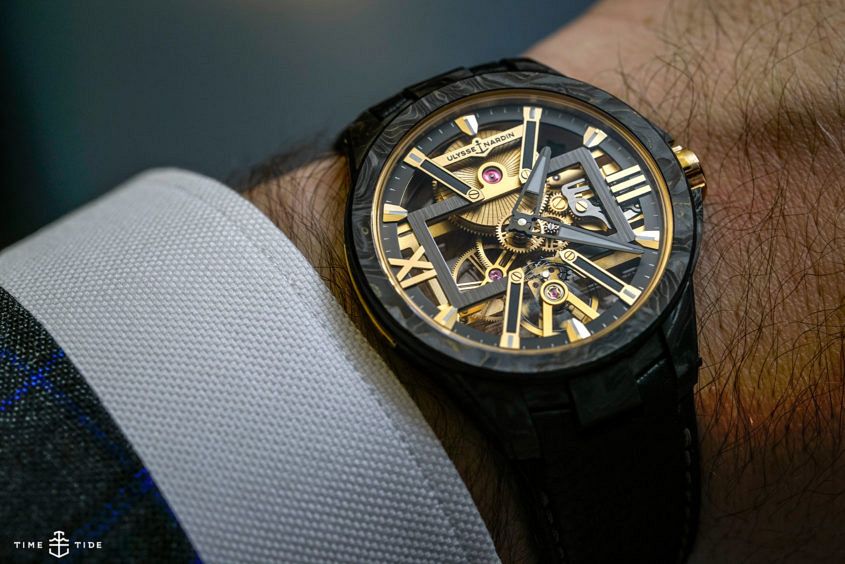 First of all there's the dial — or rather the lack of it. Because as you might guess with a name like "Skeleton X", the dial of this watch is pretty extensively open-worked, offering the wearer a beautifully worked gear train, as well as a whole lot of negative space. The bridges — slight as they may be — form the 'X', around a box-like aperture, with the bottom and top aspects of the X framing the escapement and power barrel respectively. This is a thoroughly modern take on a classically skeletonised watch. 
And while the architecture is aggressive enough, it's got nothing on the case, which is made from a material called Carbonium. You don't need to be a particularly cunning linguist to work out that carbon fibre plays an important role in this material. And by the same token, you need not be the most observant fellow to ascertain that this carbon is riddled with gold inflections. It's a cutting-edge technical material, lightweight and hard-wearing, with a healthy dose of old school luxury that adds up to a very cool package. And the best part of it is — Ulysse Nardin's collection X has landed in Australia. 
Ulysse Nardin Executive Skeleton X in Carbonium Gold price
Ulysse Nardin Executive Skeleton X in Carbonium Gold, $31,050 AUD