HANDS-ON: The Tudor Heritage Black Bay Black (reference 79220N)
Felix Scholz

The story in a second:
We've been waiting three long years for this watch. Now it's here. The question is, does it live up to the anticipation?
The Tudor Black Bay Black – sorry everyone, BBB is going to be the name, as unadventurous as it is – was the watch we had to have. When the Black Bay first came out back in 2012, a large part of its appeal lay in the warm combo of rich red and deep gold. Clearly this was not just another sterile diver. It had personality, and its vintage aesthetic both contributed to and crested the zeitgeist.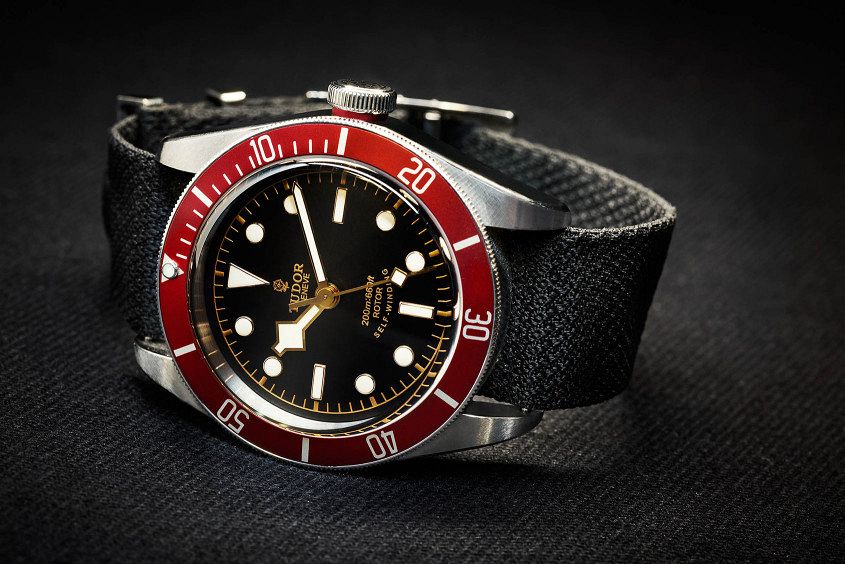 Just days after its release, speculation had already begun mounting about it being released in other versions – and by Baselworld 2014, it had reached fever pitch. When the Black Bay Blue arrived, its genius was that it wasn't a carbon copy of the original. It provided enough points of difference to make it a great watch in its own right. Where the first variant was fire, this was ice. Where the first was warm, this was glacial and crisp.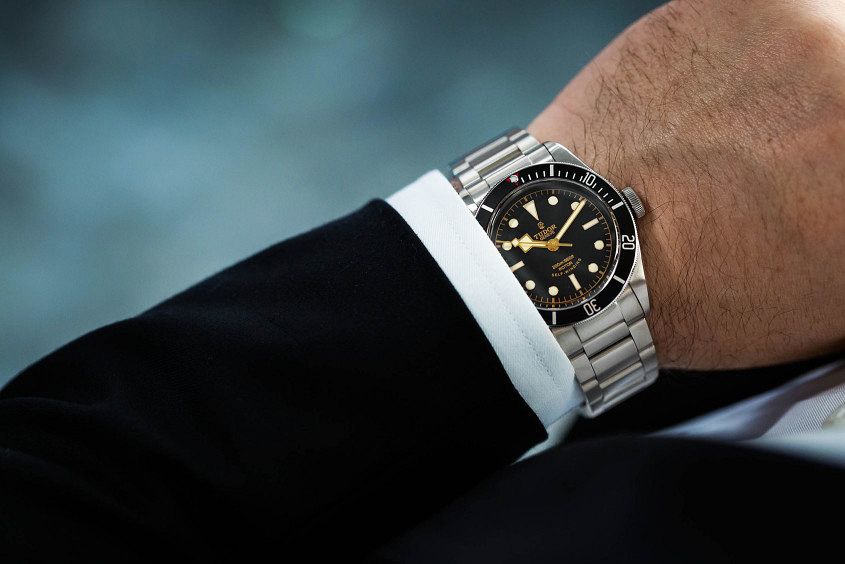 The result? Obvious, really. We wanted this one, too.
Of course, five minutes later we were asking, "When will the next one come out"? Not if – when. Tudor kept us on our toes when they didn't release any new Heritage novelties at Baselworld 2015, focusing instead on the North Flag. But when they unveiled the unique Black Bay One for the Only Watch auction, it reopened the debate. We hoped and prayed that the wait was almost over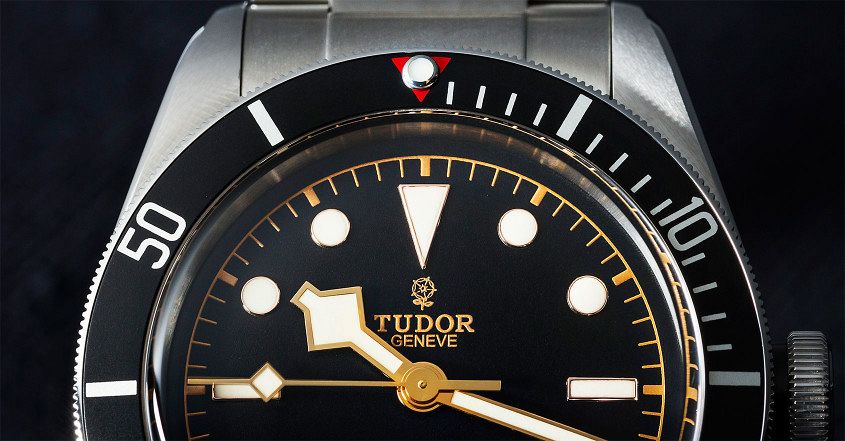 Today, practically out of nowhere, Tudor will not just announce, but deliver the Black Bay Black to the salivating public. We were lucky enough to receive an exclusive sneak peak ahead of the drop, as well as a chance to compare it with its direct ancestor, the first diver Tudor made, the reference 7922 Tudor Submariner from 1954.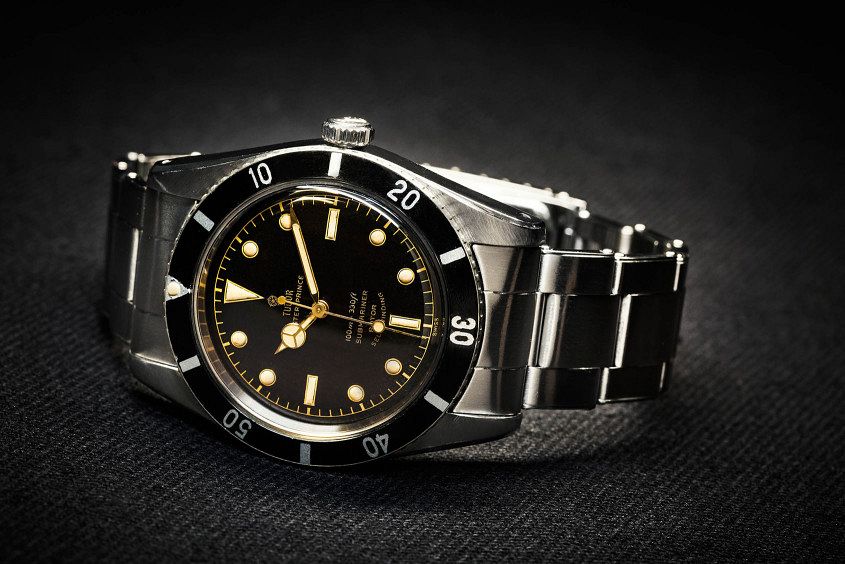 The first striking thing about the Black Bay Black is just how different it looks to its brethren. Especially when you consider that it's structurally almost identical. Same case and bracelet as the others, same ETA 2824 movement, same matte black dial, and the same gilt dial print and rich gold hands and indices that give the Black Bay Red its warm vintage tone. The only substantial difference is the bezel – now a crisp black instead of burgundy or midnight blue – yet this single tweak adds up to a huge change in the piece's personality.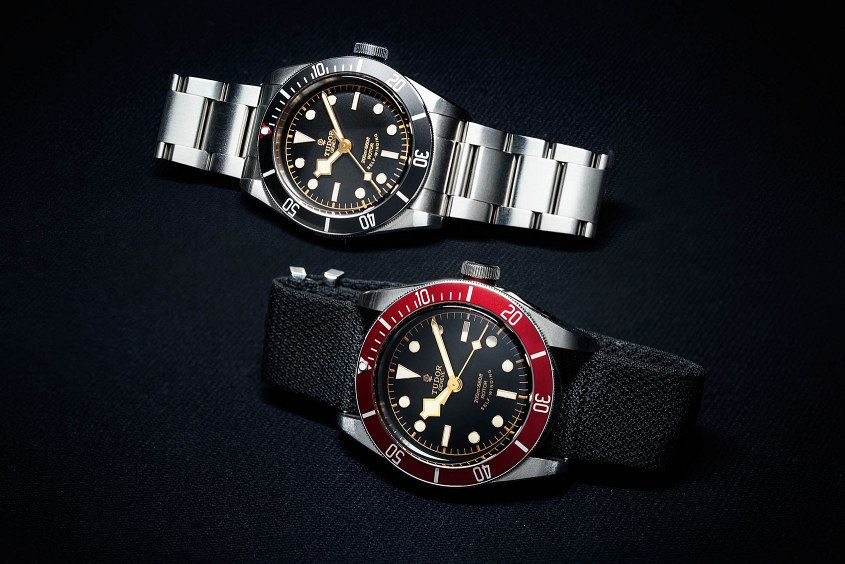 In a nutshell, the Black Bay Black is far more formal (and dare we say it for a diver, but it's luxurious too) than the red or blue. That's often the case with black, though it's amplified even further with those gold accents. But it's also because this watch bears such a strong resemblance to the Rolex Submariner – a timepiece deeply entrenched as a formal style icon and a luxury object. What's more, it bears a striking similarity to the reference 6538 – the 'Big Crown' Submariner – most famously worn by James Bond in Dr. No. Tudor produced a very similar version, the 1958 reference 7924.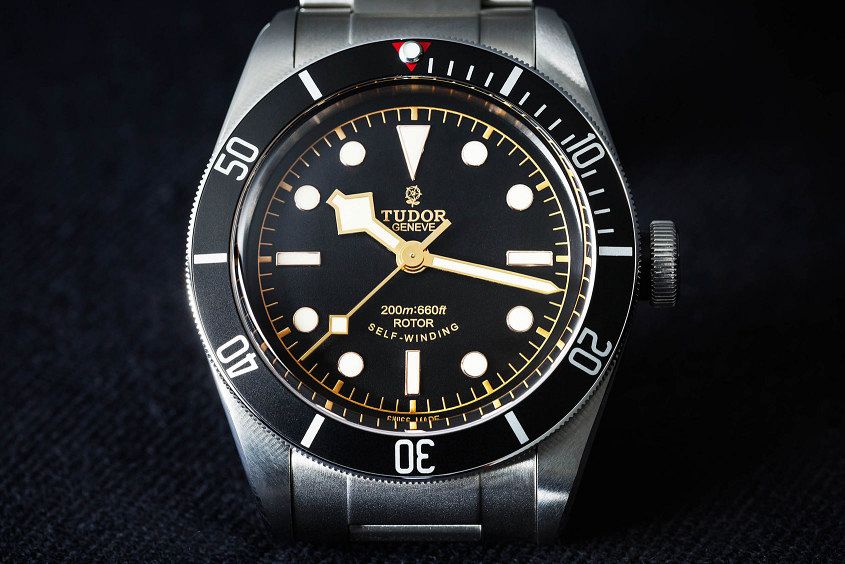 This resemblance is down to the Black Bay Black's oversized crown, which lacks the crown guards characteristic of later Submariners (from both Tudor and Rolex). Then there's the small red triangle on the bezel, under the luminous pip at 12. The only other new design element, it speaks directly to heritage Submariners.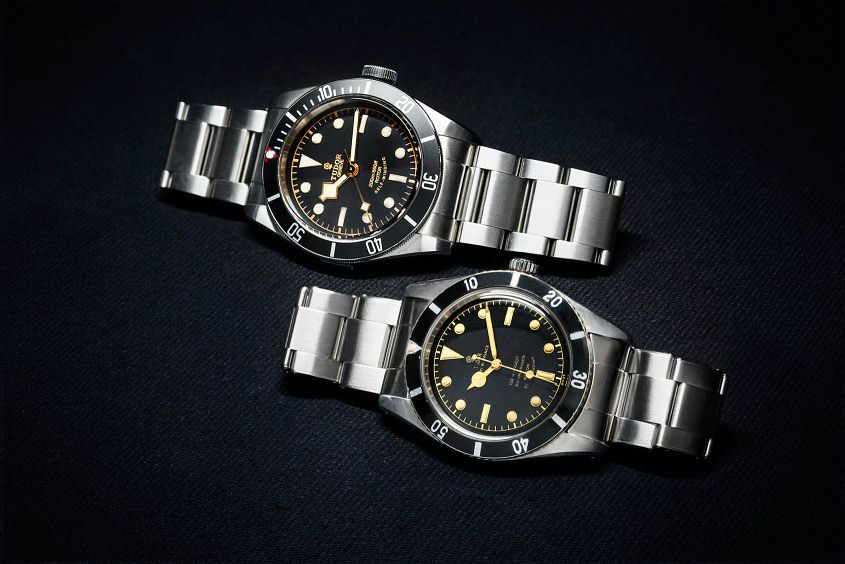 While it's not a reissue of any particular historic reference, this is undoubtedly the most uncompromisingly 'vintage' watch in Tudor's entire Heritage collection.
You only need glance at the comparison shot between the Black Bay Black and the 1954 Submariner to see what we mean. Sure, the Black Bay Black is a bulkier design in line with modern tastes, but the commonalities far outweigh the differences.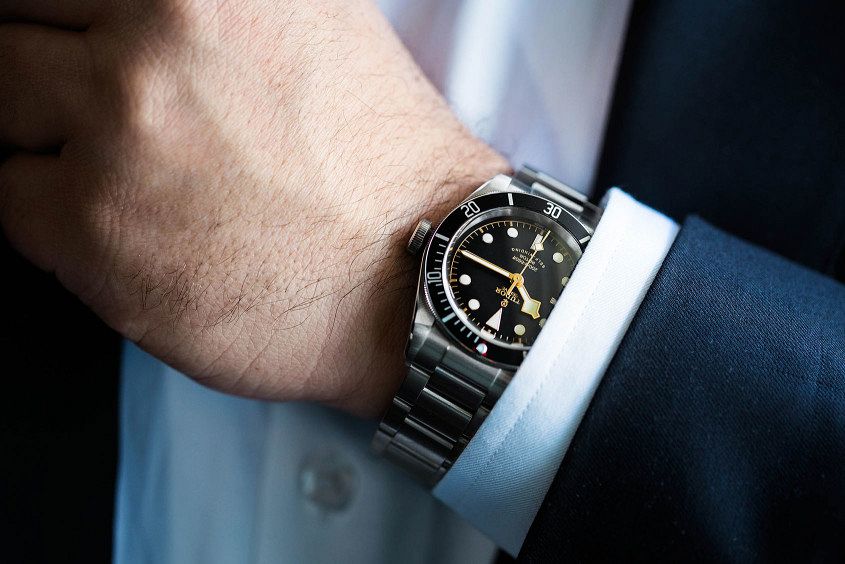 Strapping into the Black Bay Black for the day, I wasn't expecting to be surprised – after all I've worn the red and the blue, so nothing new to see, right? But it doesn't just look different – it wears differently too. Sleeker, less playful. On a bracelet it's a commanding watch – made for 007-esque black tie. But put it on the nylon strap and it wouldn't look out of place on a marine commando.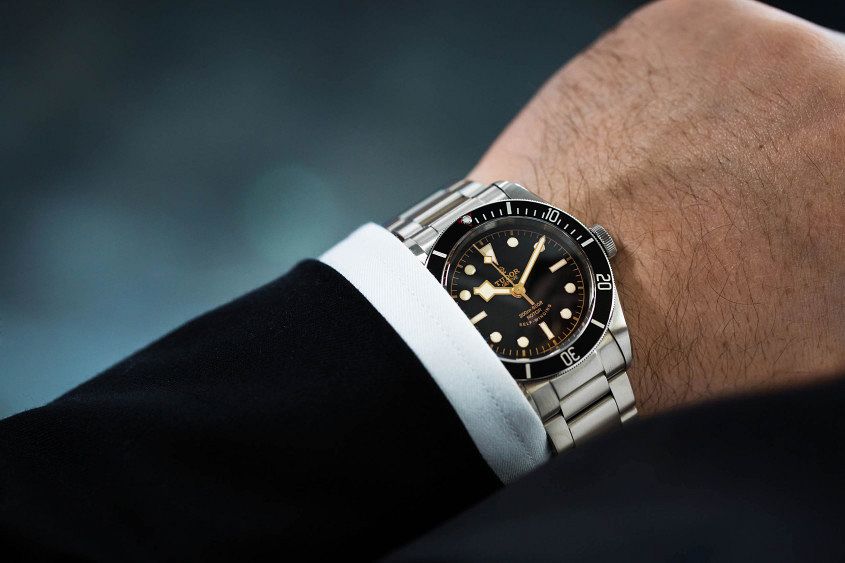 There's no doubt this watch will be a phenomenal hit for Tudor, with its obvious appeal to so many audiences. Love the Black Bay but don't care for colour? This is the watch for you. Love the vintage Submariner but not the premium price tag? This is the watch for you. Already own the red and blue versions and need to complete the set? This is the watch for you. You get the gist.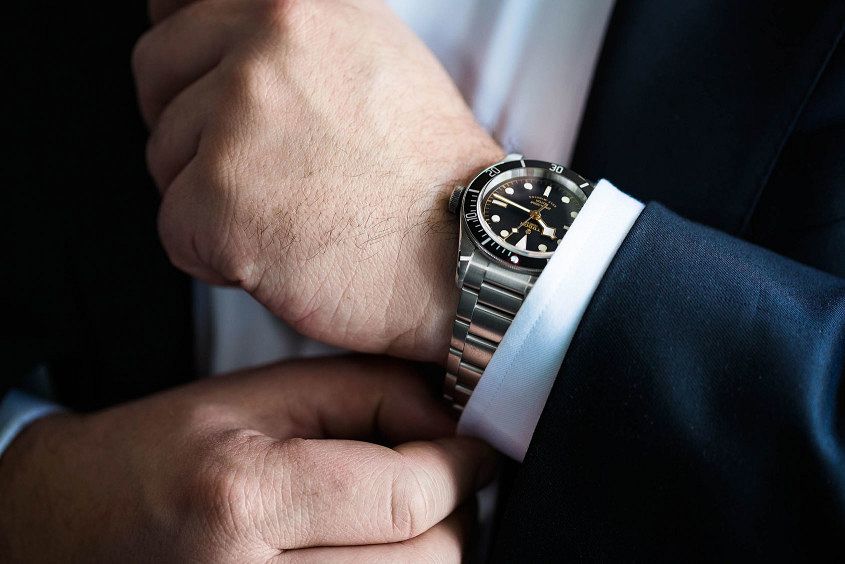 So, yes, it's been a long wait. But with Tudor once again proving their mastery in accessible heritage pieces, it's been well worth holding out for. Though of course, we're already wondering what we might be on the cards for next year…
Tudor Heritage Black Bay Black Australian pricing and availability
The Black Bay Black on steel bracelet (with extra black woven nylon strap) has a retail price of $4050, and on an aged leather strap (with extra black woven nylon strap) the retail price is $3700.
Available in stores from Friday 16 October.
Original photography by Jules Tahan.
[su_custom_gallery source="media: 14239,14238,14237,14236,14235,14234,14233,14232,14231,14230,14229,14228,14227,14226,14225,14224,14223,14222,14221″ limit="30″ link="lightbox" width="160″ height="210″ title="never"]
Specifications
Model
Heritage Black Bay "Black"
Case Material
Steel case, polished and satin finish
Strap
Steel bracelet or aged leather strap with folding clasp and safety catch. Additional fabric strap with buckle supplied with watch
Movement
Tudor Calibre 2824 (ETA 2824 base)
Crystal
Domed sapphire crystal
Bezel
Unidirectional rotatable steel bezel with matt black disc