Surely this is a marriage made in motorsport heaven? Your inner petrolhead might be increasingly dormant at a time where there's an increasing emphasis on soulless electric cars and less of the freedom and speed that motor racing traditionally symbolises. If so, consider this watch your re-awakening. To paraphrase TAG Heuer CEO Frédéric Arnault, TAG Heuer and Porsche share an attitude with both brands in constant pursuit of high performance. Certainly the connection between TAG Heuer and the German masters of speed, is a strong one – just think of Steve McQueen wearing a Heuer Monaco while racing a Porsche 917 in the film LeMans. The name Carrera, of course, is also deeply associated with both brands. It originated from the gruelling road race the Carrera Panamericana and served as the inspiration for Porsche's most powerful engine following a famous win in 1954. In 1963, however, the name was also adopted by Jack Heuer when he launched the speed-infused Carrera chronograph. Today, at long last, the two brands are officially united with this new racing-inspired watch, the TAG Heuer Carrera Porsche Chronograph.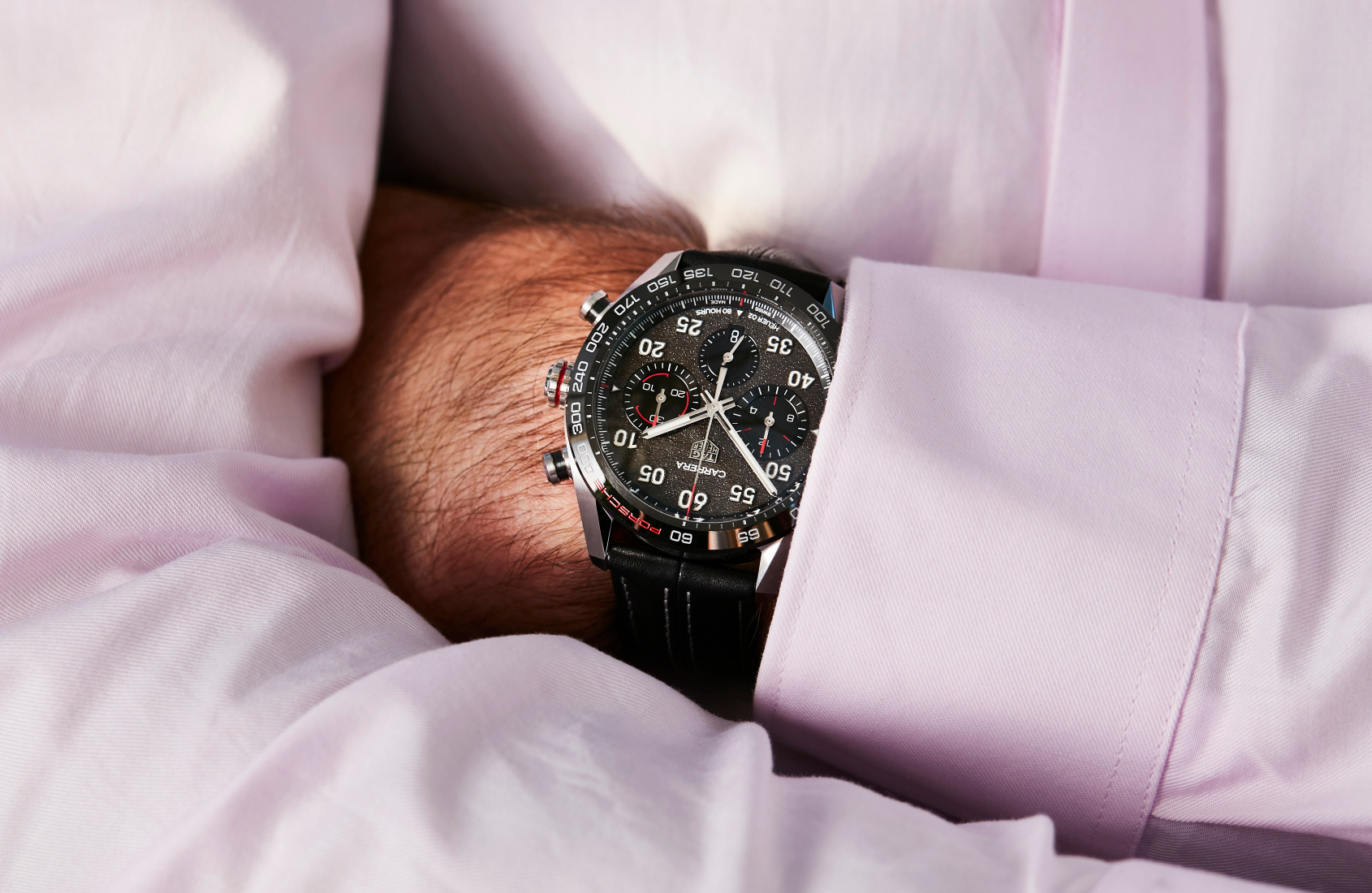 First Impressions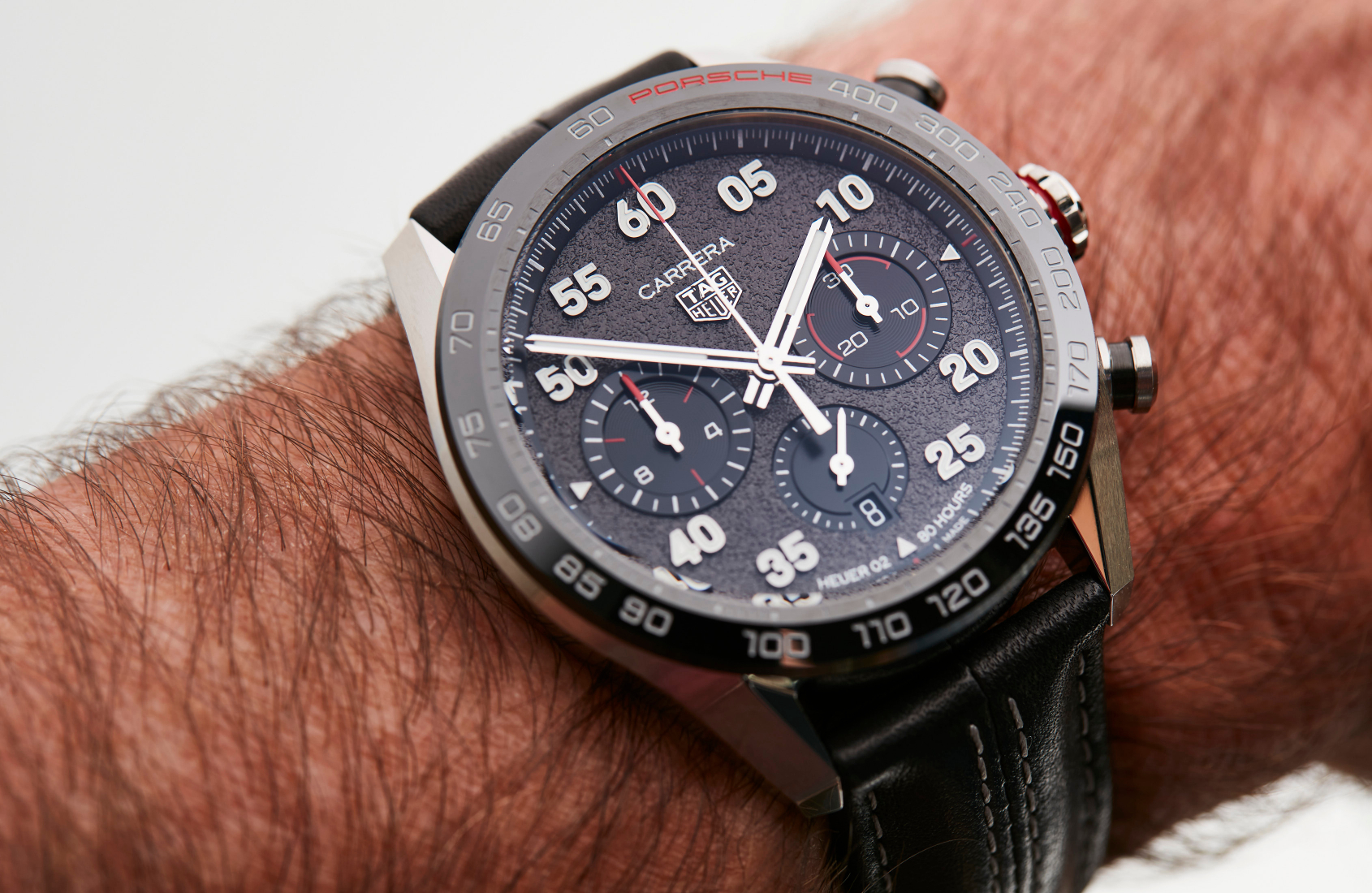 The design of the new 44mm TAG Heuer Carrera Porsche Chronograph has clear vintage inspiration, but with a sharp, contemporary twist. This 44mm reference is a limited edition based on the successful Carrera Sports Chronograph series of 2020. As soon as I put it on there's a reassuring feeling of comfort with this watch defiantly proving that ergonomics are not bound to size. And boy is the motorsport inspiration strong here from the brushed black tachymetre bezel to the classic red touches that accentuate the design.
The case and dial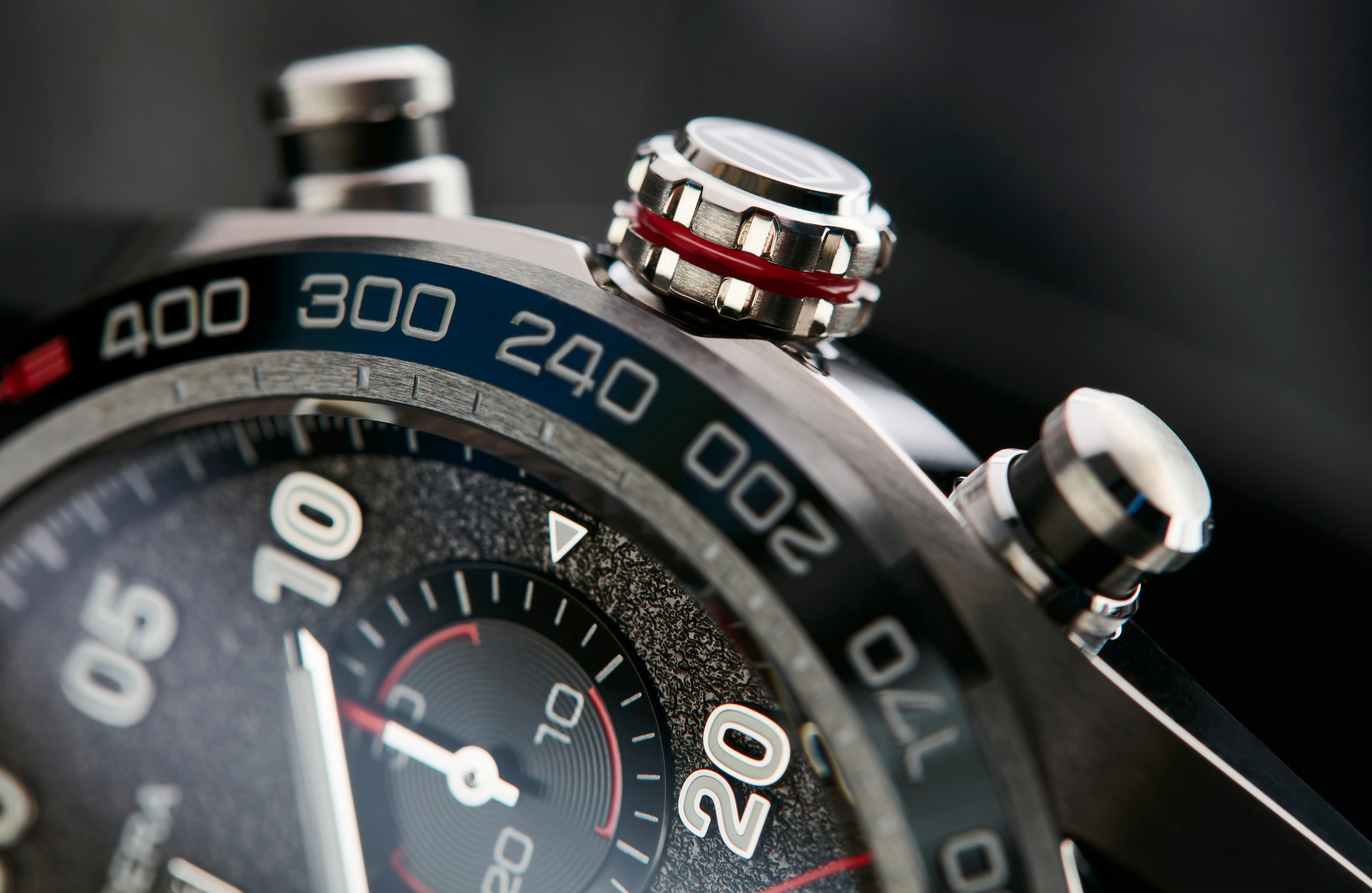 A new, bold line of sports chronographs was introduced last year in the Carrera Sports Chronograph we covered in our story here and, with this special edition, Porsche's strong DNA is clearly present. The case is large, yet with a balanced dynamic that makes it sit comfortably on smaller wrists, and those angled bevelled lugs are pure Carrera. But what does hit you is the way even small details can transform an already successful design, making it take on another spirit. The bold pushers of the chronograph have a satisfying and self-assured click, while the narrow red ring of the crown is but one small touch in the thread that ties this to Porsche (what better to imbue a sense of speed than a flash of red?). I still need a course in how to use it, but there is something reassuring in the brushed black tachymetre bezel that further strengthens this chronograph's ties to motor racing.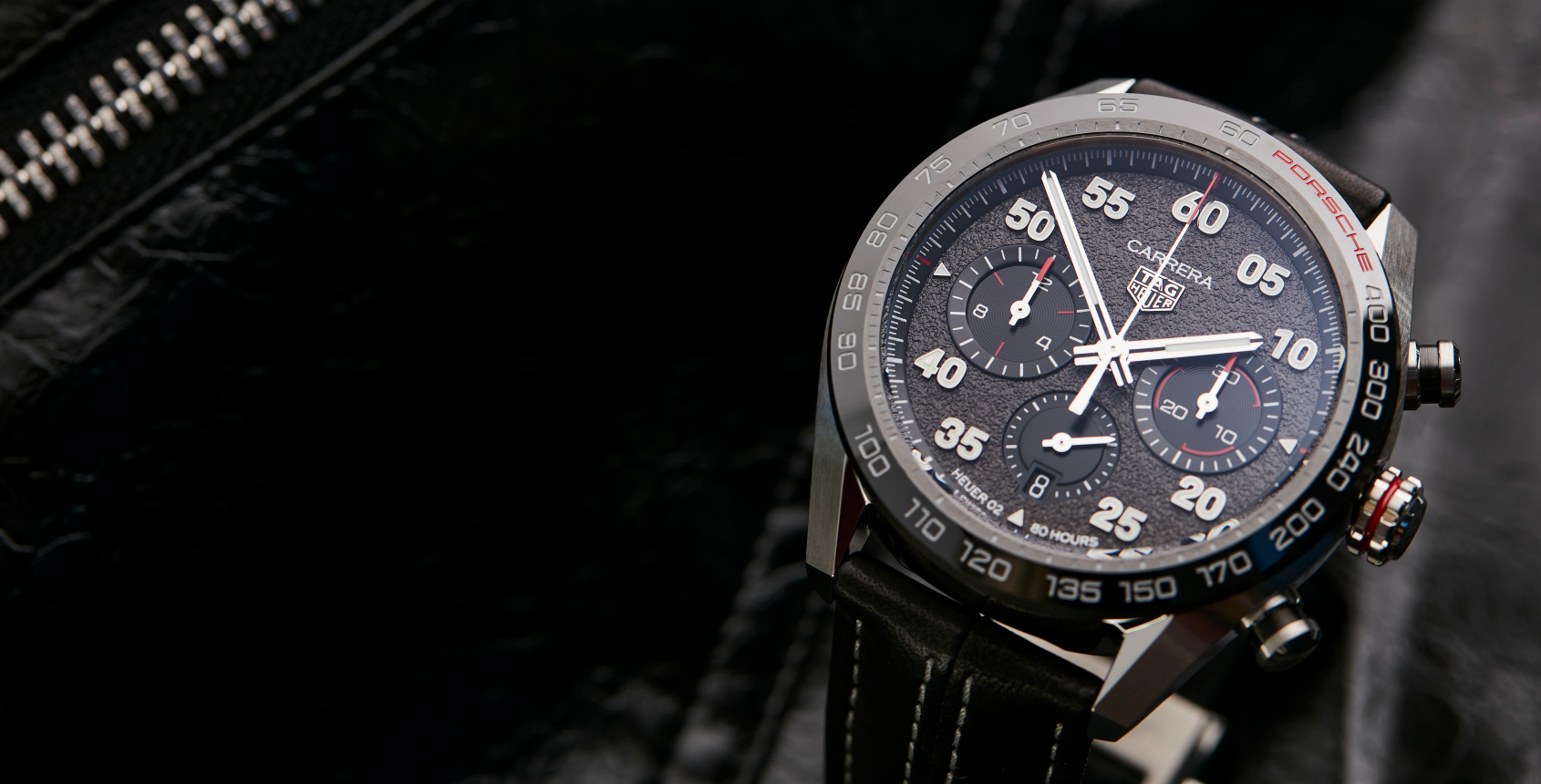 Porsche's hallowed logo is emblazoned in red font at 1 o'clock. This crowns the star of this speed-infused show, that special dial. Yes, the strong textured grain of the black is meant to evoke the warm asphalt of a racetrack, while the strong legibility of the lume-filled Arabic numerals clearly takes inspiration from a Porsche dashboard. It does transform the well known Sports Chronograph design, as the polished Heuer logo is made more prominent through the juxtaposition of materiality and, like the numerals and polished steel hands, seems to almost float above the rich dial surface.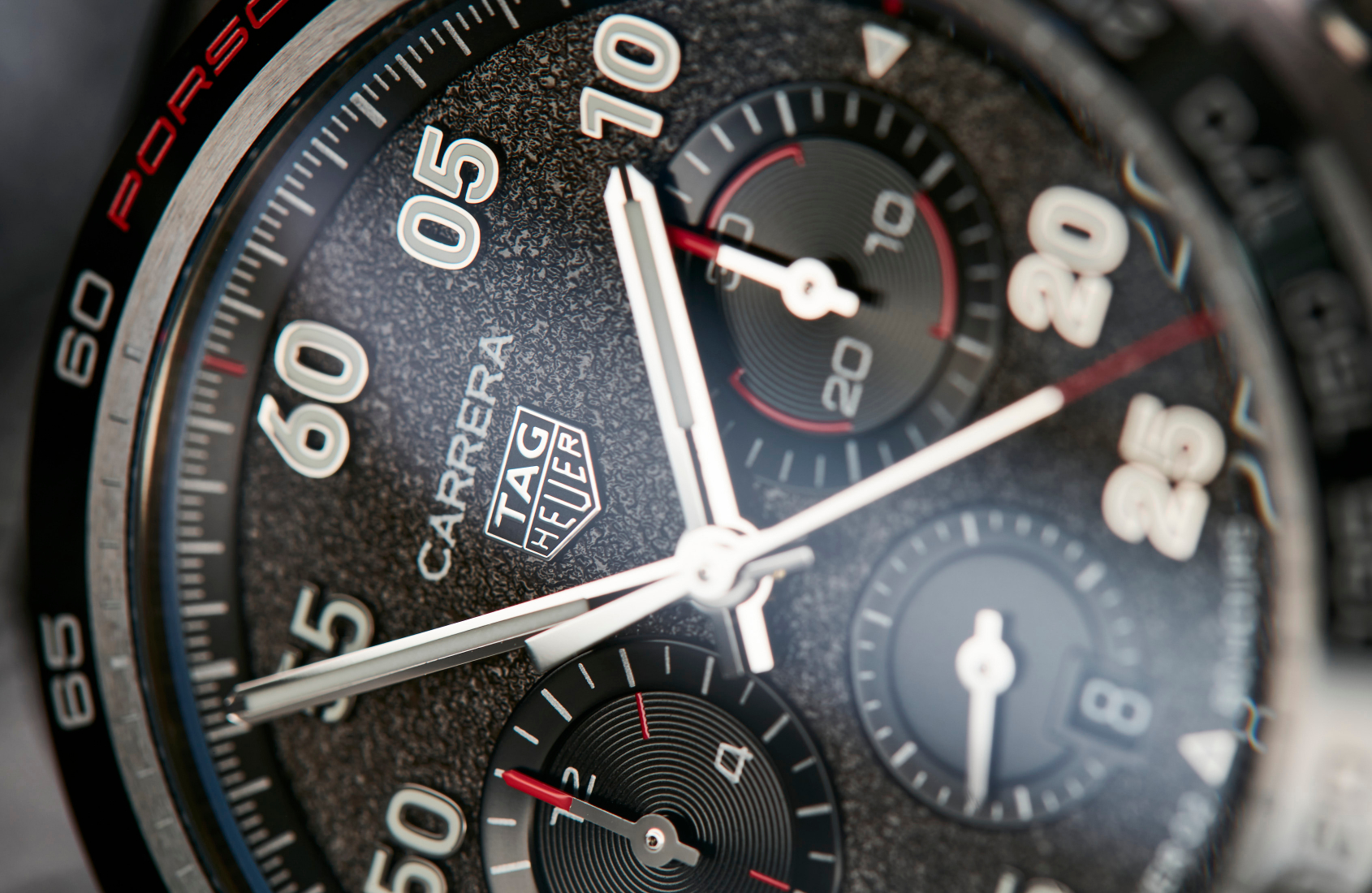 The intricate red details both tie together and accentuate the slightly menacing, purposeful dark scene of the dial. The balance is clearly accomplished through a pleasing symmetry in the recessed black registers with small but sharp touches of red and the running seconds register at 6 o'clock, which has one of the best integrations of a date window we've seen. The strap is hand-stitched black calf leather which, through no accident, brings to mind leather steering wheels and those body hugging bucket seats of a Porsche 911. Me, I'm inspired to go find that racing helmet and gloves pronto.

The movement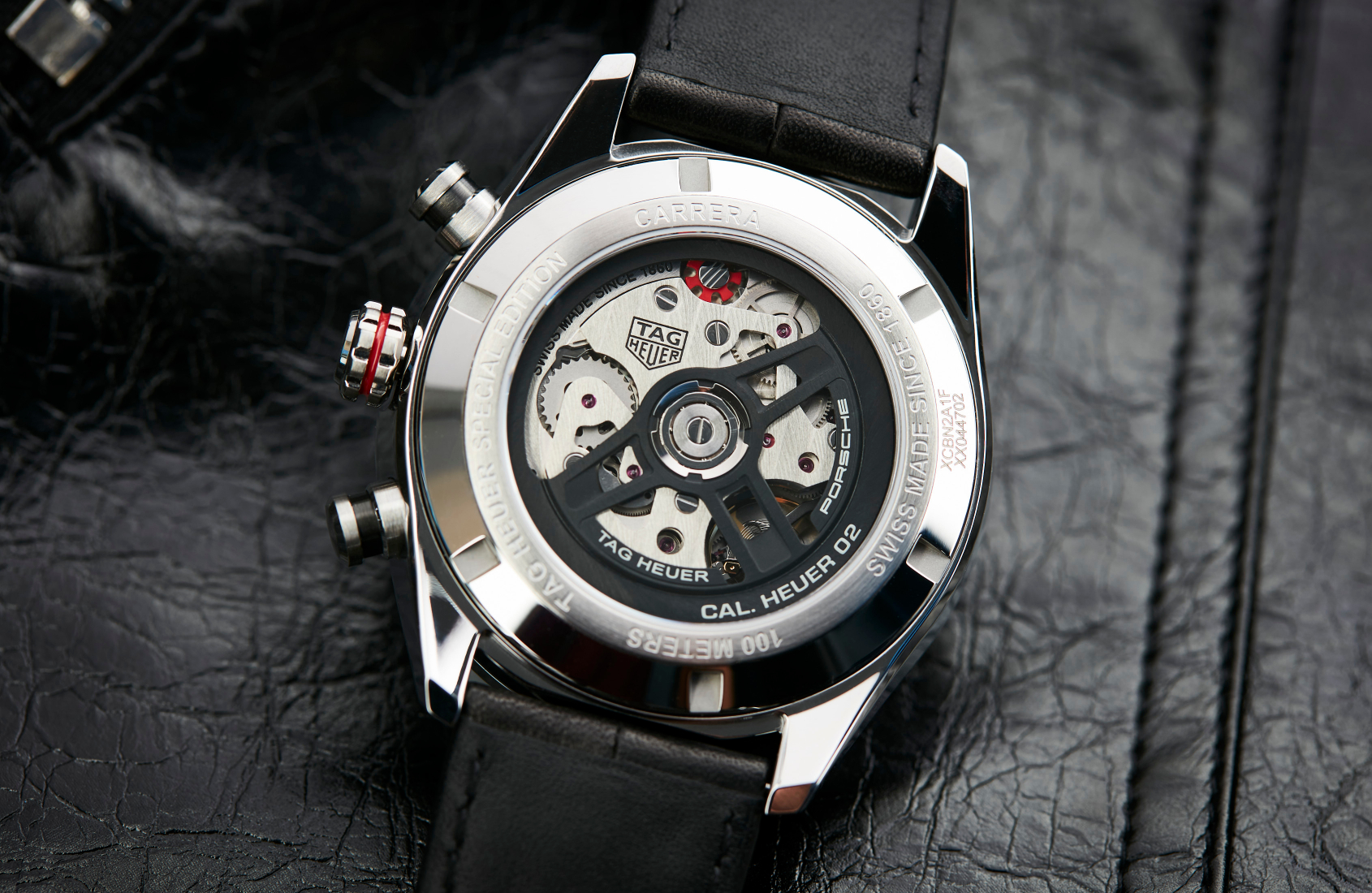 The Heuer 02 automatic movement from the Sports Chronograph range is here fitted with a Porsche racing steering wheel design for a rotor. This is a solid, accurate movement with a purposeful 60-hour power reserve. Ultimately, though it's that sapphire caseback and Porsche steering wheel rotor that will win the heart of any motorsports enthusiast.
The TAG Heuer Carrera Porsche Chronograph is $8450AUD on leather strap and $8750AUD on steel bracelet. For more details, visit TAG Heuer right here.
Made in partnership with TAG Heuer. However, the opinions expressed in this article are our own in accordance with our Editorial Policy.