I've always had a bit of a soft spot for the Aquaracer. To my mind, it's something of an unsung hero in TAG Heuer's chronograph-heavy line-up. But the modern diver looks the business and, in a water-loving country like Australia, makes sense. It's also quite a youthful feeling watch, which makes a nice changeup from the current litany of heritage-inspired offerings.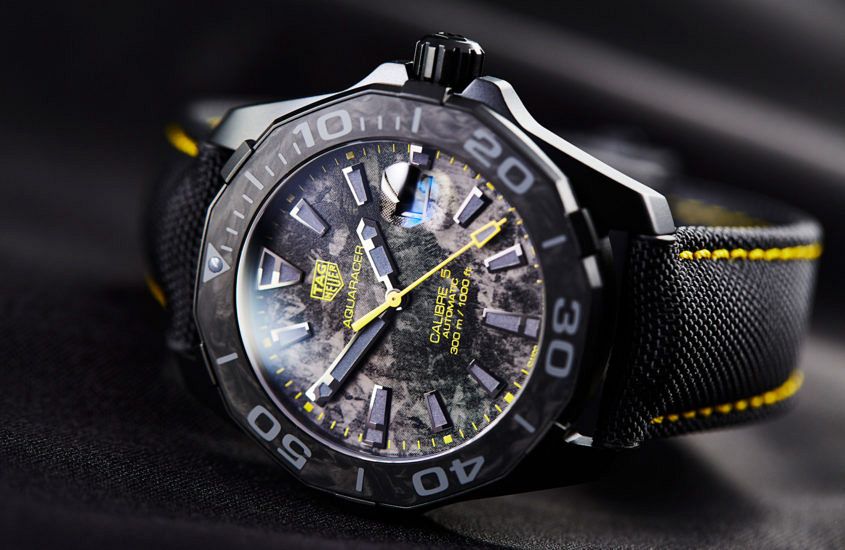 And while the Aquaracer has never been particularly colour-averse, it's somewhat ironic that this stealthy, blacked-out option is all about the colour. It's offered in three variants, with blue, rose gold or yellow detailing, and today we're having a look at this not-so-mellow yellow fellow. Fundamentally, it's a watch that's pretty familiar: 41mm across, with a case made from lightweight titanium coated with a black PVD, and fitted onto a lovely sailcloth-style nylon strap.
The high-carbon content comes into play on the bezel and the dial. That distinctive shaped bezel has a carbon fibre bezel insert, replete with subtle whirls and swirls. The dial bears a similar pattern of carbon fibre-like flecks, but, interestingly, the dial isn't actually made from carbon fibre, but rather rendered in an ersatz carbon fibre pattern, which still looks cool, especially with the grey luminiscent material, and bright yellow dial printing, minute track and seconds hand.
To me, this carbon edition represents a nice cosmetic update on an old favourite, one that ties in very nicely with the overall look and feel of the Aquaracer. In fact, of the Carbon collection offerings, I'd have to say this is my pick of the litter.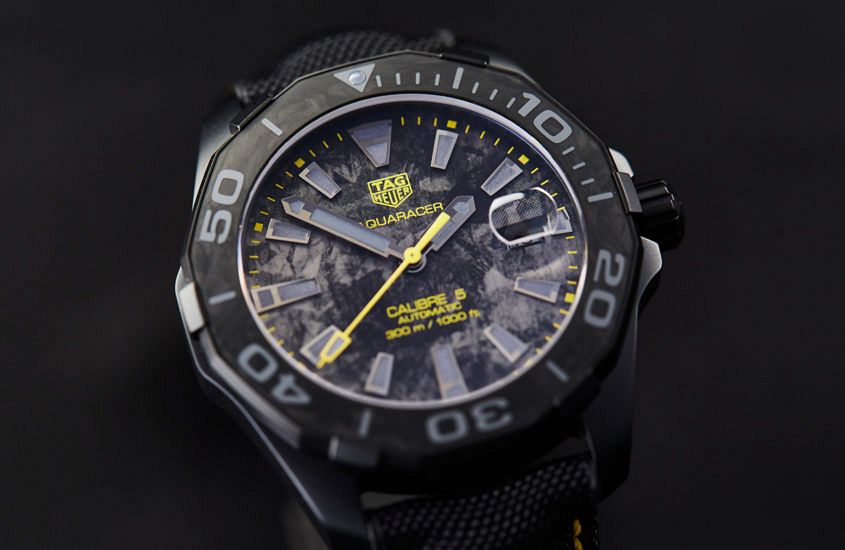 TAG Heuer Aquaracer Carbon Australian pricing
TAG Heuer Aquaracer Carbon, $5250