HANDS-ON: The Seiko SNE566P is the new root beer in town, and it's bigger, bolder and available to buy
Fergus Nash
Seiko in 2020 is like a bull incensed: never slowing, threatening in intent and thrilling to watch. Amongst the slew of limited editions across all of their ranges, one of the most attention-capturing is the Seiko SNE566P — a professional-grade diving watch in a sumptuous 'root beer' colour scheme, and available now only to Australians at a recession-friendly price.
As much as Seiko is renowned for having legible dials, this particular reference is up there with the best. The indices are large and filled with Seiko's proprietary LumiBrite, guaranteeing that you'll have no trouble reading this watch in the dark. The hands are easily distinguishable between hours and minutes, using a similar hand set as the beloved 'SKX' style, albeit with a slightly shorter hour hand.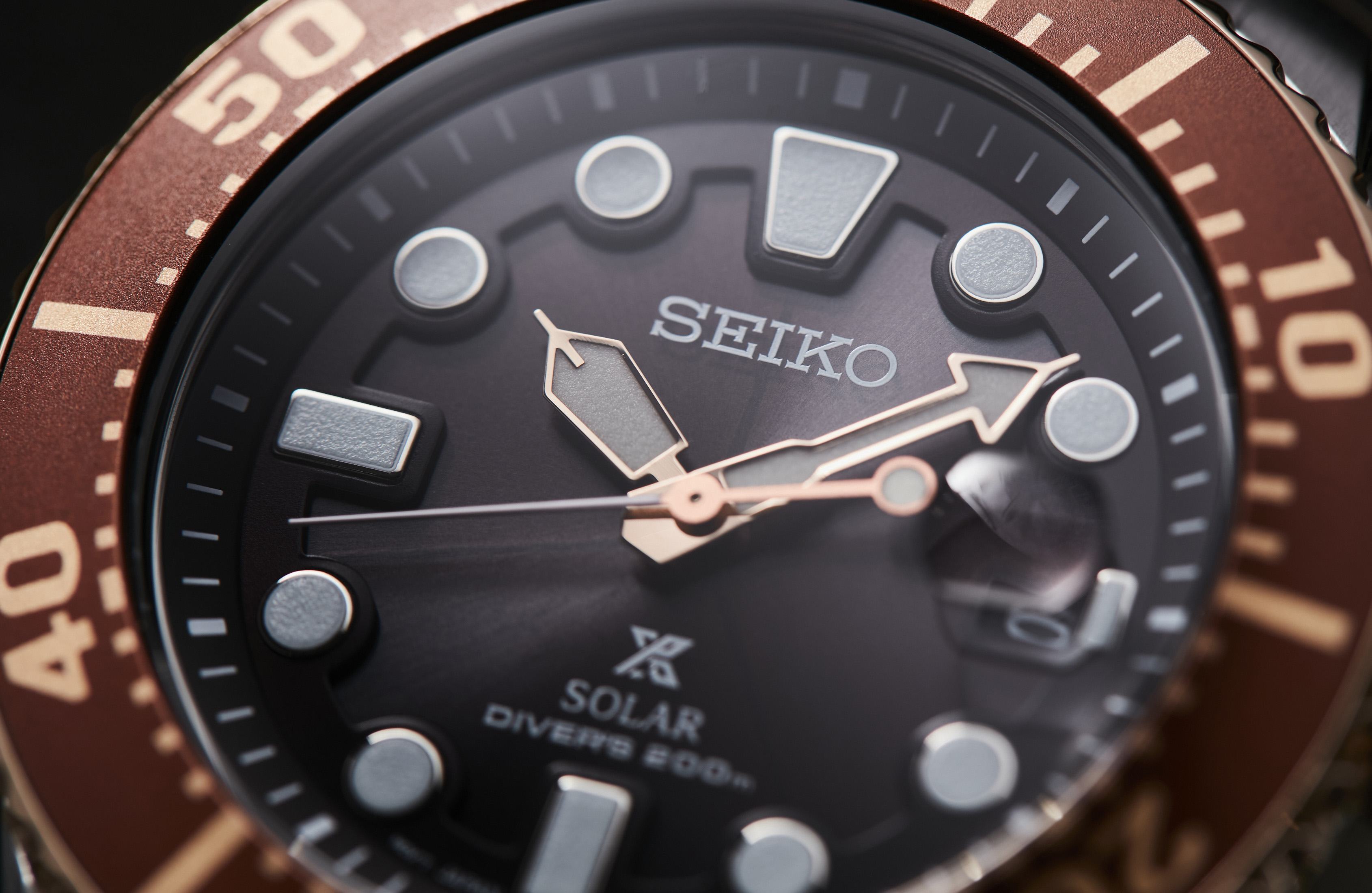 The date window has been given a magnifier, which may not be to everyone's taste, though it does make it much more legible from a variety of viewing angles. The white printing on the dial is crisp and not too distracting, from the precise minute track around the chapter ring to the Prospex 'X' logo and 'Diver's 200M' text proving the watch is up to ISO specifications for a diver's watch.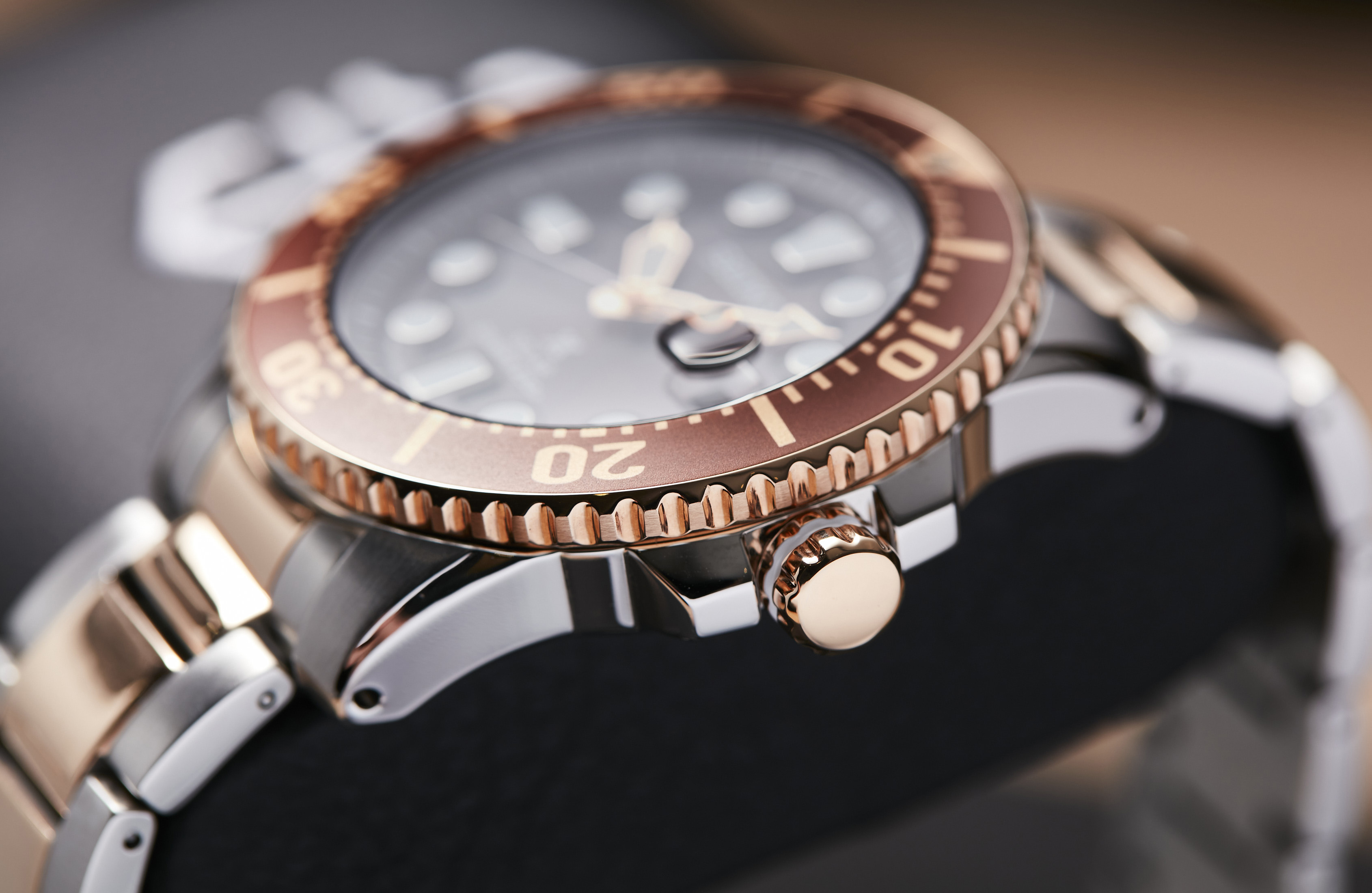 As with the SNE435P, a sleek blue diver bearing the PADI logo, the SNE566P uses a 43.5mm stainless steel case. With the lug-to-lug distance coming in just under 50mm, this does mean that it wears considerably larger than what we usually expect from Seiko, but that doesn't make it an uncomfortable wear. The 12mm height of the case, which is astonishingly thin for a diver's watch as bold as this, ensures it's not too bulky for an average-sized wrist.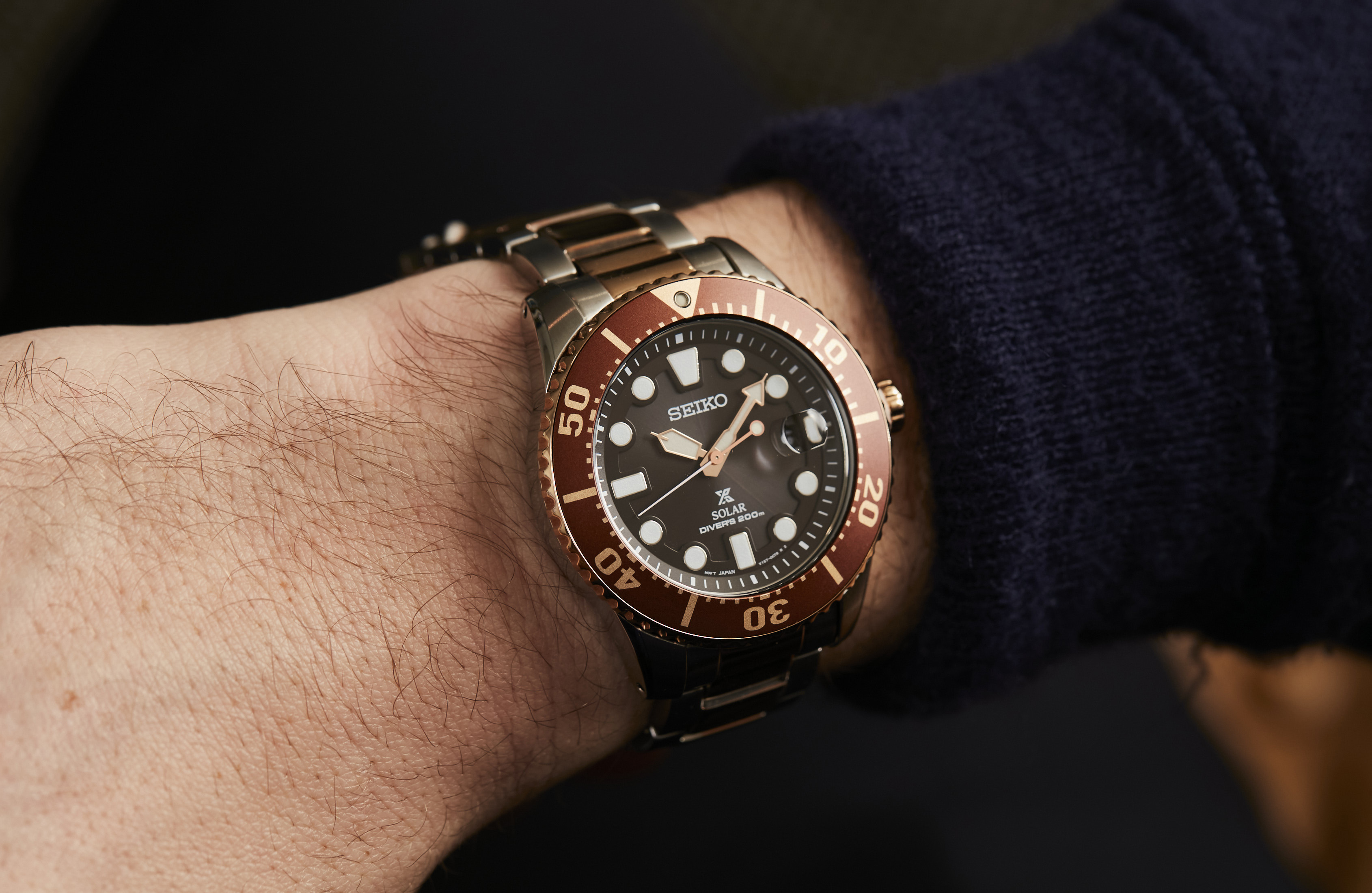 Although not branded with the PADI logo, the specifications of the watch are through and through up to professional diving standards. With 200m of water resistance, aided by an easily twisted screw-down crown, it will safely descend to plentiful depths — as long as you don't mind potentially becoming barracuda bait from the shimmering metals. Not only are the hour markings and hands easily read, but the bezel markings are also boldly legible, with a luminous pip at the top for easy location in low light conditions.
The bracelet is Seiko's standard push-pin affair, with each link disguised to appear as a three-link design. The outer links are brushed steel, with the centre having a polished rose gold coating, perfectly matching the tone of the bezel, hand set, and crown.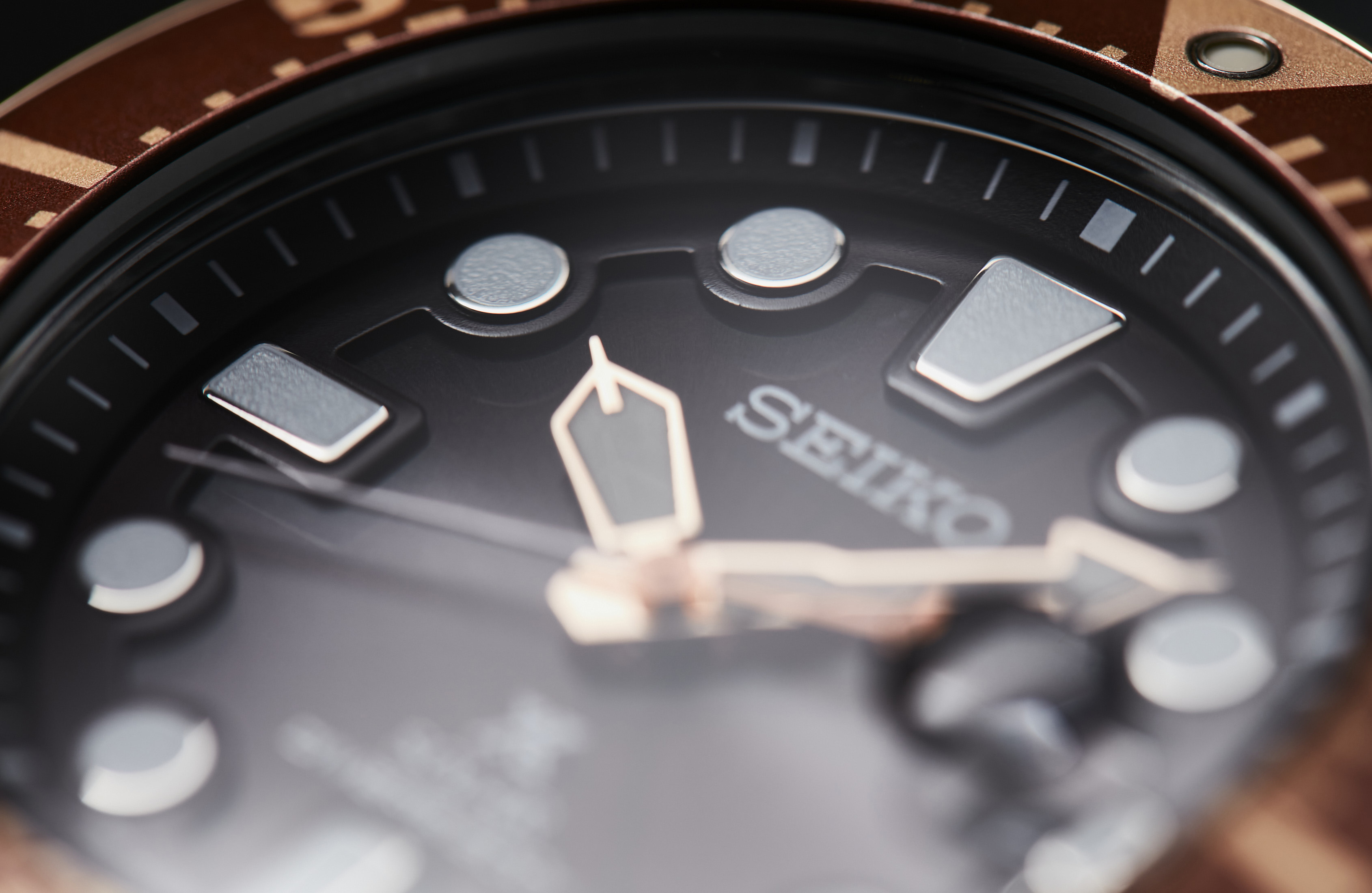 For those who mainly enjoy this watch for its aesthetic, the bracelet is an obvious choice, adding a certain retro-bling without overpowering the watch itself. However, if hardcore diving use or a more subtle look is needed, Seiko's classic accordion-rubber strap is also included. At 20mm, options for aftermarket straps are also near-infinite.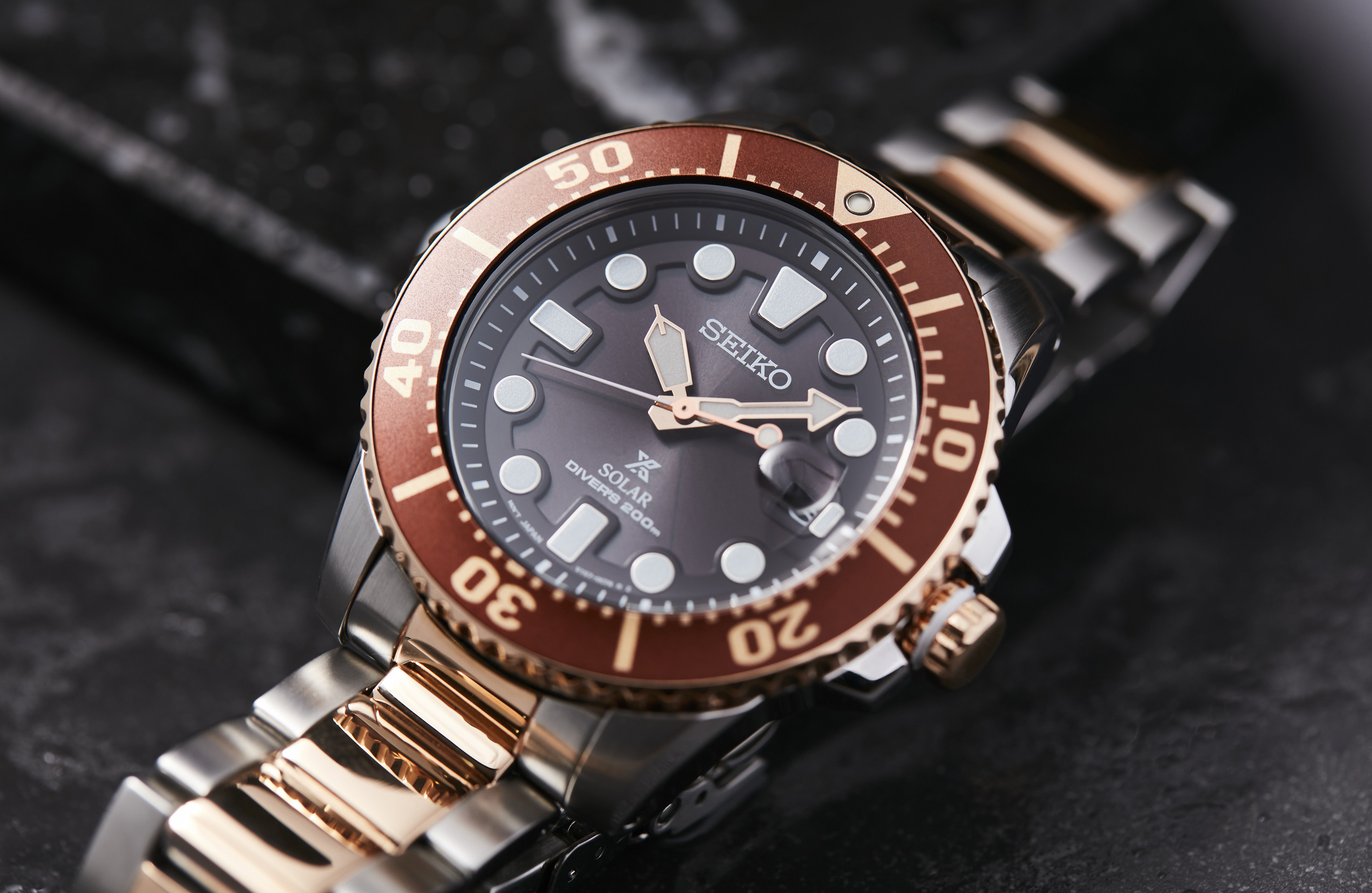 Seiko's Solar V157 movement is as reliable as ever, of course ticking away at that "love it or hate it" 1Hz rate. Accurate to within +/-15 seconds per month, the need for changing batteries should be eliminated with its recharging capabilities. Sunlight is, of course, the best way to keep it topped up, but average office fluorescent light also does the job perfectly fine — fully charging the battery cell in less than two hours of exposure. 
Pricing and availability of the Seiko SNE566P
The SNE566P is a limited edition of 1500 pieces, exclusive to Seiko boutiques and authorised dealers only within Australia. The moulded plastic box is nothing less than extreme, being shock and water resistant as you'd expect from any professional piece of equipment.
At an RRP of $995AUD, this watch does demand quite a premium, being nearly twice the cost of the SNE435P with the same case and same movement. Whether or not the limited nature is worth it for you, there's no denying that this watch is an absolute treat for the eyes. For more information contact [email protected] and include your name and location in your email for us to help best.