HANDS-ON: The mysterious Rolex Submariner Date ref. 116659 SABR – white gold, blue dial and a whole lot of bling
Andy Green
There was a lot of mystery surrounding this piece when it was pulled out of a large green box during our appointment with Rolex at Baselworld. And, to be honest, we were too caught up in the moment, too dazzled by the gemstones, to take it all in at the time.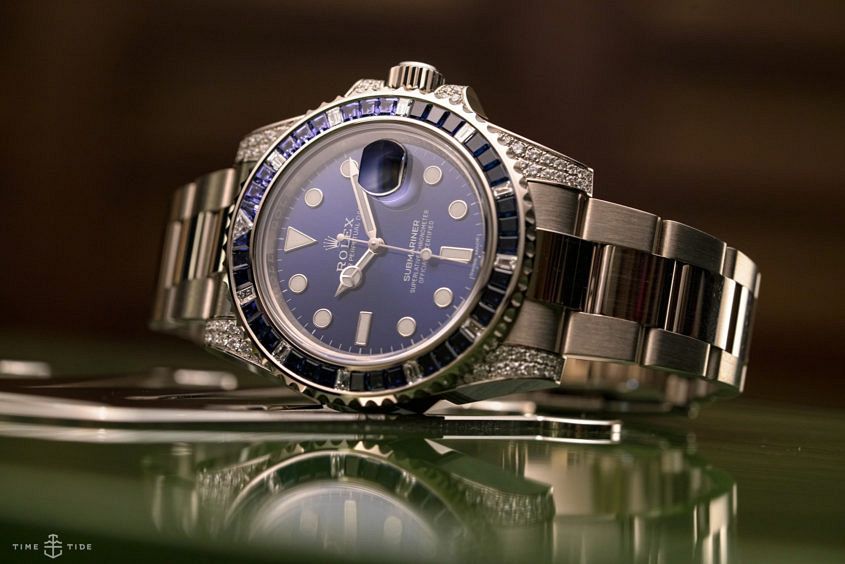 It's formally known as the Submariner Date ref. 116659 SABR, a variant on the white gold, blue-dialled 'Smurf' (ref. 116659 LB), but while at first glance it might look like the stones are the only addition, the dial is completely different. Not only is it darker, and has a sunray effect, but there's a notable omission. Look closer. Have you spotted it yet? That's right, there's no depth rating. On a typical sub, there's a line underneath the 'Submariner' text that says the watch is good to '1000ft = 300m'; not so here. And there's also no specific mention of depth rating on the press release, though it does specify an Oyster case and Triplock crown. But it bears the Submariner name, so you'd expect it to be 300m, though it's not made explicit, perhaps something to do with all those diamonds.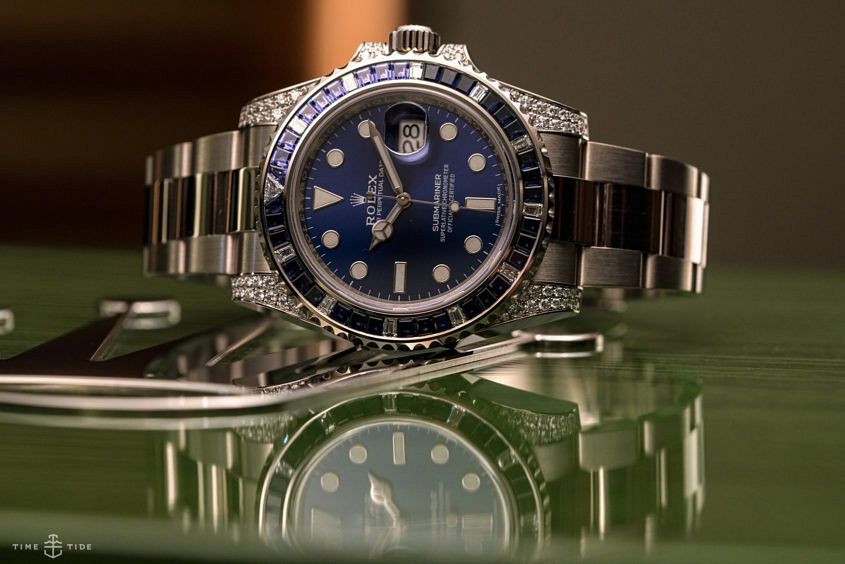 Speaking of stones, the bezel is set, in Rolex's typically exceptional fashion, with 27 dark blue baguette sapphires, 11 baguette-cut diamonds at the hour markers, and a triangle-cut diamond at 12 o'clock. And even though this isn't your typical tool watch, the bezel functionality is still there; the first nine sapphires are light blue, representing the classic dive bezel graduated for decompression times. The case and crown guard are further set with 92 brilliant-cut diamonds. There's approximately 3.90 carats of sapphire and a total of 1.72 carats of diamonds on the 116659 SABR, all selected and set by the Rolex gemmology laboratory.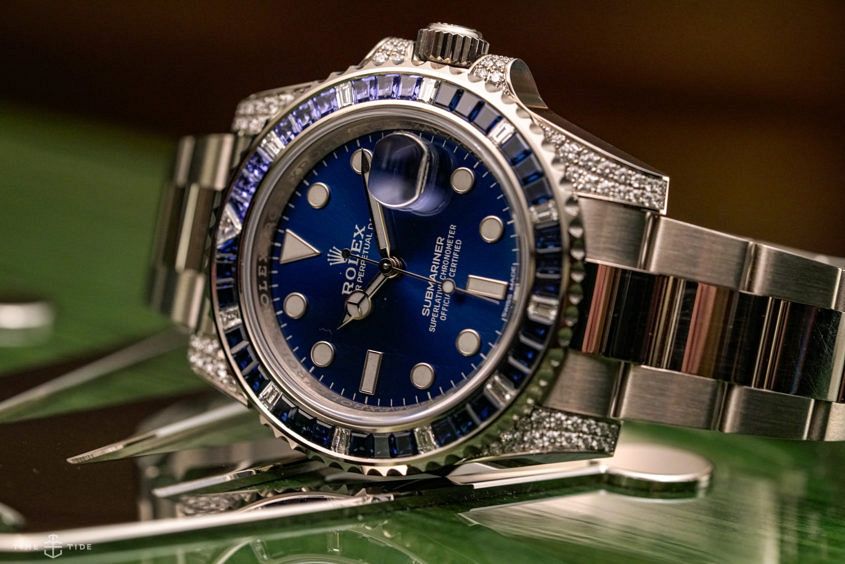 It's fairly unusual to see a piece like this come from Rolex, considering the tool watch nature of the Submariner. It's precisely the juxtaposition of the highly jewelled and the professional tool watch that is the most important thing about this special — and very limited — production watch.