As part of Australian Watch Week we're asking watch microbrand specialists Worn & Wound for their off the cuff take on every watch we review:
"With clean lines and obvious inspirations, the M2 looks like a solid, but conservative option for those in need of a watch that can go from the office to the ocean." – Zach Weiss, Worn & Wound
The Haigh & Hastings M2 Diver is everything an Australian sports watch should be – bulky, unpretentious, reliable and with a sense of humour.
We'll come to the humour in a bit, but first let's talk design. The M2 doesn't aim to break any new aesthetic ground, opting for the tried and true (and commercially safe) option of a classic, vaguely military looking dive watch. This style is a common option for small brands starting out because everyone loves them. The challenge of course is making your particular version stand out. Haigh & Hastings are using their brand story to separate them from the herd via some pretty cute nuances.
Nuance is needed, too, because the M2 is a hefty (44mm) chunk of steel, with little in the way of fine detailing on the main section of the case, giving it an almost brutish feeling that suits the character of the watch perfectly. This is utilitarian tool-watch design at it's most pure. This rough hewn aesthetic is continued in the bezel, which features heavy, grained knurling, and a classic Sub-style aluminium bezel insert (in a range of colours including green and gold for true patriots). So far so good in terms of honouring their 'Timepieces for Dangerous Men' tagline.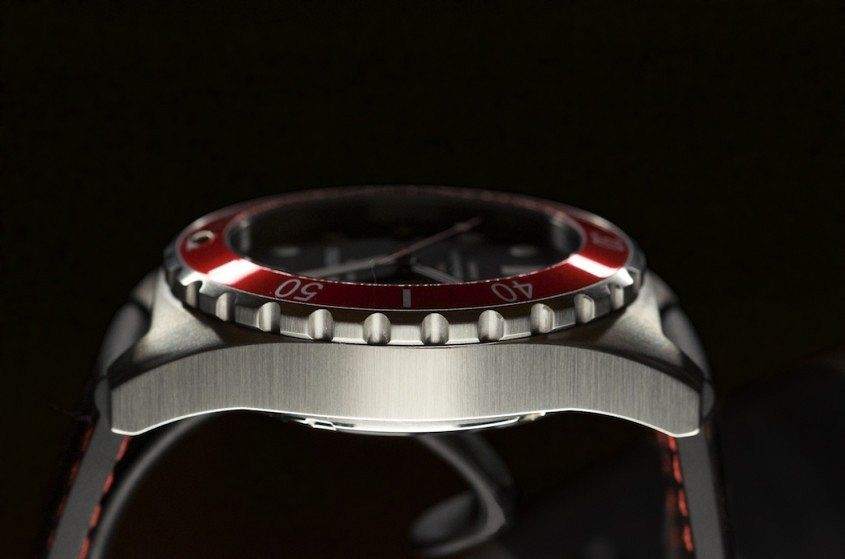 Interestingly the movement in the M2 isn't what you'd expect in a watch at this price point. Rather than the usual Miyota, the M2 is powered by a Seiko NH35A. Seiko have the edge on Miyota in terms of reliability and quality control, and it's one of the better options in this price range. It certainly fits in well with the robust Haigh & Hastings ethos.
I mentioned earlier that one of the defining characteristics of the brand is their sense of humour, and that's evident on the dial. You'll note the watch is water resistant to 1000ft/300m 'Down Under' – and that this particular model with the red bezel is called a 'Redhead', referencing an iconic Australian brand of matches. These small touches mark the watch out as a little different from the norm – though for maximum 'strayan-ness the red model should have been called 'Blue'. Which is what we generally refer to red-headed people as. Why? Because Australia.
The other nice differentiator of Haigh & Hastings is the 'build your own' option – at the moment this is limited to choosing the strap stitching and bezel colour (with corresponding witty dial text). Haigh & Hastings are planning to expand their customisation options, including more strap and bracelet options, as well as different caseback and crown options. The M2 (in all options) retails for $588.
This bespoke service is where small production brands like Haigh & Hastings can shine, as the ability to customise your timepiece and make it 'yours' is an attractive idea for many people. And even better, it is a relatively untapped market in terms of mass-produced watches at this point. The market segment clearly has legs, as 'modded' Seiko dive watches, are hugely popular. If Haigh & Hastings can manage to grow this area and keep their prices stable I think they'll do well.
As far as first watches go the M2 isn't the most innovative, but there's enough there, in terms of story, nuance and personalisation to make it an interesting option. But more importantly Haigh & Hastings clearly have plans to go places. It's a journey we'll be following with great interest.
Specifications
Brand:
Haigh & Hastings
Model:
M2 'Redhead'
Case Size:
44mm
Case Weight:
131 grams
Case Material:
316L stainless steel with rose gold coating
Strap:
22mm Italian rubber
Movement:
Seiko NH35A
Crystal:
Sapphire