When is a wristwatch no longer a wristwatch? This is the question as you hold the H. Moser x MB&F Endeavour Cylindrical Tourbillon because it feels like an otherworldly creation. Have MB&F and H. Moser freed one of the alien pilots from Area 51 – and employed him (it?) in their design department? Is this domed beauty actually from another planet? The mind is thoroughly boggled. One thing is for sure: time is immaterial when you put this on your wrist, and gaze through the impossibly high sapphire dome.
The dial, it's all in the dial
Well, there is no point trying to look at the case first, as the incredibly tall dome grabs every tiny fraction of your attention the moment you put on what is, in fact, a very comfortable watch. And then you have to sit yourself down.
With the avant-garde vision of MB&F married to H. Moser's brilliant case design, intricate movement and fumé dial (but fumé not as we know it), this is a marriage made in Haute Horology heaven. The watch is all about the dial, which, with its 19.5mm height, takes on the image (in my furtive imagination at least) of a domed base station on an alien moon, specially with the milky white delicate fumé turning a colourful, almost purple, at the edge of the dial surface.
The case
For such a rarified watchmaking feat, the case has been hewn from more down-to-earth and robust steel, measuring 42mm in diameter. The profile of the case is kept quite unassuming too, with the upper surface finished with a mirror polish and the case sides finished with contrasting brushwork with cut-out channels that emphasise the lugs. Not so ostentatious to remove any attention from being firmly on the dial, something we are happy about. Interestingly, too, the crown is positioned at 9 o'clock, perhaps to eliminate any chance of impact against the winding mechanism.
The movement
The tilted dial at 6 o'clock reveals a small glimpse of the intricately finished HMC810 movement seemingly rising from the dial surface. The combination of minimal elegance with micro-mechanical wonder is as fascinating as ever in a creation by MB&F, and this remix by Moser brings it to another level, from tiny cog to bridgework. The automatic HMC810 caliber features an in-house cylindrical hairspring tourbillon and 72 hours of power reserve thanks to the gold winding rotor.
The verdict
Knowing that this is the lovechild of the two maisons creates a fascinating game of spotting which detail is from which parent. The flying tourbillon revealing itself at 12 o'clock is one of the reasons the tilted dial might ironically be somewhat superfluous, because this is as captivating as it gets. A twirling tourbillon, with the Moser calling card of a Straumann balance spring expanding and contracting, is pure joy, and the cage being as intricate and lovingly finished as only Moser knows how.
I'd happily stay here, loupe on and the H. Moser x MB&F Endeavour Cylindrical Tourbillon in my hand. Office, what office? Lockdown is welcomed, as I could wear this happily all day, though whether any work would get done is an entirely different matter. Well, yes, the case finish is sublime, the lugs curve to hug the wrist like an H. Moser should, and on its hand-sewn smooth calfskin strap ergonomy is paramount, lest you try to "slip" it under a shirt cuff with that 19.5mm dome. But this is not a watch to be hidden away, surely.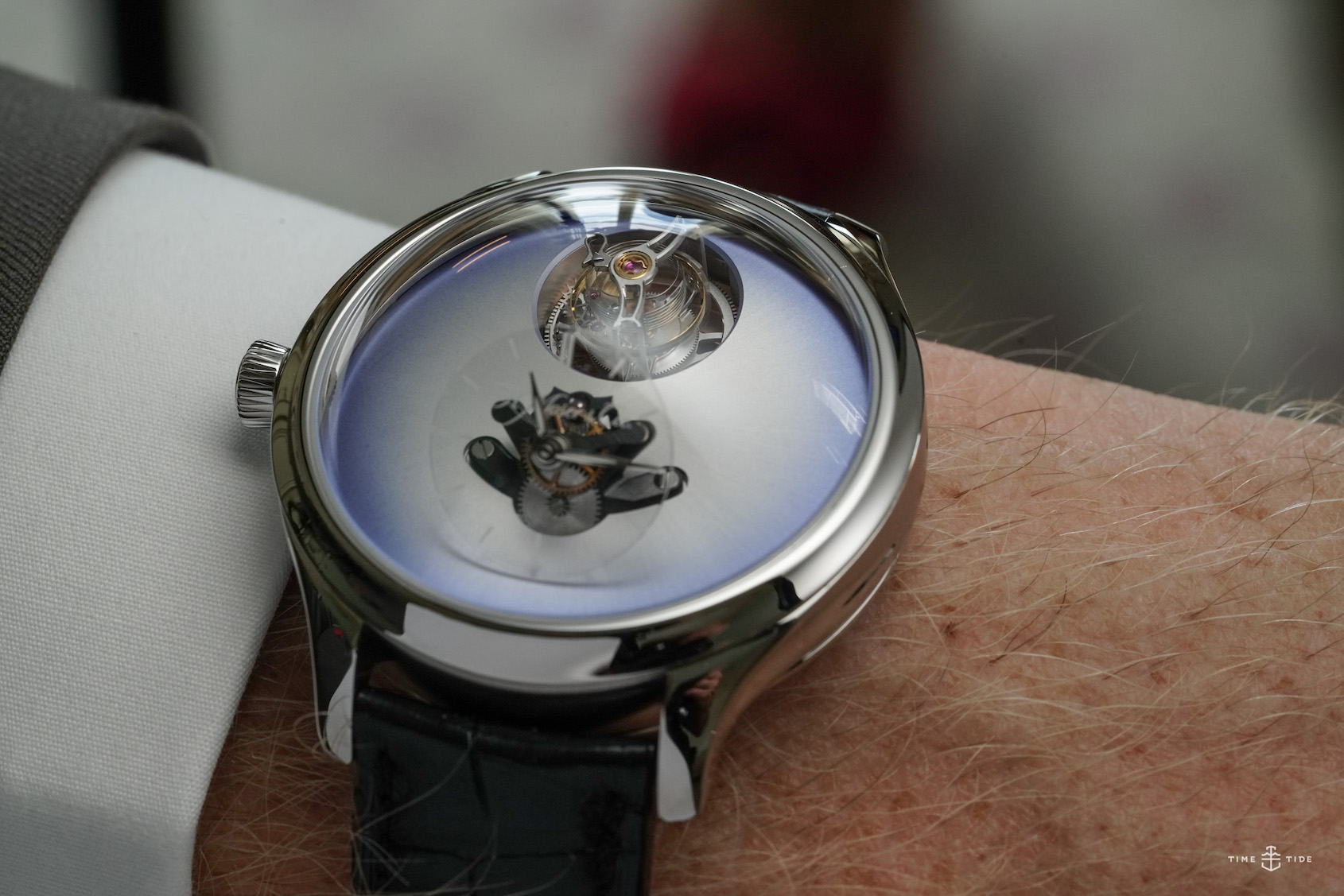 H. Moser x MB&F Endeavour Cylindrical Tourbillon price and availability:
The H. Moser x MB&F Endeavour Cylindrical Tourbillon is CHF 79,000, and is limited to 15 pieces. Visit H. Moser right here for all the details.