Hublot has been growing the Spirit of Big Bang line slowly and steadily, and though the SoBB Yellow Sapphire was quite the cool addition, this new tourbillon is (in my humble opinion) easily the best new offering in the collection. The Hublot calibre HUB6020 was designed specifically for the tonneau-shaped case of the Spirit, and its architecturally inspired structure suits the casing quite well. Once again being the brand that loves messing with variations of case materials, not only is it offered in a black carbon version, but also this slick version that that rolls hints of a blue composite material into the mix.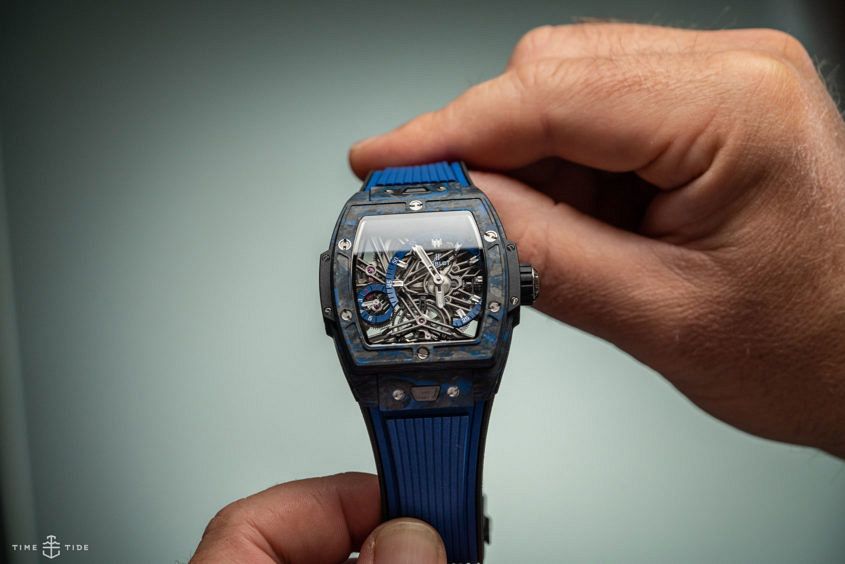 Limited to only 100 pieces in each material and carrying a price tag over six figures, the tourbillon lives in the upper register of the brand's collection, and if you have a closer look at some of their other skeletonised offerings you'll note some similarity. Specifically, the Classic Fusion Tourbillon Power Reserve 5 Days Orlinski shares much of its movement DNA. The design of most of its bridges, as well as the layout of its mainspring barrel, tourbillon, and power reserve indication are near identical; however, to make the design work effectively in the SoBB, Hublot's movement engineers staggered the cannon pinion, and thus its hands for time indication off to the right rather than being centred within its case.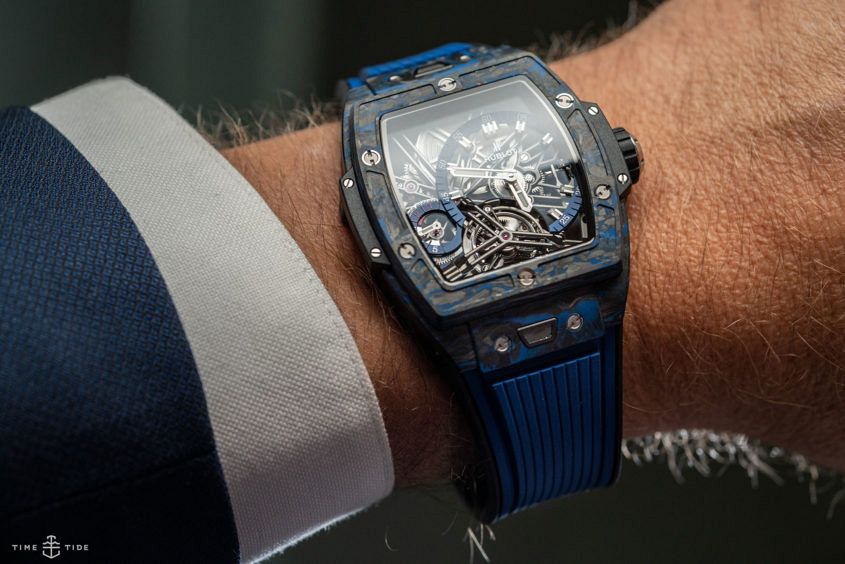 Back to the piece at hand, Hublot has added another trick to this latest model that we eventually expect to see making an appearance in the balance of the collection. We're talking about the brand's "one-click" quick-change strap system, which has surprisingly yet to make it onto the Spirit of Big Bang case until now. Given the colour combo of the blue-cased variant of this watch, the quick-change strap isn't going to see a ton of mileage, but those who opt for the black version could have plenty of fun alternating between a range of colour options. Both red and white being the most logical choices, but those with a bit more gusto could easily take liberties.
On the wrist, the 42mm case dimensions are a touch misleading, as its significant lug-to-lug length gives the piece significant visual weight. On my 6¾-inch wrists the piece still fits comfortably, but this thing is anything but petite. I will say that it wears a fair bit smaller than you might expect. And while we're talking about the complicated, technical tonneau/tourbillon market section, it would be remiss not to mention Richard Mille. My position on this remains the same. Two VERY different watches once seen and handled in person, and the composite tonneau case does not change that equation.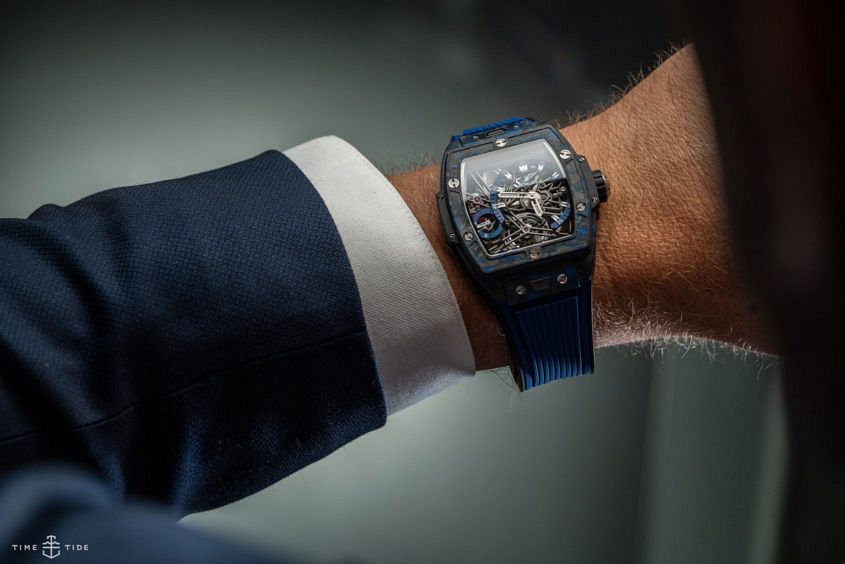 Hublot Spirit of Big Bang Tourbillon Australian pricing
Hublot Spirit of Big Bang Tourbillon, limited to 100 pieces, $122,000