HANDS-ON: The Bulgari Aluminium time-only – a summer-fresh take on a '90s lightweight classic, still a winning formula, still fresh
Thor Svaboe
The strangest feeling is to be had when you first put on the Bulgari Aluminium time-only — if you actually get it on in the first place. Holding it makes you do a double take and shift it from left to right hand as if to check your own function as a makeshift human set of scales. Yes, this is metal, but we're not used to light, cool, matt aluminium in a watch case. Then there is a chunky rubber bracelet. Yes, a linked rubber bracelet, in itself a novel concept that surprises in equal amounts. My entire image of Bulgari is changing as I am handling the watch for the first time. An image that in 2020 is one of record-breaking Haute Horlogerie, the unfathomable elegance and thought-provoking feeling of a paper-thin watch with the magic of a tourbillon, somehow at odds with this fresh breath of summer. And I love it.
The unbearable lightness – and coolness – of aluminium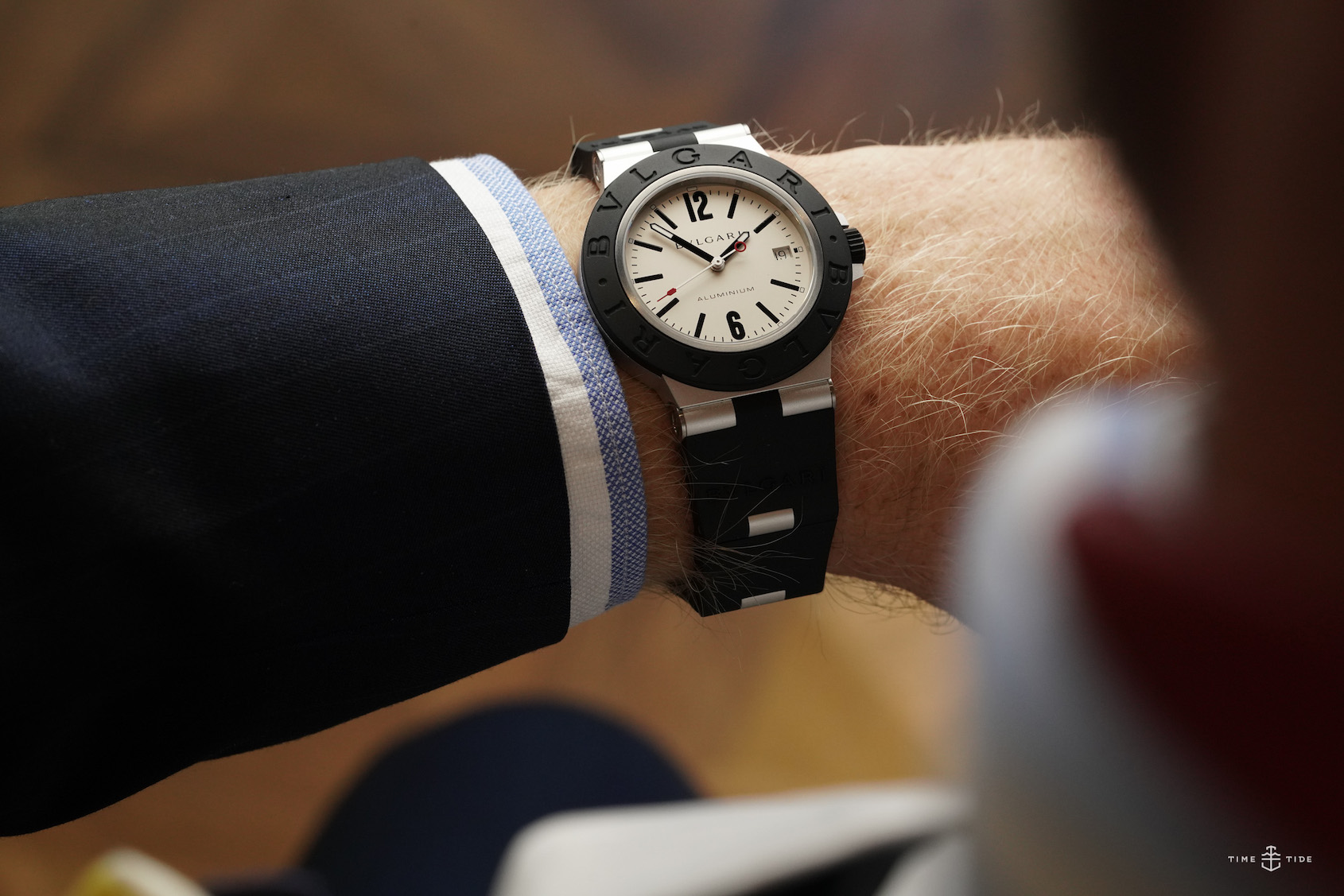 My first associations are close to the cool technical feel of a Leica camera body when I peruse the details — details that surprise and amuse. First, the surprising nature of its chunky yet light case – an angular shape with the lugs being unusually large, with polished end plates and countersunk large screw pins – tool-ism at its best, and pleasant over-engineering. This seems more like a fixed pivoting hinge attached to the case than traditional lugs, and is one of many refreshing details in this flyweight masterpiece from Bulgari, a sharp-suited tool.
The large fixed black PVD treated bezel is elegantly recessed into the case, and unashamedly BVLGARI-lettered, yet the stealthy black silky surface doesn't shout, instead just quietly confirming the fact that this is familiar yet new. It's cutting-edge horlogerie on a budget, fit to make this anyone's perfect sports – or summer watch … hell, I'd wear this with a suit, if only for the supreme light comfort. Angular crown guards do their job, perfectly embracing the black crown, well proportioned to the case while allowing easy access to the screw-in crown, being one of the reasons for a carefree 100m depth rating.
A monochrome dial with a subtle Italian twist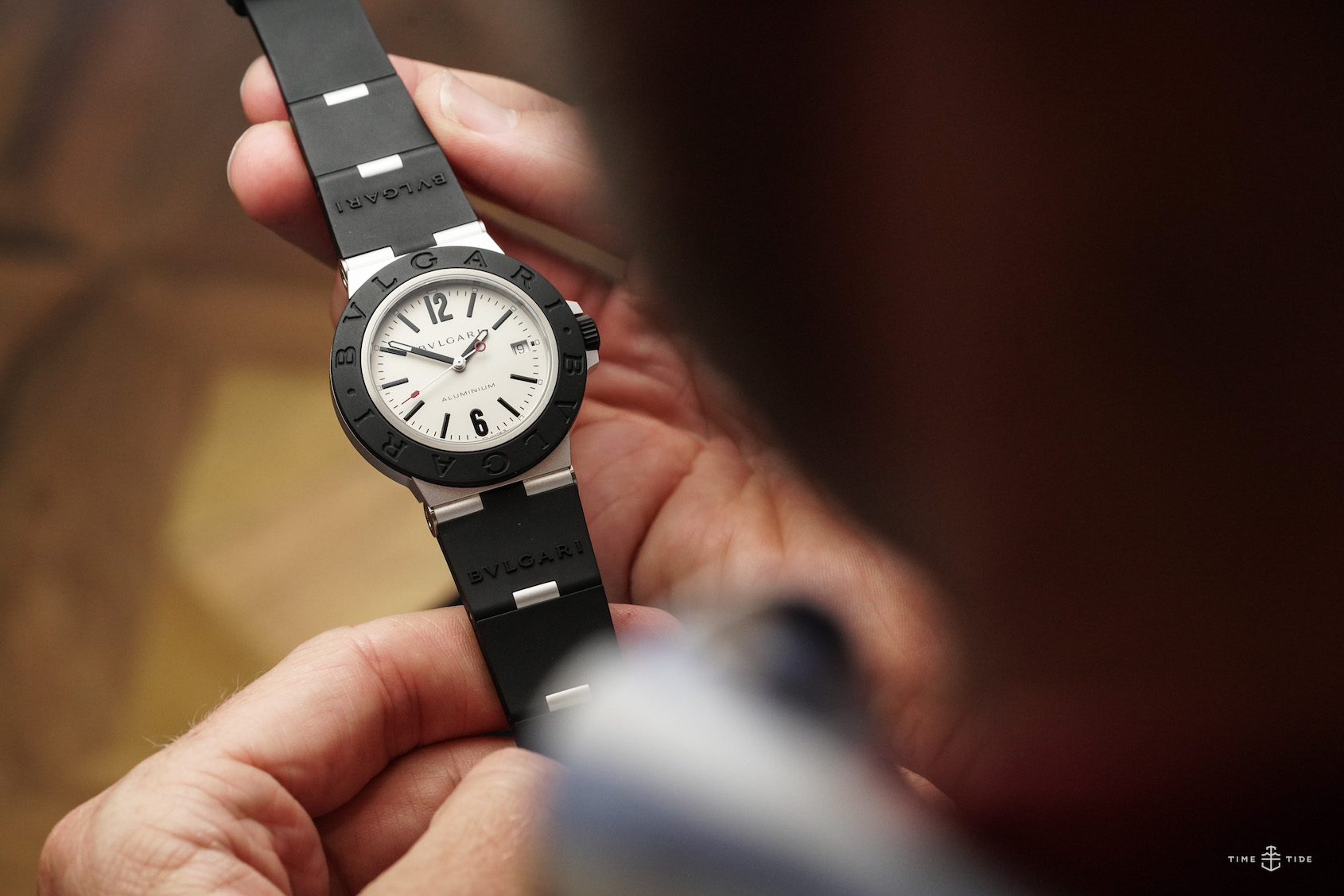 The dial is simple enough at first glance to be A WATCH in a children's textbook, yet subtly exclusive when you (still surprised by the weight) let it slide out from your cuff for a time check. It's a delicate, slightly off-white colour, with minimalist black hour markers, and the classic Bulgari touch of a large 12 and 6. The legibility is close to perfection, the black hands with lumed sword ends a perfect length stretching towards the hour and minute indices, and then the sharp Italian touch of pizzazz in the seconds hand.
What could be a sporty, utilitarian seconds hand is needle sharp and white lacquered, but with a brilliant pop of colour from the square lollipop end, and a bright red circular counterweight. So the Bulgari Aluminium is lightheartedly summer fresh with a clean cut T-shirt and designer jeans, and such a great contrast to a crisp business shirt and a softly tailored suit jacket. So far, tutto perfetto. What about that linked rubber, it doesn't look like anything else does it? Ten points won already.
A bracelet of surprises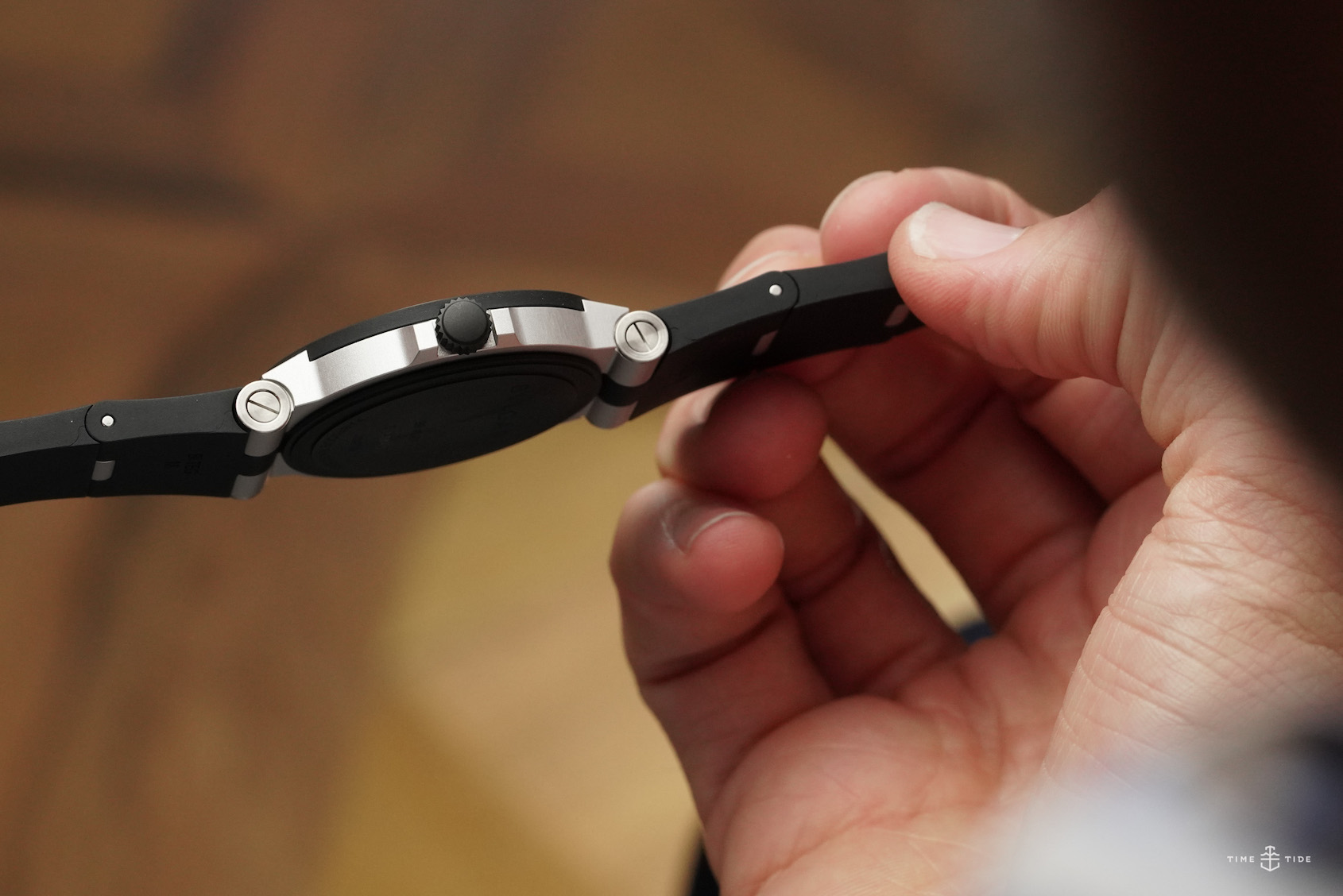 Rubber is usually followed by the word strap, not bracelet. So here's the novelty factor for many of you: this is quite chunky as rubber goes, and not soft per se, but soft by design. The metal links holding together the black tough rectangular rubber blocks move in a very solid fashion, and feels neither moulded to shape, or drapes itself easily around your wrist. Why is that a good thing you may ask? Each part has the first 1/3 made from pivoting links, while the end is rubber strap normality. Pure genius. You shape it physically around your wrist, giving it a fascinating combination of solidity and an airier feel than most rubber straps, often becoming clingy on warm days. As when holding the watch you will also here find yourself endlessly fiddling with the bracelet and links … tactile is a good word, and Italians know it ever so well.
The movement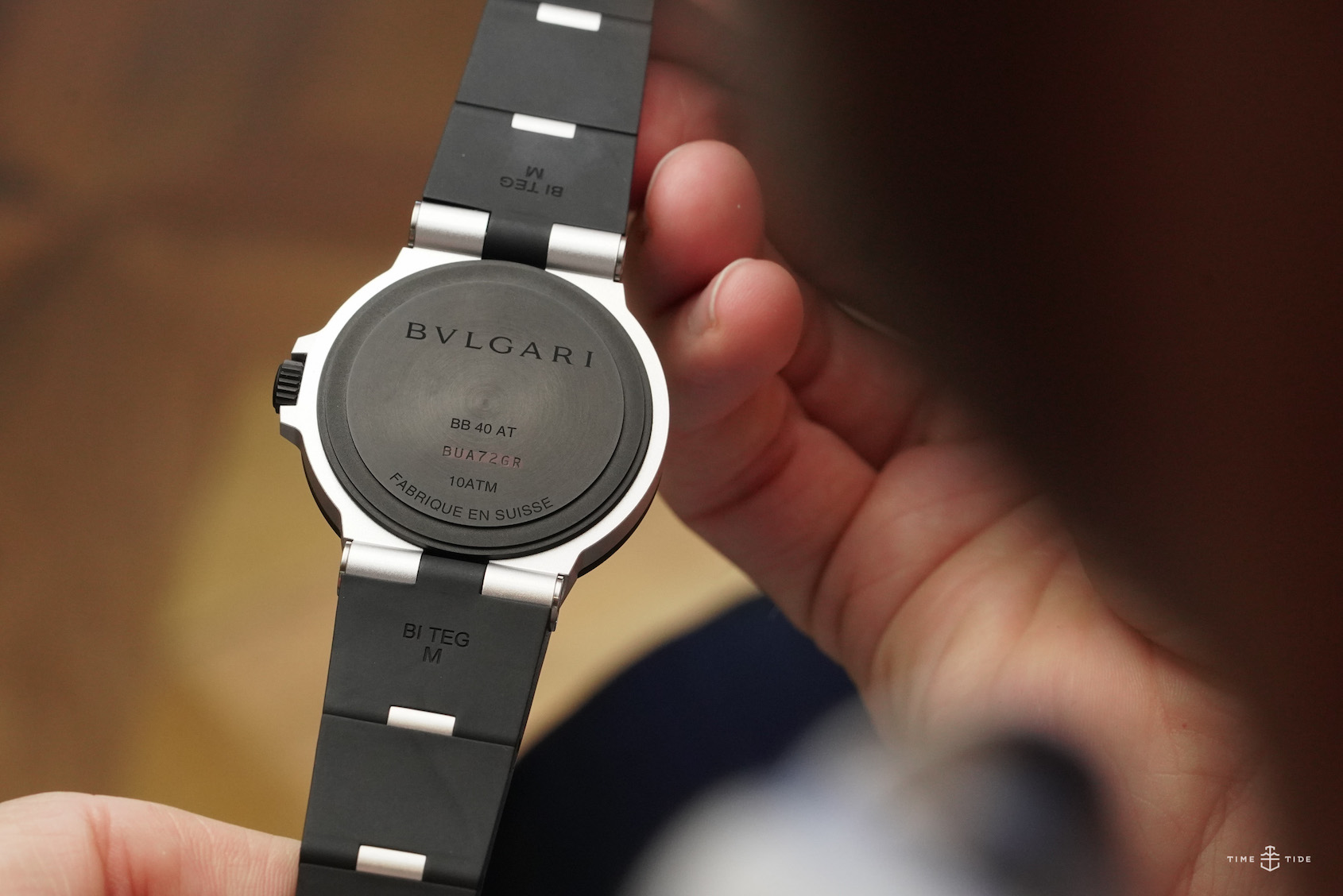 The Bulgari Aluminium time-only watches are powered by the Bulgari manufacture caliber B77, which is Bulgari's take on the renowned workhorse ETA 2892 movement. The 2892 is a safe bulletproof choice that brings superb value to what is the most accessible mechanical watch from Bulgari. It's a tough, reliable movement, capable of chronometer-level accuracy when adjusted in the right hands, and provides a highly shock-resistant engine for this sports watch total of 42 hours of power reserve.
Me, I want to keep it on — if only to remind me that summer is returning, and as a conversation starter on the subject of why aluminium is not prevalent in sports watches. And simply because it is a tough, light, unusual sports watch you fall in love with through its infusion of Italian flair for design. And for you, Fabrizio Buonamassa Stigliani: io rimasto senza parole, tu sei un genio.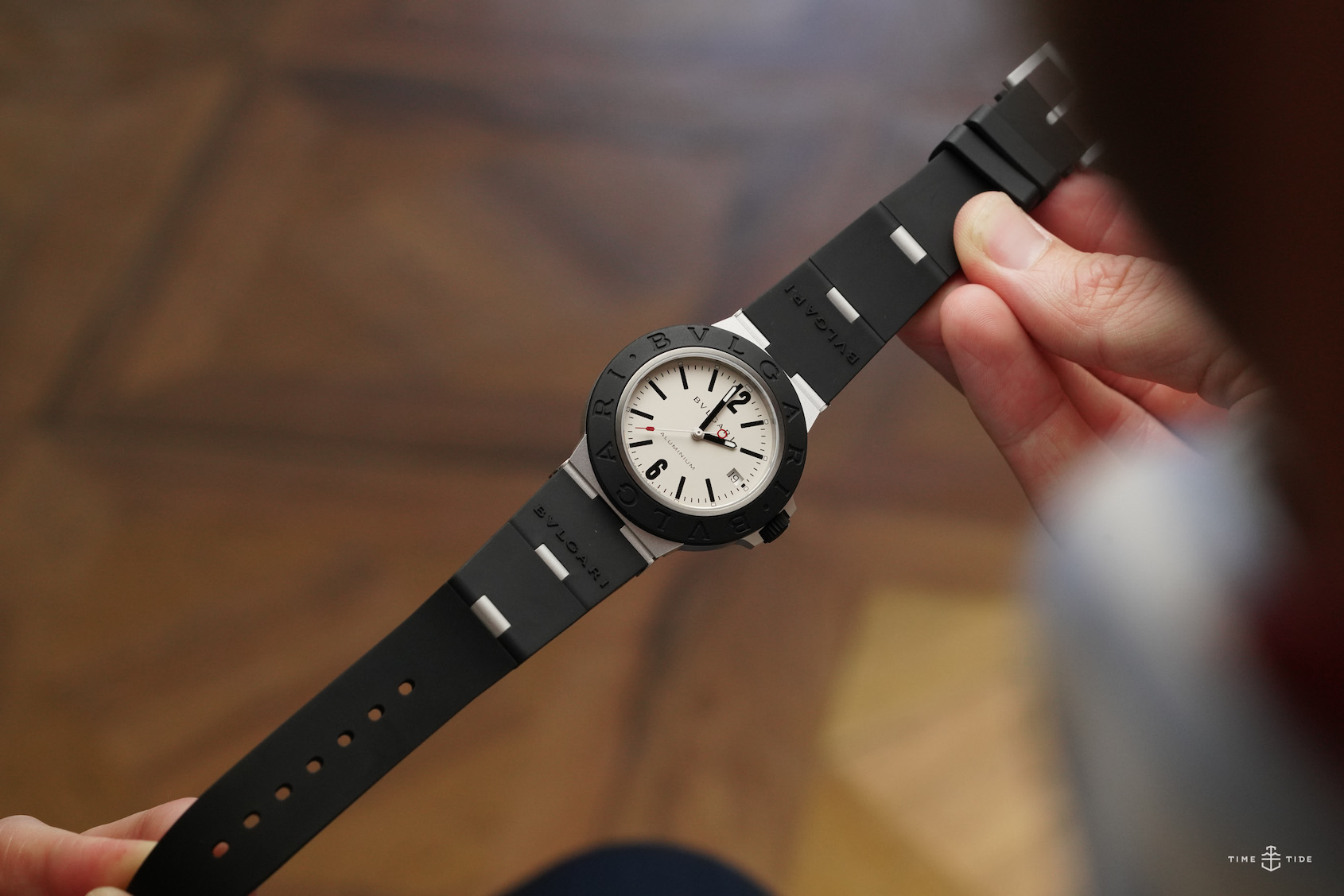 Bulgari Aluminium time-only price and availability:
The Bulgari Aluminium time-only with white dial is $4340, and is available at Bulgari boutiques and online. For more details, visit Bulgari right here.
Made in partnership with Bulgari. However, the opinions expressed in this article are our own in accordance with our Editorial Policy.