For many around the world, one of the unexpected side effects of a global pandemic is spending a lot more time on the couch watching Netflix. And if that's something you can relate to, then you have probably watched (or at least been recommended to watch) The Social Dilemma, a documentary about the addictive elements of social media and how each platform is structurally designed to retain your attention. How is this related to the Bausele Vintage 2.0 Hybrid SmartWatch? Hear me out.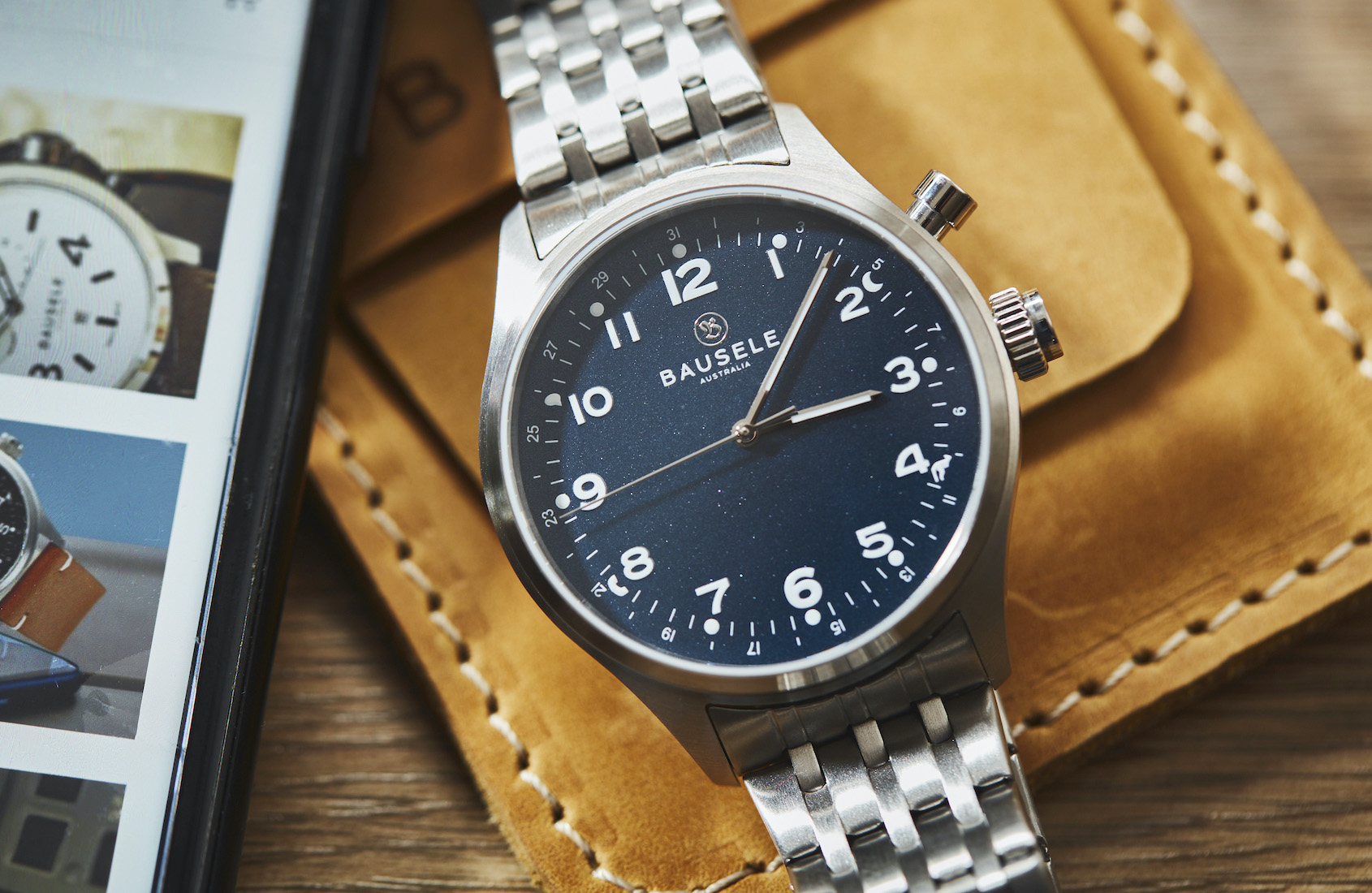 While The Social Dilemma was not a catalyst for immediately deleting my social media accounts (I'd miss the #watchfam too much), it was cause for a moment of reflection as I watched the film with my phone in one hand, thumb scrolling through Instagram as a technology ethicist eloquently articulated the dangers of unchecked time spent using the very app I was on. Do I get too many notifications? Just how addicted to my phone am I? If you've asked yourself these questions in the past, then an additional screen on your wrist in the form of a smartwatch might not be the right thing for you. Another screen can be distracting, just offering another endless feed to scroll through when your attention is wandering.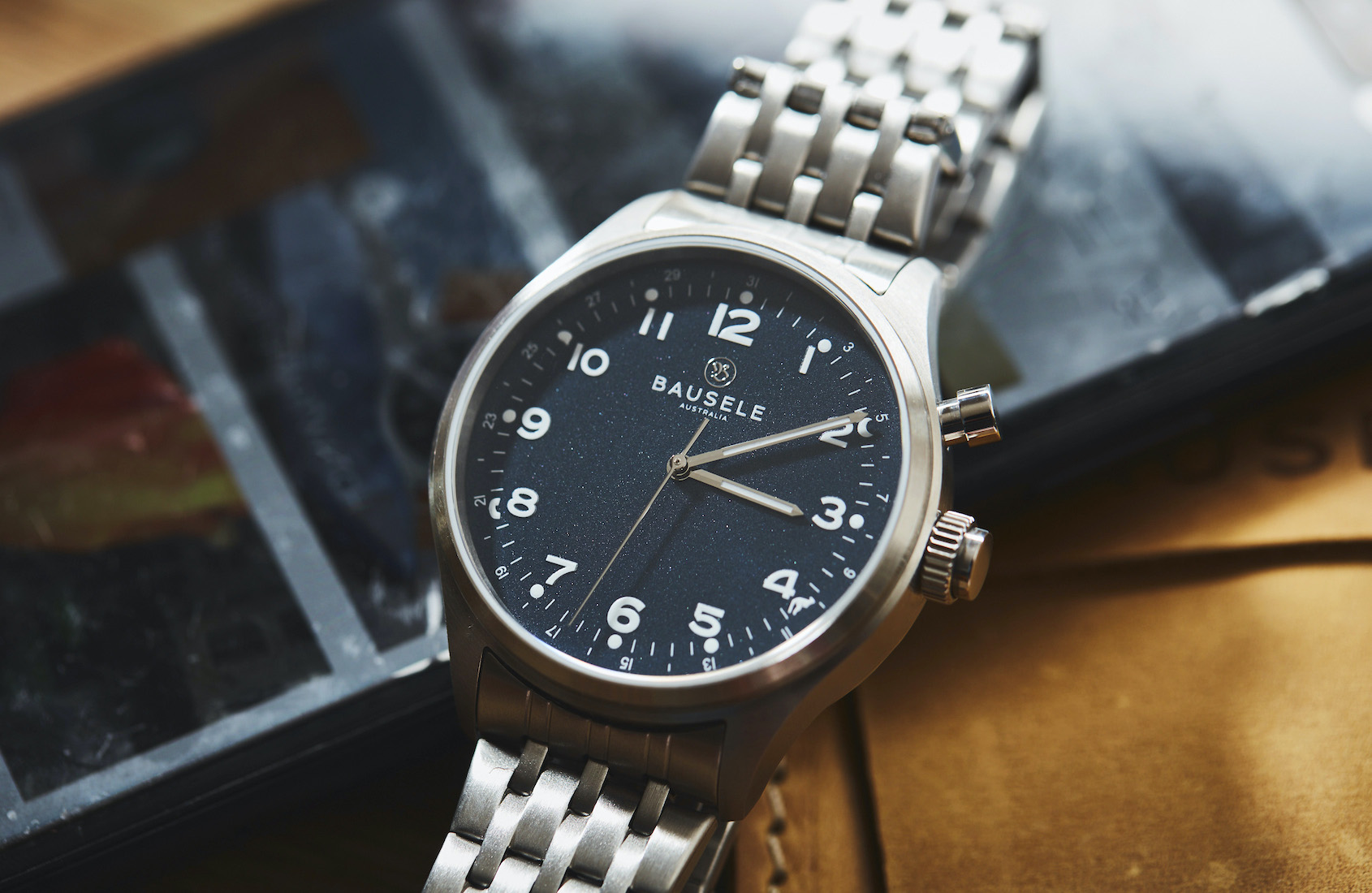 But is there a middle ground? Something that can track your daily activity and sleep, and even alerts linked to your phone, but one that doesn't need another screen to communicate with you? Bausele was founded by Christophe Hoppe in 2011, and has released a number of mechanical watches over the near decade since their name first appeared on a dial. The Bausele Vintage 2.0 Hybrid SmartWatch is their first jaunt into the smartwatch space, and they have done so with a clear empathy to the mechanical watch enthusiast.
The case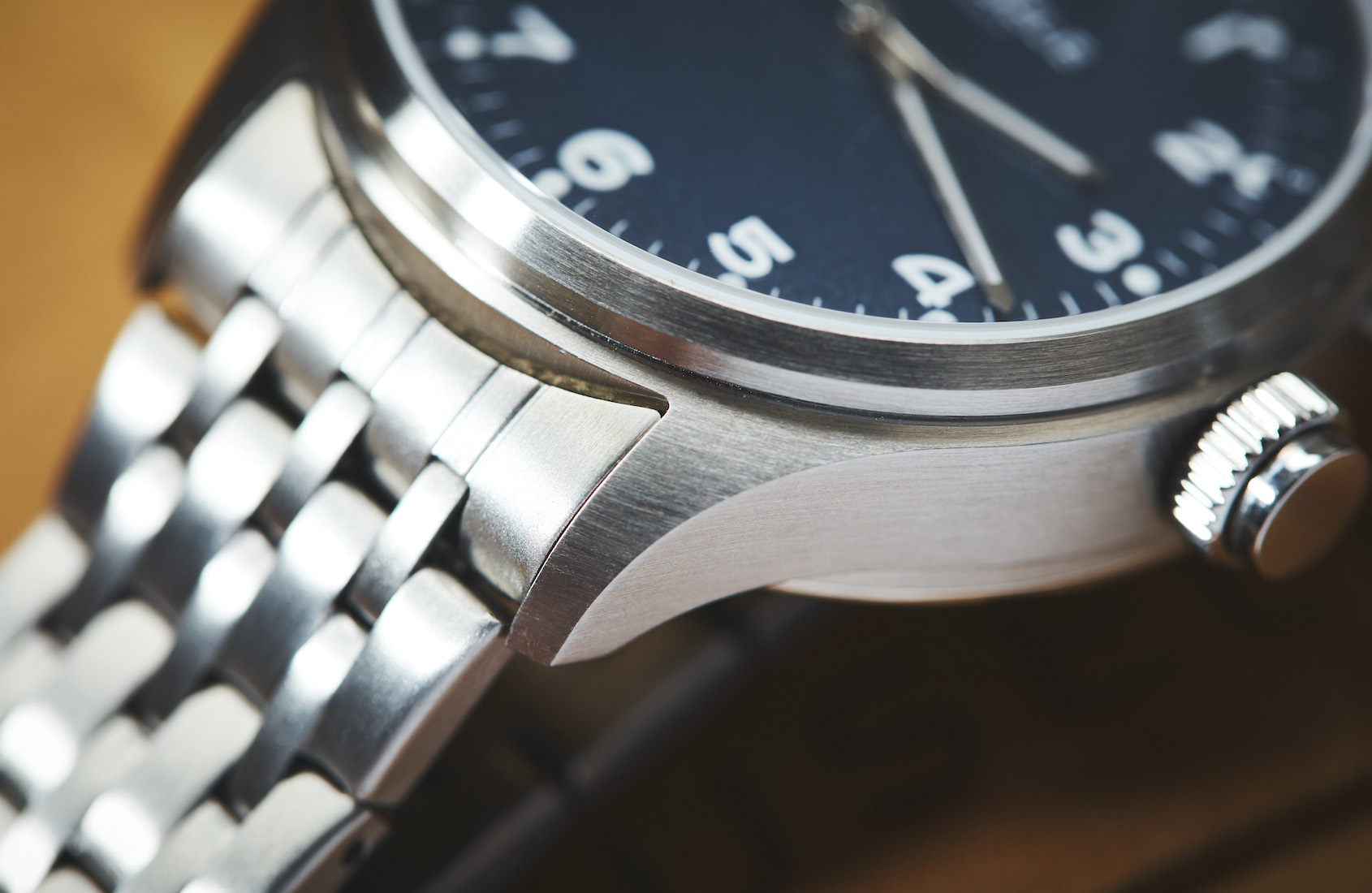 Cased in 40mm of brushed stainless steel, the Bausele Vintage 2.0 Hybrid SmartWatch is neither bulky nor petite, sitting only 11mm off your wrist. On the wrist, the watch wears honestly to those dimensions, with lugs that curve with the contour of your wrist, without being excessively long. The bezel is almost nonexistent, which creates more space for the dial that feels open despite communicating a relative wealth of information. The knurled crown does not pull out, but is instead a button to interact with the watch in a similar way to the pusher at 2 o'clock.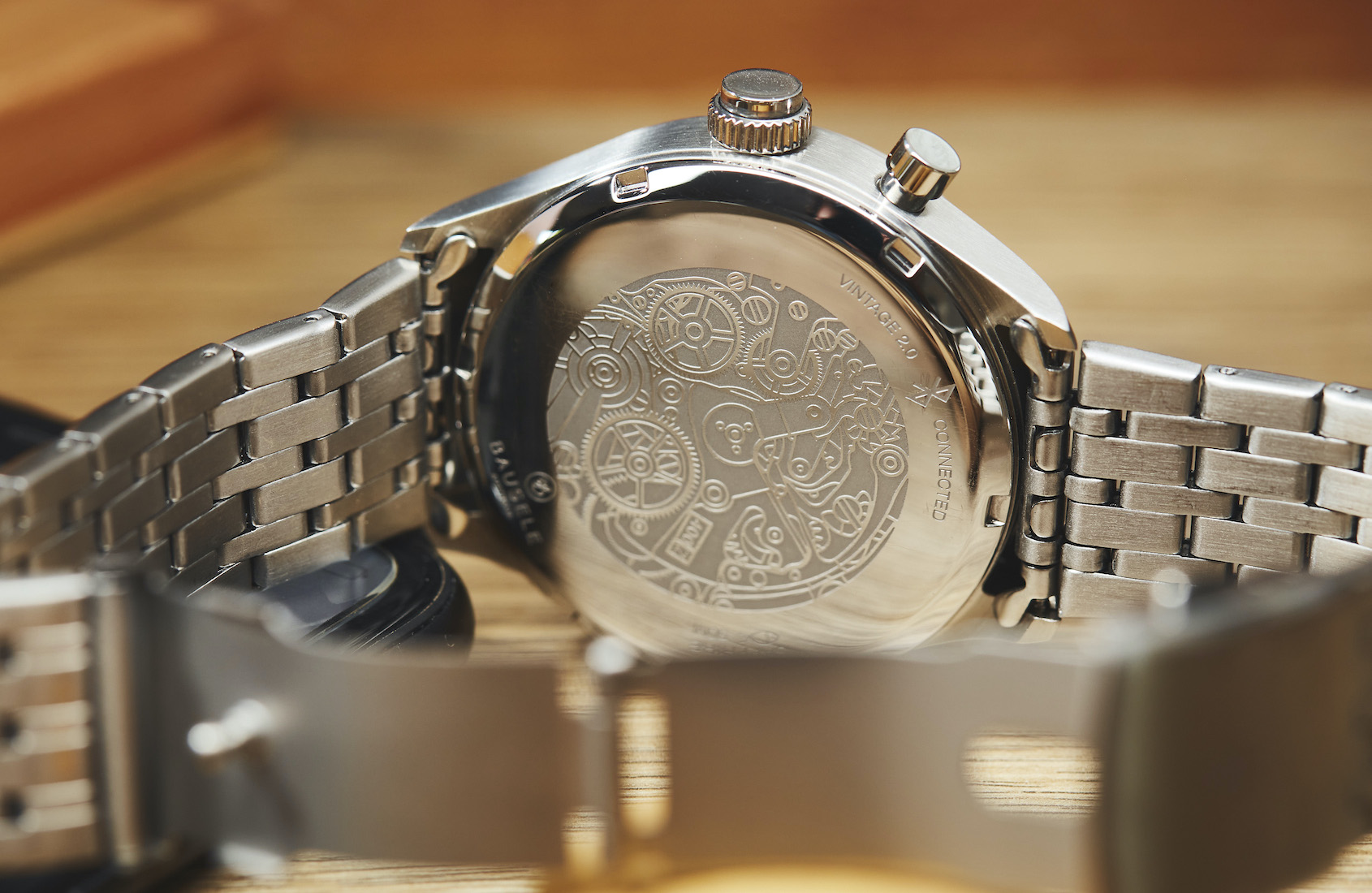 Flipping the watch over and we see the imprinted caseback with a diagram of what appears to be a Zenith cal. 400Z El Primero column-wheel chronograph movement. An iconic movement, and a very nice touch for lovers of mechanical watches. The caseback also features a hint at the true nature of the watch with the Bluetooth symbol, and screws down to guarantee 50m of water resistance.
The dial
The heavily stylised Bausele B logo (which doubles as the app icon) can be found embossed in pride of place at 12 o'clock, and stands out clearly against the granular texture of the rest of the dial.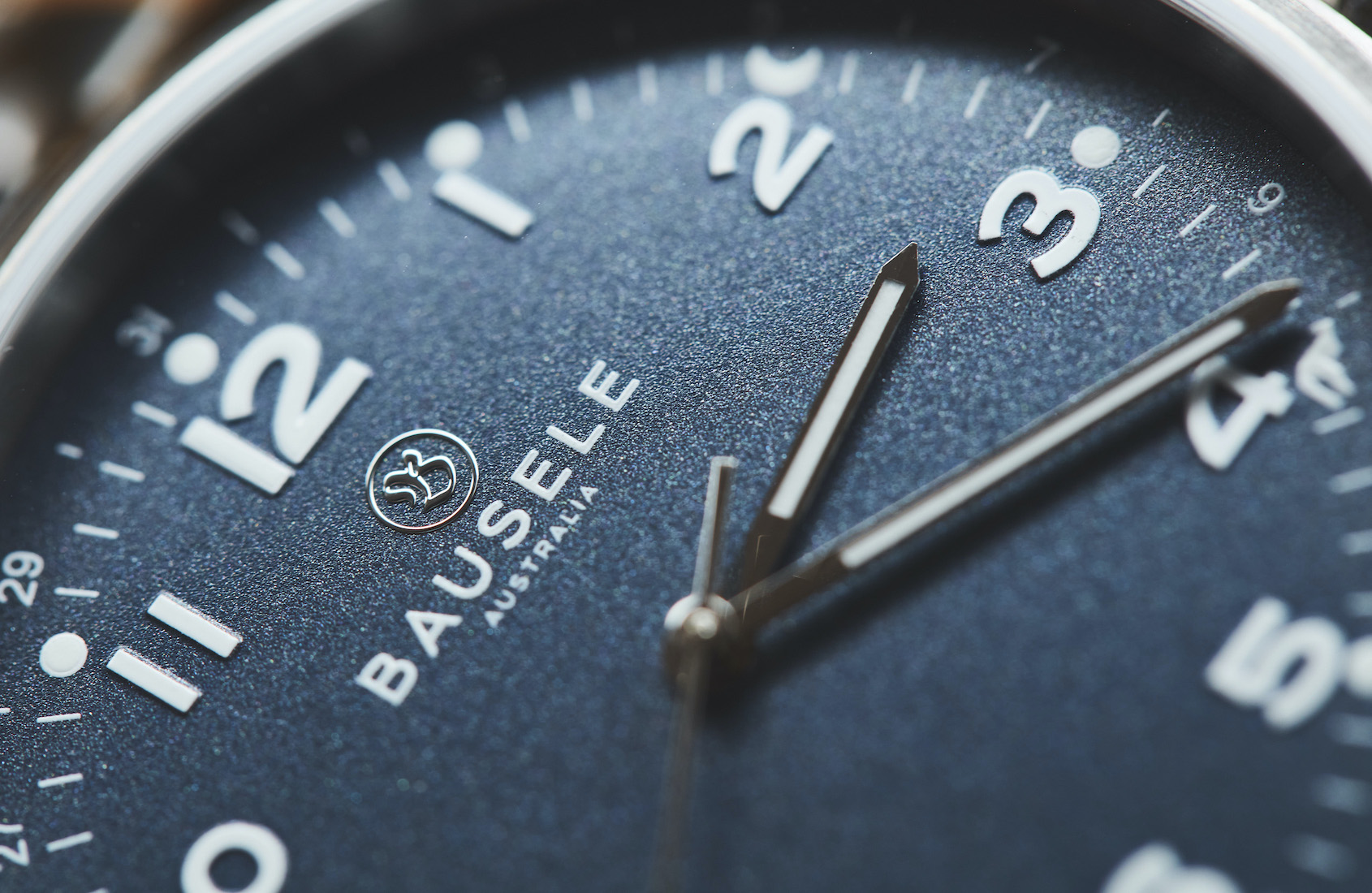 Applied Arabic numerals, reminiscent of vintage pilot's watches, can be seen across the rest of the dial in line with a printed minute track in the same white colour. Nestled within the minute track are small icons that serve as indicators for the type of notification you can receive, as well as a playful jumping kangaroo at 4 o'clock just in case there was any doubt about where Bausele was founded.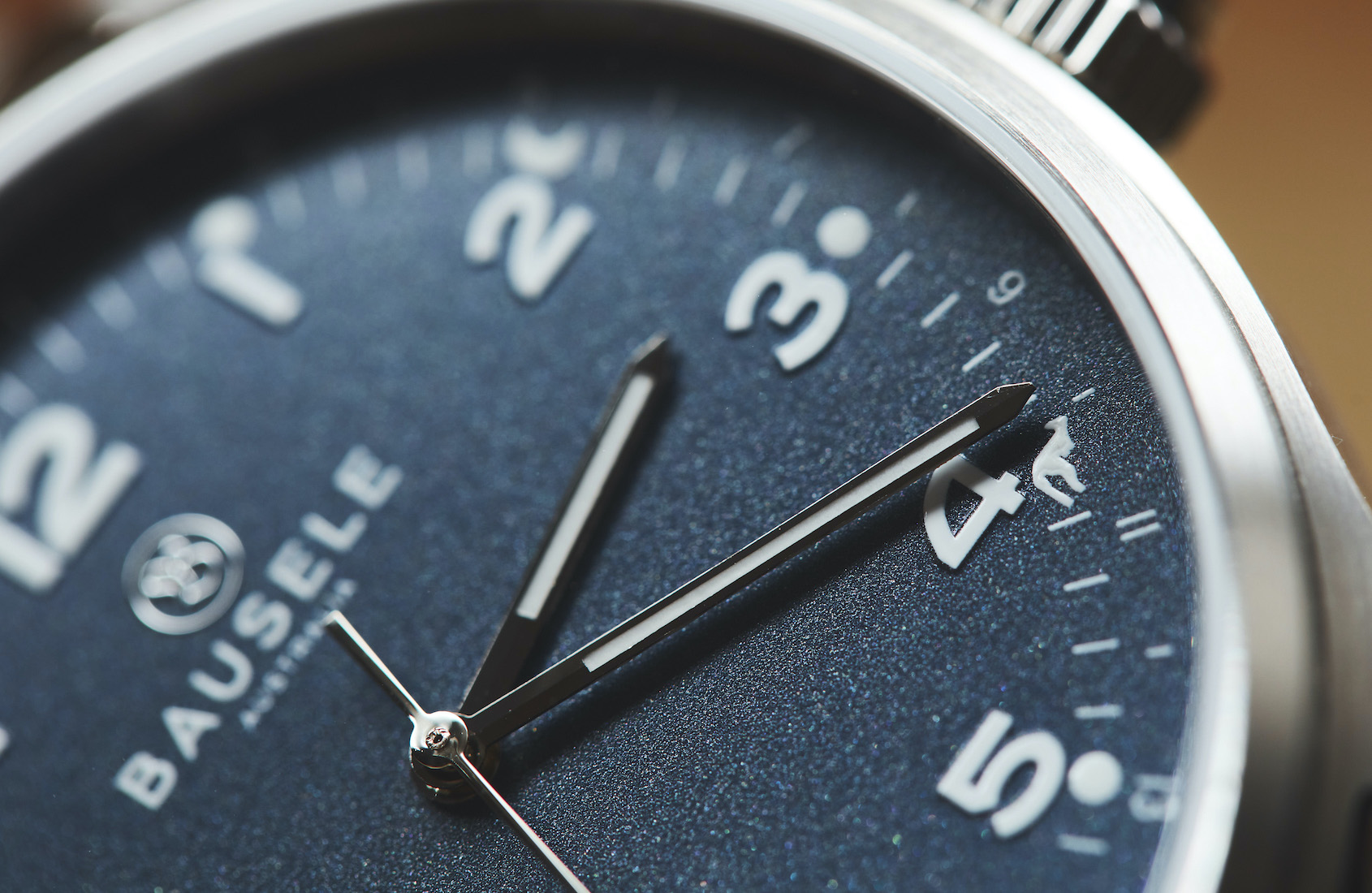 The thin pencil hands feel minimal and modern, and feature a white strip along their length for better contrast against the dial.
The movement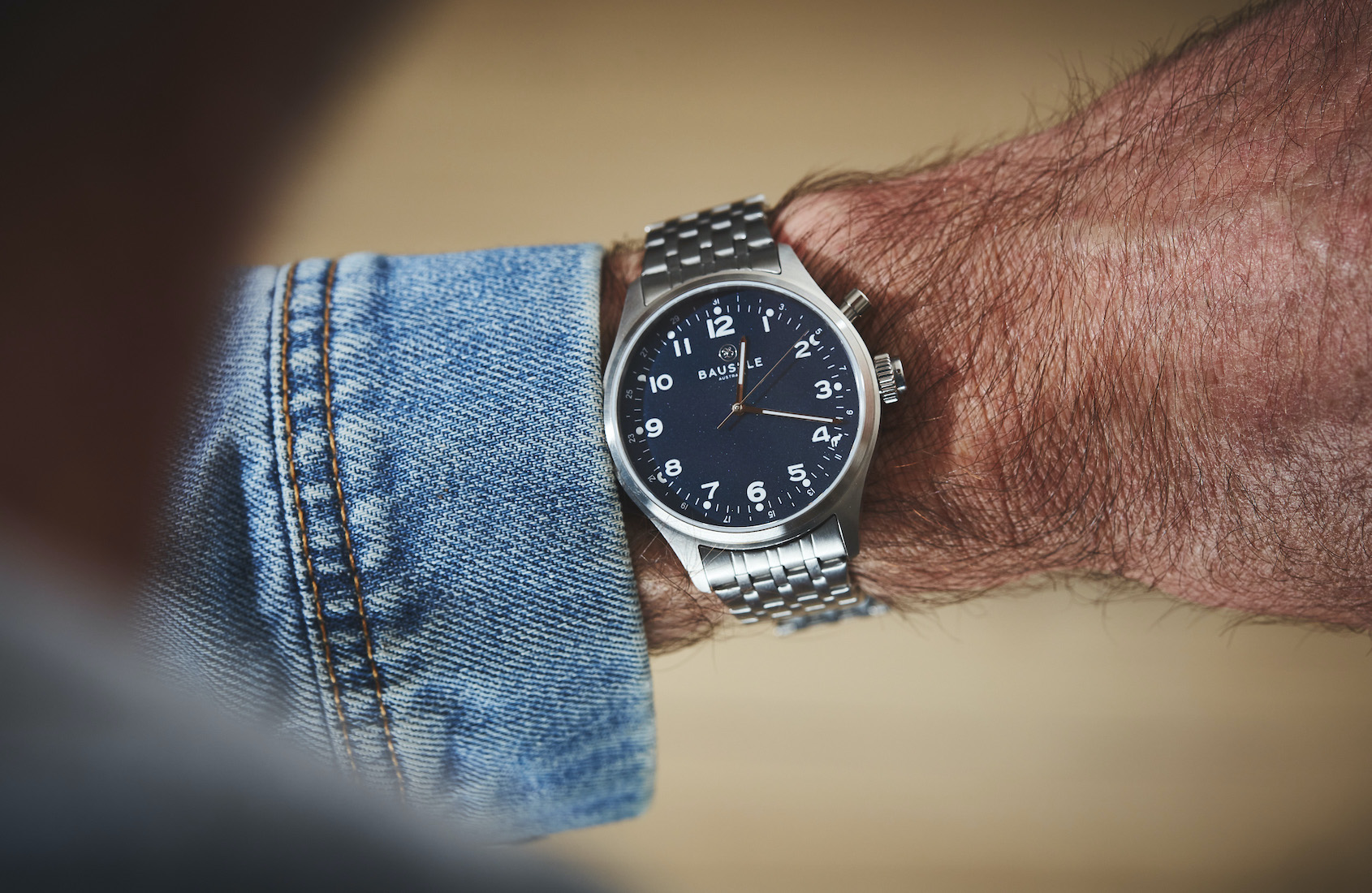 The smartwatch movement housed within features the core range of functions you would expect from a watch that doesn't want to be a smartwatch. The Bausele Vintage 2.0 Hybrid SmartWatch will deliver customisable phone notifications with a vibration against your wrist, including calls, messages and other alerts.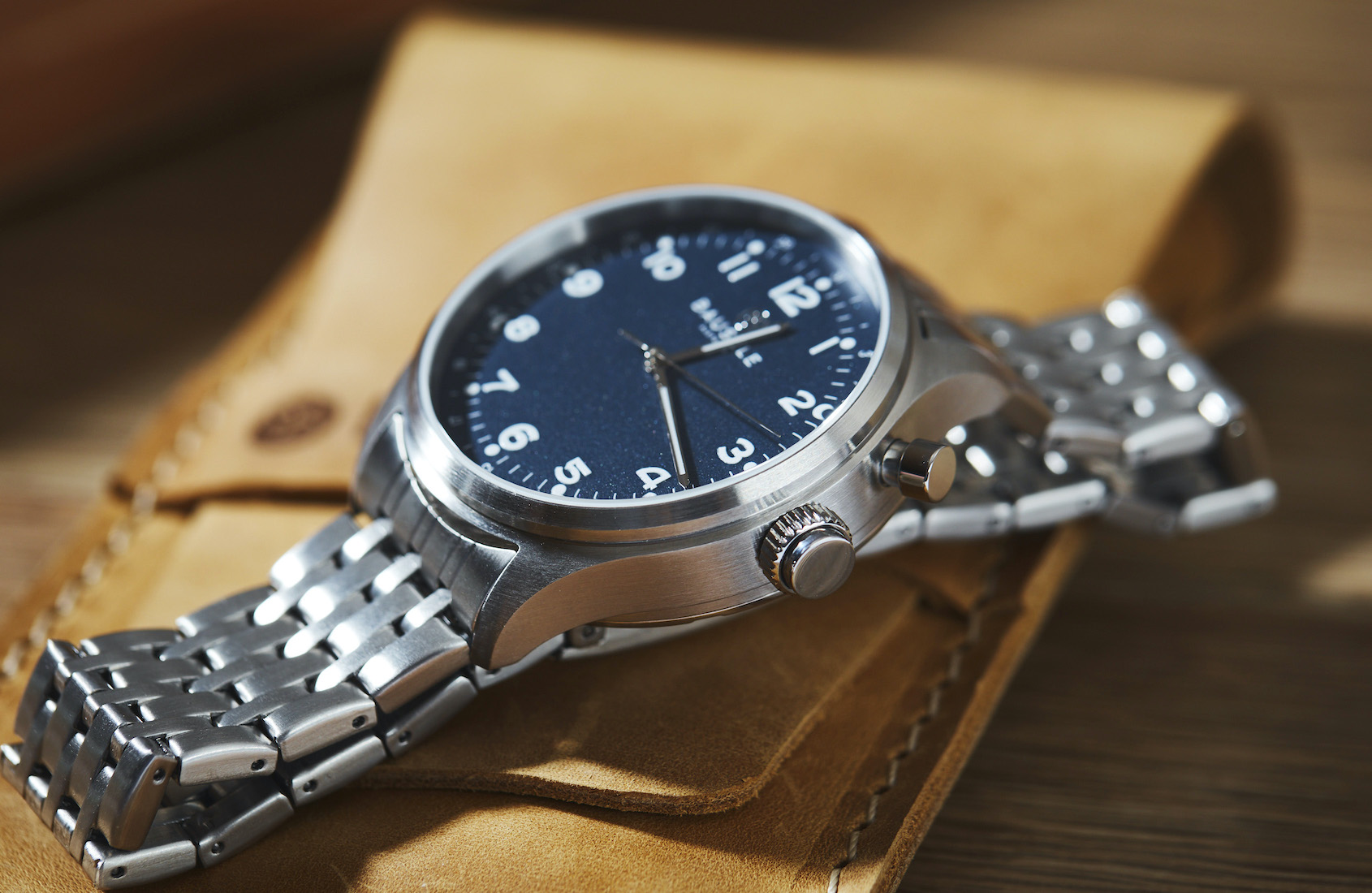 It also tracks your activity throughout the day, including steps that you can set goals for, and monitors your sleep with an alarm that will go off between your REM sleep cycles. It also features a world-timer function that will display a different time zone with the push of a button. All of these functions are controlled through the Bausele App, which is available for both Apple and Android users.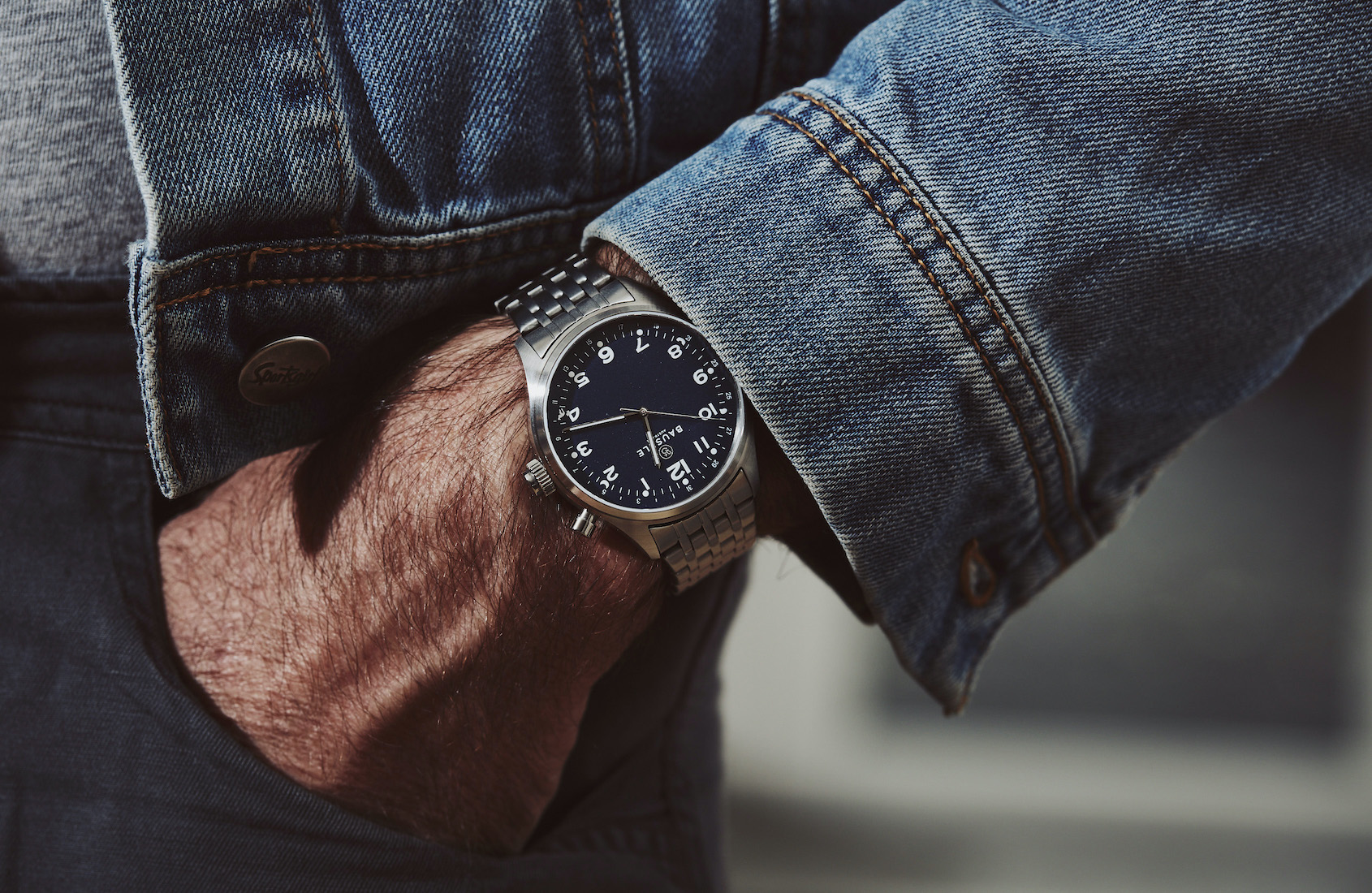 Finally, instead of the daily charging ritual that most smartwatch wearers are used to, the battery of the Bausele Vintage 2.0 Hybrid SmartWatch will only require changing every 2-4 years. No screen, no charging cable.
The bracelet and leather strap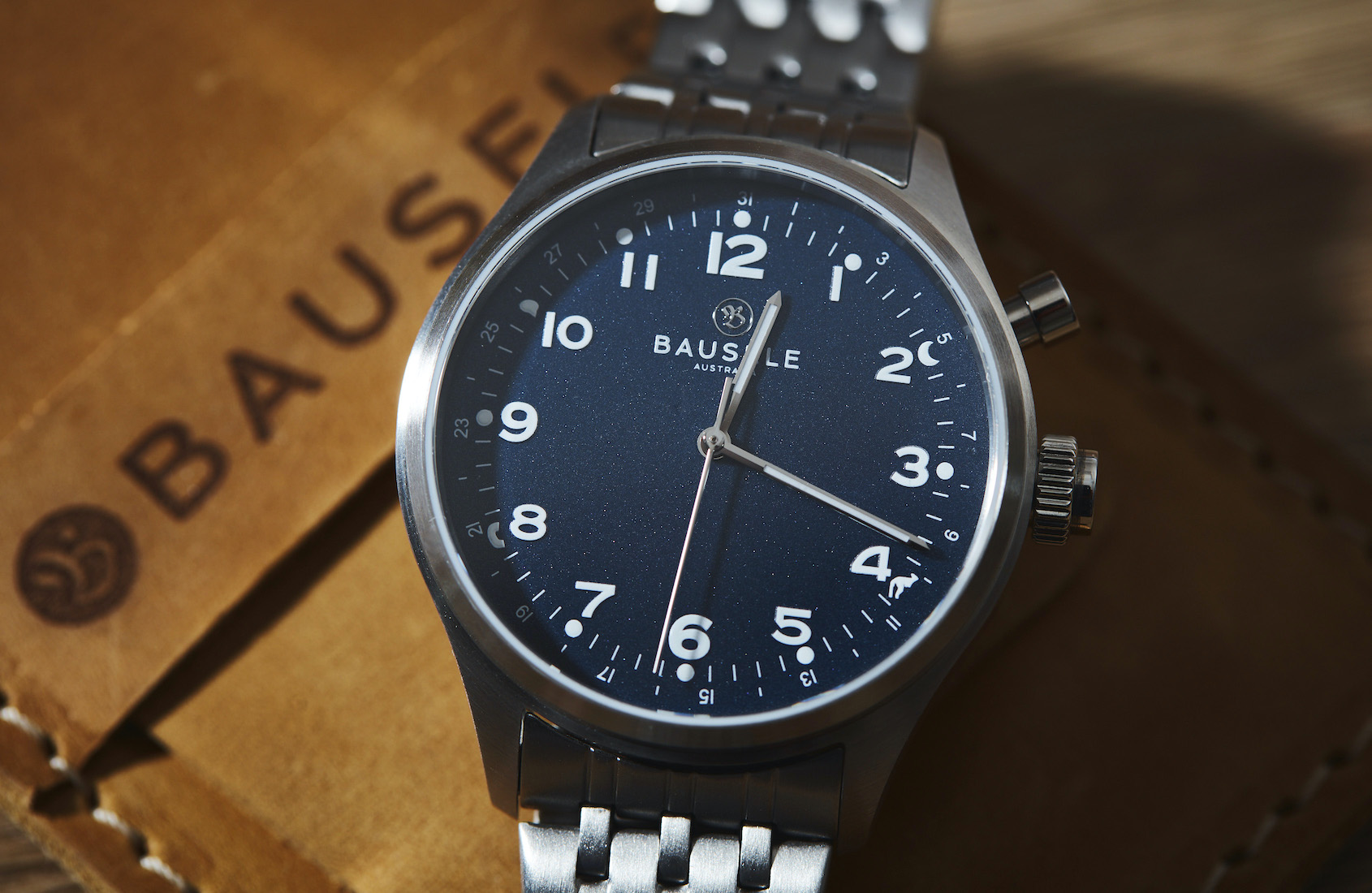 The Bausele Vintage 2.0 Hybrid SmartWatch arrives with two strap options — a soft leather strap or a comfortable steel bracelet. No matter if you're in the Swiss Alps or on Australian beaches, you've got a comfortable option.
The verdict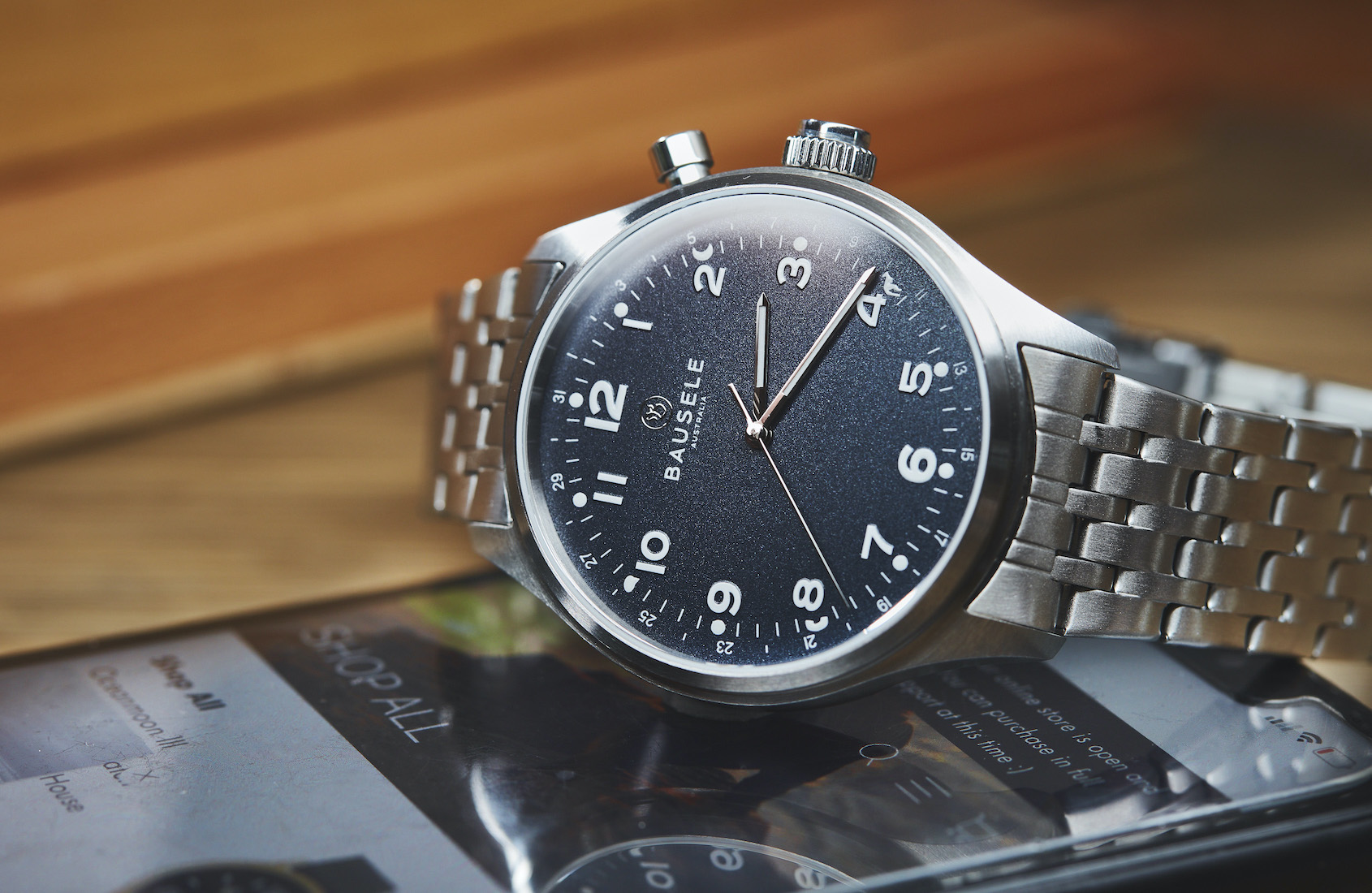 If you love mechanical watches, but want a way to get alerts without checking your phone a dozen times an hour, the Bausele Vintage 2.0 Hybrid SmartWatch could be worth considering. It isn't trying to compete with your beloved mechanical watches, but simply offering a similar feeling on the wrist while also delivering the convenience of a smartwatch.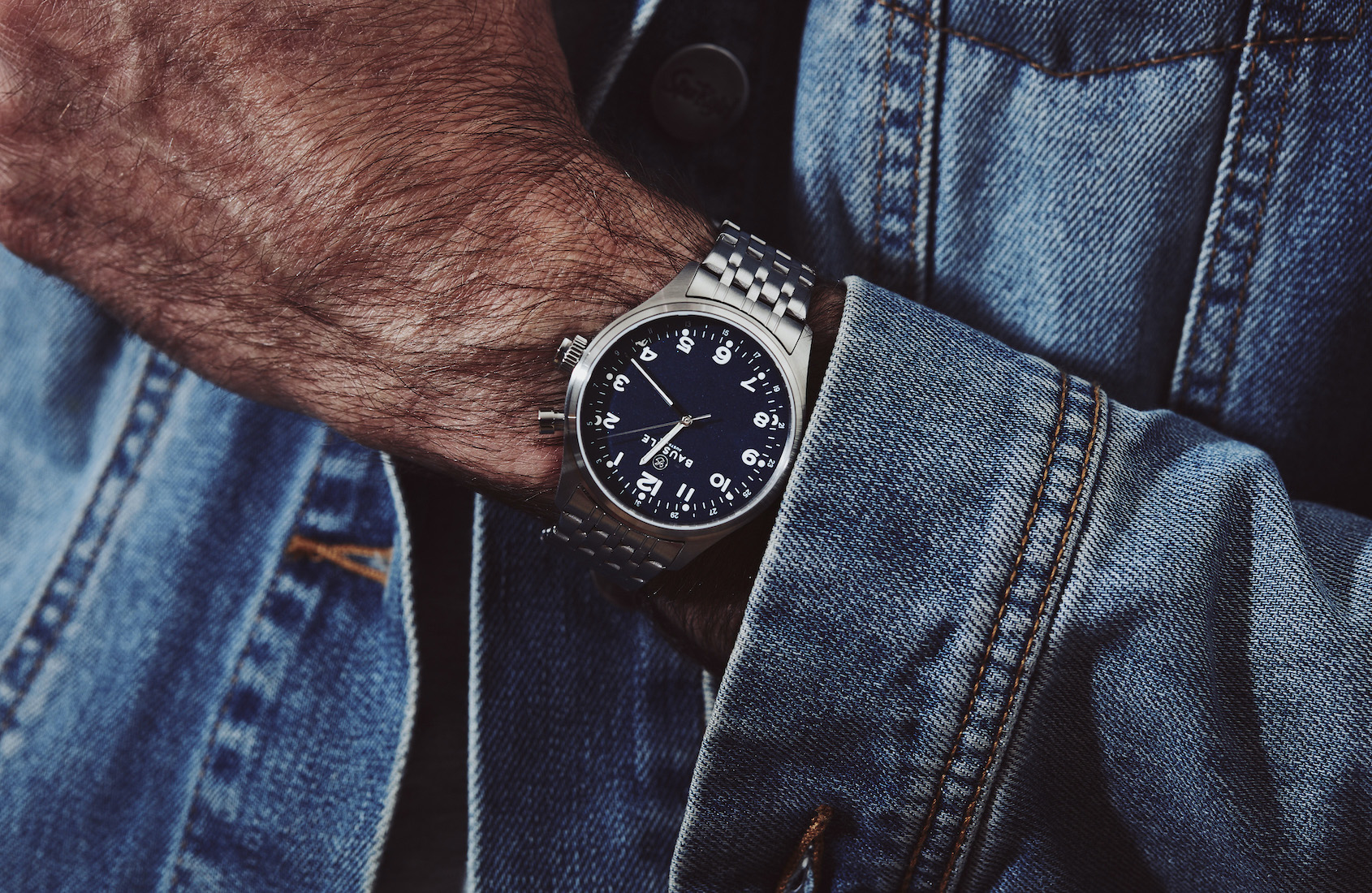 Your heart can be forever loyal to your vintage 1.0 watch collection, while also enjoying the presence of a vintage 2.0 on your wrist.
Bausele Vintage 2.0 Hybrid SmartWatch price and availability:
The Bausele Vintage 2.0 Hybrid SmartWatch is AUD$750 on leather strap and $850AUD on steel bracelet and is available from the Bausele boutique and online. For more details, visit the shop right here.
Made in partnership with Bausele. However, the opinions expressed in this article are our own in accordance with our Editorial Policy.