HANDS-ON: The BA111OD Chapter 4.1 T.V.D. is the latest watch from a young brand with big ideas
Fergus Nash
The wristwatch hobby is often full of lore and ritual, with prescribed traditions and a general consensus that old age legitimises worth. BA111OD are an incredibly young brand having been started in 2019, which would ordinarily lose them a chunk of customers were it not for their relentless challenging of misconceptions about Swiss watchmaking. The BA111OD Chapter 4.1 Veblen Dilemma Tourbillon wants to herald the end of the overpricing, overworking, overseas production and profit-driven associations that Swiss watches are famous for.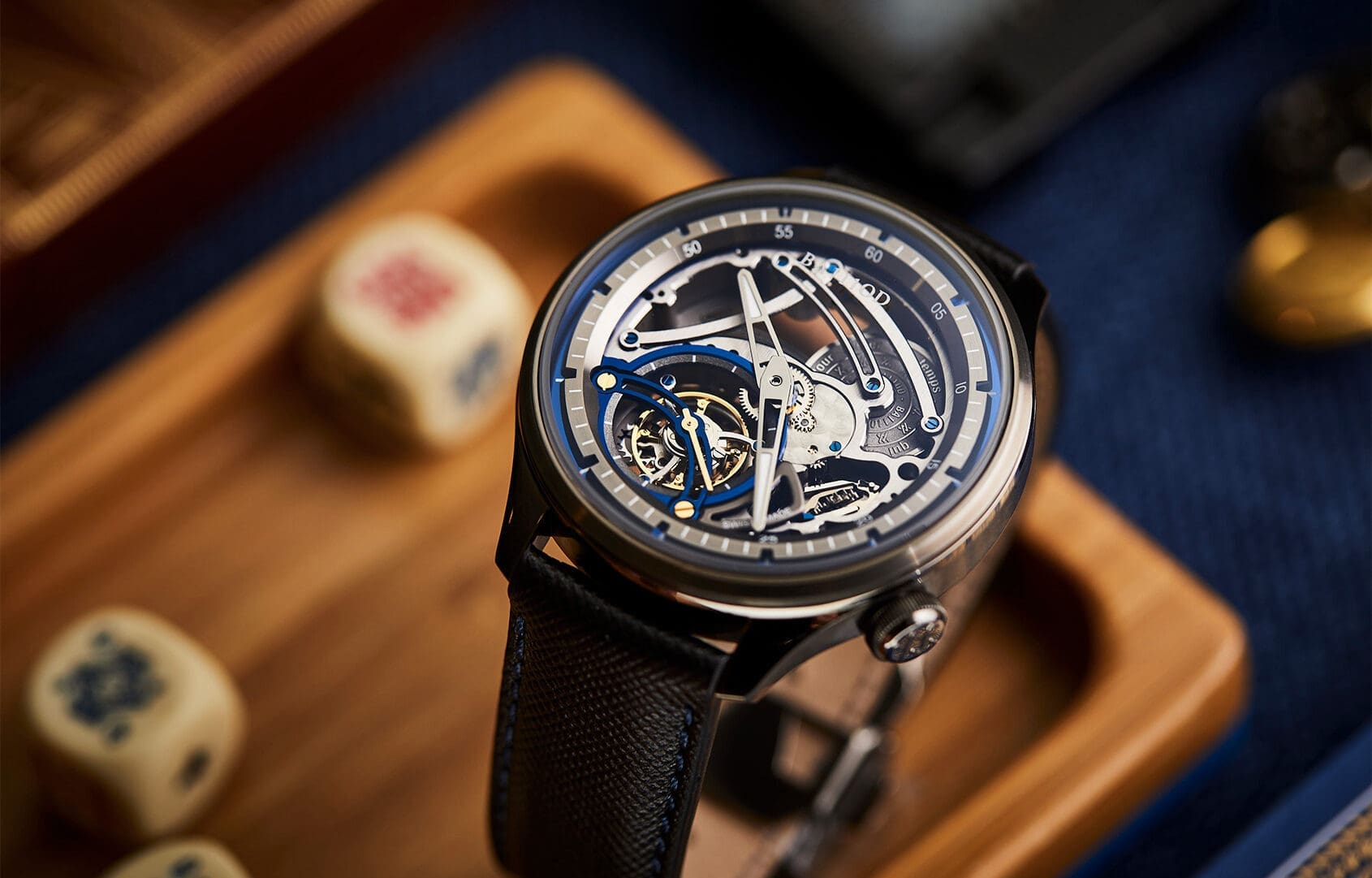 The Swiss-made label is an odd thing, simultaneously being considered the gold standard of quality watchmaking while also easily achieved by using a Swiss off-the-shelf movement, Swiss assembly, and foreign everything else. While there's nothing wrong with that method, especially for creating affordable and respectable microbrands, some people can't help but feel misled by the claim to Swiss originality. Having grown up in La Chaux-de-Fonds, the brand's founder Thomas Baillod has strong roots of friendship and acquaintance throughout the Swiss watchmaking industry. When it came time to create his own watch brand, a fundamental value was placed on sourcing components from manufacturers within an hour's travel, to give his watch a true local heart.
The case
DLC or other hardness coatings are becoming more and more of an essential to titanium watches.  Despite being adored for its reduced weight properties – and this watch does feel incredibly light – titanium does scratch much more easily than stainless steel. BA111OD have opted for the Chapter 4.1 T.V.D. to use a tantalum grey DLC coating, leaning into the watch's modern edge and almost sci-fi appearance. Aside from the colour, the case shape is fairly traditional with a brushed bezel, polished lugs, brushed sides, and a crown positioned at 4:30. It does wear fairly large with a 50.3mm lug-to-lug width, but the 44mm diameter is surprisingly easy to handle with the amount of wrist presence it bears. The width isn't very noticeable at 13.1mm, thanks to the flat caseback and the watch's general curvature.
The dial
T.V.D. stands for The Veblen Dilemma, named after the psychological Veblen Effect that makes us lust after expensive things more than affordable things, out of a belief of higher quality or exclusivity. The Dilemma comes into play when you consider how beautiful this watch is for the price, as there's not a single detail out of place on this dial no matter how close you bring your eye. The tourbillon is always going to draw your eye, with a large off-centre aperture and a ring of deep blue DLC to match the bridge. Although the whole watch has been designed for maximum efficiency to keep costs down, you really can't tell from how well the openworked dial has been laid out. 
Below the hands is another off-centre circular section of perlage, distinct from the other vertically brushed bridges that soar across the dial. You can see through onto the mainspring barrel, engraved with the phrase "Pour aimer du temps, celui qui ne compte pas" which means "To love the time that does not count". The actual time-telling is done with a semi-floating chapter ring, with notches for the outer hour markers on a blue ring and a printed minute track.
The movement
If you think about it, the legend of Swiss efficiency doesn't quite add up with luxury expenses. If something is efficient, then surely it should be minimalistic and affordable? BA111OD have put that legend through its paces, developing a movement that's as efficient as possible while still featuring one of the holy grails of complications. Not only did they succeed, but they have excelled. Despite featuring only a single mainspring barrel, the Chapter 4.1 T.V.D. features a power reserve of 105 hours with a 3Hz beat rate. You can watch the winding process happen along the crown, through the exhibition caseback's winding gears and onto the engraved barrel with a satisfying and smooth clicking.
The crystal
It's not too often that we analyse the crystal separately from the watch case, as there usually isn't much more than shape and material to talk about. While the ever-so-slightly curved piece of sapphire bearing the BA111OD logo on the Chapter 4.1 T.V.D. does suit the sleek design of the watch, the real aspect of note is the STISS technology which has been integrated seamlessly. STISS stands for 'Swiss Technology Inside Smart Sapphire', and are a company who specialise in placing NFC tags within watch crystals. When used with BA111OD's app, this essentially lets you scan the watch and access the community, authentication information, and specialised support. 
The BA111OD Chapter 4.1 T.V.D. Tourbillon pricing and availability:
The BA111OD Chapter 4.1 T.V.D. Tourbillon is available now from BA111OD's website here, with each piece individually numbered. Price: CHF 4,920
| | |
| --- | --- |
| Brand | BA111OD |
| Model | Chapter 4.1 The Veblen Dillema Tourbillon |
| Case Dimensions | 44mm x 50.3mm x 13.1mm |
| Case Material | DLC-coated grade 5 titanium |
| Water Resistance | 50m |
| Crystal(s) | NFC-tagged sapphire |
| Dial | Openworked |
| Lug Width | 20mm |
| Strap | Italian leather |
| Movement | BA.01 |
| Power Reserve | 105 hours |
| Availability | Available now in a numbered edition |
| Price | CHF 4,920 |