HANDS-ON: The Ace x Nomos Club 36 Blue Limited Edition
Fergus Nash
Watch brand collaborations with jewellers definitely aren't as in-vogue as they once were, but Nomos' team-up with Ace Jewelers proves that it should be done more often, as vendors of beautiful objects clearly know how to make a great looking watch. The Club 36 range from Nomos is one of their bestsellers, as its understated proportions balance nicely with the simple-yet-quirky Bauhaus design language. Considering that this deep blue variant with orange highlights is a limited run of 150 pieces at no price markup, they should certainly fly off the shelves.
The dial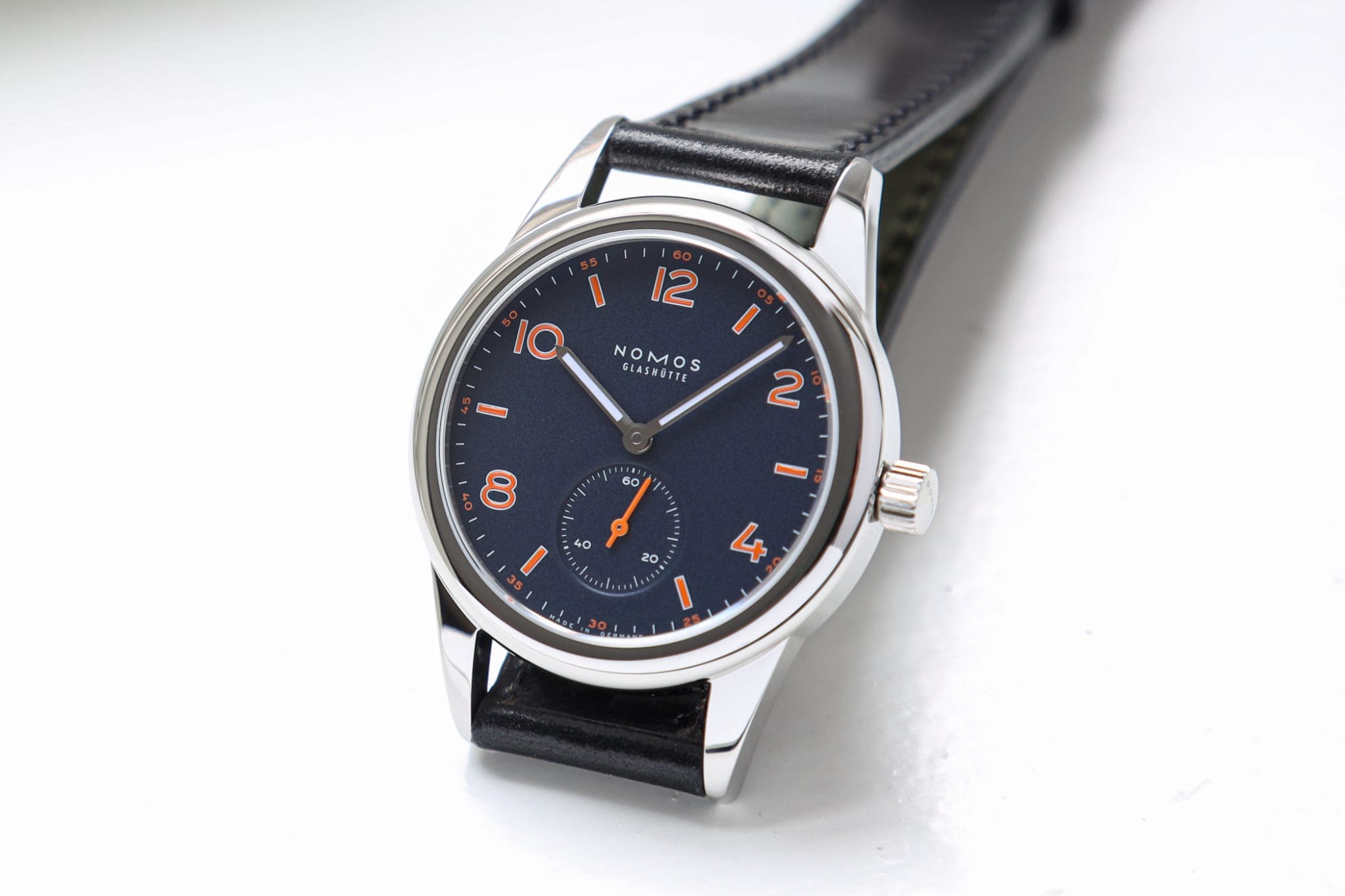 The dial is of course the standout feature of this collaboration with Ace Jewelers, as the deep navy blue hue is based upon their house colour, also seen across their website. It's quite a neutral tone with a matte texture that easily blends from blue to black in low light, and that provides an excellent backdrop for the complimentary zing of burnt orange that is used on the hour markers, minute track, and small-seconds hand. The watch may only be 36mm, but there's plenty of dial presence to be had on-wrist. Because the alternating hour markers and Arabic numerals allow the numbers to be larger, it makes for an easily legible watch.
The case
The Club 36 architecture isn't just Nomos' most accessible watch by price and style, but also by size, with the 36mm diameter proving to be a truly gender neutral size. Nomos are somewhat renowned for their long, outstretched lugs, and the lug-to-lug length of 46.5mm is definitely more than enough to fill out a larger wrist if you're concerned that the diameter may be too diminutive. The finish is all-polish, exuding a classiness that lets it slide effortlessly into the role of a dress watch without totally losing its versatility. The bezel is pleasantly rounded and quite vintage-styled in its thick, bubbly profile, but it's not so overbearing that the dial doesn't get enough room to breathe.
The movement
Despite this watch's relative affordability it uses the Nomos Alpha movement, which is an in-house endeavour based upon the Peseux/ETA 7001. This gorgeous movement isn't necessarily a spec-sheet hero with 43 hours of power reserve and a 21,600vph beat rate, but if you get the open caseback version then you'll certainly appreciate it.
The finishing is superb for a watch of this price, and I can honestly say that the feeling of winding it up is possibly the smoothest, most buttery winding action I've ever felt. There's the perfect amount of resistance when adjusting the time, and every interaction you have with the mechanics of the watch reminds you just how special it is.
The straps
The Ace x Nomos Club 36 Blue Limited Edition comes on a handmade Shell Cordovan smooth leather strap in a handsome navy to match the dial, and it rides that perfect line between being thin enough to be flexible and comfortable, yet thick enough to feel sturdy and long-lasting. My only gripe with the strap is that there are very few holes drilled into it, so if your wrist is any less than 16cm in circumference you may need to cut a few extras. Otherwise, you can put the watch onto either of the two supplied NATO straps in dark blue or orange, to pull out whichever colours from the dial you like.
The verdict
If you've ever browsed the Nomos catalogue, there's a high chance you've already considered picking up a Club 36. Maybe you were waiting for the right moment, or maybe none of the standard colours really stood out to you. Well, consider this the sign from the universe that you can get a numbered limited edition watch with an in-house movement for just £901 for the closed-caseback version, or £1117 for the display version.
Ace x Nomos Club 36 Blue Limited Edition pricing and availability:
The Ace x Nomos Club 36 Blue Limited Edition is a limited edition run of 50 pieces for the closed-caseback configuration (sold out), and 100 pieces at €1,340 for the open-caseback configuration. You can purchase the open-casevback version here until stocks sell out. 
Made in partnership with Nomos. However, the opinions expressed in this article are our own in accordance with our Editorial Policy.