First shown at Baselworld 2017, the stunner that is the Breguet Reine de Naples 8918 in rose gold is my pick of Breguet's women's offerings (in Australia) at the moment. Breguet is all proportion, horological order and watchmaking museum elegance. But sprinkle that heritage with 1.46 carats worth of white diamonds and the ghosts of French royalty, and you are contemplating a pretty heady proposition.
Let's start with the diamonds before working back over the centuries to Parisian courtiers, and really, it's hard not to. They include a pear-shaped diamond at 6pm (approx. 0.09ct); a briolette-cut diamond on the off-set crown situated at 4pm (approx. 0.26ct); the rose gold folding clasp that is set with 26 brilliant-cut diamonds (approx. 0.12ct); and the bezel and dial flange is encircled with 117 brilliant-cut diamonds (approx. 0.99ct).
It might all be too blinding a vista to take in if the case was in white gold with a pale dial (and this model is one of 11 variants); but here, the dial makes calming use of champagne Tahitian natural mother-of-pearl with some white tones of the same material. Depending on the light, the dial's main hue ranges from hazelnut or light chocolate brown to taupe, with its gently flaring lustre that seems to roll or fall inwards by means of a very subtle depth effect. The Arabic Breguet numerals – always super legible but outsized here – add to this trick on the eye.
The lovely midnight blue satin-finish alligator leather strap has a stately effect on proceedings. The modern leather choice has a mysterious power of attraction that lies in a matt opalescence that moves between midnight blue and brown.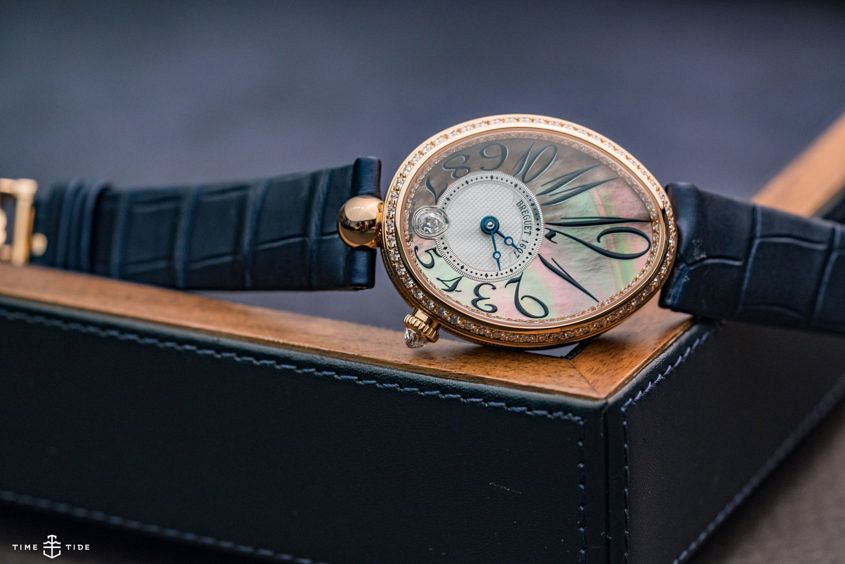 The feminine charms of the watch are rounded off by the distinctive rose gold sphere at the south edge of the dial, also seen on other Breguet watches for women. It has become a signature 'ball-type' lug for the house. But if you needed a more potently feminine arch to its design, look no further than Napoleon Bonaparte's younger sister Caroline Murat, Queen of Naples, who was the client to possess the first bracelet watch Breguet made in the early 19th Century. Caroline purchased 34 watches and clocks over a six-year period, which made her the best customer that Breguet ever had. Inspired by this patronage, the very first Reine de Naples collection was launched in 2002 with a model offering the moon-phase and power reserve complications. Prior to Caroline, Louis XVI and Marie-Antoinette were early enthusiasts of Breguet's work. Which brings us to the epicentre of the elite that Breguet catered to and the solemnity of this watch, diamonds aside.
An esteemed history poised on invention and advancements has burnished Breguet's standing as watchmaker to the scientific, military, financial and diplomatic leaders of the European age, with a particular pull to those movers and shakers in Paris, with Breguet having to ride out the Revolution in exile before returning when things were calmer. Abraham-Louis Breguet's early achievements included the development of self-winding perpétuelle watches, gongs for repeating watches and the first shock-protection for balance pivots.
The eminent hallmarks of the watchmaker are for all to see in the considerable weightiness of the 36.5 x 28.45mm rose gold case, with its distinctive Breguet caseband fluting. The fluting is cold-rolled into the caseband then finished by hand on a mechanical workpiece-holder. The painstaking craftsmanship continues with this engine-turned dial that makes use of a rose engine to produce the finely patterned subdial of the watch. Today, Breguet craftsmen, relying on sharp eyes and the steadiest of hands, continue to use engine-turning lathes designed and built over a century ago, with a precision of a tenth of a millimetre.
This watch, as its name suggests, may be more about beauty than technical feats but there is a movement to admire too. The Cal. 537/3, good for 45 hours of power reserve, with a silicon escapement.
One word of warning: the briolette-cut diamond on the crown is not one I can be entirely sure I could trust myself with! But then I am a little clumsy.
Breguet Reine de Naples 8918 (BR/5T/964 D00D) Australian pricing
Breguet Reine de Naples 8918 (BR/5T/964 D00D) RRP from $45,000
Note: Up to 11 variations available, such as with silvered gold dial, hand-engraved on a rose engine and partly in white natural mother-of-pearl; yellow or white gold; and with a chain rose or gold bracelet or satin strap or gold bracelet set with diamonds. With thanks to Watches of Switzerland for letting us to spend time with the watch.