HANDS-ON: A winning combination – the yellow gold, Cerachrom and Oysterflex Rolex Daytona (ref. 116518LN) 
Felix Scholz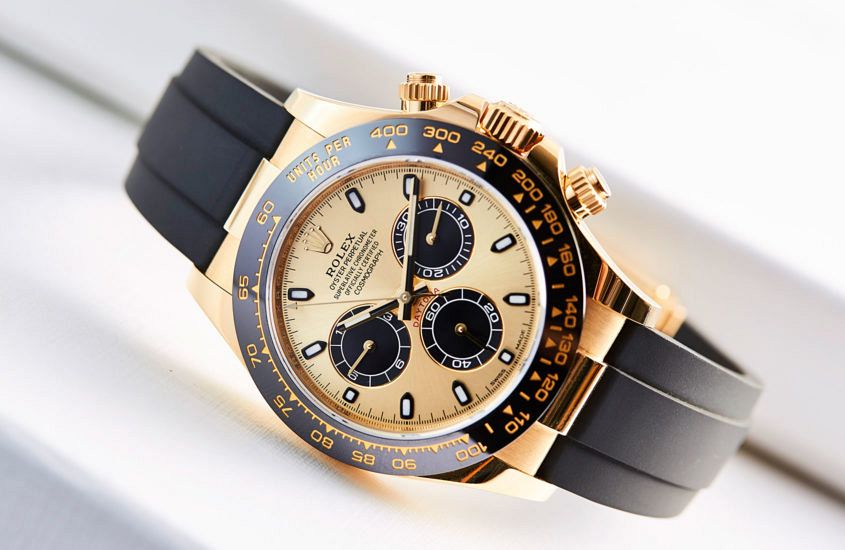 When I first saw the new gold Daytonas at Basel, I didn't quite know what to make of them. After the phenomenal success of last year's new steel and Cerachrom Daytona, further extension of the line seemed inevitable, and precious metals the logical step. But I did not expect – and was somewhat confused by – the choice to pair these yellow, white and Everose gold Daytonas with an Oysterflex bracelet. Add to this the fact that I was feeling some pretty intense feelings about the new Sea-Dweller and Sky-Dweller, and it's fair to say that I didn't give these new models the attention they deserved.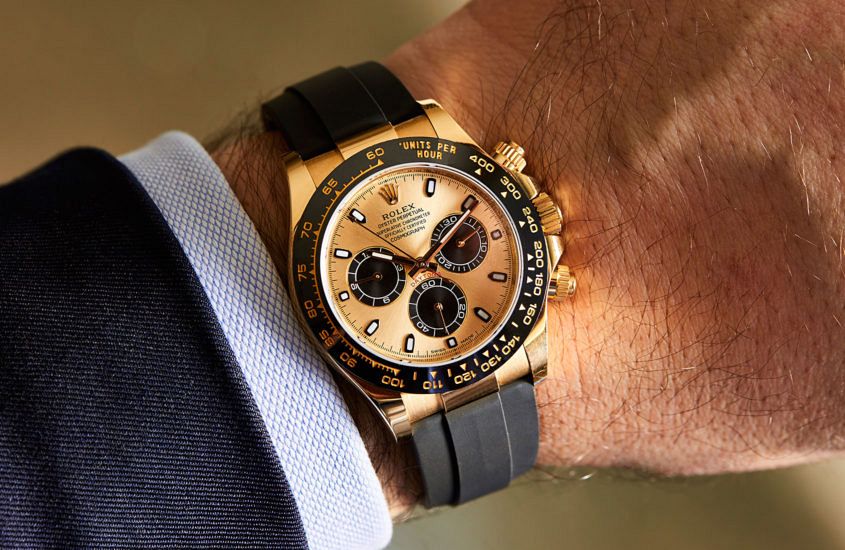 Well, that changed last week when I got to spend time with some new pieces here at home, and while the shine hadn't worn off the two 'Dwellers, I found myself coming back, again and again, to the yellow gold Daytona. It's a decidedly modern take on the powerhouse chronograph, with its high-contrast black and gold colour scheme and blend of materials including ceramic, gold and rubber.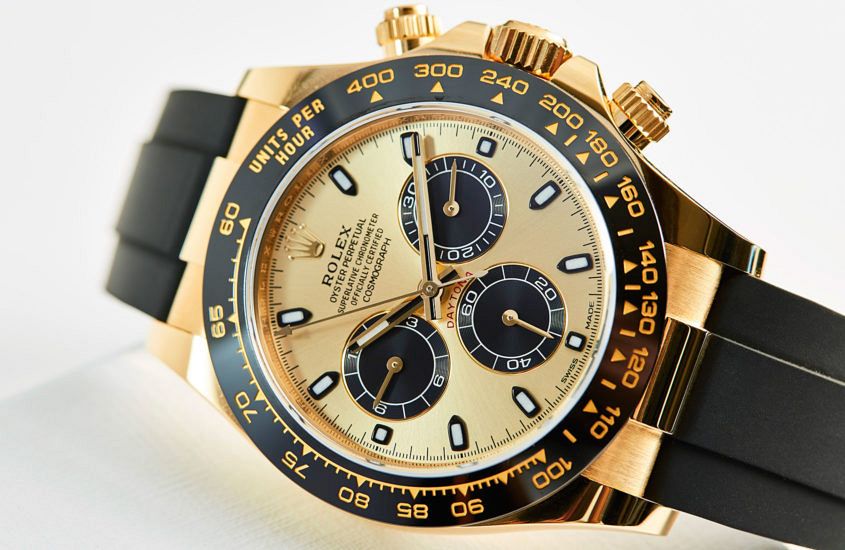 While the upgrade to Cerachrom is significant, that's something we're all pretty familiar with now; instead it's the Oysterflex that radically changes what this watch is, and how it wears on the wrist. Oysterflex, in case you need a refresher, is Rolex's extremely over-engineered take on sporty rubber, first spotted on the Yacht-Master. The bracelet is a thin blade of titanium/nickel alloy, clad with a layer of comfy black elastomer. Further adding to the ergonomics are the clever, flexible 'wings' on the underside of the bracelet, ensuring a good and comfortable fit, especially in hot weather. It's good to see that this version utilises solid gold end pieces, as the gap between bracelet and case was one of the weak points of the ref. 116655 Yacht-Master. Oysterflex turns the Daytona into a legitimately sporty/casual option, potentially opening up the Daytona to someone who wouldn't normally have considered a gold sports Rolex.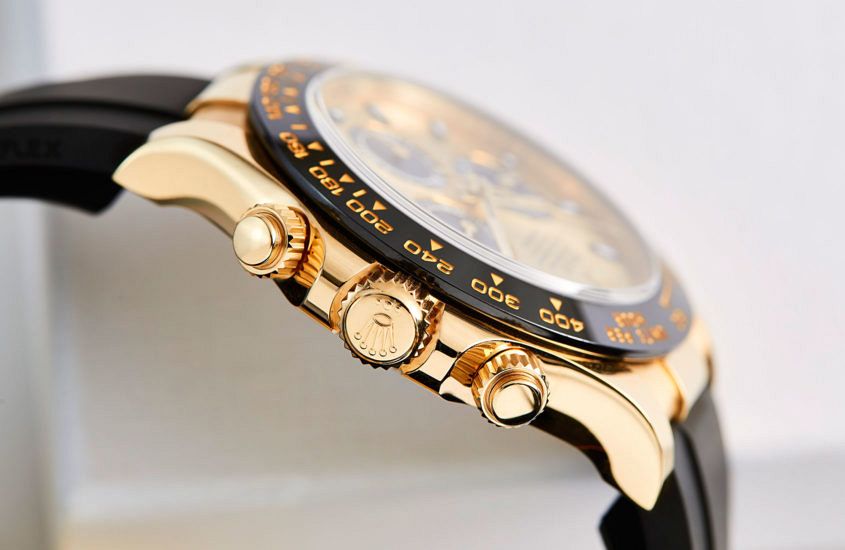 The other point worth noting about this bracelet is that it is a far less expensive option than solid metal. And regardless of whether it's by accident or design that this variant was released at a time when global luxury watch sales are wobbly at best, the roughly $10k price difference is nothing to be sneezed at. One more point on Oysterflex – I wonder when we're going to see it on steel? Or will it always be a marker of more prestigious materials?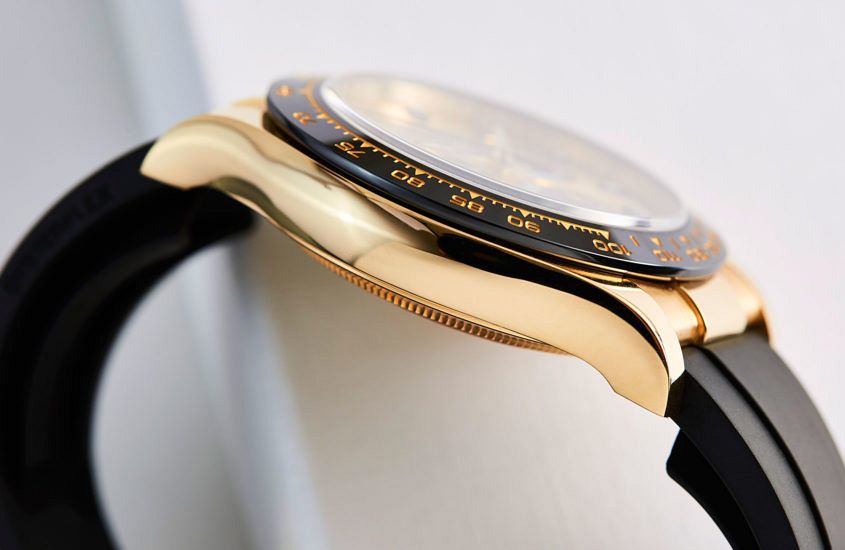 You might be worried that the combination of heavy case on a light-weight bracelet results in a watch that's top-heavy and floppy on the wrist. Thankfully it doesn't. The 40mm case feels snug and well-balanced, due to the combination of aforementioned wings and the weighty Oysterlock clasp. And this watch is really at its best on the wrist. It's sporty and luxurious, thanks to both the precious metal and the unmistakable Daytona DNA – but it's also a fun watch. The case is bold and bright, as only yellow gold can be, but it manages to avoid the status statement of being a solid gold Rolex. I might have been unsure of them at first, but these fresh new Daytonas are quickly winning me over.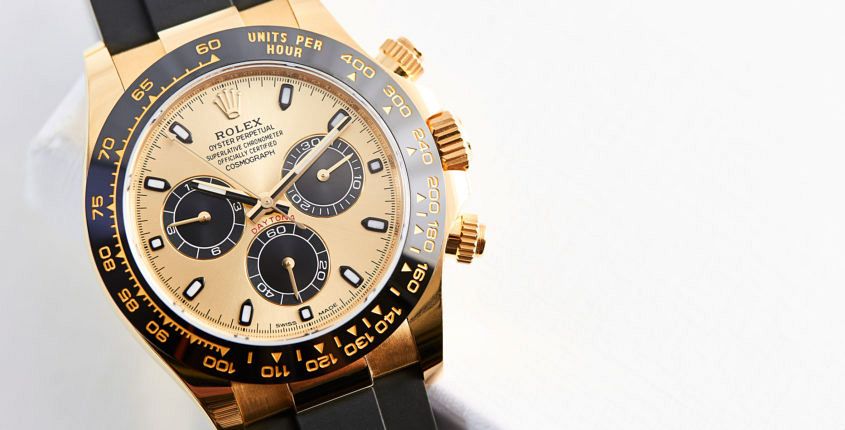 Rolex Oyster Perpetual Cosmograph Daytona ref. 116518LN Australian pricing
Rolex Oyster Perpetual Cosmograph Daytona, yellow gold on Oysterflex, $34,900
Images by Jason Reekie.