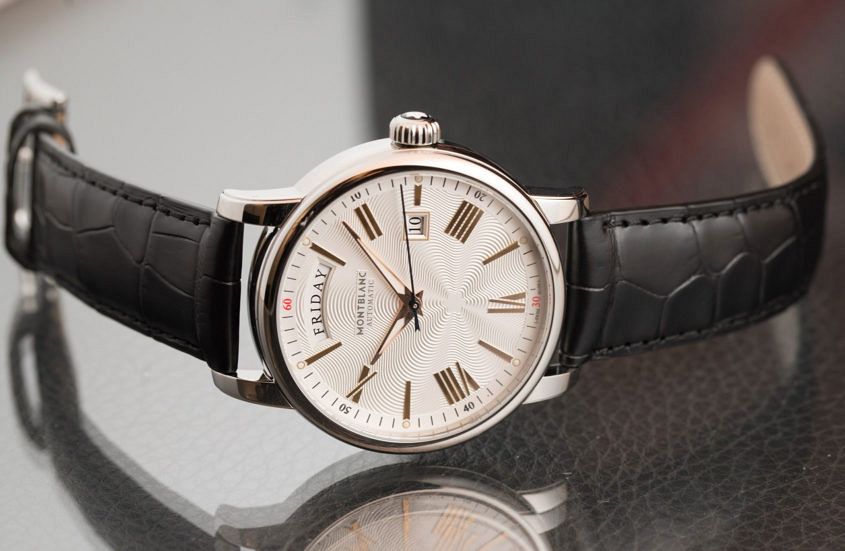 Confession time. When it comes to Montblanc, we're so easily dazzled by its top-tier timepieces – perpetual calendars, world timers, tourbillons – that's it's easy to overlook its very fine, everyday watches. Nowhere is this more true than with the 4810, the 10-year-old collection that's the somewhat unsung hero of the brand's watch business.
Well, this year Montblanc is celebrating the 4810 family, and there's something for everyone. At the big-money end of town there's the ExoTourbillon Slim. The updated Orbis Terrarum also now sits in this area of the spectrum, as well as a particularly handsome chronograph. But those are stories for other times. Today we're all about one of the best examples of a dressy daily wearer we've seen in a while – the 4810 Day-Date.
The first thing that caught my eye when I buckled the watch on was the dial – how could it not! Described as 'exploding star guilloché', the shimmering, rippling waves emanating from the Montblanc star at six is a beautiful dial treatment and a wonderfully subtle piece of branding. The red-gold plated hands and detailed indices add a warm glow to the dial. The outer minute track is a sensible enough design choice, though had the printed Arabic numerals been left off, I doubt they'd be greatly missed. The other major player on the dial is the Day-Date complication itself. Naysayers might comment that if you need to look at your watch to know what day it is you've got bigger problems but, having worn a few day-dates in my time, I find them handy on a regular basis. But maybe that says more about me than the watch. The steel case has few surprises – it's well made and well sized at 40.5mm wide and 10.14mm high, with softly curved sides and a nice inlaid Montblanc logo in the crown.
If you're in the market for a good watch to wear to work or for formal-ish occasions, the 4810 Day-Date ought to be on your list. Not just because it's well proportioned and well priced, but because it will make you happy whenever you look at it. I suspect I'd regularly be running a few minutes late to every meeting, simply from getting caught up staring at that guilloché dial.
While some of Montblanc's other 2016 releases are without doubt the year's rockstar releases, the 4810 Day-Date is an ever-reliable, solid performer. No everyone needs, or wants, their watch to be a highly complicated statement. Some people just want a great watch at a good price. And in that, the Day-Date definitely delivers.
The Montblanc 4810 Day-Date Australian Pricing
The Montblanc 4810 Day-Date, $4650 on steel bracelet, $4310 on alligator.