Who knows what 4810 stands for, in the world of Montblanc? We'd wager about half of you know the answer is that it's the height, in metres, of the mountain it was named after. And did you know that 2016 marks the tenth anniversary of this best-selling 4810 line of watches? Well, now you do.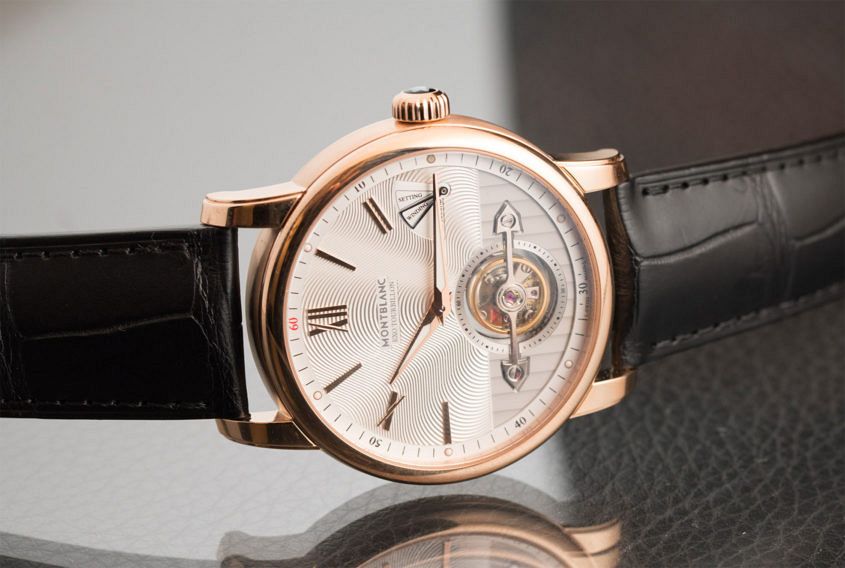 To celebrate, the brand has released a truly special new addition to the 4810 line-up, the ExoTourbillon Slim, a well-sized, well-priced piece that exemplifies all that's great about Montblanc's watchmaking today.
The brand's patented take on the tourbillon pops up all over its collection (we recently showed you the limited edition TimeWalker that uses it) and in a nutshell, the trick is that the balance sits outside the cage, reducing the weight and improving precision and isochronism, and giving you energy savings of roughly 30 per cent. The big, external balance wheel is also visually striking, and Montblanc show it off well. Oh, and because the cage rotates once a minute and can be stopped, it's used as a seconds 'hand' as well.
Speaking of stopping the tourbillon, you might have noticed the unusual read-out at three. As part of their overarching theme of travel and exploration Montblanc has been inspired by engine order telegraphs, which are nautical instruments that allow the bridge to communicate things like 'Full Ahead' to the engine room. Montblanc's whimsical take on this display allows the wearer to see what position the crown is at. It's a cute idea, though some might find it a touch gimmicky. If that indicator is an acquired taste, everyone I've spoken to has loved 'exploding star' guilloché dial finish. It's well-executed and mesmerising to look at. The excellent finish continues on the movement – the new MB 29.21 uses a gold micro-rotor that can hold some 50 hours of power reserve. The large bridges are finished with a fan shaped Geneva stripe.
On the wrist the 4810 ExoTourbillon is well sized and comfortable. At just over 40mm wide and a shade over 10mm high, it's comparatively slim for a tourbillon, and the classical proportions are perfectly suited to the watch's refined look.
The final noteworthy point about this watch is the price. For a solid gold tourbillon of this calibre, a price just under $50,000 is, as we've come to expect from Montblanc, highly competitive.
Montblanc 4810 ExoTourbillon Slim Australian pricing
The Montblanc 4810 ExoTourbillon Slim, in red gold, $48,800