HANDS-ON: An intense love letter to the 'retro futurism' of the H. Moser & Cie Streamliner Flyback Chronograph
Thor Svaboe
Once again, I am confused, seriously confused. When I'd finally sussed out the language of Moser they have another ace up their sleeve. Not entirely new, but even after being out for almost a year it still astounds me when I get my hands on it, and here it delights with a new alluring blue dial. The H. Moser & Cie. Streamliner Flyback Chronograph is different from, well, everything. While legacy brands tweak their tried and tested icons by 1mm, that well-lit safe path is not for Edouard Meylan, CEO of H. Moser. Difference, innovation, and the unlikely term, irony. Here, instead of homage, we have retro futurism.
First Impressions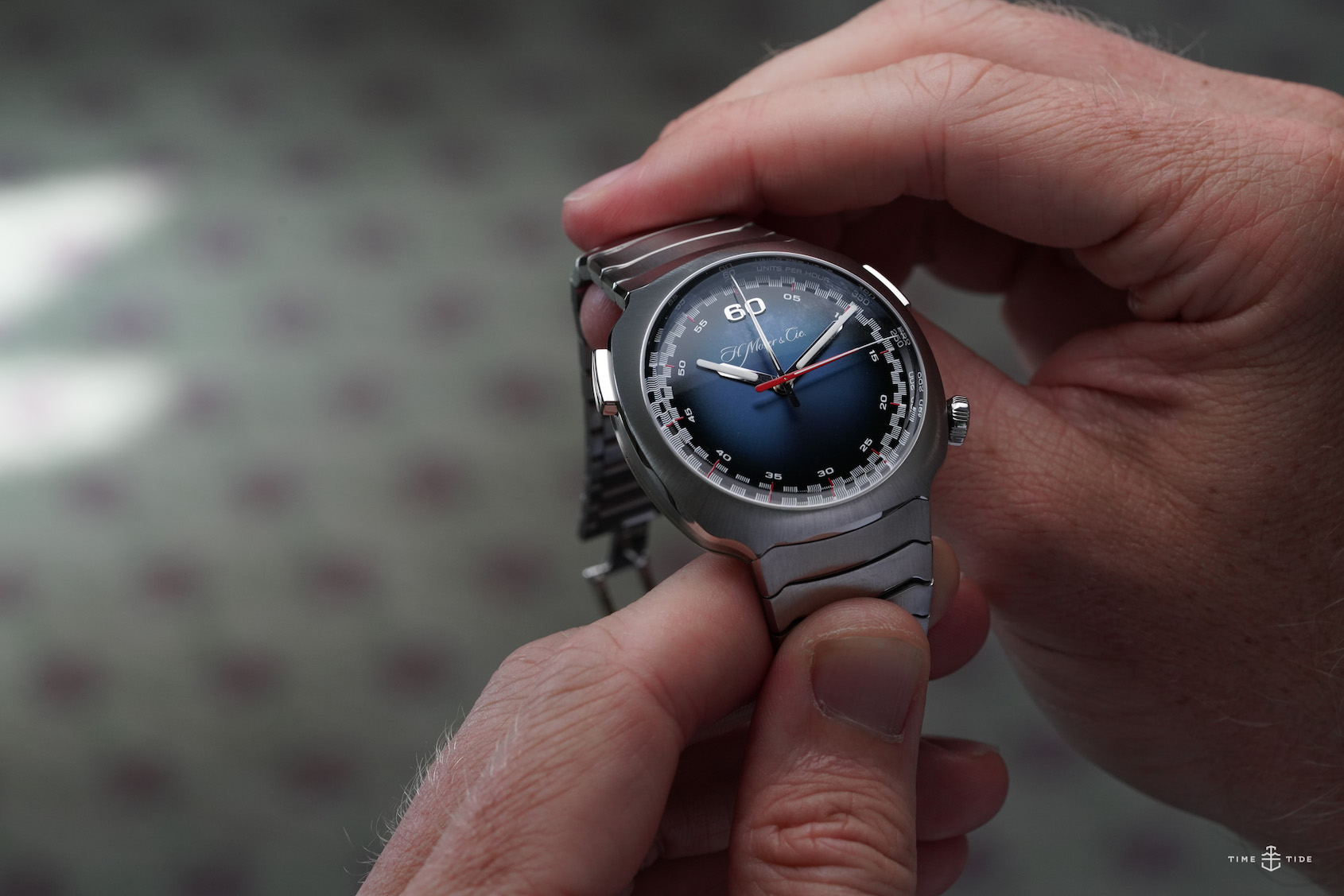 The expression curvilinear replaces angular. I must confess I run the risk of repeating my own gushing enthusiasm for the case and bracelet, as I was lucky enough to spend time with the apple green splendour of the latest Streamliner in my story here. Images are one thing, but nothing will prepare you for the sheer 'otherness' of the mini-tank-armadillo-like convex (let's make production extra difficult!) bracelet. This flows into a poetic vision of streamlined form, and turning into an alien Bullhead chronograph, with an added large crown at 4 o'clock. There's a '70s vibe in the case brushing and deep blue dial colour, but there are no registers! This is causing palpitations, like drinking two double espressos, and I have to sit down.
The case and bracelet
OK, I'll keep calm if I keep from looking at that oceanic dial with that flash of orangey red. The case is simply put, unique. If we start from the crystal, which has a bevelled edge, there is a negligible rim, which then, in pure '70s style, flows toward the edge accentuated by a sunburst brushing of the steel, smooth yet discernibly striated. Edges are slightly bevelled and intricately polished – following a flowing cushion-esque lugless shape with delicious twists in bevelling towards the bracelet, creating one of the best integrations I've seen.
The bracelet has that indefinable quality of being both pliable and solid, looking decidedly different, and draping itself around the wrist like a piece of alien jewellery. The soft movement of the bracelet easily aces the competition for single-link designs, and while brushing is defined, there's a satin sheen that catches the light, with polished side bevels underlining the strong curvilinear shape. But that dial … fondling the smooth case, the dial is drawing me in with its, at first, indecipherable language.
A very different chronograph dial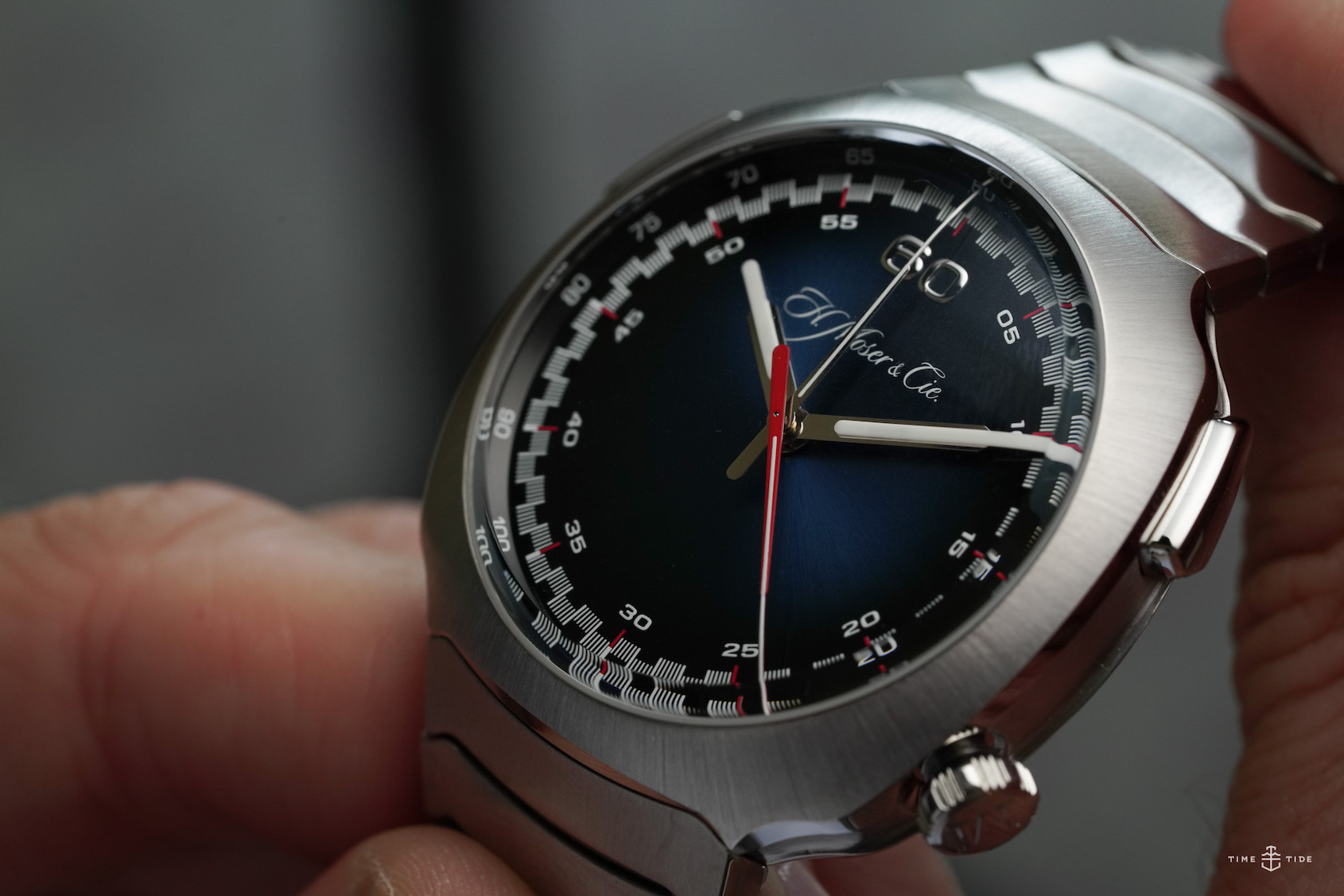 Dégradé and fumé, yes, you would be excused for thinking H. Moser & Cie. actually ran their own design academy for these intriguing finishes, such is the level of execution and standing within Haute Horlogerie. While this Flyback Chronograph made its debut with a strong griffé, or striated finish, here we have a hypnotic deep oceanic blue – close to black towards the rehaut, where the castellated minute track brings to mind motorsports under the slight distortion of the crystal's edge.
At 12 o'clock there is a huge 60 marker. Clearly, the stopwatch game is strong, and it dawns on me, as complex a complication as it is simple to use: What looks like a single chronograph seconds hand in a flash of orangey red to complement the markings on the minute track, is in fact two. The upper red seconds hand goes when you press the tactile right-hand pusher, and the underlying white minute hand stays at 12, until the first minute passes, when it clicks instantaneously as the red hand glides past. Intensely more legible than small sub registers, and delightfully simple in operation, while the movement is anything but. The hour and minute hands are minimalist sword shapes, and appear to pinch a longer, thick centre section of lume, and yes, it's solid. This is Globolight, a mix of ceramic and Super-LumiNova specific for H. Moser that ensures lantern-like readability at night, and yet another Moser-esque detail to enjoy.
The Movement
Juxtaposed to the simple but beautifully crafted logic of the dial, the Agenhor-sourced HMC902 movement is an horological architectural masterpiece. And what at first sight looks like a hand-wound chronograph movement — its traditional finishing and layout a perfect contrast to the Streamliner's retro futurism — is a knockout.  The anglage is what gets you first, a beautiful mix of flowing lines and unreasonably sharp corners to the superb bridgework. And unlike that first impression, there is a rotor behind the dial, ensuring ease of use, while bestowing the caseback with an unhindered view of the HMC902 calibre, with its lateral clutch system and sophisticated cam operation for the instantaneous jump of the hour and minute chronograph register. With its intricate detailing, 55 jewels and a baffling 434 components, it is more than a match for the on-point craftsmanship in the case, tank-solid embrace of the bracelet, and That Dial. 
The smooth comfort of the Streamliner Flyback Chronograph makes it feel less than its 42mm and it's a shame that, due to the complexity, very few of these alien crafts are going to be produced yearly by H. Moser & Cie. After a struggling year for many manufacturers, the mind boggles as to what Moser can conjure up when the world normalises.
H. Moser & Cie. Streamliner Flyback Chronograph price and availability:
The H. Moser & Cie. Streamliner Flyback Chronograph is $39,900 USD, and is available now.