The H. Moser & Cie. Pioneer Centre Seconds Swiss Mad Red ticks all my own personal boxes in a big way. The fact that I am a dial man who loves a coloured face and has a marked preference for three-hand watches makes it seem perfect on paper. Fortunately, it's even better in the metal.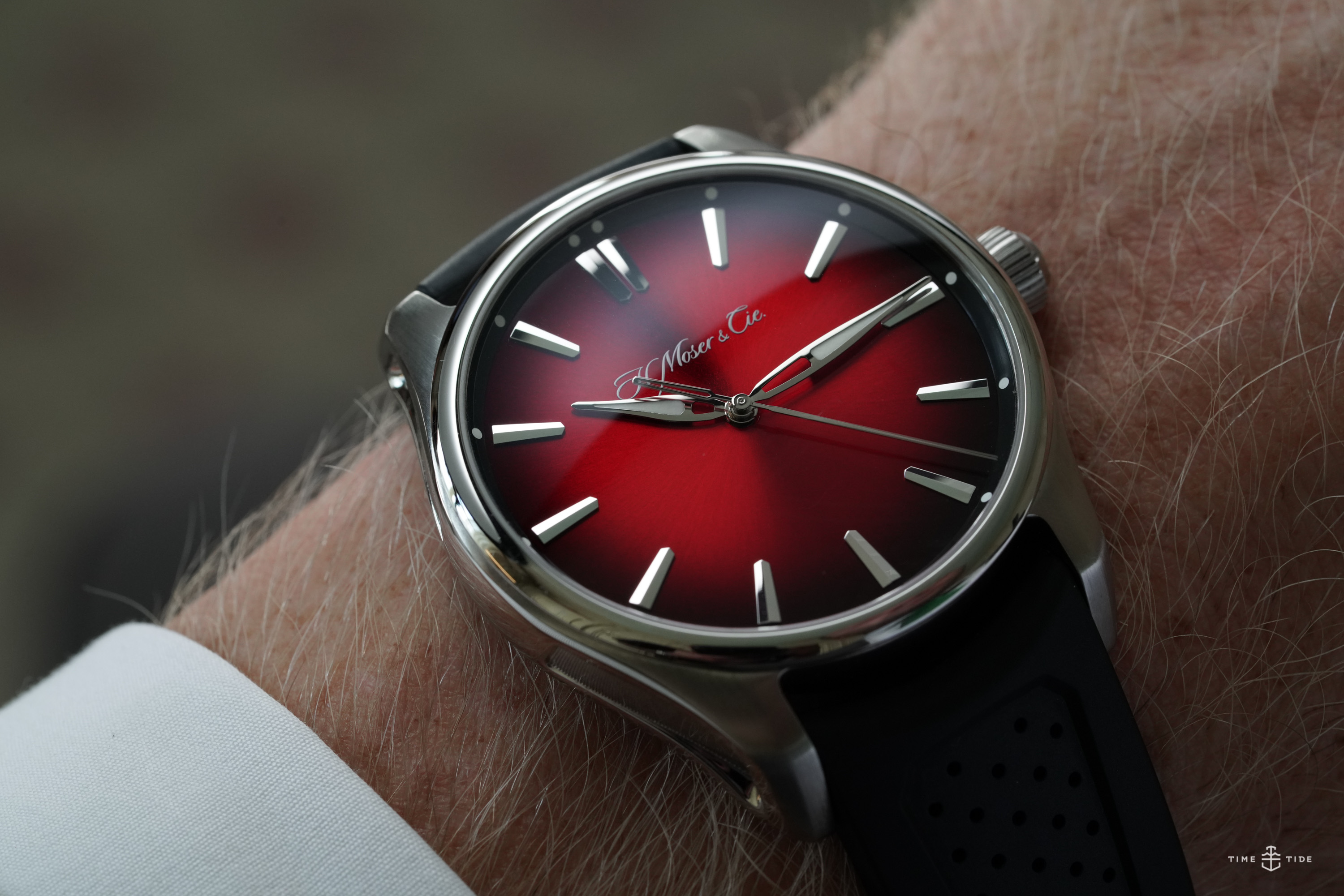 First impressions
Let's face it: three hands are the bare necessities that provide all that we genuinely need. I know I keep harping on about a simple mechanical watch being zen-inducing, but I genuinely feel it holding a delightful piece like this in my hand. It's no secret that H.Moser & Cie are masters of abyss-like fume dials. But still, they manage to surprise me with small but incremental twists as they push their cheeky brand of modernity.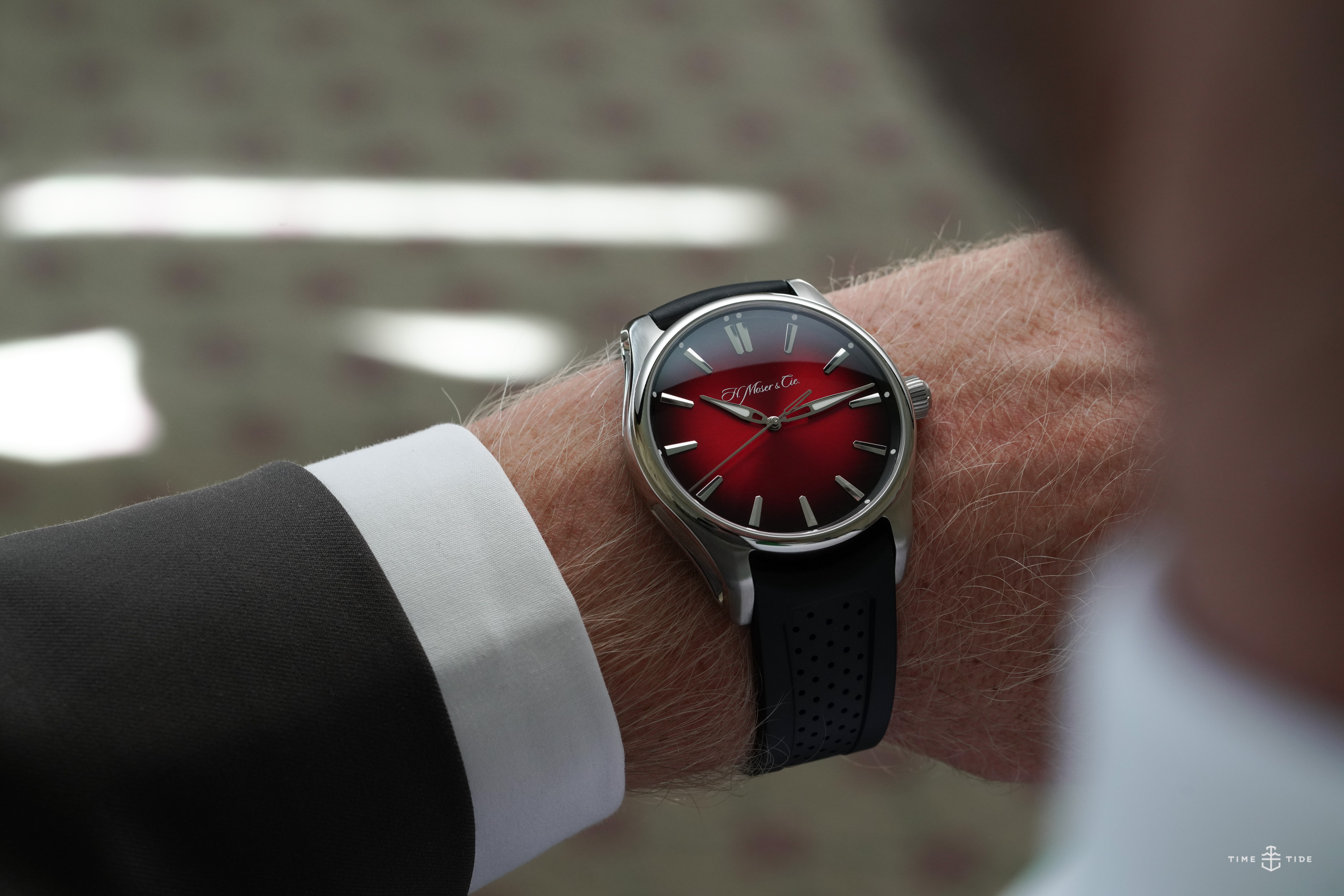 The moment you put this watch on, what strikes you is a soft feeling of comfort with the rally-style vented rubber strap fitting the thick-lugged tool case. The size of 42.8mm is larger than I would usually expect to enjoy, but the design dynamics of the Pioneer case imbues it with a smooth comfort that's visually invigorated by the magic of that candy dial.
The case and strap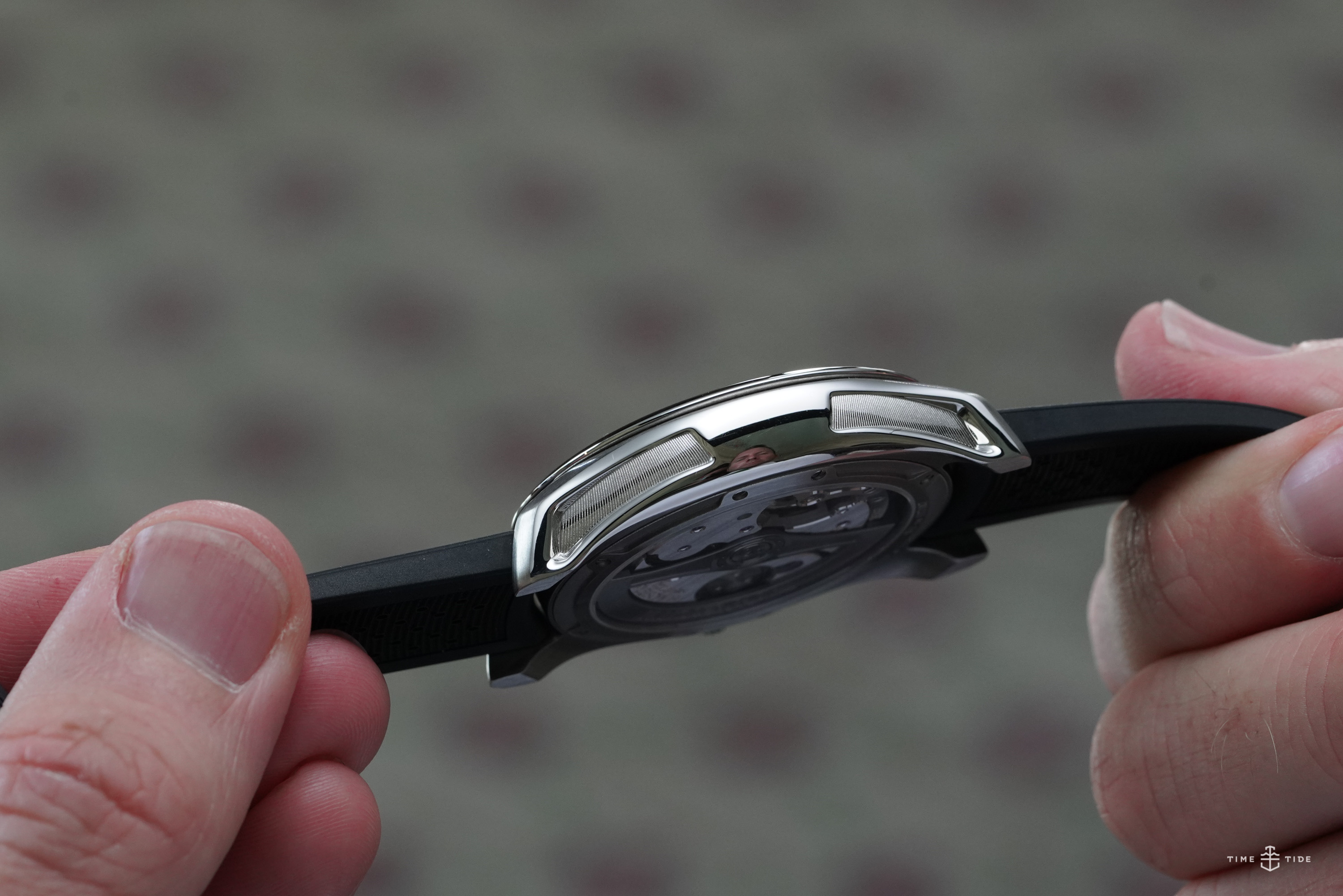 Moser have regularly demonstrated their knack for the jaw-dropping with everything from watch cases made from Swiss cheese (really) to last year's otherwordly Streamliner creations. But this case delivers simplicity with a tasty twist. The case and its supple rubber strap makes it a contender to become that everyday watch that you wear as a default choice. Albeit one that coaxes an involuntary smile as soon as you look at the dial.
The case isn't groundbreaking, just a near perfect combination of small polished details and a just-so lug length, the pebble-smooth bezel framing what is the entry ticket to the fascinating world of H.Moser & Cie. Top details? Look closely and you'll see the delicate slimming design of the scalloped lug and case sides alongside a large crown with a slightly tapering design.
The dial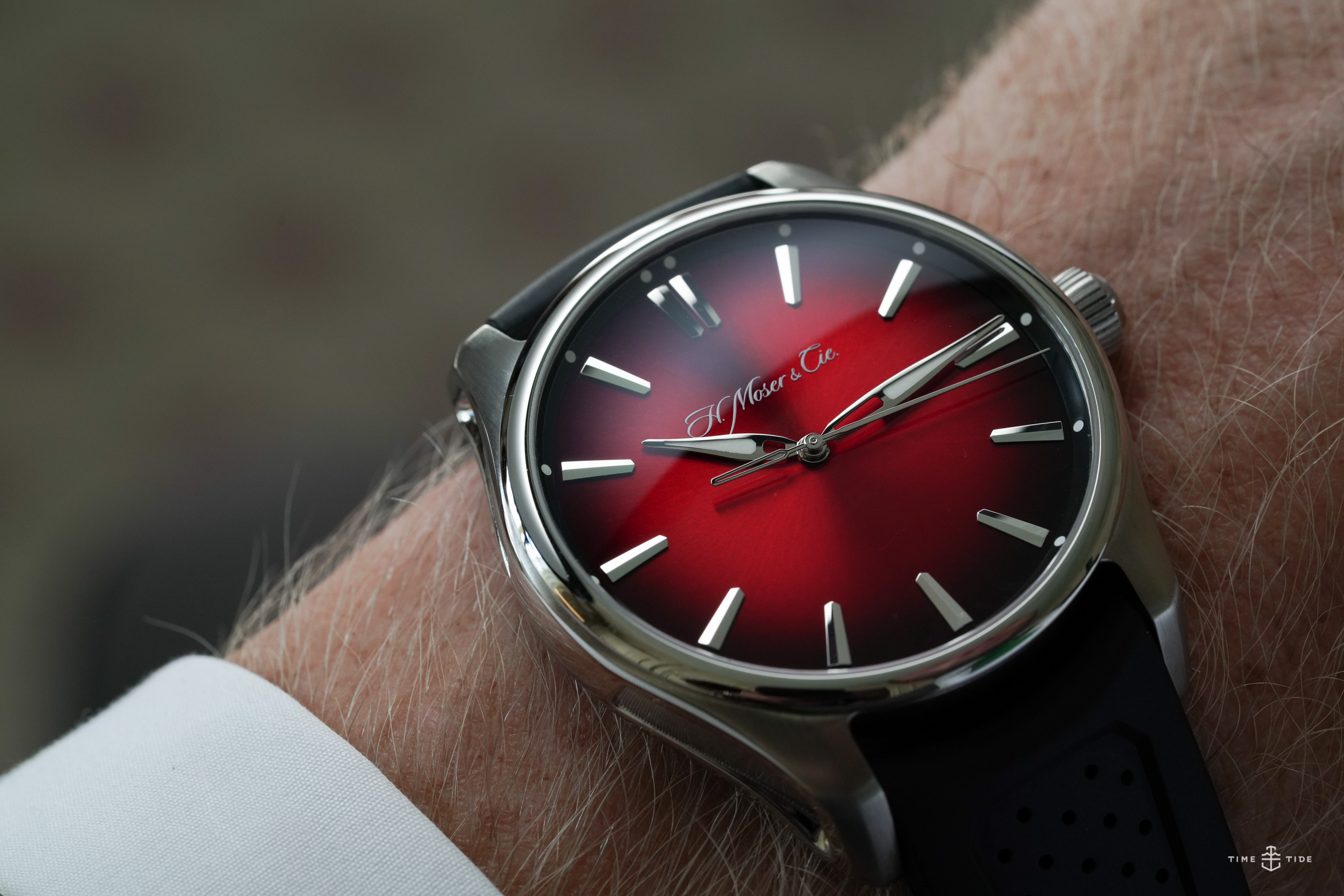 Seriously, look at the dial. This is a large eyeful of deep, lickable cherry lollipop red that to me is almost erotic in its deep lustre. As a dial fetishist this is not helping my compulsion, In fact I'm feeling worse. Minimalism with a classical edge in the hand set – that is the style we're looking at.
A smooth black rehaut frames a deep woozy red that's close to black at the edges. The intricately polished hands have a swoopy demeanor with inset lume and a shapely compliment to the sweep of calligraphy in the logo at 12. The strong arrowhead indices are applied with a small lume dot on the rehaut ensuring night-time visibility. The feeling is one of cohesion and balance and, for me, a worrying affirmation of my dial affliction.
The movement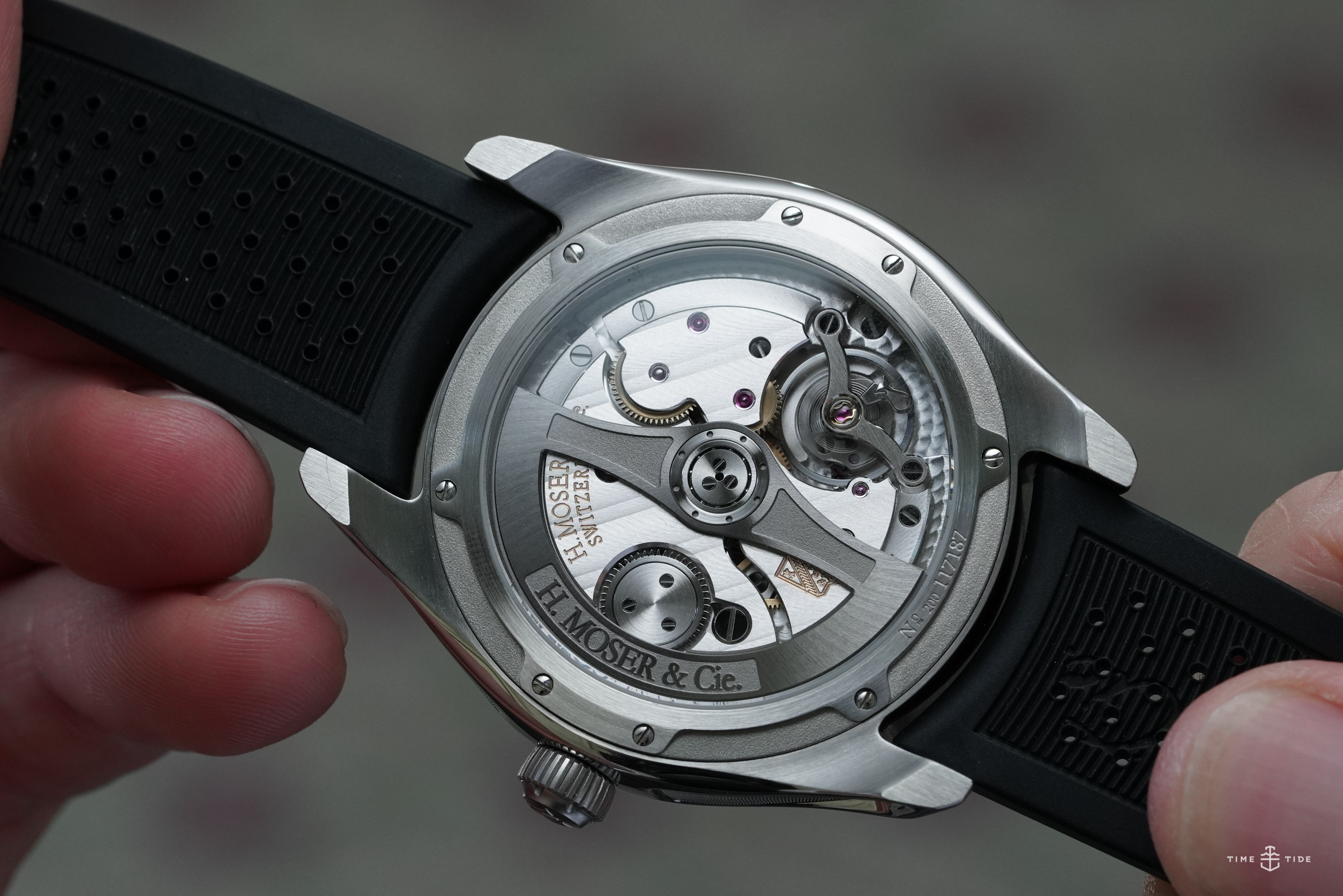 Turn the watch around and the eye-catching dial gets its mechanical counterpoint in the automatic HMC200 movement. Edouard Meylan sure knows how to spec even the sharpest, most modern Moser pieces with the sharp detail of a very traditional manufacture movement. So if you have the urge of flipping the watch over instead of staring dewy eyed at the dial, you will have your fill instantly and thoroughly. A base of perlage has Côtes de Genève-imbued bridges and mainplates affixed to it and razor-like anglage on the edges, including some impossibly sharp corners. All details are as traditional as the case ethos at Moser is modern at heart. The skeletonised 18K gold rotor has a more tool-like design and the small details like the Moser trait of a Straumann hairspring infuses the quality expected from the sister company Precision Engineering AG, not to mention a solid 72-hour reserve.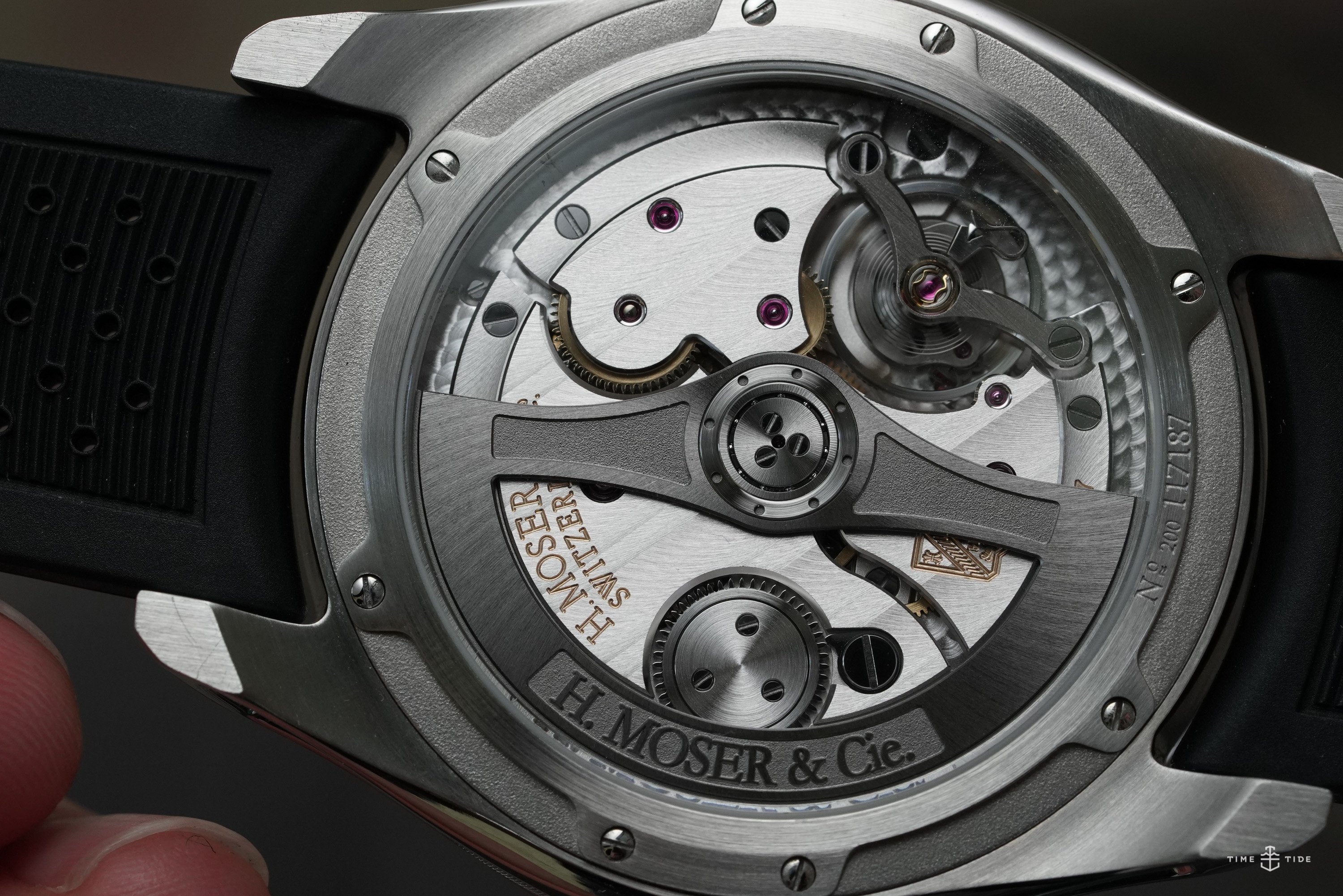 The movement might have been enough to cure a less serious dial-aholic than me, but I'll be here 10 minutes after the cameras have stopped, still lost in that cherry fume dial. The dial is but one detail that makes this a brilliant everyday wearer, and with its 120m depth rating, it's also a proper sports watch, and a dazzling one at that.

The H.Moser & Cie. Pioneer Centre Seconds Swiss Mad Red, price and availability:
The H. Moser & Cie. Pioneer Centre Seconds Swiss Mad Red is CHF 12,900. For more details, visit H.Moser & Cie. right here.
Made in partnership with H. Moser & Cie. However, the opinions expressed in this article are our own in accordance with our Editorial Policy.