It was a Friday afternoon last November when I met Jan Edöcs, the CEO of Doxa S.A. He was here for the launch of the brand in Australia, and not only brought the full collection of watches from 2019, but he was also generous enough to share what they had in store for 2020, including early renders of the DOXA SUB 300 Carbon Aqua Lung US Divers, which as of now is available to pre-order here.
** Rumours are circulating that this watch is already sold out – for now, we can say that an Australian allocation remains for launch at midday AEST, though this will be updated once it is gone. Click on this text for updated sales information. **
While it's always hard to get a true sense of a watch from renders, this one was different. It was carbon. It bore a striking yellow and black colour scheme. It was aggressively priced. And it had a certain logo on the dial. My instincts were overwhelmingly that it was a winner. From a brand whose core identity is based on the strength of their designs from the 1960s, this watch was a bold statement about DOXA's 21st century intentions, which, out of absolutely nowhere, now include embracing materials that Jacques-Yves Cousteau might have only dreamed of.
DOXA was founded in 1889, but only seriously hit their stride in 1967 with the birth of the DOXA SUB 300, a watch that was purpose-built for the life aquatic. Diving, both commercially and recreationally, was becoming increasingly popular with the invention of the Aqua-Lung in 1943, the first self-contained underwater breathing system (co-invented by Jacques-Yves Cousteau). The DOXA SUB 300 was industry-leading at the time, with a robust cushion-shaped case, highly legible dial features and the famous United States Navy No-Decompression dive chart on the bezel.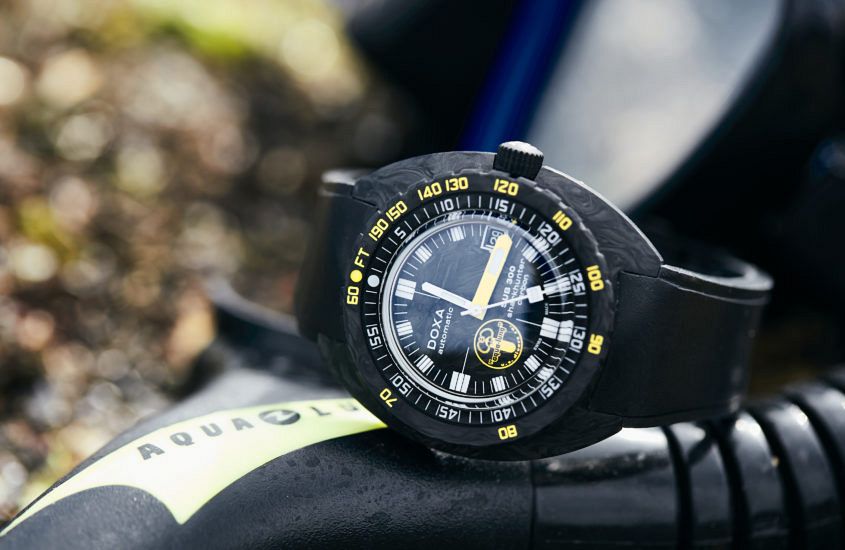 With the new DOXA SUB 300 Carbon Aqua Lung US Divers, we keep all of those important features, but it is thrust into the present with an ultra-light forged carbon case and comfortable rubber strap. Measuring in at 42.5mm in diameter and 13.4mm thick, the carbon case is reinforced with a titanium inner shell that houses the movement and guarantees 300m of water resistance. Carbon is also used for the dial and bezel, which makes the watch almost alarmingly light on the wrist at only 87g. Consistent with the stainless steel DOXA SUB 300 references, the case wears much smaller than you might imagine for 45mm lug-to-lug, as the case is slightly curved and the lugs are very short.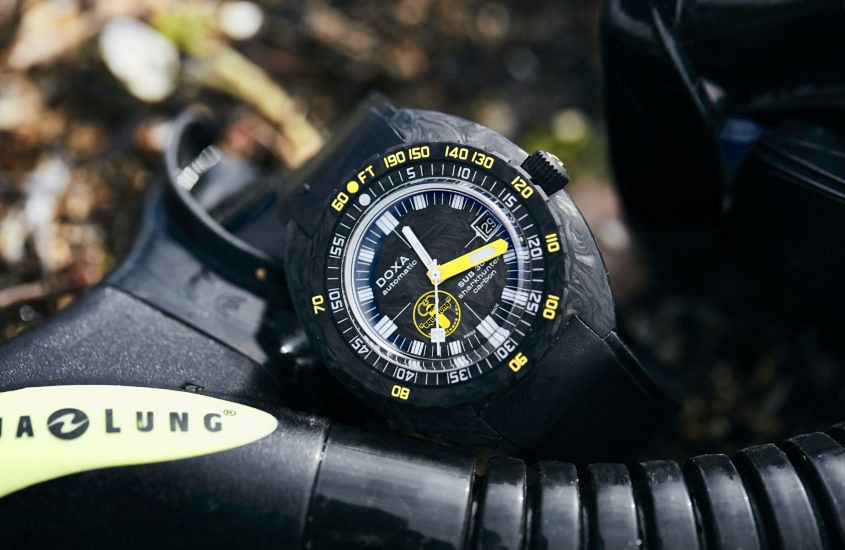 The dial is extremely legible both above and below the water, even though it isn't the iconic DOXA orange. The swirls of the carbon in the dial add something genuinely unusual, without distracting from the bright white hour markers and dial text. The yellow minute hand is longer and more pronounced than the hour hand, emphasised to allow easy reading of the elapsed minutes of dive time while underwater, and is the same colour as the patented United States Navy No-Decompression dive chart bezel.
Also featured on the dial is the Aqua Lung U.S. Divers Co. logo, a partnership that was born with Jacques-Yves Cousteau. He founded the U.S. Divers Co. to sell his Aqua-Lung equipment, and was so impressed with DOXA dive watches that he also became the sole distributor for the brand in the United States. The historical relationship between DOXA and Aqua Lung has been re-formed, with Jan Edöcs commenting that he is, "delighted to announce today that we have formalised our partnership with Aqua Lung, with whom we share a long history and the same values". It's exciting to see two brands that were so instrumental in the early popularisation and development of underwater exploration are collaborating together once again.
Securing the watch to your wrist is a black FKM rubber strap, an option that was introduced to the DOXA dive watch collection in 2019 . It features a black deployant clasp with a ratcheting diving extension, something that comes in handy when you're trying to fit it over the sleeve of a wetsuit. Powering the DOXA SUB 300 Carbon Aqua Lung US Divers is the same base movement as the rest of the SUB 300 collection — the workhorse ETA 2824-2. What is different here, however, is that DOXA has dialled up the specs to a COSC Certified Chronometer, guaranteeing an accuracy of −4/+6 seconds per day.
The DOXA SUB 300 Carbon Aqua Lung US Divers is an exciting watch for a couple of reasons. Firstly, and more superficially, it is a well-executed modern sports watch that would be a compelling product regardless of what it said on the dial, largely because carbon is rarely, if ever, sighted at this price point. It is comfortable, lightweight and feels very well made. Secondly, it is exciting as it feels like a new step for DOXA. It retains the famous case shape that saw them become one of the most well-known watches in diving, but looking backward to, and leaning on, the past is over – this is a foray into modern materials that elevates it from a nod to the cult following of vintage tool watch enthusiasts, to a thoroughly contemporary dive watch that stands head and shoulders above being a heritage reissue. While this is only the first step for DOXA, it bodes very well as they walk the tightrope between the past and the future.
DOXA SUB 300 Carbon Aqua Lung US Divers pricing and availability:
The DOXA SUB 300 Carbon Aqua Lung US Divers has an RRP of AUD$7690 and is limited to 300 pieces. Pre-order the watch here.