HANDS-ON: A deep-diving Greek, the Ianos Avyssos
Felix Scholz
In these days of globalised production and democratised design it seems like there are more micro watch brands than ever before and, really, most of them are pretty forgettable, all riffing from the same songbook/factory catalogue. So when something a little left of centre shows up, I tend to pay attention. 
The Ianos Avyssos is one such watch. On the surface it's a dive watch, rated to 300 metres, with the bezel, lume and other bits and bobs you associate with the genre. But pretty quickly you work out that it's the other elements that separate this watch from the pack. In case the name didn't give the game away, the Ianos Avyssos is a watch of Greek origin, and the brainchild of Jacob Hatzidimitriou. But the Hellenic inspirations of this piece go beyond the name, and well, to the small seconds at six. Rather than a typical hand, there's a rotating disc that, if you're an aficionado of archaeology or ancient horology, might look familiar. The design is based on the Antikythera mechanism — the world's oldest clock mechanism that dates back to around 100 BCE. The mechanism was discovered off the coast of Antikythera in 1901 (hence the name), and is widely regarded to be an astronomical mechanism or analogue computer. Aside from being cool in its own right, it's a nice link between watches, diving and Greece. 
This unique small seconds hand isn't the only thing the Avyssos has going for it. The dial is quite complex, with sandwich construction and a blue-to-black dègrèdè effect. Interestingly, the hour markers are also shaped after 'kampanelopetra', or the ballast stones of Greek sponge divers. The case, all 44mm of it, is interesting, too. Quite angular in its forms, and with a unique contoured caseback that's novel. Also novel is the use of a manually wound ETA movement, visible through a porthole hidden under the leather pass-through strap (which presumably you'd swap if you planned on getting it wet). I'm not the biggest fan of manual movements with screw-down crowns, but it's certainly different. The manually wound movement also keeps the profile slim, which is a good thing. The PVD is a strong look, though there's steel version on offer too.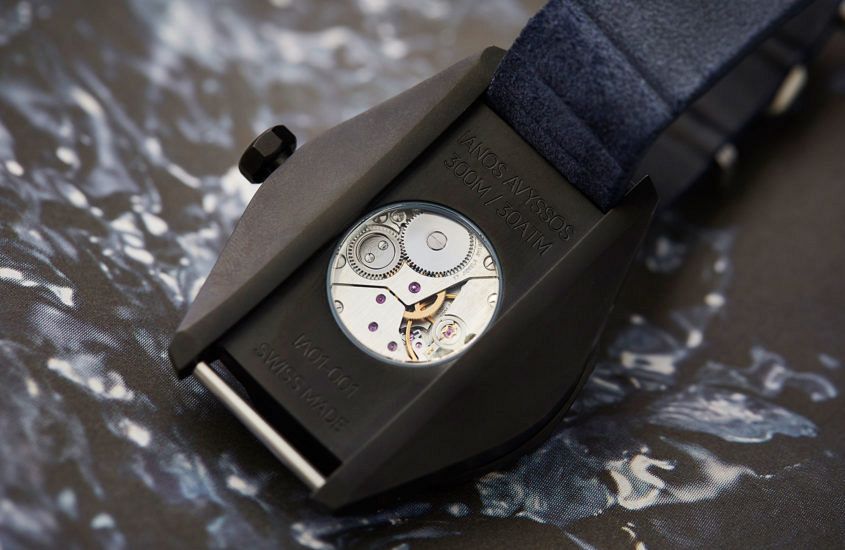 The combination of rich history, unusual design choices and quite solid construction techniques adds up to an attractive, if unconventional, watch. 
Ianos Avyssos pricing and availability
The Ianos Avyssos, in PVD, will retail for 760 CHF. Find out more here.