Gender-fluid. If you were born yesterday or became acquainted with pop culture only last year, you could be forgiven for thinking – based on the excitable talk among style-and-social commentators – that it's a newly minted concept. Not so. The 1970s: boys wearing their hair longer than girls; 1966: Yves Saint Laurent's Le Smoking … and so on, back through time. And watches: Cartier's Tank, Rolex's Datejust and Day-Date – those designs were always androgynous.
And so to a watch that easily makes my Top 10 for the year: Chanel's Boy.Friend Squelette or Skeleton if you prefer. Intentionally gender-neutral, it's pitched as a women's watch but it's a world away from girly. And it's equally far from butch: its Y chromosome is expressed as a very Parisian and urbane type of masculine elegance.
The lines of the octagonal case – more accurately, a rectangle with its corners clipped off – is derived from Chanel's first watch, the Premiere, but in Boy.Friend mode (which first appeared in 2015) the lines look tauter and sleeker. That's largely thanks to its stepped bezel and svelte dimensions – the Squelette comes in at a shade under eight-and-a-half millimetres thick.
Held inside that frame is a skeleton movement. Skeleton, not skeletonised – they are totally different in both approach and outcome. A skeleton movement is designed as such from the outset, as a framework of bridges that will hold the working parts, whereas a skeletonised (or open-worked) movement is one in which conventional plates are cut away, removing metal to expose various elements of a movement in a lace-like effect of curls and whorls. The former design-first approach requires the movement architecture to complement the skeleton – and that means a whole raft of technical challenges for the developers. Among the very few to have mastered skeleton watches are Cartier (with some Tank and Santos models) and Roger Dubuis with its Excalibur Spider series. Now, with the Boy.Friend Squelette, Chanel has absolutely nailed it.
Dispensing with both dial and plates, the skeleton bridges form three overlapping circles, contained within a larger frame. Beneath them, a linear movement is held invisibly in place, each of its key elements fitting neatly into one of the circles: the barrel uppermost, the wheel train in the middle and the regulator at 5 o'clock. The overall effect is strong, simple, architecturally rigorous, very transparent and just totally damned gorgeous. In reality or in photos, I can't get enough of it.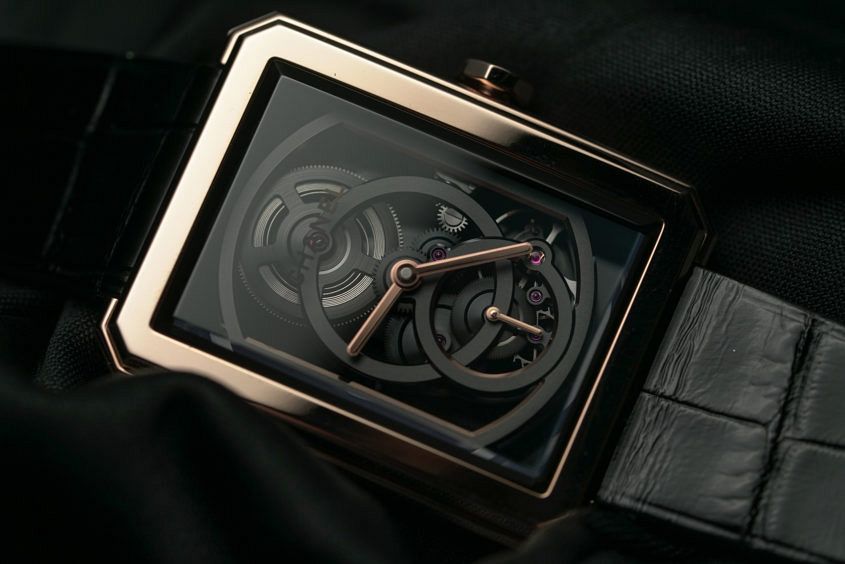 Contrasting with the lightness and transparency, the wheels and bridges have all been treated with matt black ADLC. And, with decoration kept to an absolute minimum, that's where all the focus lies. There's just a tiny pop of colour from five ruby movement jewels and a touch of gold on the bevelled inner edges of the main frame and the lowest circle (achieved by a galvanic treatment).
That gold perfectly matches the beige gold (a proprietary Chanel alloy that appears somewhere between yellow and pink on the spectrum) of the stick hands, the logo (printed on the underside of the crystal so it appears to float) and the case.
But back to that movement: it's Calibre 3, the third movement that Chanel has developed and produced in-house at its fully-owned Manufacture, G&F Chatelain in La Chaux-de-Fonds. Turn the watch over and you will see the lions-head logo on the back of the movement – the in-house "badge".
As Nicolas Beau, Chanel's global head of watches and fine jewellery, explained, like each of its predecessors, Calibre 3 was developed for one specific watch: "We think of a model and calibre together because there is a strong intimacy between the two. We first draw the movement, then ask the technicians to make it happen." Given the technical challenges of meeting the aesthetic demands for the Boy.Friend Skeleton, he adds, Calibre 3 was almost three years in the making.
The watch is offered with a diamond-set bezel or simple gold and its shiny black alligator strap is fastened with an octagonal gold pin buckle that echoes the case shape nicely. It's all so elegant, so perfectly judged, so French.
Would Nicolas Beau wear it? "I definitely would," he said, with a grin, "except that I have a butcher's wrist and probably need another five or six millimetres. But if we were to make it a little bigger, including a bigger movement, there's no question I would."
So, guys: we women have been happily borrowing "your" watches for years, so now you can steal "hers". The Boy.Friend Squelette will look perfect with black tie, tuxedo and patent-leather evening pumps.
Specifications
Brand:
Chanel
Model:
Boy.Friend Skeleton
Case Size:
37 x 28.6mm
Case Height:
8.4mm
Case Material:
18-carat beige gold
Movement:
Chanel Calibre 3