So deeply has Chanel's J12 become embedded in the canon of 21st-century design, it's easy to forget that it was introduced only 18 years ago. From the original model – a chic, sporty and androgynous piece in black ceramic that Chanel's then artistic director, Jacques Helleu, had designed to wear himself – it has evolved over the years to embrace new colours, more elaborate decoration and various complications, without allowing anything to dilute the design.
Every so often, Chanel has released a 'talking piece' version with a special dial – something that speaks not only of the Maison's craftsmanship but also its sense of humour. Last year it was that cool cartoon of Mademoiselle Chanel in a tweed suit, using her arms to show the time. This year Chanel has played with the number 12, enlarging and deconstructing the numerals, using them to create an abstract pattern in ceramic marquetry for two sets of 12 unique pieces.
Chanel has complemented those one-offs with two editions of the J12 Untitled – in black and in white, each limited to 1200 pieces. Using the same motif of deconstructed numerals, these editions have been simplified only in terms of the materials used – but have the bonus of higher water-resistance (200m instead of 50m, thanks to the screw-down crown). That makes them perfect for everyday wear.
How it looks
This black-on-black piece really comes into its own when you tilt it to catch the light at different angles, highlighting the mix of glossy and matte finishes. The geometric pattern of the enlarged numerals flows beyond the lacquered dial onto the ceramic bezel, unifying the design and bringing the polished metallic notches on the bezel edge into sharper focus – a little added visual buzz. It's cool and quirky and very, very chic.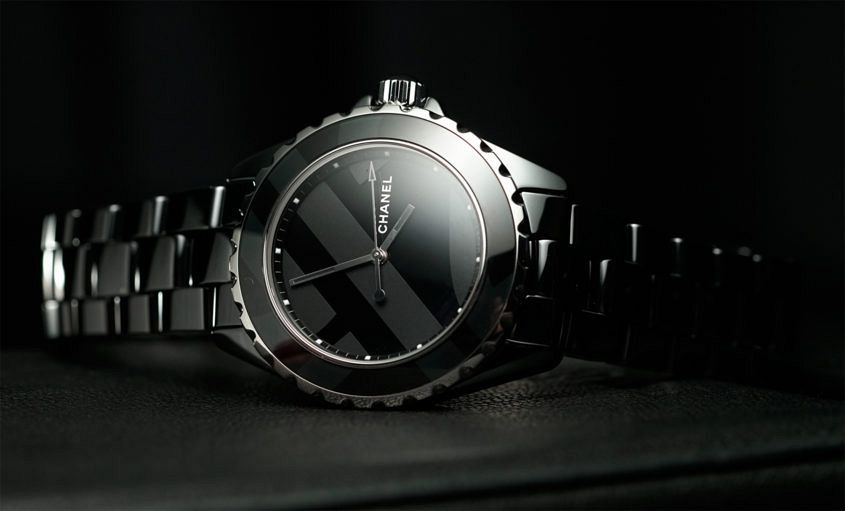 The black-on-black is quite mysterious and intriguing – and way more subtle than the high-contrast black-and-white of the unique pieces (the same goes for the white-and-silver version, which mixes lacquer with rhodium-plated sections). That makes it perfect for women who want something special and rather rare but like to keep it discreet. It also makes it totally wearable for men who are comfortable with a 38mm watch (remember Jacques Helleu's original intention).
How it feels
I've always preferred the J12 in 38mm, not only because it's the size at which Chanel starts to use mechanical movements rather than quartz (the Untitled has an automatic movement with 42 hours of power reserve) but also because it feels great on the wrist. The size-to-weight ratio is perfectly balanced – it's not heavy but has real presence, as a sporty watch should. As for those ceramic bracelets, Chanel has totally nailed it – silky-smooth and fluid, they seem to glide across the skin. (I find that effect really comes into its own when I wear it a little loose – which also adds to the sporty vibe.)
Chanel J12 Untitled Australian pricing and availability
Chanel J12 Untitled 38mm in black ceramic, limited to 1200 pieces, $8100
Specifications
Brand:
Chanel
Model:
J12 Untitled Black Ceramic
Case Size:
38mm, 200m WR
Case Material:
Black high-tech ceramic and steel
Dial:
Black-lacquered dial with black matt decor and rhodium-plated hands
Strap:
Black high-tech ceramic bracelet with steel triple-folding buckle
Movement:
Automatic movement with 42-hour power reserve