This guy bought three of the same model in different metals and then left them in a safe for two decades. This is what happened next.
Andrew McUtchen
Editor's note: Brian King is a man who knows his mind. When Omega released a limited run of George Daniels' co-axial concept watches in the early 2000s, he knew immediately that he was interested in going deep. Over a couple of months, he bought all three. But that's only the start of the story. Here he writes of the watches' performance over time, and the living testament that they are to their creator. 
Quality never costs, they say; it always pays.
In 2002 I set out to purchase a very unusual trio of watches. About a year or so earlier, Omega began the serial production of George Daniels' co-axial concept, the first radical advance in mechanical timepiece movements in nearly three centuries. In 2002, I learned that Omega had issued a set of limited production Speedmaster Broad Arrow chronographs with enamel dials, with 100 each in yellow gold, rose gold and white gold. Between May and September 2002, I was incredibly fortunate to be able to acquire one of each, all with the same limited series number (68/99), making it one of the few, or perhaps the only set in the world with the same limited-edition number on all three timepieces in one complete set.
Seventeen years have come and gone since that acquisition and, due to their scarcity and value, I have chosen to wear them very rarely; perhaps only once every five or six years, as I have many other pieces in my collection which has grown over that time, shrunk, then grown again. Recently, my wife suggested that I ought not to let them sit idly in their exclusive padded storage box and that I should wear them; they are stunning pieces of wrist candy.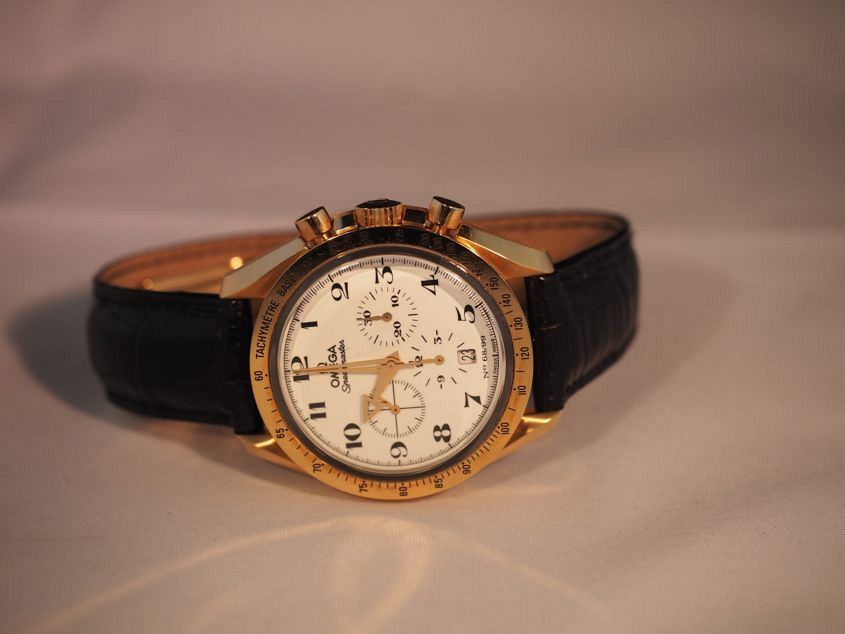 On February 16, I took the rose gold piece from the box for the first time in about 10 years, and set the time to the second against the time displayed on my smartphone — which itself is set from the local NTP (Network Time Protocol) facility — and set out to see how it had fared with hardly any wrist time and absolutely no service or lubrication in all of those years.
I strapped the Broad Arrow onto my wrist just after 4:00 p.m. on February 16 2019 and, to make this "time trial" even more testing, I started the chronograph on it when I went to sleep just before midnight and let it run until 0640 hours when I awoke. Tossing and turning during the night saw the watch in different positions for hours at a time. In the morning, I went for my one-hour bushwalk with my neighbour along the lakefront near my home, wearing my trusty Speedmaster.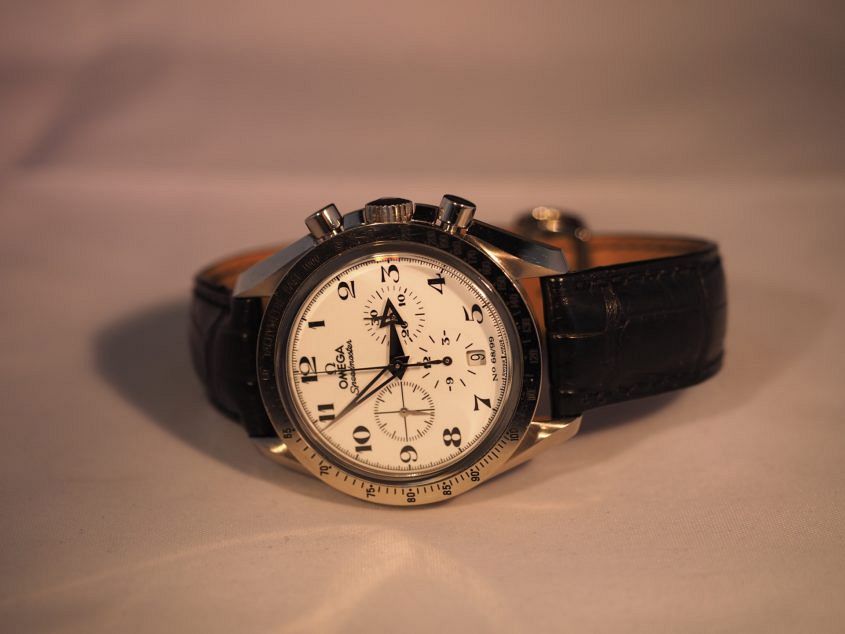 Initially, I monitored the watch very closely until bedtime – every 30 minutes or so – to see how much loss or gain it had experienced after about 17 years of being almost totally ignored. To my astonishment, after 25 hours and 9 minutes, it had unbelievably lost only 1⁄2 second!
The next day, February 17, I put the yellow gold Broad Arrow through the same time trial. Again, I ran the chronograph all night and used it repeatedly during the nearly 25 hours of the trial: to time my eggs in the morning, my fish in the evening, plus a range of other activities during the day. Again, to my amazement, after 24 hours and 35 minutes, it had gained only 1 second!
On day three, February 18, I put the last of the trio, the white gold Broad Arrow, through the same time trial. Again, I ran the chronograph all night and used it repeatedly during the following almost 28 hours to time other various activities during the day. Again, to my astonishment, after 27 hours and 52 minutes, it had gained only 1 and 1/2 seconds!
After 17 years of hardly being touched and little or no movement in the movement? Bloody Amazing!
This speaks volumes for the benefits of George Daniels' co-axial system, Omega's farsightedness in acquiring and developing it further, and most of all, the quality of Omega's production.