THE RULES: The Ultimate Guide to Black Watches, Part 1 (The blackening process)
David Chalmers
BACK TO BLACK – Everything you ever wanted to know about black watches but were too afraid (of being called a geek) to ask…
**Reader tip: scroll to the bottom, press play on the Youtube clip, then come back up and read**
Let's be real. Black watches are just sexy. They're practical too, as they're eternally in fashion, they go with everything and they exude a subtle kind of influence yardi yarda. But before we go back to black and invest in one for our own collections, or even for that "one good watch" for everyday wear there are important questions to ask. Like, which black watches are most resistant to scratches? Which black watch materials are the most durable? How has the blackening process evolved over the years? And what are the pros and cons of the black watch options out there?
From a colour and association point of view, black itself has a radiation which errs on the dark side, and watch companies over time have tried and failed to capture all of these qualities in the ultimate black timepiece. But it's not as easy as it might seem to master the actual process. In fact, the technology and processes used to achieve the stealth finish has changed significantly over the years.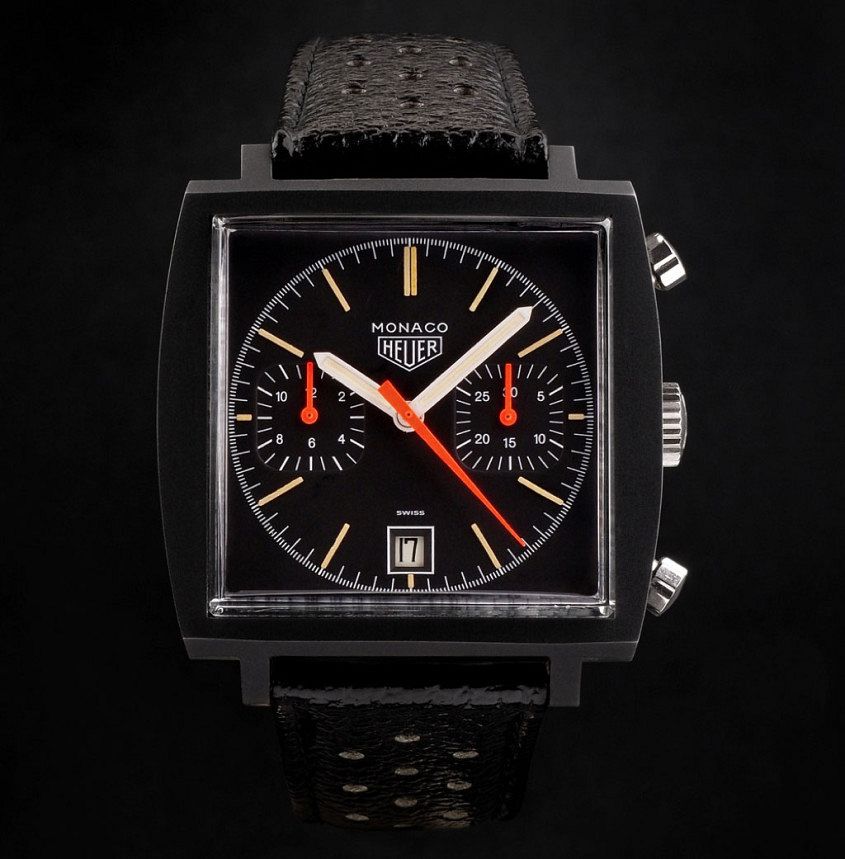 IN THE BEGINNING THERE WAS POWDER COATING.
Let's start back in the 1970s with pioneers such as Porsche Design and Heuer, who applied a powder coating on top of an anodised metal case to blacken their watches. Powder coating is still used today in many industrial processes (that's how your fridge gets painted) and is in essence a paint that is baked on to achieve a hard, smooth finish. While these watches looked great when new, buyers soon discovered the down-side: they wore quickly and were prone to chipping and scratching, which would reveal the base metal that lay beneath the coating.
PVD TO THE RESCUE?
The next generation of black watches used a process technology that many people now use as a by-word for black watches: PVD. Physical Vapour Deposition ("PVD") is not a coating itself, but rather a process to apply a coating to a base metal case. The PVD process bonds a small layer of metal compounds to the case- in effect, the same process as electroplating. Many of the black watches that you'll see on sale today have their coating applied by PVD. TAG Heuer for example offer both steel and titanium black watches which are coated with titanium carbide via PVD.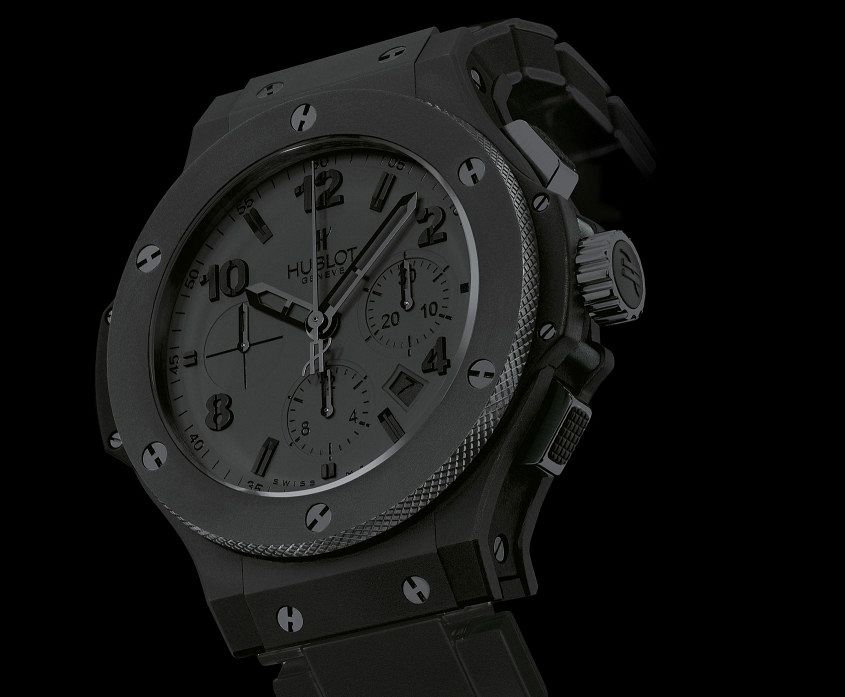 IS PVD ANY GOOD?
Watches with a finish applied by PVD are far superior to the old powder coated finishes, as they don't crack or peel, although they are still vulnerable to scratches. What determines how easily a PVD-coated watch will scratch is not really down to the quality of the coating, but more the hardness of the case. A typical stainless steel case has a hardness of around 200 vickers before a coating, such as titanium carbide is applied. The same coating can also be applied to a Titanium Grade 5 case, which is twice as hard at around 400 vickers.
WHEN DID BLACK WATCHES GET BIG?
The push to continue improving the technology behind black-case watches grew from their return to fashion in the mid-2000s. And there was no clearer sign that Black watches were back than Tempus "Temple of Time" 2007, an exhibition in Singapore organised by the Hourglass that showcased limited edition black watches from the likes of Hublot, Richard Mille, Jaeger-LeCoultre, Audemars Piguet, TAG Heuer and Sinn. Don't take my word for the impact of that exhibition on watches today- our man Andrew McUtchen was there in person covering that seminal event seven years ago. Time+Tide might be shiny and new, but those behind the keyboard are dusty old pros. Andrew will include the best of the all-black class of 2007  from Tempus in the ultimate blacklist, to follow as Part II of our black watch special.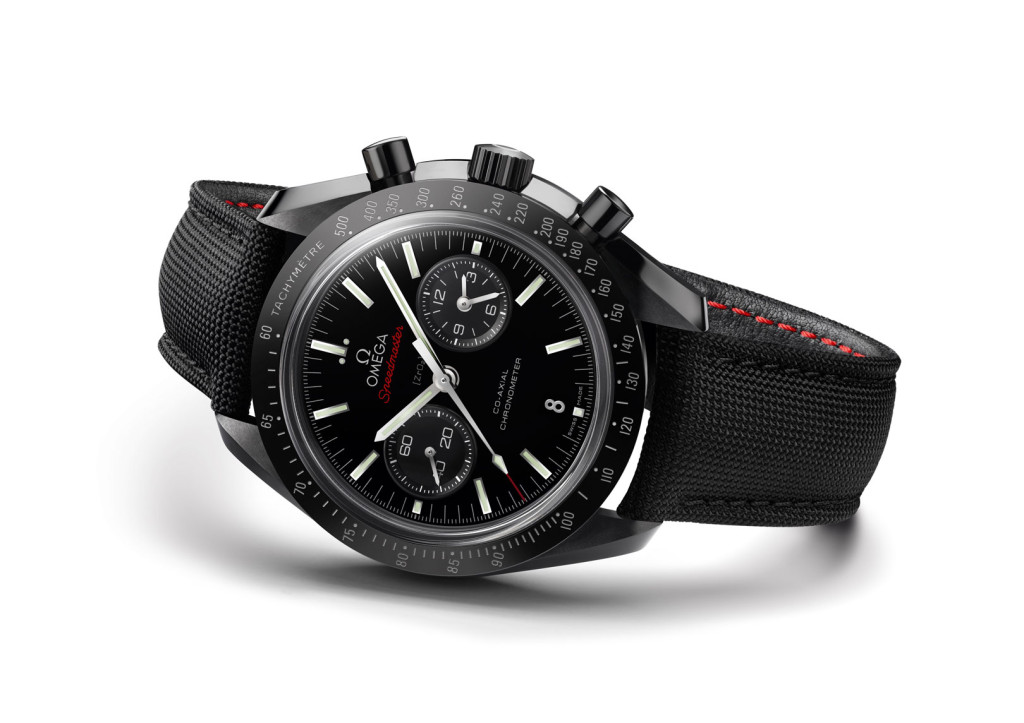 BLACK TO THE FUTURE – WHAT ARE THE LATEST BLACK WATCHES LIKE?
In a word. Freakingawesome. The most recently released black watches move away from simply coating the surface, in the words of the kids, they go 'next level'.  With the likes of Omega and Jaeger-LeCoultre offering ceramic cases, which can have a hardness of around 1250 vickers as well as being very light. Omega's approach with its Dark Side of the Moon Speedmaster (pictured above, for those annoyed by the lack of caption) is to create a case that is a consistent black colour through the entire case- slice the case open, and it's still a perfect black. Believe it or not, the DSOTM Speedmaster starts out white: the case is made from a block of white ceramic that is treated with a plasma technology, meaning that not only is the case highly scratch and fade resistant, but if you ever dent the case, you'll still see a black surface.
BUT, THE CATCH…..
So, ceramic is our ideal case for a black watch, right? Well, as watch lovers know, nothing is perfect. Putting aside the small problem that ceramic can shatter (!), the most pressing issue with ceramic cases is the cost. Audemars Piguet for example estimate that its ceramic Royal Oak Offshore ceramic case takes around 12 hours more to make than the standard steel, while the bezel takes an additional 8 hours. And in the watch industry, hours means dollars and lots of them.
THE AFFORDABILITY FACTOR
But there is an interesting alternative for fans of black watches on a budget that springs from Sinn, an independent German brand. Along with their partners at Damasko, Sinn developed a process to ice-harden steel, which they call "Tegimented" steel. This steel has a hardness of around 1200 vickers (recall that standard steel is 200 vickers) and when Sinn apply their Black TiAICN (titanium aluminium carbon nitrate) finish via PVD, the case hardness increases to 2000 vickers, which you'll appreciate when you scrape your watch on the kitchen bench.
STAY TUNED FOR PART II – THE ULTIMATE WATCH BLACKLIST  
AND HERE IS BLACKENED BY METALLICA. BECAUSE METAL.
(Team Note – DC, great story. But something was playing on my mind all night. We can't talk about blackening anything without playing 'Blackened' by Metallica. We're about to unleash the most metal watches ever, it's only appropriate m/ In the words of Weeezer, if it's too loud, turn it down – AM)
[su_youtube_advanced url="https://www.youtube.com/watch?v=B9d5fgDHEQA"]