Green, blackened or dazzling gold? All the bronze care tips you'll ever need
Thor Svaboe
A bronze watch is an adventure in itself. Buy one and you're not buying a mere piece of wrist candy, you are starting a journey of discovery from the moment you strap it on. Depending on the alloy and pre-treatment of your bronze case, it will change alongside you over the years ahead. So while you might think this is the way to get what looks like a chunk of gold for a bargain price, your relationship has only just begun. Our tips on bronze care might prompt you to accelerate this process, or keep your watch looking box-fresh. As we said at the outset: it's a (bronze) case of choose your own adventure.

Why does bronze patina? It's a chemical reaction and a natural protection against corrosion. Bronze is not a pure metal, it is an alloy, and you can both instigate patina – and revert it to its original state (and perhaps start all over again).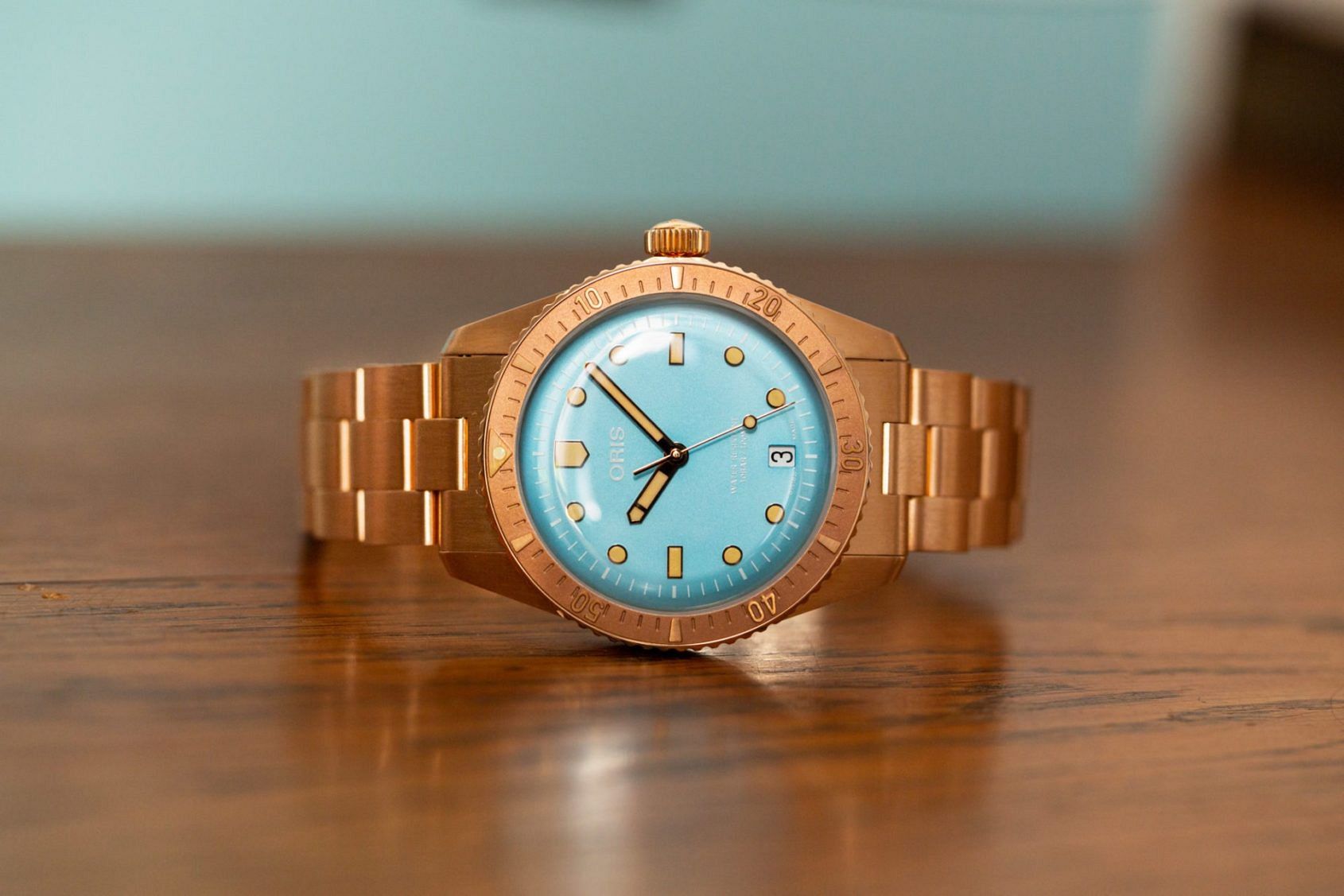 Bronze alloys differ according to the amount of phosphor they contain, explains Elshan Tang the founder of Zelos Watches, one of the small brands that spearheaded the bronze trend about five or six years ago. "The two main alloys used are phosphor (CUSN8) bronze and aluminum bronze," Elshan says. "CUSN8 has a reddish tone with a brownish patina and it tends to patina quicker with more green hues if exposed to seawater."

Oris, for example, uses a similar phospor rich alloy in their CUSN6 as in their Divers Sixty-Five "Cotton Range" as pictured above. An aluminium rich alloy, says Elshan tends to "start out yellowish and gets a more stable grey patina". 
Essentially, the addition of between 9 and 12% aluminum, and 6% iron/nickel means less copper in the alloy,  leading to a lighter, cooler and more yellow hue. IWC, Tudor and Halios uses this aluminium bronze alloy, which along with copper contains aluminium and iron.  By and large, these pieces are better suited to those that want to let their watch age naturally, as the process will take a lot longer to form visual clues. This specific composition also makes the alloy around 50 per cent harder than standard bronze and approximately as hard as stainless steel.


How quickly and how will you see patina forming?
While an IWC Pilot's Watch will not change radically, a CUSN6 or 8-based watch like an Oris or a Zelos will change faster over time, and is also the bronze alloy easiest to care for. At the start of my intimate relationship with a Zelos Hammerhead, which comprises of both brushed and polished CUSN8 bronze, I initially kept it looking like freshly mined gold with a weekly quick scrub. Simply find an old soft toothbrush (put aside exclusively for watches after that, obviously) and use a dash of toothpaste. Left untended to, it will develop matting and a slight darkening after only a week or so, more if you live in a humid climate or by the sea. It will become seriously accelerated if you take it on holiday and swim or dive with it – the salt and sun quickly forming touches of green unless you wash it off. Maybe, however, you'd prefer to keep those green touches as a personal memento of those precious days in the sun.

After doing some radical experiments myself – including putting the watch with boiled eggs locked in a sealed bag to get cool touches of black – my watch looked like a diver's helmet left on the ocean floor in 1890. Hell, I even left it outside on the roof with some added sea salt on a couple of rainy days, to get the look above.
But the beauty is, most of this is easily reversible using citric acid – available from any good pharmacy. Elshan insists that dunking the watch in this solution isn't as excessive as it sounds. "It's totally fine and submerging is all good. I like using lemon juice as it's easily available and brings back the rose gold tones to CUSn8 bronze". 
If you are desperate to seal that first touch of patina and lock in that freshness, Elshan adds that you can try wax that's used in bronze sculptures or the ceramic coating that's utilised for cars. But seriously, why would you? The fun is in the discovery, such as the patina project of Fratello Watches' photographer Bert shows here.
My top tip would be to find the bronze alloy (and toothbrush) that's best for you. If you're a stickler for that perfect matte gold of a recently unboxed bronze beauty, get one with an aluminium-based bronze alloy like the sharp selection from IWC, and if you want to start a journey of adventure and change, get an Oris, or a microbrand like Zelos to try it out. Who knows, you might end up a hobby scientist like me, in what became my own personal bronze age.