Which Grand Seiko Snowflake is right for you? Four models that show the stunning dial's diversity
Andrew McUtchen
Editor's note: When people talk about the Grand Seiko Snowflake as being one watch, they are in fact forgoing the many and varied shades of snow that Grand Seiko has showered us with since the OG became almost a pillar in itself. Here, we choose a Snowflake for every season, to show the nuance and subtle colourings that distinguish each model and show its versatility. By the end of this detailed article, you should know which particular type of snowflake is right for you.   
For many, Grand Seiko is synonymous with Snowflake, and for years there was only one Grand Seiko Snowflake to choose. Now, as the prestigious Japanese brand becomes better known in the world, that landscape is changing, with more of those delicate, gorgeous dials making their way across the world. And, in the manner of Vivaldi's most famous work, we're breaking it down, four seasons-style.
Spring – Grand Seiko Snowflake SBGA259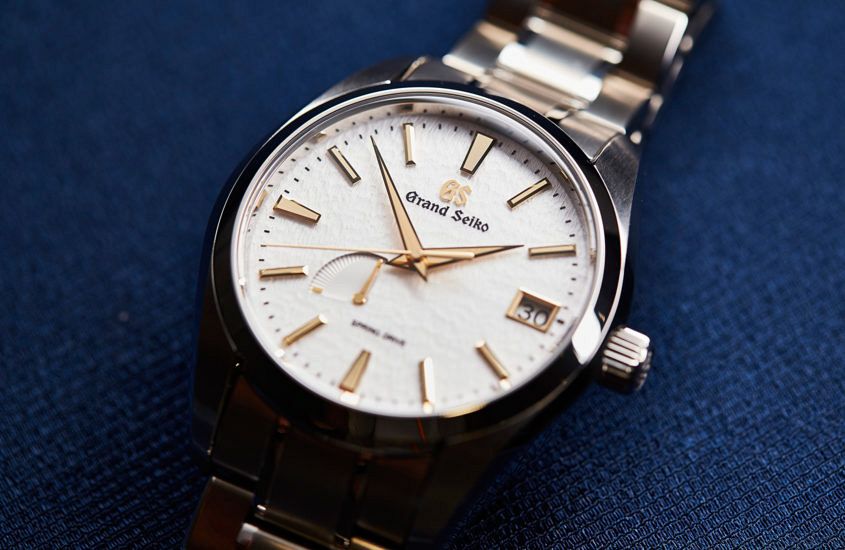 Spring is brought to us courtesy of the SBGA259, which doesn't deviate too much from the original, but adds a few blossoming buds of colour in the form of gold-tone hands and dial markers. In a contrast that only seems to make the white of the dial even crisper in comparison.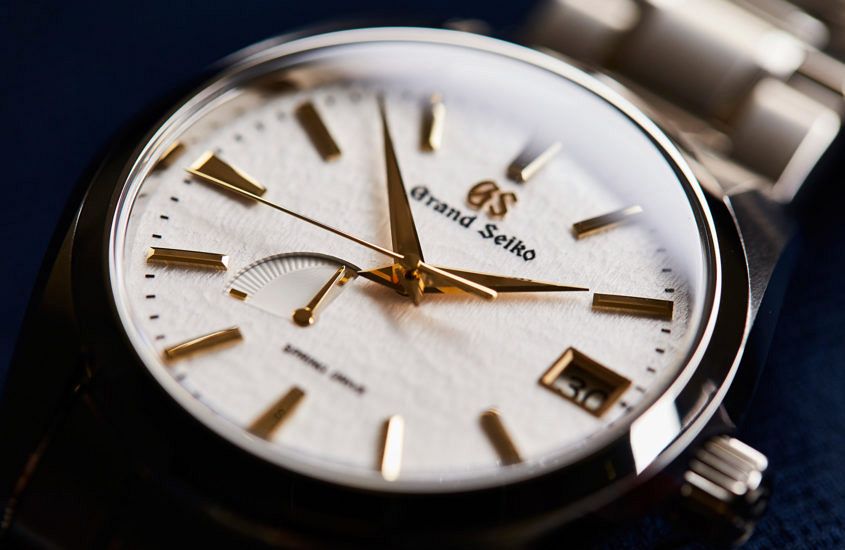 Meet the SBGA259, a Snowflake with brilliant gold hands and hour markers. Now, first things first. This is not a new watch; this reference was introduced last year, and prior to that, there was the SBGA059, with the older style dial that has existed alongside the original since at least 2012. And even though it's been around for years, knowledge of it — like with many 'special' Grand Seikos — is quite low, as it was originally made only for boutiques or the Japanese market. But, with Grand Seiko's growing global popularity and availability, it's time to shine a light on the Golden Snowflake.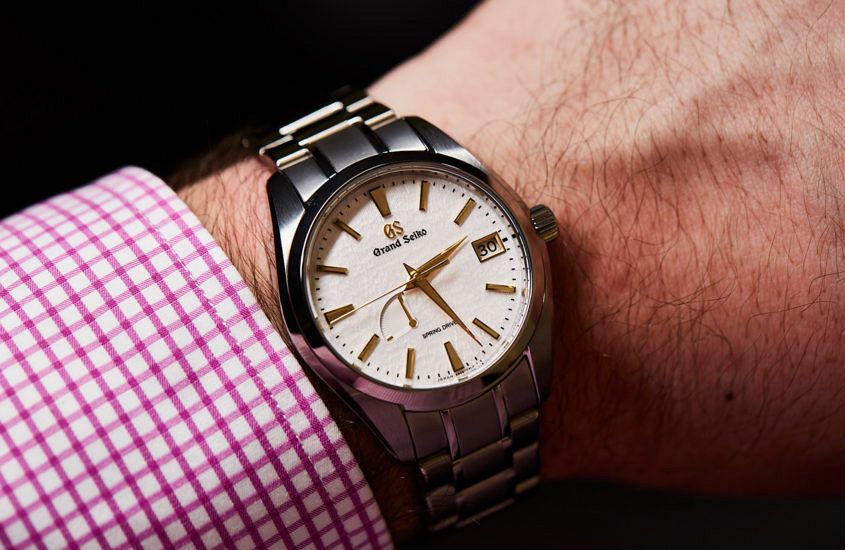 Ostensibly, the addition of gold hands, indices and dial details is quite a small thing. But it's enough to have a substantial impact on the feel of the watch, adding both contrast and warmth. The steely markers, hands and blue seconds of the SBGA211 provides a very cool colour palette, and while legibility is seldom an issue on Grand Seikos, the tone-on-tone look relies on shadows, height and texture to provide contrast. Here you can add colour to that equation, though in real life and on the wrist I found the gold less 'popping' than I would have expected, perhaps because the markers are so highly reflective that it's hard from certain angles to be sure about what you're looking at.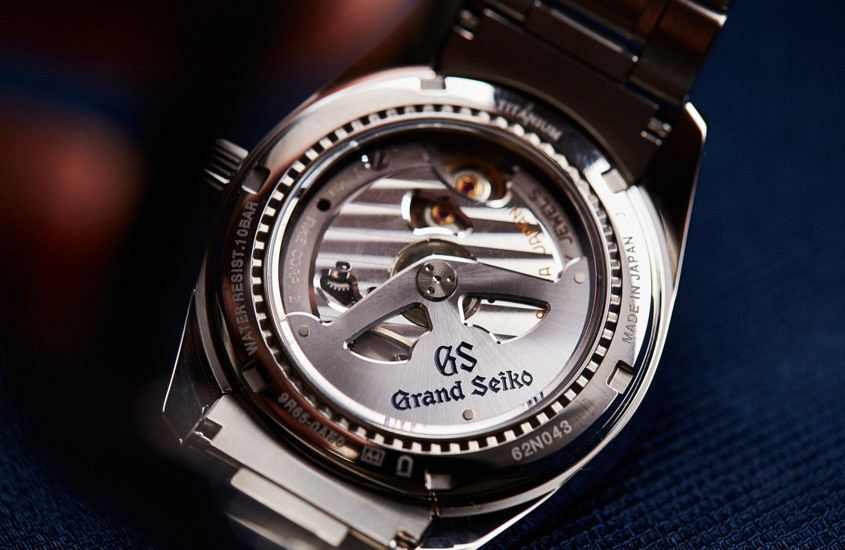 But that reflective nature cuts both ways; up close and under lights you see that snowfield-like dial suffused with a warm golden glow, which I found very appealing. But what most impressed me about the SBGA259 is that they included (to my mind) just the right amount of gold. A two-tone case, or even bezel, would have given the watch a sense of opulence that I would find jarring with the Snowflake's beautiful utilitarianism. But by opting to add colour only to the dial, Grand Seiko has managed to give the watch a gloss of opulent luxury without compromising the overall purity of the design.
 Australian pricing: $8400AUD
Summer – Grand Seiko Snowflake SBGY002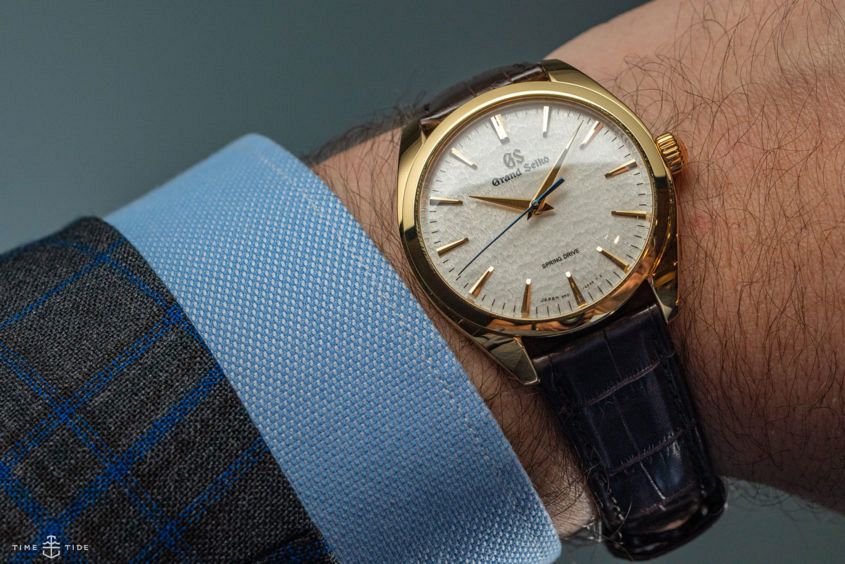 One of the latest additions to the Snowflake family is the one offering a glimpse of golden sunshine — SBGY002. While the allusion to summery warmth is clear in the precious metal case, this slim, manually wound Spring Drive offers a novel new take on the much-loved look. 
Using a new hand-winding 9R31 Spring Drive movement with a power reserve of 72 hours, the new piece mates a variation of the brand's iconic Snowflake dial with a more traditional and slender dress watch casing. It's obviously a different beast to the classic Snowflake model; however, the new piece is yet another example of how Grand Seiko just isn't pulling any punches when it comes to delivering impeccable design, finishing, and attention to detail when compared to any of their Swiss competition.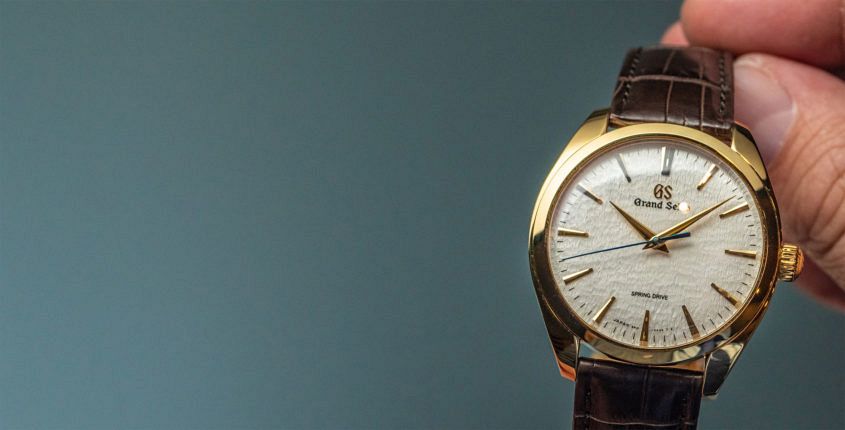 The biggest talking point here is the development of its 9R31 movement. Based on the 9R02 that powers the new platinum models, the calibre forgoes a new trick "torque return system" that its big brother uses to extend its power reserve to eight days, in favour of a slightly less complex execution to keep costs and complexity in check.
It still uses a pair of mainspring barrels, as well as a small power reserve indicator on its movement bridge. Differentiating the two calibres when viewed from the "business end", the cover of the mainspring barrel is decorated with cutouts resembling a flower on the 9R02, and its mainplate/movement bridge is split into two large sections rather than a single piece for the 9R31. Being a Spring Drive calibre, you're still looking at an impeccable accuracy specification of within one second a day, and thanks to not using a self-winding rotor, the movement is able to pack into a modestly sized 10.2mm-thick case that measures 38.5mm across.
Australian pricing: $35,200AUD
Autumn – Grand Seiko Snowflake SBGA211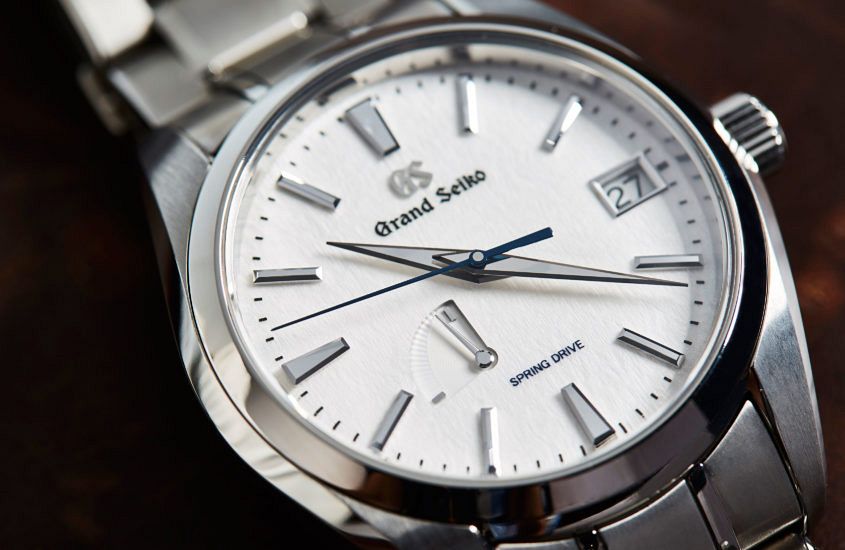 In this seasonal breakdown, the original, titanium-cased Snowflake takes the position of autumn. That's not to say that this watch isn't a great year-round option, but its light case and airy, grey-on-grey look certainly lends itself to cooler weather.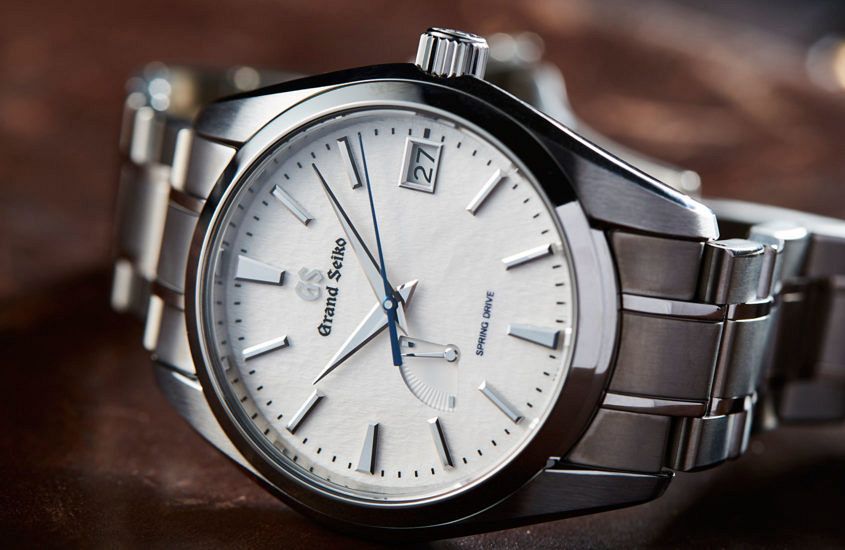 Named for its resemblance to a field of pure snow, the execution of the dial is particularly Japanese — artisanal in the purest sense of the word. The dial is stamped with the rough, textured pattern, and then treated with numerous layers of lacquer to acheive the final magical, translucent effect. The contrast provided by the highly polished, and exquisitely cut, indices and hands only amplifies the serenity of this small, white circle of real estate.
Australian pricing: $8400AUD
Winter – Grand Seiko Snowflake SBGA407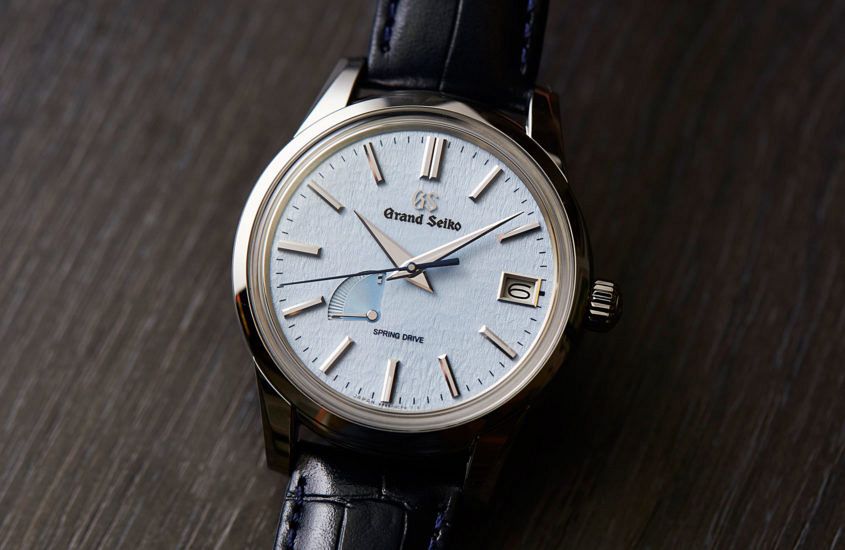 Winter realness is brought to us by another new addition to the family, SBGA407, which features a chilly, polar blue dial and — importantly for Snowflake fans — a steel case. A dark blue leather strap completes the package.
Made to mimic the snow that falls around Grand Seiko's Shinshu watch studio –the birthplace of the marque's fabled Spring Drive movement – the Grand Seiko SBGA407 Snowflake Blue promised to be an exciting and novel addition to the firm's extensive range of snowflake timepieces. Complementing the sumptuous dial are expertly finished baton hour indices that feature a razor sharp, polished outer edge and brushed centre, and GS's signature dauphine hands, which have been given the same treatment.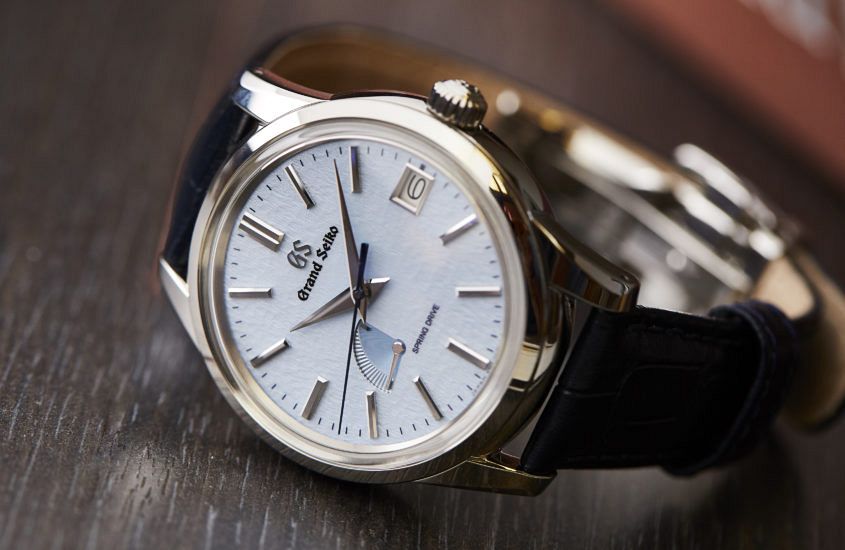 Capping the well-proportioned case is a box-shaped sapphire crystal that's been given an anti-reflective coating on its inner side, which helps dramatically when wearing the watch outdoors. The crystal also sits proud of the case ever so slightly, which gives the timepiece some vintage flair. The case-back features sapphire crystal, too, so you get a great opportunity to check out SBGA407's gorgeous movement.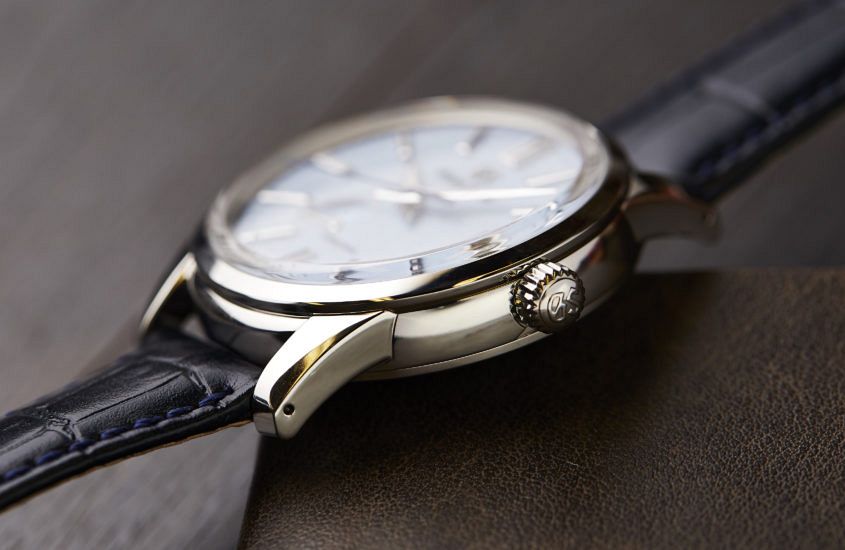 Speaking of the movement (what a segue), it's Grand Seiko's fabled Spring Drive Calibre 9R65. This innovative hybridised powerhouse offers enviable levels of accuracy that equate to ±1 second per day/±15 seconds per month, 72 hours of power reserve, and 30 jewels. Being a Spring Drive timepiece, you also get to appreciate the inimitable, mesmerising sweep of the seconds hand, which never tires of looking special.
Australian pricing: $8700AUD