The term "grail watch" is used to refer to the ultimate collection piece. It might be a rare vintage treasure or a modern horological marvel depending on your personal taste. Effectively though it represents the Mount Everest of your watch-buying ambitions and is likely to be financially ruinous. Grail watches traditionally therefore conjure up images of serious heavyweight timepieces – a Patek Philippe grand complication perhaps or an early Rolex Submariner with a tropical dial. But what happens when the best manufacturers in the business launch their haute horlogerie on the utilitarian sportiness of a soft rubber strap?
It's a divisive move sure that's likely to split watch lovers between horror and delight. Here, we're firmly in the latter party. The reason? A rubber strap makes your grail infinitely more wearable and watches, however valuable, are ultimately made to be enjoyed on the wrist rather than gather dust in a safe. A rubber strap means being able to wear your grail during your favourite activities while also making it more accessible and unobtrusive in a year where bling feels increasingly inappropriate. We say that's a proper win-win. Here are five of the most wildly desirable grail watches on rubber straps.
Patek Philippe Aquanaut Travel Time
A tool watch from Patek Philippe? The 5164A-Aquanaut is that and more. The shots here are my own, from a story I did earlier this year on what is (shock! horror!) an extremely well-used Patek Philippe on a rubber strap. This is an exemplary travel watch, and unlike its many brethren from the Patek Philippe manufacture, suitable for getting scratched up and dinted by a businessman who runs marathons across the globe.
Yes, he wears this for travelling, because at 40.8mm with a weight of less than 100grams, the brilliantly made moulded rubber strap on a butterfly clasp is very, like very comfortable. Make sure you're not about to bulk up at the gym though, as the rubber straps is cut to size and don't even ask how much a new one is.
The finissage is as delectable as you'd expect, and functionality is superb. Next to nine and three, there are delicately cut-out windows with the sharp markings of LOCAL and HOME. These are day/night indicators that, with deceptive simplicity, rotate from a dark navy blue to white through the 24-hour cycle, indicating day or night. This effectively gives both the travel and home time indication full 24-hour legibility at a glance.
Buy this and use it, do not think of it as a safe queen, it's a watch that wants to work. I will put the retail price here, but be prepared to wait, or buy a pre-scratched one and use it, I say.
Price: $36,400 USD
A.Lange & Söhne Odysseus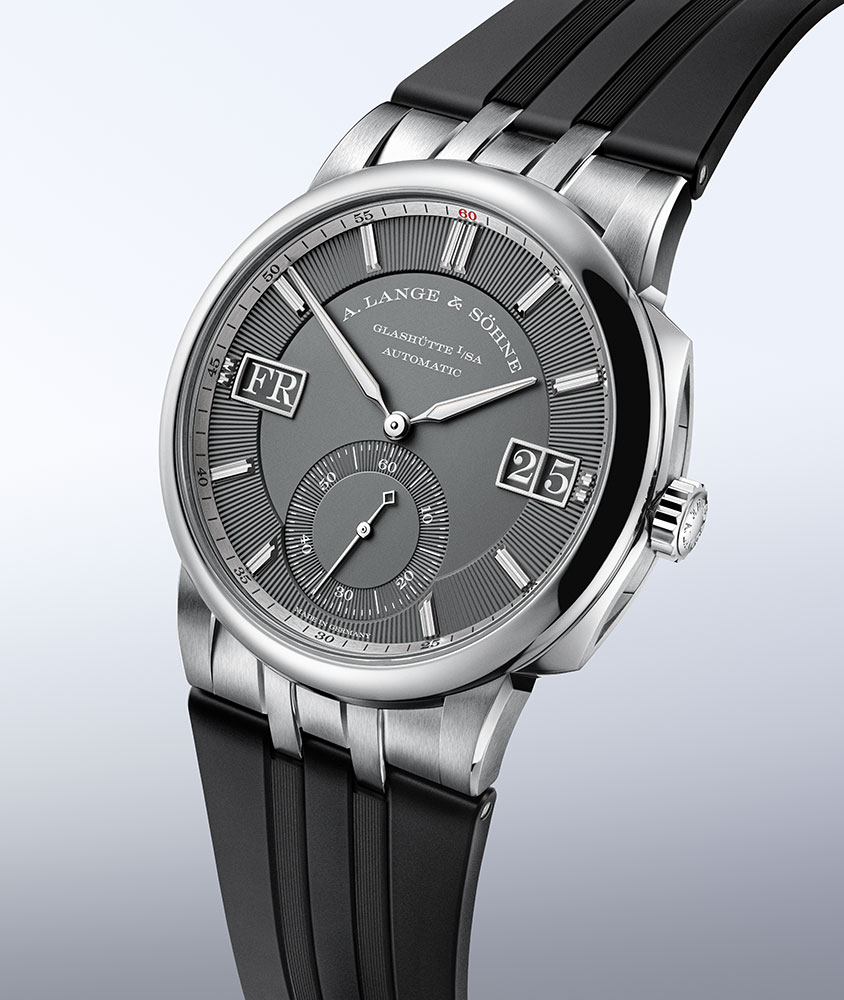 This is like a coup d'etat in the traditional, hallowed halls of A.Lange & Söhne in the quiet town of Glashutte. We understand the reasoning behind the Odysseus, the first sports watch from A.Lange, and for some an acquired taste. I have tried it on once, and the unfeasibly broad bracelet is equally unfeasibly comfortable. Just when we were comfortable-ish with this very new brand direction, they released a white-gold version on – for A.Lange – the almost supernatural choice of soft integrated rubber. Seriously.
This is a design statement that is as different in real life as it is diametrically opposed to most of their exquisite range of very traditional German craftsmanship. Categorising the style is difficult. While the shapes – like the super-sharp side protrusion to the case (German porthole hinge, anyone?), are resolutely modern, the execution and dial has a world of detailing revealing years of sketching up before made metal. The large dial is where A.Lange & Sohne tries their best to get the hands looking tough and sporty, and they are in a way, but still ooze a very special attention to detail that makes this unlike anything else. And that's precisely the charm. Sharp striatons encircle the stepped dial, a panorama day/date balances the centre with tiny remnants of the indices weirdly continuing outside said windows. The seconds are shown on a massive register at six, endowed with the same striated – almost micropleated outer circle. Yes, this is pure sensory overload, but the detail barrage seems to work perfectly and, well, I absolutely love it.
Price $62,000

Rolex 40mm rose gold Yacht-Master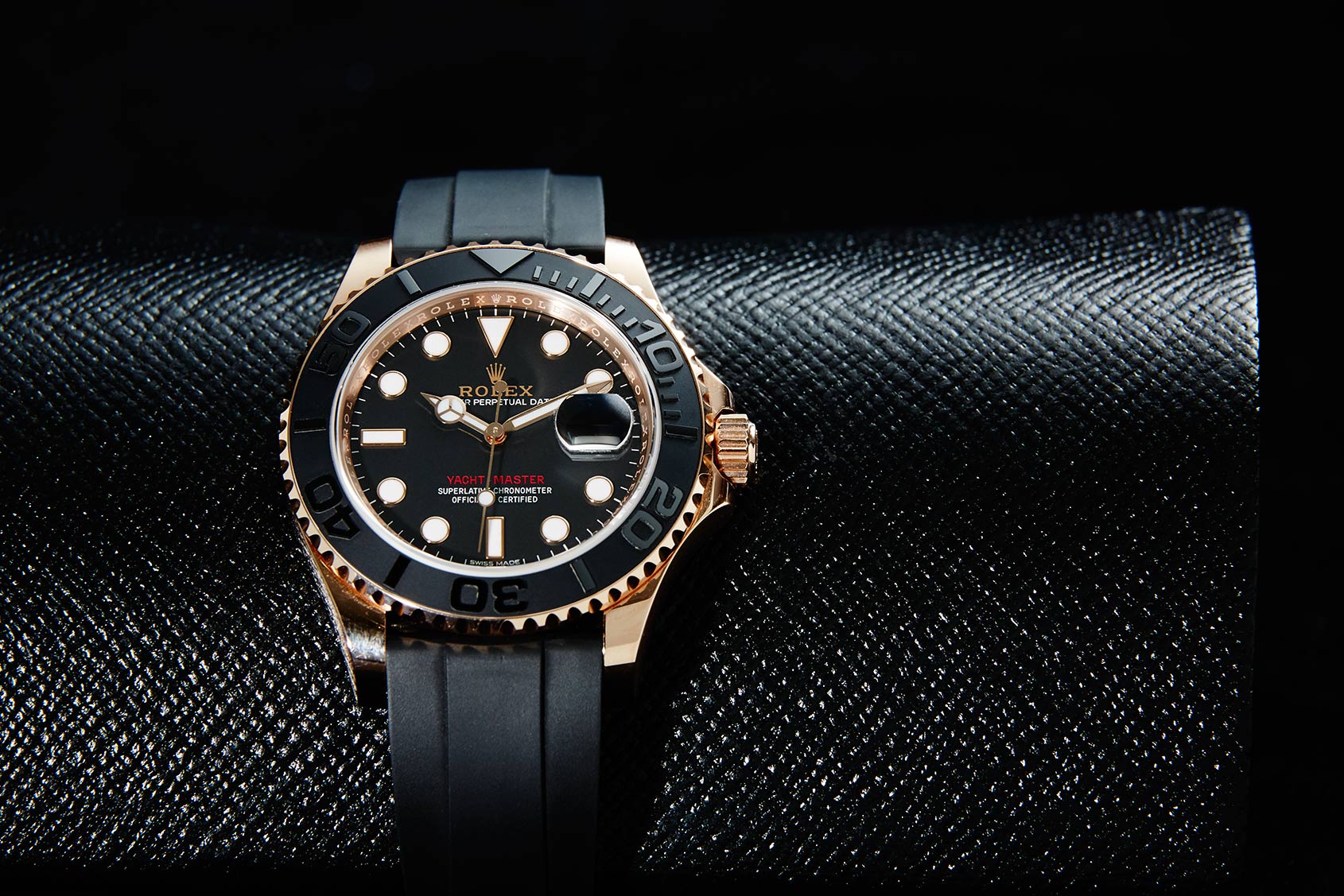 The moment you put a Rolex on something other than a Jubilee or Oyster bracelet, it becomes more relaxed, casual and stealthy, even protecting you from potential robbers (note: my Google Docs dictionary suggests "potential suitors" but that's for a different story).
The white gold 42mm Yacht-Master might be the stealthiest reference in the Rolex stable save for the forgotten Cellinis, but like wow, how sharp and delicious is that contrast of pink gold and the black Oysterflex bracelet. This is where we follow the Rolex dictum and agree that this is a bracelet, the regal comfort of elastomer reinforced with a metal band. It's airy, solid and comfortable as hell.
But where things get truly irresistible is the attention-grabbing balance between the matte black cerachrom bezel with its raised polished numbers and markers, the black intricate dial and that soft, sweet glow of the 40mm pink gold case. I'm sold. Read our Oysterflex Bible story here which includes this, maybe my favourite Rolex.
Price: $38,000 AUD
Greubel Forsey GMT Sport
This might seem like insanity but yes, Greubel Forsey did put one of their intricate, obsessively detailed masterpieces on a soft and comfortable rubber strap for our ticklish delight. The entire case is curved, the bezel otherworldly beautiful with a broad, brushed top and engraved with inspirational words along the bevelled edge. The dial is made up of a completely confusing number of elements, each a piece of horological art in themselves, and together a maniacal wonder of dark grey sub-levels, hand bevelling, and that globe at 7 o'clock trumping everything. No, hang on, there's a tourbillon at 1.30, its slow twirl within the dark depths of the movement worth a chapter of its own.
Let's just be honest: this is a piece of art you might want to take for a dip in the pool, not for any seriously vigorous activity unless you are as insane as Gael Monfils in our story here. Me, I'd be perfectly happy to sit it out, safe in our library, loupe in hand and a drink, alone with the GMT Sport and its mechanical marvels. Massively beautiful at 45mm with a 15.7mm thickness, a curved wonder of 2020, a curved wonder with a GMT function, and if you dare – perfect for travelling in serious style.
Price: CHF 480,000
MB&F Legacy Machine Perpetual EVO
This marked one point this year where even as a watch journalist I was lost for words. The press image of a Mountainbiker wearing an MB&F Legacy Machine Perpetual EVO, sent a shiver down my spine, and took me a while to realize it, giggling nervously, it was a shiver of delight at the sheer cheekiness of MB&F. I mean, few would, but just imagine having the balls to wear what is a close to $300,000 AUD watch, on whatever adventure you set out on.
All you need to become entranced is a quick glance, the complexity is tangible, the feeling is tingly yet disturbing, as I found out in my story on the launch. The unreal sight of the MB&F Legacy Machine Perpetual EVO, or any MB&F for that matter – on a moulded soft rubber strap in an image surely done with CGI effects, but no. An intensely labour-intensive Zirconium case envelops the LMP EVO, with a new bezel-less design and a screw-down crown ensuring a sporty 80m depth rating. One of the reasons we now have a tougher rationale behind this new EVO is the FlexRing, a specially developed monobloc shock absorption system that makes this the most robust machine ever to emerge from the secret labs of MB&F.
Price: CHF 152,000 + VAT