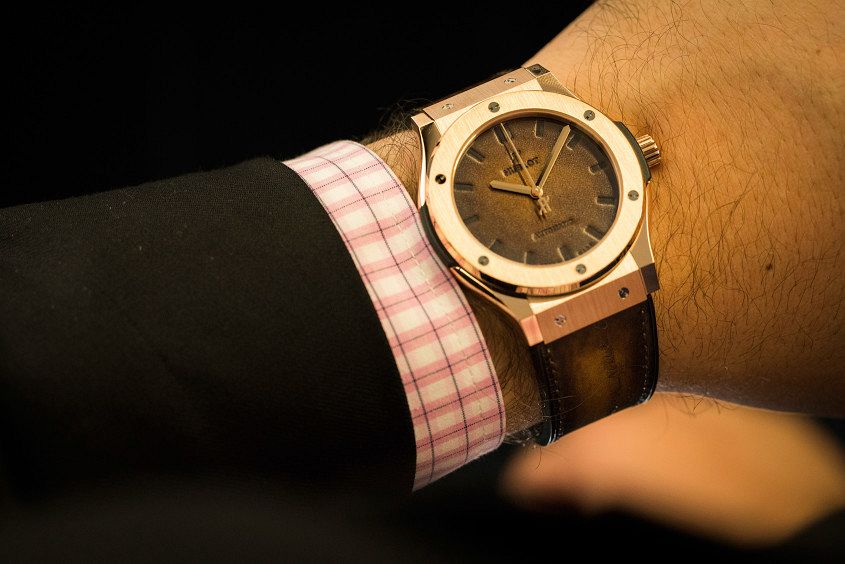 We've said it before and we'll say it again. Hublot are masters of the well-executed partnership. From cricket to cars, they've crafted success through smart collaborations. They're also the best in the business when it comes to integrating unconventional fabrics, textures and materials into their watches – from traditional embroidery to high-tech Texalium. The Classic Fusion Berluti is the latest example of Hublot playing to their strengths. They've teamed up with the Parisian shoemaker and LVMH stable mate Berluti to create the limited edition Classic Fusion Berluti.
The strap is crafted from Berluti's instantly recognisable Veneziano Scritto leather (inset into rubber for comfort and durability). The tobacco-toned calfskin engraved with calligraphy is a natural match for the warm tones of the King Gold case. Having a Berluti leather strap is an obvious choice, and most partnerships would stop there. Hublot, of course, went further. They used the same leather to create the dial of this Classic Fusion and the result is quite beautiful. At first I didn't notice the dial was leather, as it features the indices, logos and dial text you'd find on any other Hublot. Aside from looking the part, consider for a minute that the leather dial needs to meet the usual Hublot quality standards when it comes to the effects of light, age and general wear. In this regard the dial is quite a technical feat given that leather is an organic material.
The Classic Fusion Berluti in King Gold is limited to 250 pieces and has an Australian RRP of $37,800.