There are a few things everyone in the Time+Tide office can get behind 100 per cent: coffee, classic '70s rock and blue watches. In fact, we spent a good portion of 2015 quietly losing it over how stunning Blancpain's Bathyscaphe Ocean Commitment was, with its lustrous blue dial and grey ceramic case. So when we heard earlier this year that the brand would release a follow-up watch, we were honestly sceptical as to how it could be topped.
As it turns out, all it took was for Blancpain to flip it. The dial is now a slate grey sunburst and the case is an incredible blue brushed ceramic. It's a simple change, but the result is a startlingly different watch, more understated than last year's effort, which is somewhat surprising given the remarkable case.
What hasn't changed is the tangible good that buying this watch does for the world. At the Australian launch, VP and head of marketing Alain Delamuraz revealed that Blancpain has been donating one million Euro a year to marine conservation for the past seven years, resulting in three million square kilometres of ocean being protected. In addition, one thousand Euro from the sale of each and every Ocean Commitment II will go to Blancpain's charitable projects (NB not Swiss Francs, as we suggest in the video). It's not often we'll say that the best thing about a watch is way more than the sum of or the owning of its parts, but that's genuinely the truth in this instance.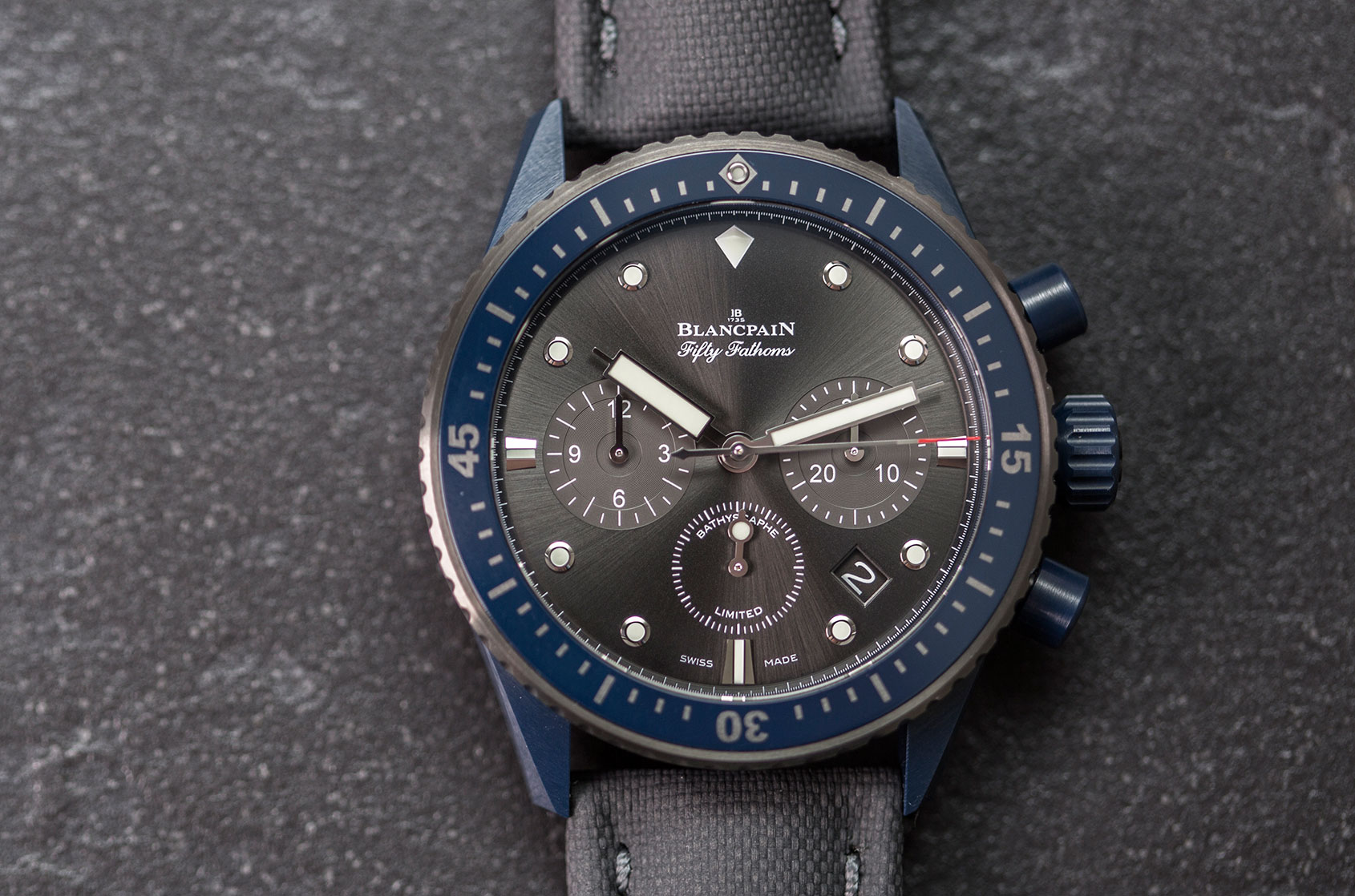 Blancpain Fifty Fathoms Bathyscaphe Flyback Chronograph Ocean Commitment II Australian pricing and availability
Blancpain Fifty Fathoms Bathyscaphe Flyback Chronograph Ocean Commitment II, limited to 250 pieces, $25,150