It's complicated – the Glashütte Original Senator Cosmopolite in Steel
Time+Tide
Editor's note: If big, do-anything, go-anywhere tickers are your jam, you'll definitely want to check out the Glashütte Original Senator Cosmopolite in Steel. This is a serious piece of traveller's kit, and a good-looking one at that. Read on for Justin's review … 
The story in a second: It's big, it's complicated, it's bloody clever.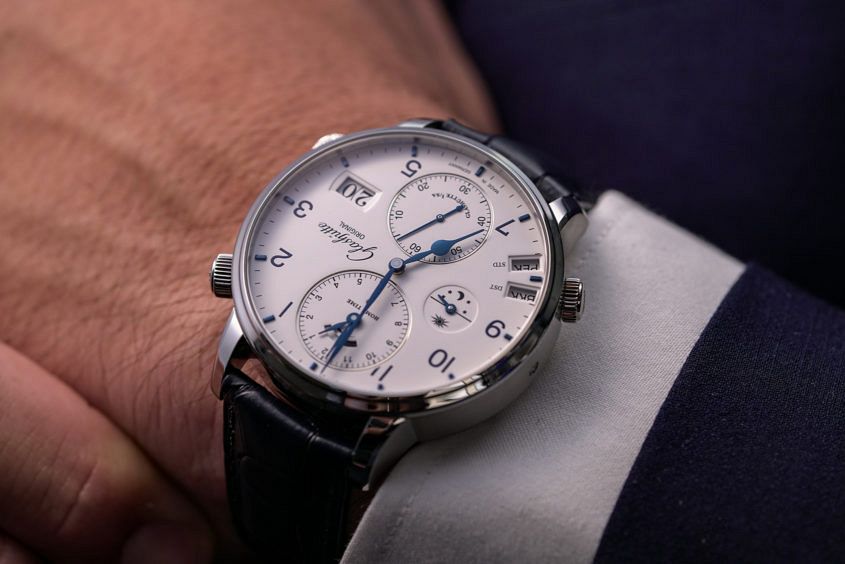 I've said it once and I'll say it again: I've got a real soft spot for German watchmaking, but especially for Glashütte Original. Underappreciated, and painfully under-marketed anywhere outside of Europe, they are one of VERY few brands that manufacture their own dials and cases (in a separate facility in Pforzheim, not in Glashütte proper). Over the years, things like the '60s and '70s collections have consistently grabbed my attention, as did last year's steel versions of the Senator Chronograph Panorama Date, but in 2018 something slightly outside my usual lines of watch attraction caught my eye — the large, somewhat traditionally styled, yet uniquely configured Senator Cosmopolite in steel. This steel version arrives three years after its initial launch in gold, and cuts its retail price down a fair bit (20,700 euros versus 38,000). As a world timer of immensely practical design from a technical standpoint (more on that later), there's an appreciable shift towards functionality with the inclusion of a steel case that just makes sense with this watch, which is precisely why I was eager to give it some wrist time for a more in-depth review.
The case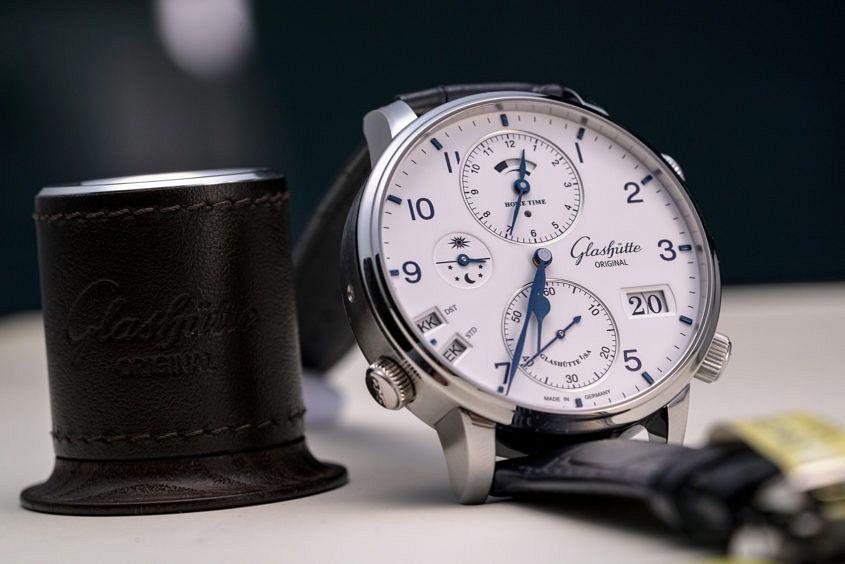 Between having complete control over their own case manufacturing facility, and being somewhat obsessed with perfectionism, there isn't much to not love about the Senator Cosmopolite's steel case. Polished surfaces are pointed towards the wearer when staring at the watch head-on, whereas its sides feature a fine satin brushing. Looking at more minuscule details, the lugs are made just a hair taller than the case barrel, allowing them to faintly overlap the lower edge of the bezel. From a manufacturing standpoint, there's no requisite reason for this, other than to make things more complicated than necessary, and to show off the brand's technical prowess. Mission accomplished. A trio of unguarded crowns are used for the various settings of the watch, as we'll explain momentarily, and they are of adequate size and knurling to both suit the aethetics of the watch, and provide ease of use for its wearer. On the topic of size, the Senator Cosmopolite is a biggie, clocking in at 44mm in diameter and 14mm thick. The watch does take up some serious wrist real estate, though I did find it manageable on my 6.75" wrists. If you're looking for more of a svelte, tuck under the shirt cuff sort of world timer, you're going to have to look elsewhere.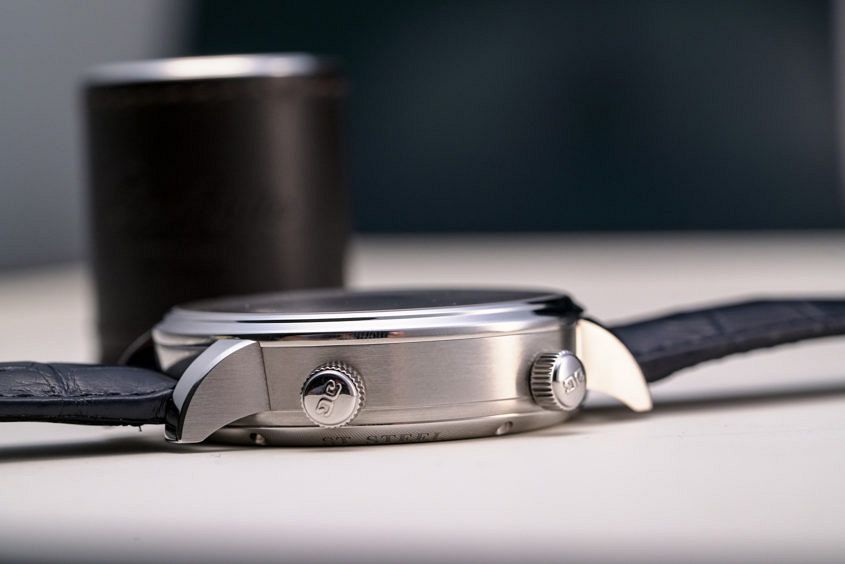 The dial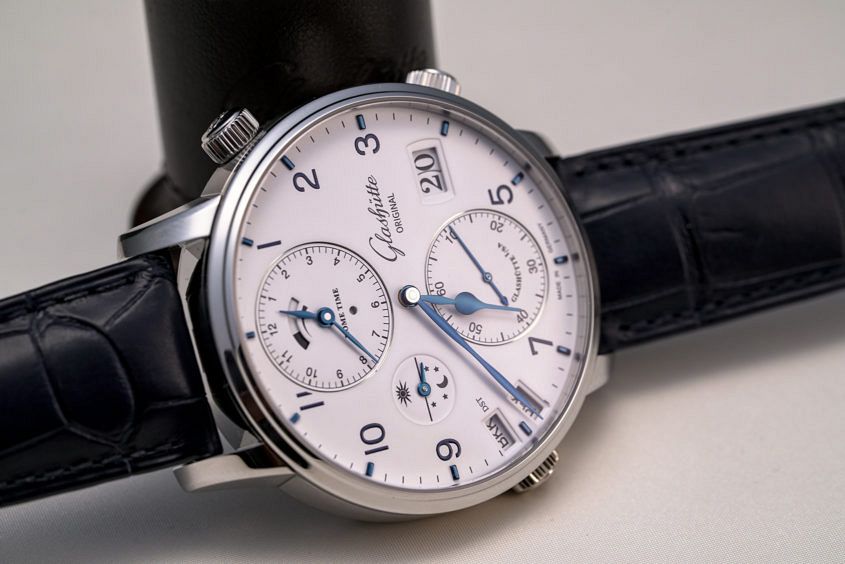 What can I say, though it's meant to be quite stark and utilitarian, the combination of functions gives the Senator Cosmopolite a unique vibe that grew on me very quickly. Its blued indices and hands (printed blue numerals, heat-treated applied indices, and heat-treated hands) are incredibly eye-catching as they alternate between their metallic sheen in light, and dark near-black in the shadows. Its large subdials clearly display home time and running seconds, flanked by a very graphic day-night indication, dual disc big date, and two small windows that display the local time (one for standard, and one if you're in daylight saving time). Though I'm drawn to that day-night indication for its bizarre hint of German artsiness on an otherwise utilitarian design, I also appreciate the simple technical functionality of the power reserve and day/night indication residing within the home time subdial. This has always been the thing to keep drawing me back to GO. As technical, as austere, as conservative as they can be, they continually sneak in little artistic whispers to their design, almost as if to see if anyone is paying close attention.
The movement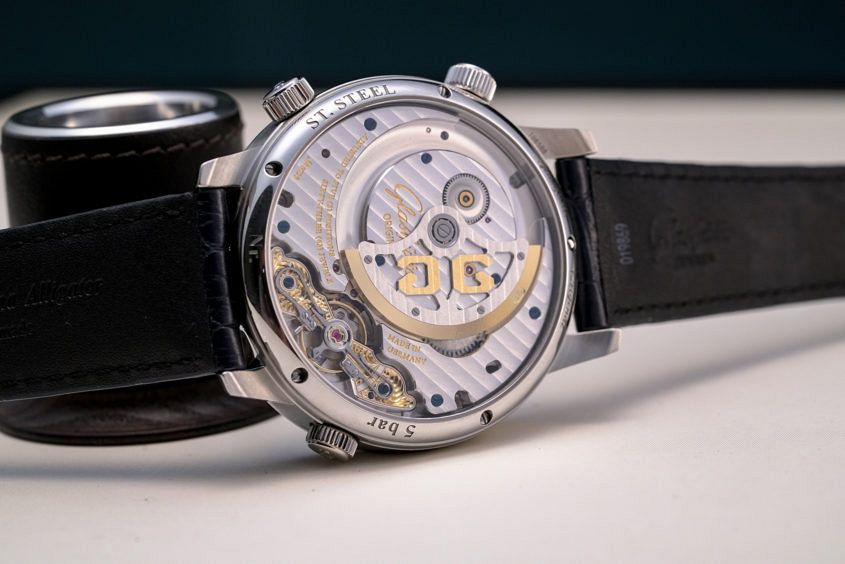 Now here's where things get real interesting. As you already know, the Senator Cosmopolite displays home and local time, with day/night indications for each time zone. Beyond that, its third crown, at the 8 o'clock position (where the local time International Air and Transportation Association code is displayed), is used to adjust local time on the go. The complex calibre not only has the ability to do this, either forwards or backwards via said crown, but it also covers all 36 global time zones; that's right, even those obnoxious ¼, ½, or ¾ hour ones. What many fail to overlook when evaluating this watch is how beautifully Glashütte Original has avoided the inherent obsolescence of world timers of conventional design. While placing the city names on a dial can be visually stunning, if you look at any vintage world timer through history you're destined to see city names on the dial that are no longer in use (Saigon, Bombay, etc). By using a disc display, retrofitting your Senator Cosmopolite to account for changes of this nature over the decades would be pretty straightforward. Given the whole idea of engineering watches to last a lifetime, you've got to admit that this was a clever play.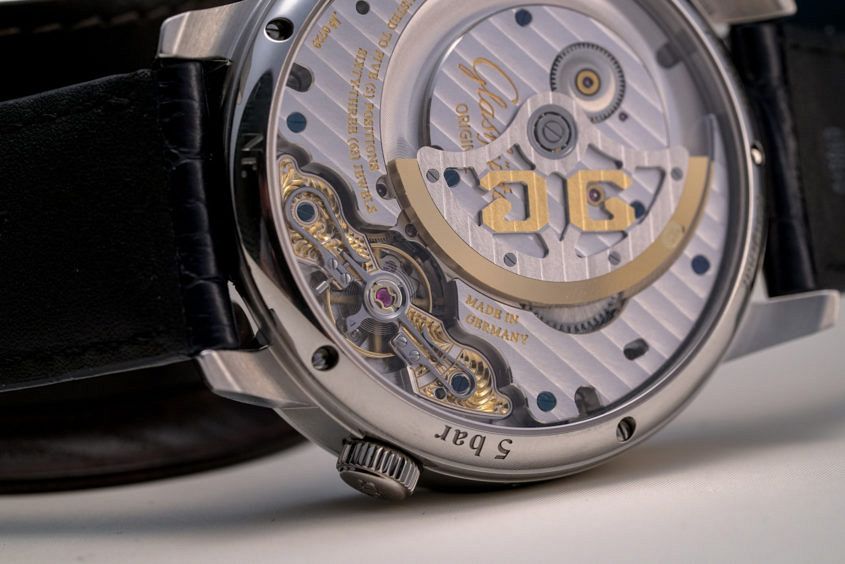 Of course, aside from all this functional geekery, the Senator Cosmopolite's movement is just as fantastic to appreciate visually. An undersized (but not quite micro) rotor is positioned slightly off-centre, allowing a clear line of sight to the beautiful traditional execution of its duplex swan neck regulator, and prominent ribbing and polished bevelling is visible throughout. What I've always found peculiar with these calibres is that we have a massive ¾ plate that hides near every sign of its gear train, and yet the balance cocks are endowed with elaborate engraving. Though clearly a play on tradition, it has always seemed a little odd to hide one significant visual detail only to overadorn another.
On the wrist
Oh, the many terms and expressions that can be used to describe the fitment of this piece. It's substantial, hefty, it has significant "wrist presence". It's not for the faint of wrist, it's chunky, it's bold, it's brash (yet, thankfully, not flashy). You get the point. It's 44mm across, but as I mentioned earlier, it does still wear pretty nicely on a smaller wrist. I will say that having a smaller wrist, I would have preferred a pin buckle over the single fold deployant clasp, but otherwise it was consistently comfortable. Be forewarned, though, understated and traditional as the dial design is, this watch will get noticed. That said, most of the time it'll be fellow watch enthusiasts going, "Hey, is that a Glashütte Original? Very cool! You don't see many of those out in the wild!"
The verdict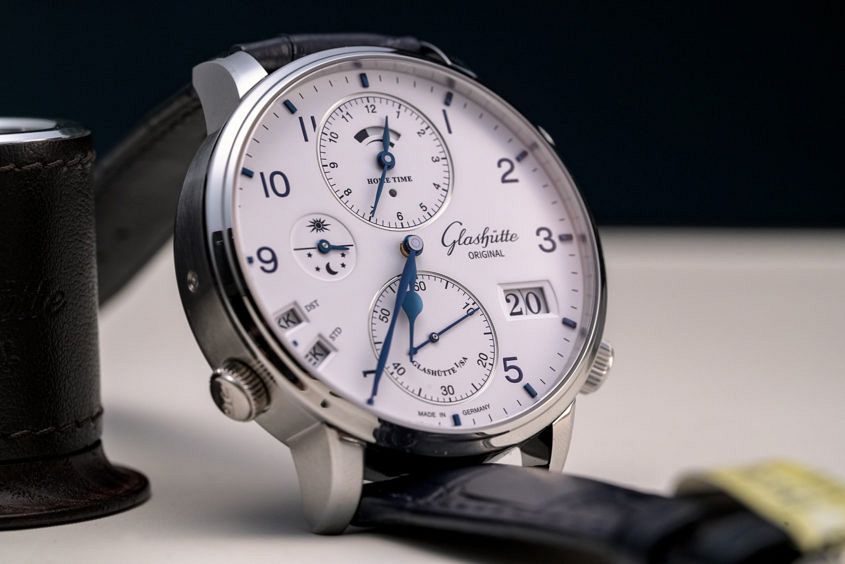 This is where things get tricky. The short answer is basically one of those, "I love it, but …" situations. The calibre is fantastic, the dial design is just the right level of classic with a bit of a twist, its finishing and overall execution from top to bottom blows away any of its lower-priced competitors. Where the verdict turns personal, as it often does, is looking back at its case dimensions. Shave 2-3mm off its diameter and a few of its case thickness, and I could see this being part of a two or three watch complete collection (I'll never have a "one watch to rule them all …"; that's not in my vocabulary). If you like 'em a little thick, or have the wrists to pull off a larger case like this comfortably, I would without a doubt recommend at least taking a look. Even at $32K you're getting huge bang for your buck, with the next "step up" being limited to either Patek or Vacheron, both of which deliver just a bit more watch for a whole lot more cash.
What's the talking point?
A thoughtful and cleverly executed world timer with a twist.
Who's it for?
Frequent travellers with an appreciation of perfectionism and an eye for fine details.
What would you change?
I'd love to shrink it … just a little.
Glashütte Original Senator Cosmopolite Australian pricing
Glashütte Original Senator Cosmopolite, in steel, $32,050