BUCKS IN SIX! NBA MVP Giannis Antetokounmpo celebrates victory with a Rolex Sky-Dweller
Zach Blass
After a 50-year dry spell without a championship title to their name, the Milwaukee Bucks won the 2021 NBA Finals – finally living up to the eight-year-old Brandon Jennings instigated motto: "BUCKS IN SIX". This year's victory, while certainly a team effort, can be largely attributed to the stellar performance of Bucks forward Giannis Antetokounmpo who not only took home the championship but also the regular season and finals MVP trophies.
Of course, in the wake of securing an NBA Finals championship there is a parade to celebrate in honour of bringing the trophy home – and fans were eager to celebrate, especially when it's been half a century since their last championship win. So what does an NBA champion and MVP celebrate victory with on his wrist? Giannis Antetokounmpo opted for a Rolex Sky-Dweller.
View this post on Instagram
The 42mm Sky-Dweller is arguably the most complicated model in the Rolex catalogue today, featuring both an annual calendar and second time zone functionality. Its layout is rather ingenious, leveraging the 12 hour indices to convey the current month, a cyclops magnified aperture at 3′ to convey the date and central 24 hour scale to convey a second time zone of the wearer's choosing.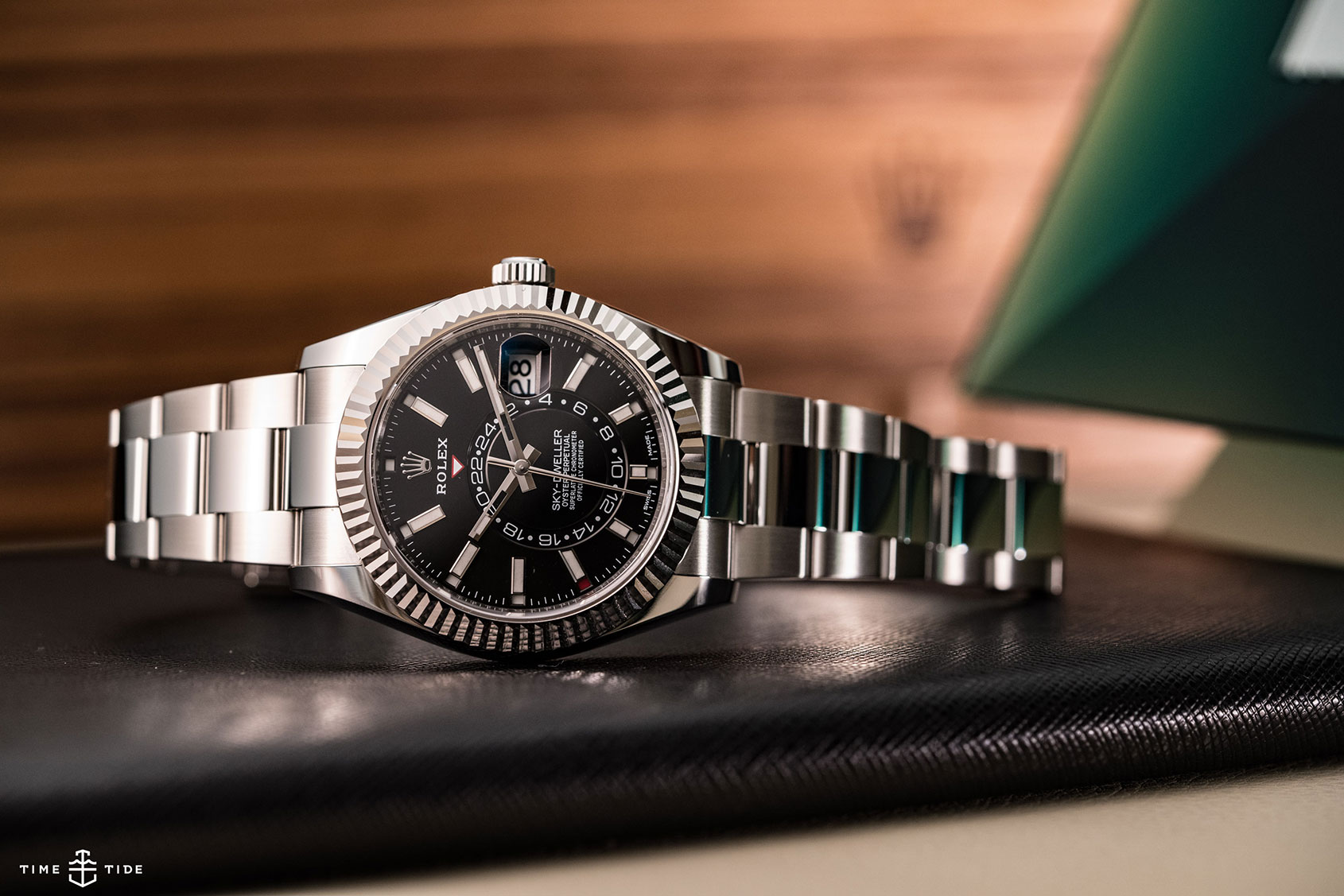 The Sky-Dweller Giannis Antetokounmpo is wearing is the ref. 326934, a White Rolesor model which translates to a stainless-steel case and bracelet, but a stealth hint of precious metal with its fluted bezel fashioned in white gold. His Sky-Dweller is paired on the Oyster bracelet, the bracelet the watch was first sold on until newer configurations allowed for Oysterflex and Jubilee options as well. Personally I think the Sky-Dweller looks fantastic on a Jubilee, but I think the popular vote goes to the Oyster and it looks great on this black dial variant.
The watch Giannis Antetokounmpo started his Bucks journey with, however, was the Audemars Piguet Royal Oak Offshore. He was pictured, above, wearing the watch while signing a contract extension deal for a whopping $228.2 million USD over five years – reportedly the largest deal in NBA history. That roughly translates to $45.6 million USD per year, so you would think Antetokounmpo would join the likes of Stormzy and Dave and have an AP for each day of the week, but he has continually expressed rather humble sensibilities for someone of his status.
"When you focus on the past, that's your ego. 'I did this. We were able to beat this team 4-0. I did this in the past. I won that in the past.' And when I focus on the future, it's my pride. 'Yeah, next game, Game 5, I do this and this and this. I'm going to dominate.' That's your pride talking," he told Sam Amick of The Atlantic ahead of Saturday's Game 5 in Phoenix. "I try to focus in the moment, in the present. And that's humility. That's being humble. That's not setting expectations. That's going out there and enjoying the game."
With this is mind, it isn't much of a surprise that I cannot find a plethora of bussed down watches or highly complicated Audemars Piguets on his wrist.  Despite wearing a Sky-Dweller, Antetokounmpo is determined to keep his feet on the ground.