Get with the times: 11 badass women wearing badass "men's" watches
Zach Blass
The watch community is growing and evolving, but at times there are still some antiquated lines of thought plaguing it – discouraging newcomers from joining in our passion. One of these thoughts is the idea that gender should dictate which watches are appropriate for your wrist. I find it so silly. I have spotted more men then women wearing the Candy Pink Rolex Oyster Perpetual and one of Grand Seiko's most in-demand watches, the SBGA413, has a large appeal thanks to its pink-hued dial inspired by cherry blossoms. So, if men can rock what are more traditionally known as feminine watches, why can't women strap what is more traditionally known as masculine watches to their wrists? I could write about this double-standard at length, but instead why don't I just show you. Here are eleven badass women wearing badass "men's" watches (note the not so subtle usage of quotation marks).
Katie Cassidy: Rolex Milgauss ref. 116400GV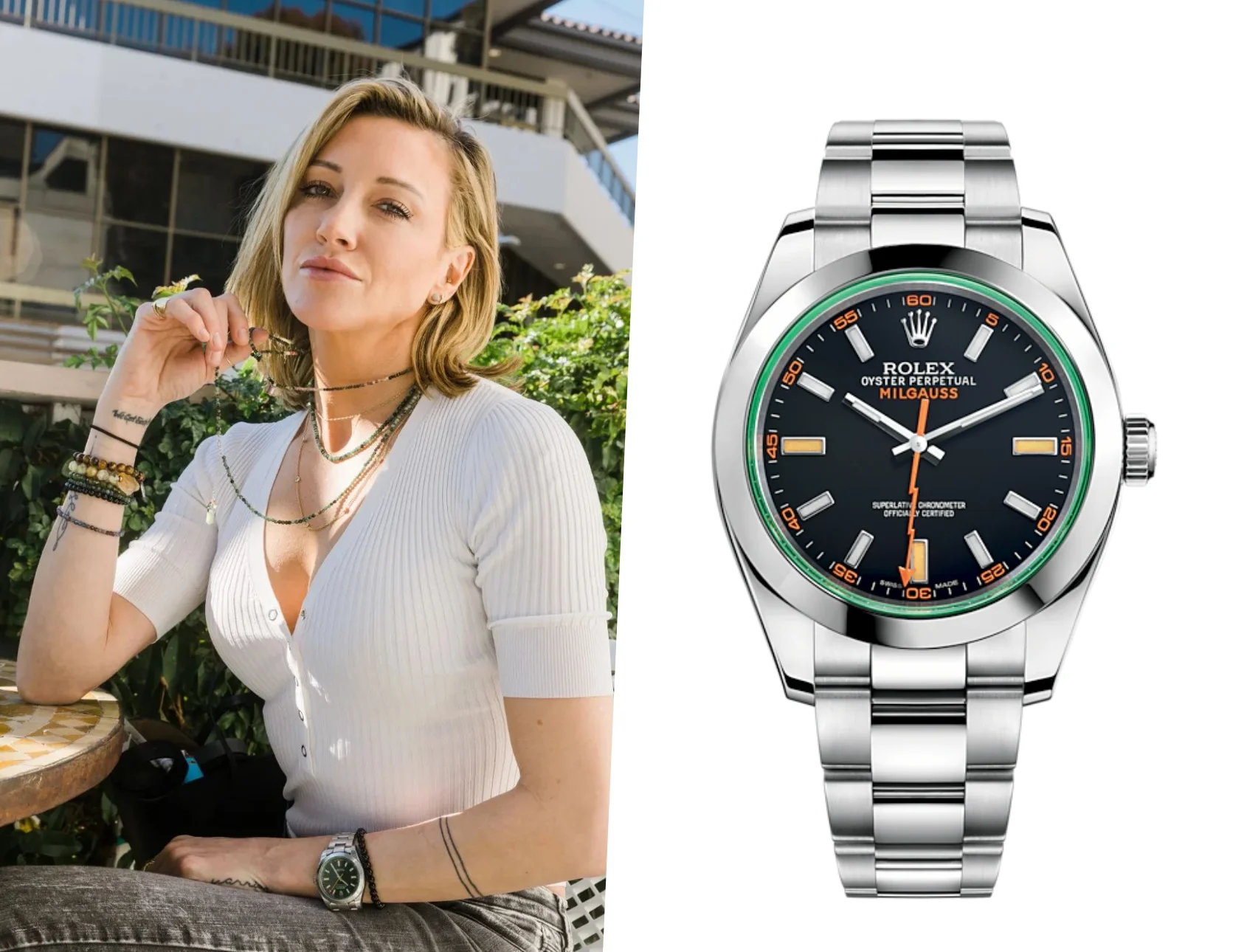 Fans of the DC Universe will recognize Katie Cassidy (daughter of The Patridge Family star and singer David Cassidy) from her breakout role in The CW television series Arrow, but a deep cut on her IMDB page was her brief role in the Liam Neeson film Taken – where Katie plays Neeson's daughter's friend who was also, as the movie is titled, taken by human traffickers. Fortunately she fared better on Arrow, taking down bad guys as Laurel Lance/Siren/Black Canary across eight seasons and 152 episodes. These days she has not been performing as much, instead her focus now lies with her jewellry collaboration with Alma Lobo. And, pictured above, you can see her sporting the hand-made Brazilian jewellry alongside her go-to daily: a Rolex Milgauss ref. 116400GV. Considering her longest role in television revolved around DC superheroes The Green Arrow and Black Canary, it is quite fitting her factory Rolex has a tinted-green sapphire crystal. black dial, and electric arrow second hand.
Heidi Klum: Panerai Radiomir ref. PAM00103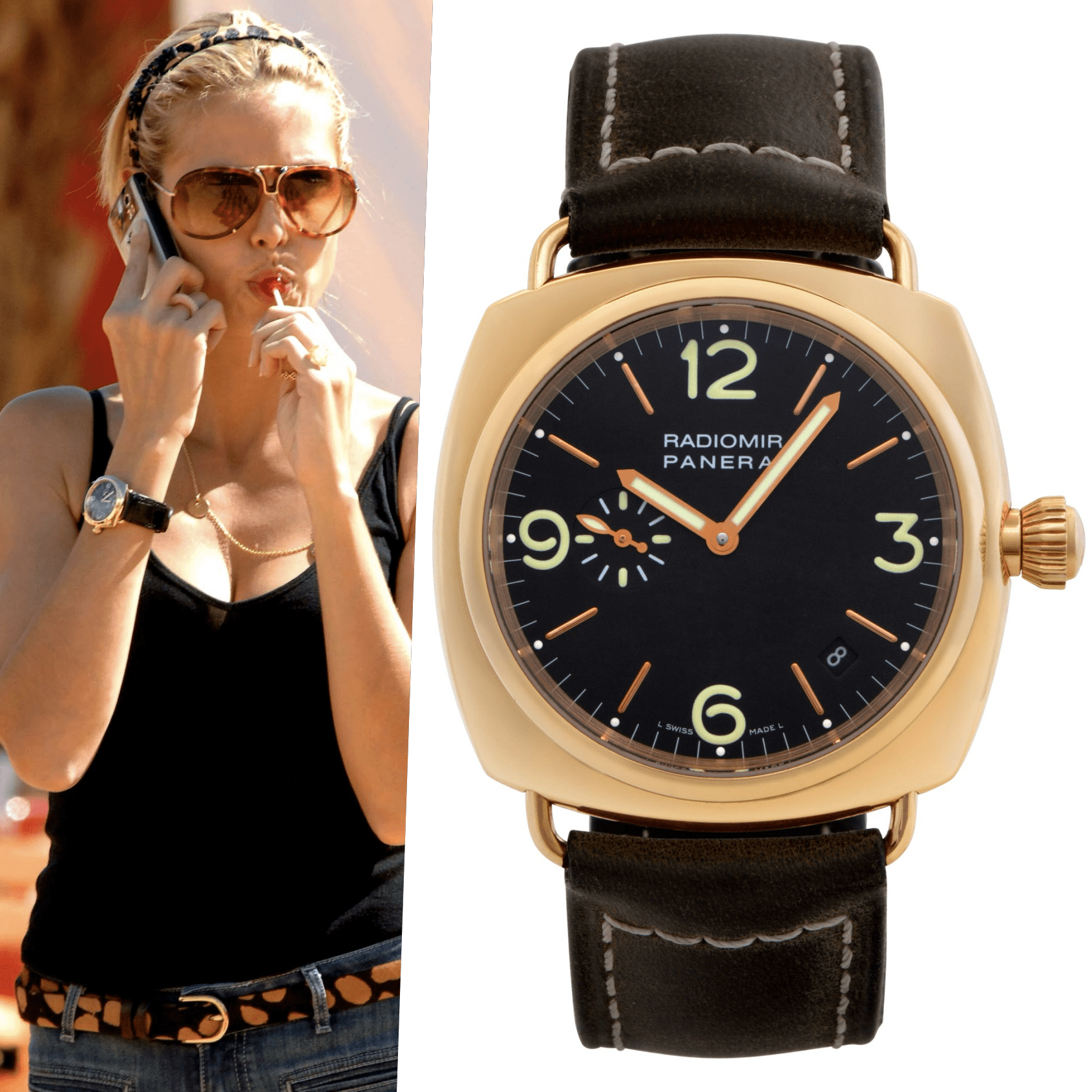 As someone who has served as a judge/host on shows like Project Runway and, more recently, Making the Cut, nobody needs to tell this supermodel what looks good and what does not. Honestly, I wish Panerai made watches like the PAM 00103 Klum was spotted wearing years back – the blackberry phone a pretty clear indicator this is not a recent photograph. The PAM 00103 was made from 2001-2004, with a more wrist-friendly pink gold case 40mm in diameter. It is also 100 metres water-resistant, something their recent foray into 38mm was sorely missing. It is powered by the automatic caliber OP VII, based on the Zenith Elite 680, with a solid 55 hours of power reserve. If you don't like this watch on her wrist, well… you can suck it (and by it I mean a red lollipop).
Megan Thee Stallion: Rolex Sky-Dweller ref. 326938 (with aftermarket diamonds)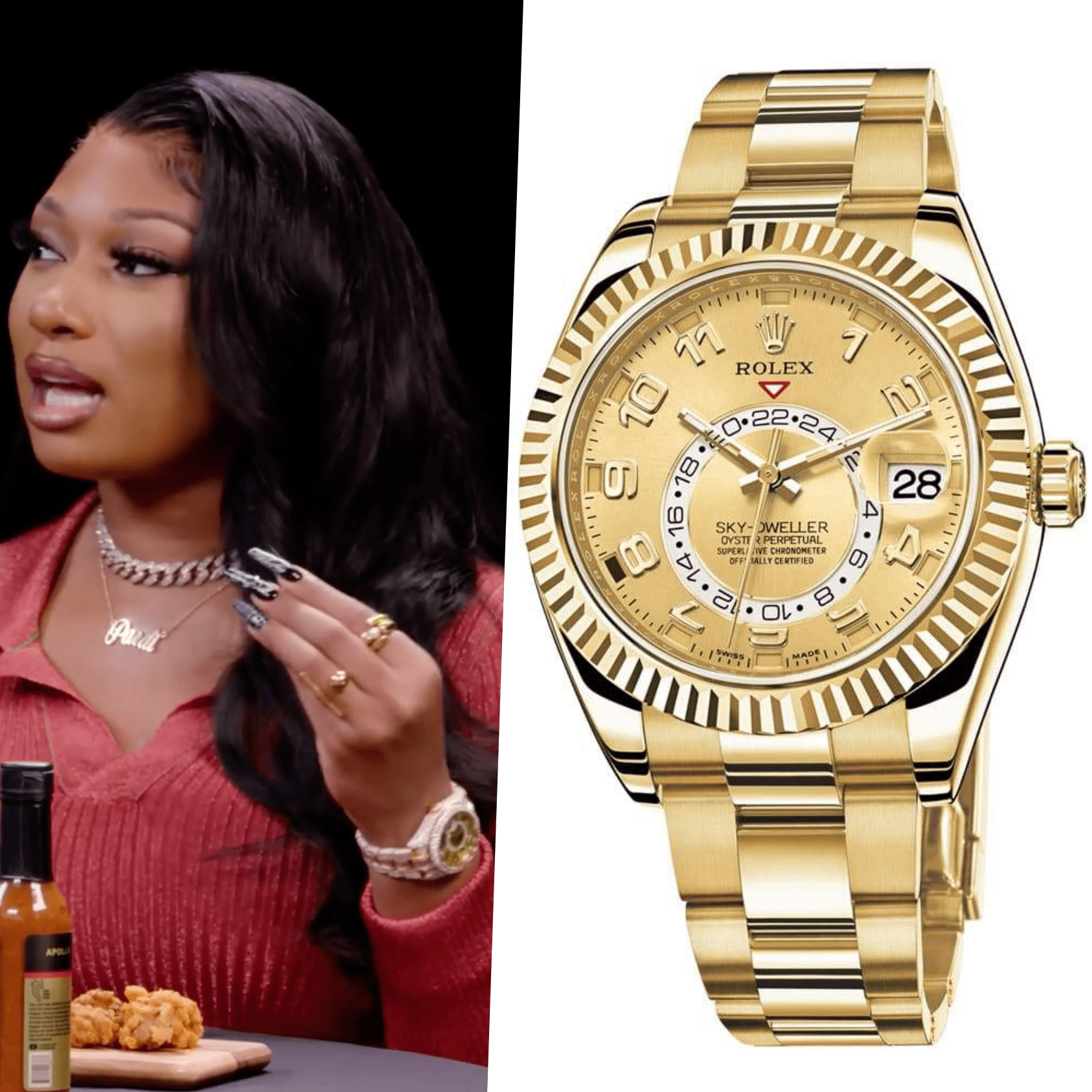 Megan Thee Stallion definitely has the wrist real estate for her discontinued and customized Rolex Sky-Dweller ref. 326938, with visible clearance on each side of her wrist. The Rolex Sky-Dweller, arguably Rolex's most complicated modern watch, is by no means a dainty timepiece. So for those who cry that the Rolex Sky-Dweller is a "men's watch", well I am a man and I doubt my smaller wrist could pull it off as well as she does. The watch is known for being the ultimate traveler's Rolex, and, considering how much she tours, even it were a statement piece via its aftermarket customization at the very least it is a statement piece with genuine utility for her lifestyle.
Victoria Beckham: Patek Philippe Nautilus 5711/R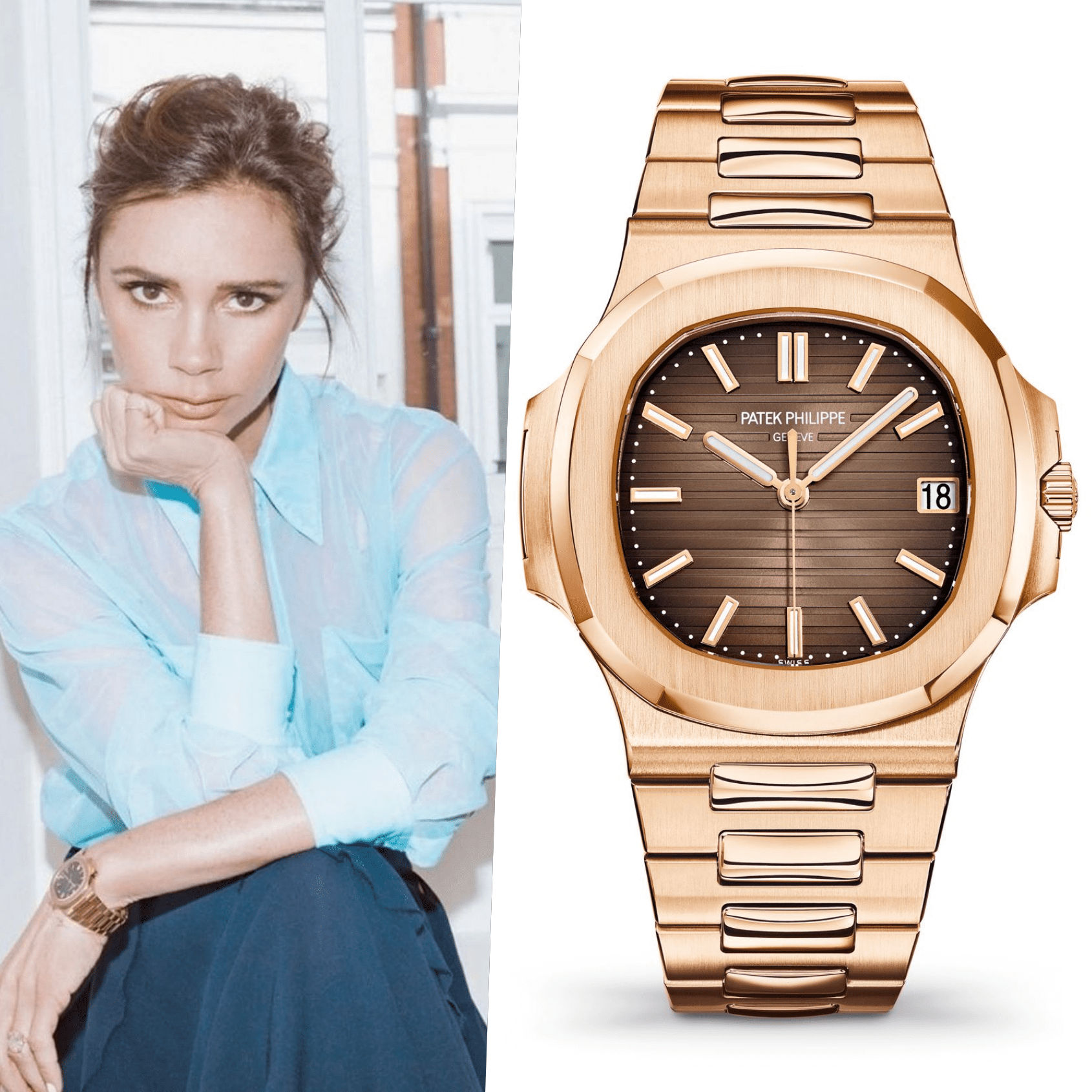 She may be most known for her work with the Spice Girls, but these days her primary focus has been in the business of fashion. Speaking of business, she was captured wearing a Patek Phillipe Nautilus ref. 5711/R in a recent edition of the Wall Street Journal. It is so silly that this coveted unobtanium watch is considered "men's" because it is a sports watch. With its dimensions of 40mm in diameter, 8.3mm thick, and 44.5mm lug-to-lug, the compact and slender profile can cater to any wrist – especially Victoria's as seen above.
Charlize Theron: Rolex Sea-Dweller Deepsea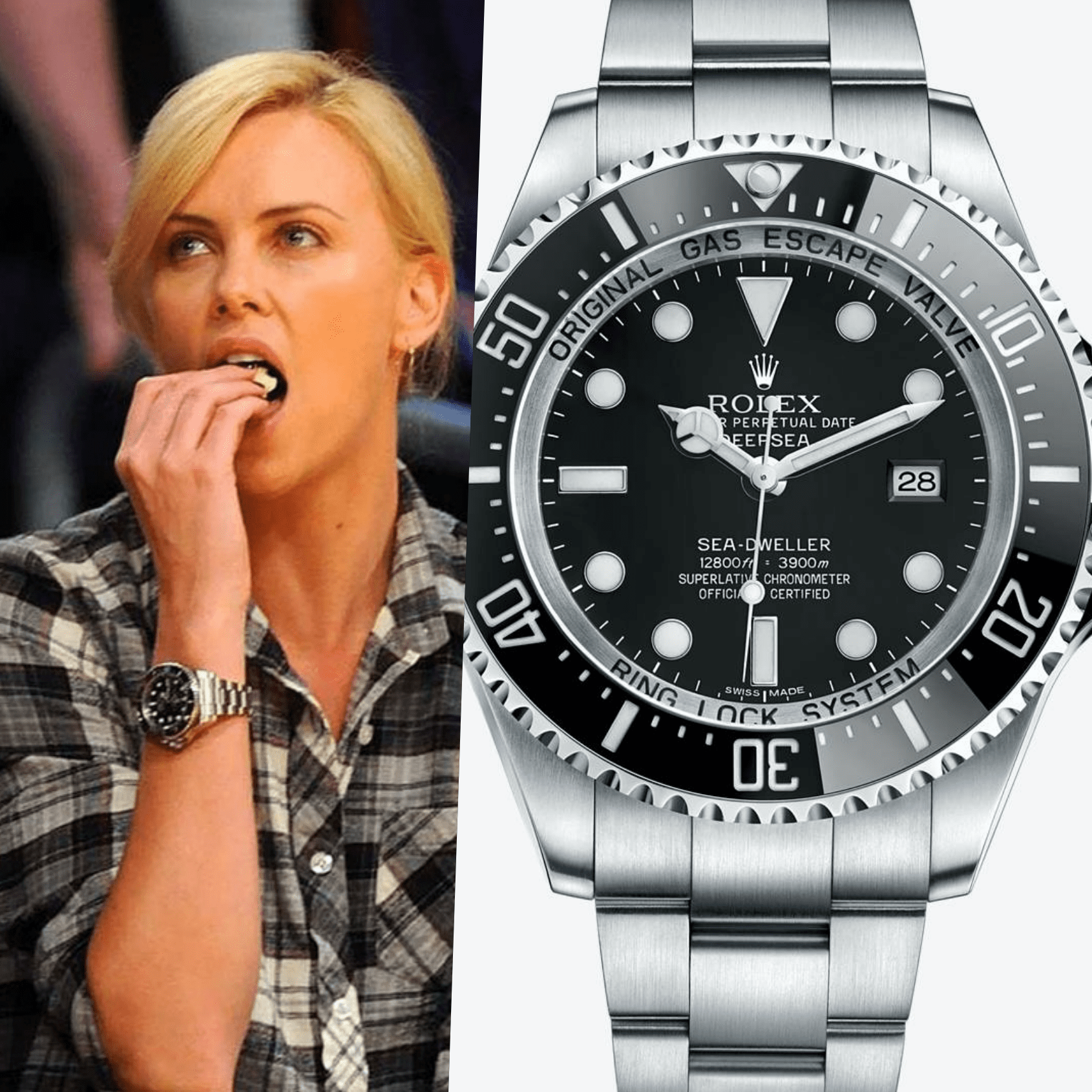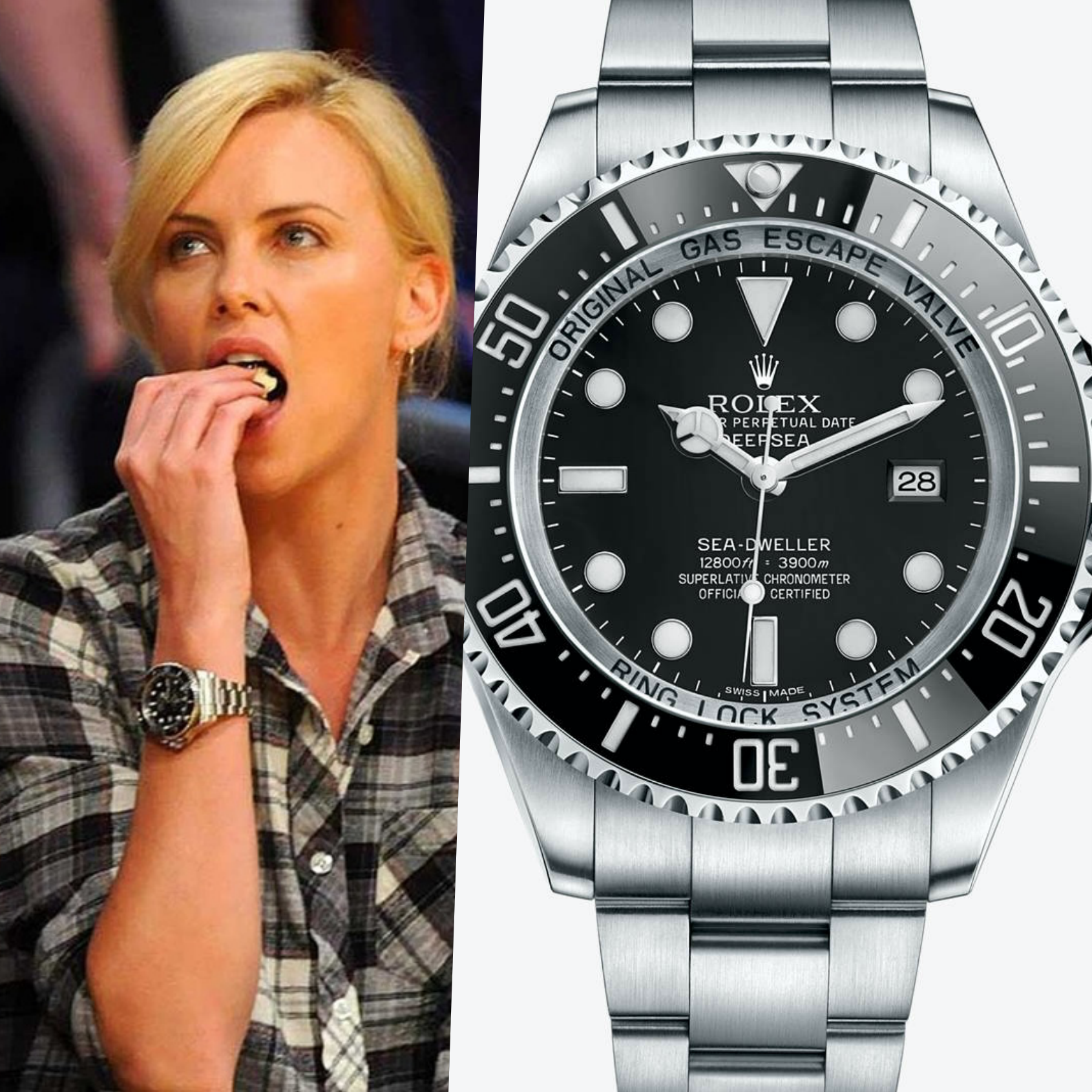 South African actress Charlize Theron is a known ambassador for Breitling watches, but once upon a time courtside the paparazzi snapped a shot of her wearing the heavy duty Rolex Sea-Dweller Deepsea. She appears to have the watch sized a little loose for her wrist, based on how far down the watch is sitting on her arm, but she has been spotted wearing the watch while enjoying some vacation time in the ocean as well – so she is wearing it more for its intended purpose than most people these days. As a general rule of thumb, if someone can somehow still look stunning while tossing a popcorn kernel in their mouth then then it should be abundantly clear you are not in any position to tell them what looks good or bad. Actually, it is a safe bet you should never "mansplain" fashion to anyone who hasn't asked for your opinion.
Jennifer Aniston: Blacked out custom Rolex Milgauss
Sitcom legend and Friends star Jennifer Aniston has been repeatedly spotted wearing her blacked-out Rolex Milgauss. The stainless-steel case has been treated with either a DLC or PVD gloss black coating over its original satin and mirror polish finishes. She wears it loose, making it hard to pass judgement on fit. But honestly who cares. This is a personalized watch after all, so she actually went with something customized that she believes resonates with her own sense of style.
Selma Hayek: Panerai PAM 104
If I am not mistaken here, it appears Selma Hayek was captured wearing a PAM 104. She has starred in many action-packed films over the years, but excitingly she is starring in the upcoming Chloe Zhao directed Eternals Marvel movie which is already having promising reviews. The PAM 104 is a good deal of watch, 44mm in diameter, 16mm thick, and approximately 52.5mm lug-to-lug. But based on the photo above, it totally fits her wrist by conventional standards. Power to her, cause I do not think I could pull it off like she could.
Madison Beer: Rolex Daytona ref. 116528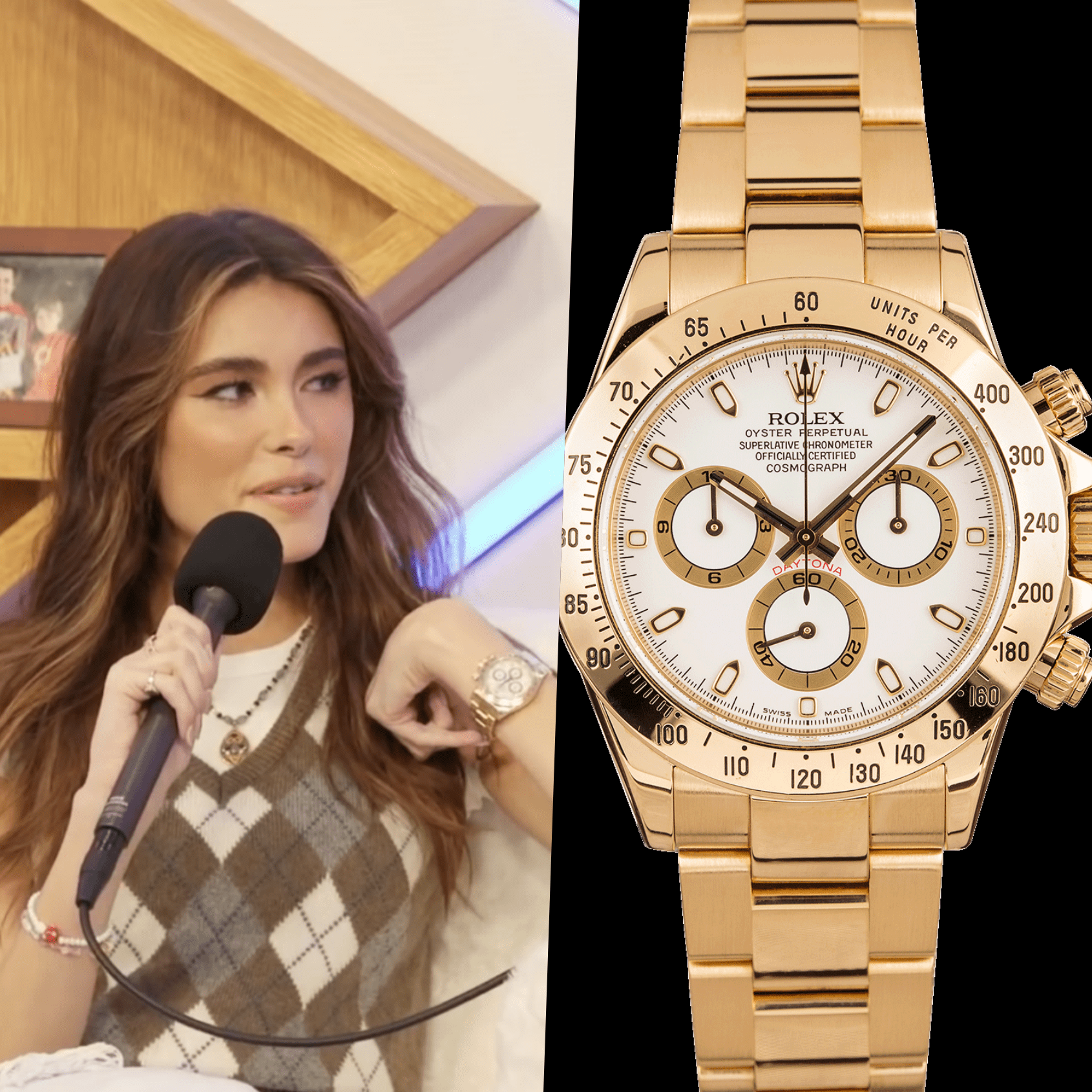 While Beer has been spotted wearing other Rolex watches, such as a Datejust, more often then not she seems to have her trusted Daytona on. The watch looks great on her wrist, and is further proof of why watches do not need gender labels. As a singer with around 22,600,000 followers on Instagram, she could likely have any watch she wanted. The fact this Daytona seems to be Beer's daily wearer is evidence that its design speaks to her taste and lifestyle, and I am all for it. When you look at how Rolex categorises these watches on their site, Submariners, GMTs and Daytonas all fall under the "Professional" category. This is why I have begun referring to the aforementioned watches as professional, sport, or tool watches versus "men's Rolex". To me, gendering Rolex watches, when Rolex themselves does not, is like calling a Submariner a no-date and a Submariner Date a Submariner – it may be popular terminology, but it does not make it right.
Rosamund Pike: IWC Spitfire Mark XV ref. IW325505
Rosamund Pike is an extremely talented actress who has been in various films – notably, for the watch community, playing the role of Marie Curie (the woman who discovered Radium) in the movie Radioactive. But I will always remember her most as the femme fatale in the Brosnan-era Bond flick Die Another Day, being a total badass while her Olympic fencing character duked it out with Halle Berry. As a silver-screen badass, she is more than entitled to rock a categorised men's watch off-screen. To be honest, the idea that there is any gendering design element of her 38mm IWC Spitfire Mark XV ref. IW325505 is ridiculous. Its radially brushed and guilloched silver dial, pilot's driven dial layout, and elegant link bracelet will meet just about anyone's criteria for a solid watch.
Jen Selter: Rolex Oyster Perpetual 41 Coral
We have previously spotted Jen wearing a Rolex Datejust, proving its robust elegance by wearing it whether working out, playing tennis, or getting dressed up for an night out. On Tik Tok, however, we also spotted her wearing a coral red Oyster Perpetual 41 while nonchalantly swishing a shot into the hoop – looking at the camera with a "come at me, bro" expression.  The watch looks completely at home on her wrist, in this instance perfectly matching her wardrobe. In terms of fit, the lug-to-lug does not wing out beyond her wrist. A clear sign she pulls it off – not that she needs our approval.
Unknown: IWC Big Pilot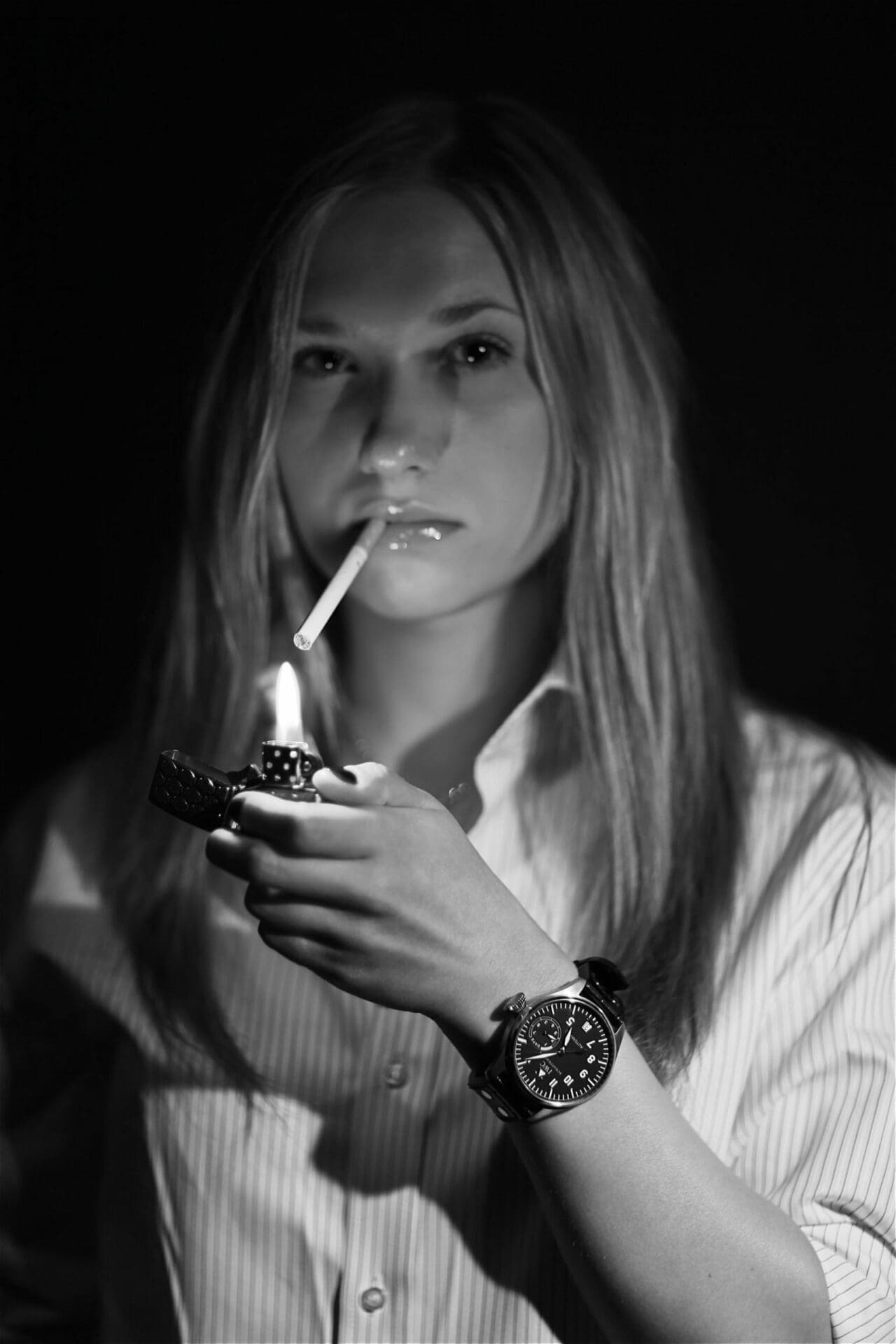 I have no idea who this is, but this uncaptioned shot on Pinterest actually was a spark of inspiration for this list. Maybe she is famous, maybe she isn't (if you know who she is please let us know on Instagram). But, if you were to ever cross paths with her, I would dare you to tell her that the IWC Big Pilot looks bad on her wrist.
While I do not encourage smoking, the noir black and white shot, lighter in hand, cigarette dangling between glossed lips, and wrist tastefully armed with a Big Pilot is a total vibe – I am digging it.
The reason I am including this shot on this list, alongside very notable and famous women, is to reiterate the point that you don't have to be a celebrity to wear watches like these. All you need is confidence – it isn't what you wear but how you wear it.