From Frank Sinatra to Queen: 5 musically inspired watches you should know
Ricardo Sime
Music, across language and culture, is something that has meaning to us all. It's one of those few things that breaks barriers, inspires us and many times places us in that special trance state that blocks out the stresses in our lives. So it should be no surprise that its tentacles of inspiration reach the world of horology. Here are five watches that have musically inspired designs.
Seiko 5 Sports Brian May Limited Edition
"For me. For me. For meeeeeeeeee". Any fan of Queen knows that after these words comes the powerhouse headbanging section of their song Bohemian Rhapsody. It's the climactic end of the song's bridge and escorting us over that traverse is the guitar stylings of Queen's Brian May.
In celebration of Brian's accomplishments with the brand as well as his affinity for Seiko, they released this musically inspired Seiko 5 Sports x Brian May Limited Edition watch. It's the second collaboration with Brian and is based on the latest generation of Seiko's historical Seiko 5 watch. Here, it features a 42mm case and a dial taking its design cues from the guitarist's famous "Red Special" guitar. When coupled with the gold coloured case, it's unique design is a perfect representation of the golden age of rock n' roll.
Oris Art Blakey
Oris and Jazz go hand in hand as for years the brand has released multiple watches inspired by the most notable musicians of the genre. This shouldn't be a surprise as Switzerland holds the world's second largest Jazz festival, Montreux Jazz, every July.
One of those pieces celebrates a pioneer of jazz drumming, Art Blakey. It's a 38mm minimalist watch that is styled after a bass drum, with eight bass drum claws situated on the dial. There is also a golden coloured cymbal on the back.
Overall, the design is a perfect tribute to Art and, as you'll soon see, it's just one of the many remarkable jazz influenced pieces from the brand.
MW Timepieces Legato Diver
Musically inspired watches are not simply relegated to large brands. Microbrands also find a way to incorporate musical elements into their designs. And one of the best examples I've seen of this recently has to be the MW Timepieces LegatoDiver.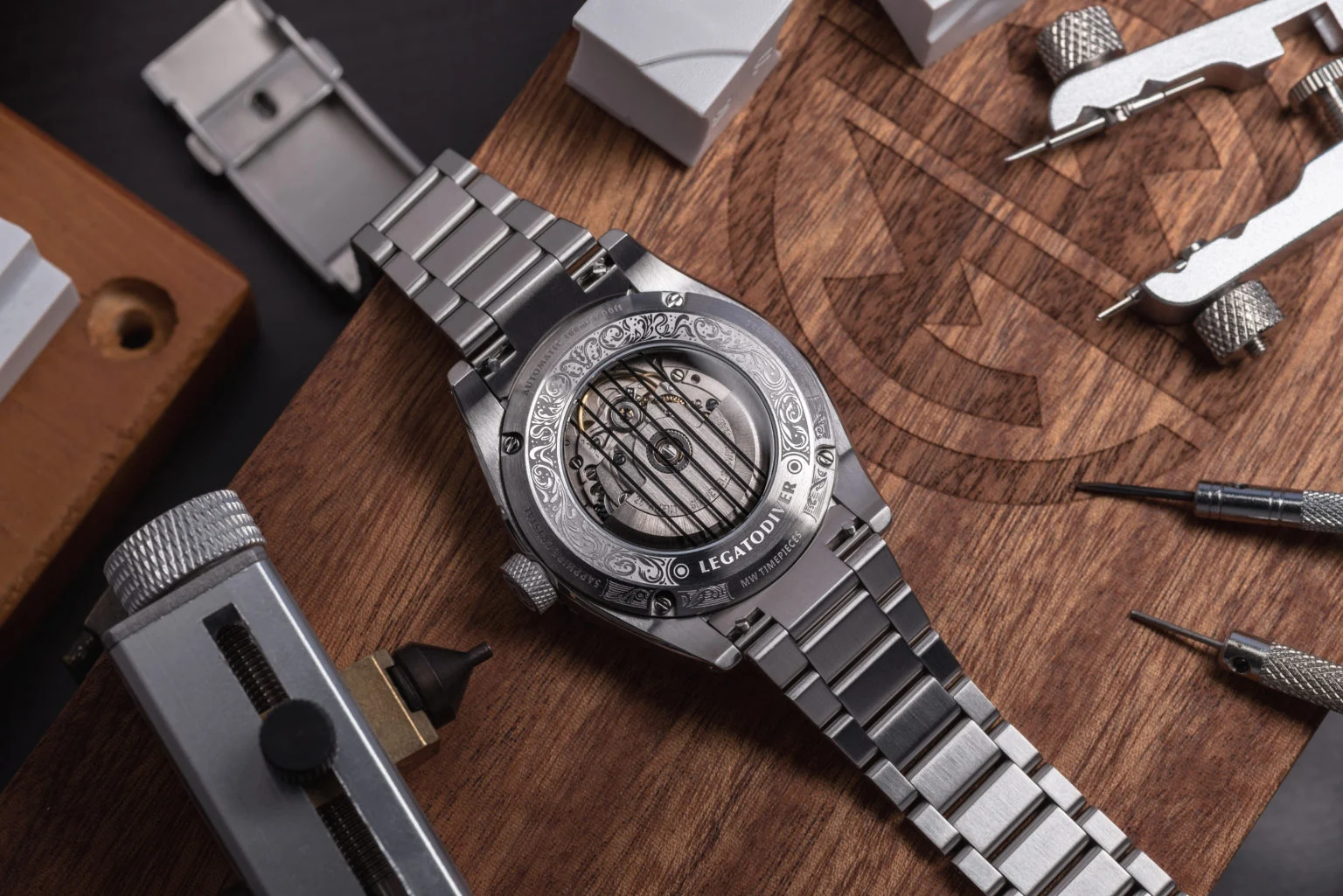 It all starts at the bezel. Underneath the sapphire are markers laid out in the pattern of a guitar fretboard. Moving to the dial, the bullseye hour markers evoke another musical connection, as they are reminiscent of the tuning peg holes on a guitar. And finally, the caseback features lines printed over a tinted sapphire crystal; the overall look reminiscent of guitar strings placed over a soundhole.
All of these elements exists on a 39.5mm diver that has top of the price range specifications. So if you love guitars and are looking for a reliable and unique watch, the Legatodiver is a good choice.
Bulova Frank Sinatra Summer Wind
A while back I visited Bulova at their Empire State Building location to check out some future offerings. One of those offerings was an evolution of their Frank Sinatra Collection. Called Summer Wind, it incorporates orange (as Sinatra would say, "the happiest colour") highlights. It also simplifies the dial seen on the previous Sinatra collection by no longer incorporating Sinatra's signature and using his Fedora for the marker at 12.
Sized at 40mm, the watch should also be quite wearable on multiple wrists. So, if you're looking for a subtle nod to Ol' Blue Eyes, this might be it.
Oris James Morrison
OK, Oris' jazz-related pieces are so good that they have managed to take two spots on the list. Here, we have the James Morrison Academy of Music Limited Edition.
This watch celebrates Aussie trumpeter James Morrison and his mission of bringing jazz to his country. At the academy, they "have developed a concept for learning that concentrates on the experience of the musician whilst making music, rather than the more traditional concept of theory based learning."
As for the watch, it is based on the same 38 mm case we saw on the Art Blakey. The dial is fume blue and has a liquid, glossy appearance. It also features a subtle nod to James with the seconds hands counter balance designed as a hook, reminiscent of that found on a trumpet.