FRIDAY WIND DOWN: In Miami with Maurice Lacroix, MoonSwatch mania, and W&W excitement!
Zach Blass
It's been an eventful week so let's get right into it. To kick things off, I spent the weekend with Maurice Lacroix down in Miami to celebrate the launch of their latest evolution of the Aikon: the Aikon #tide.
The Aikon #tide is both a playful and principled release, a colourful daily wearer with an environmental conscience. It is by no means the first watch to utilise recycled plastic for its case, but through years of R&D, the resulting Aikon #tide is definitely one of the better takes on the material I have personally seen. It is able to take on a wide variety of colour tones, and the material, while light and made of plastic, does not feel cheap on the wrist. Interestingly, there is a matching upcycled ocean-bound plastic bracelet on the horizon for this collection as well. Currently, however, the watch is strictly offered on a comfortable FKM rubber strap.
The 40mm watch is 100 metres water-resistant with a screw-down crown, and its case is scratch-resistant. Maurice Lacroix claims the case is four times stronger than typical plastics, so it will be up to the task of all sorts of Gen-Z adventures. There is even a sapphire crystal protecting the dial, something you do not always find at this price point. Starting at $750 USD, it is also accessibly priced as Swiss luxury goes.
It also comes with a pretty neat case: a coffee mug, made of the same sustainable material, which holds a watch stand inside. Of course, the mug can be used for drinking as well. Just make sure you clean it first before putting your watch back inside.
Some may be deterred by quartz snobbery, or, perhaps, its price as a recycled plastic watch. But they have definitely put a lot of time and research into its build, and, with a portion of the costs going to the #tide organisation, your money is going to a good cause.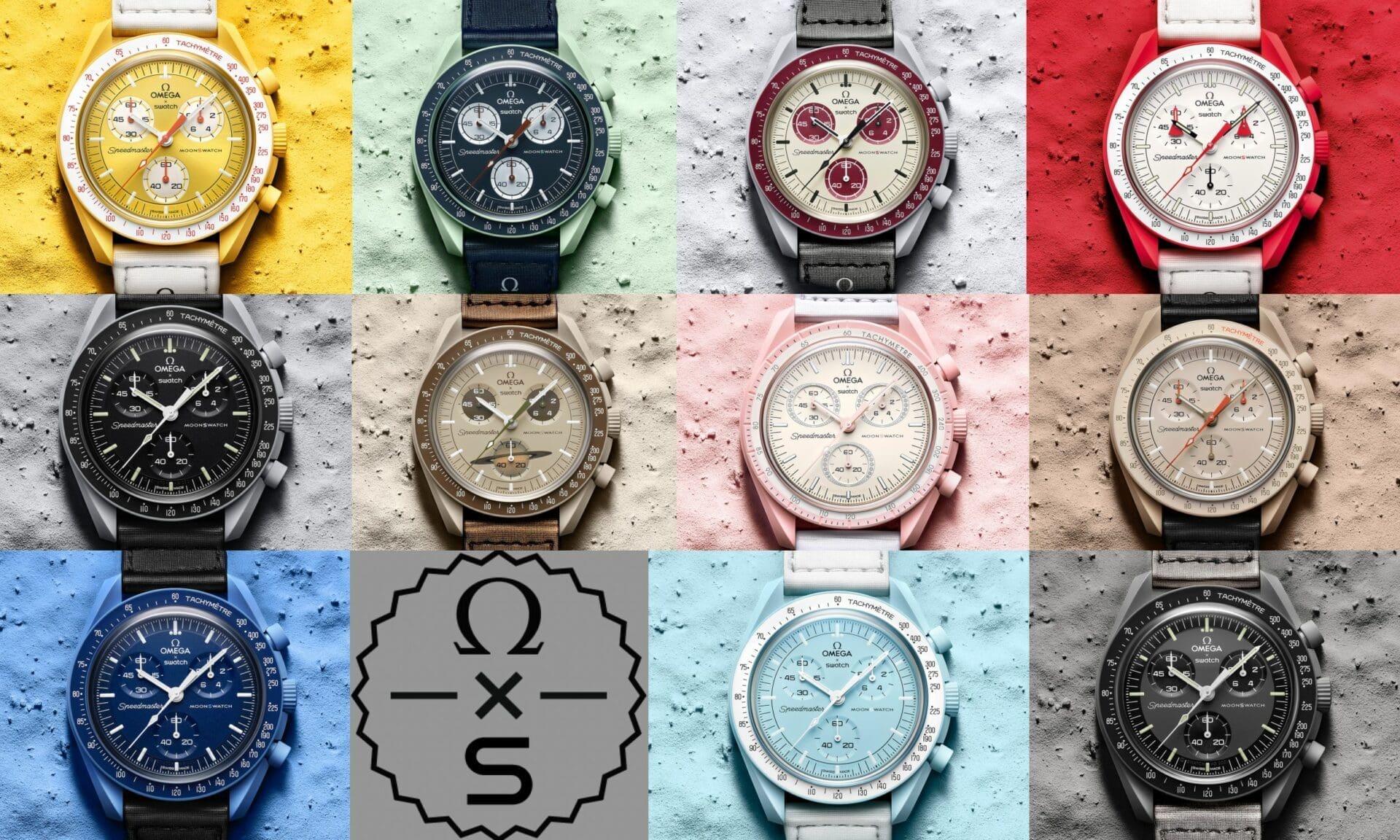 On the subject of sustainable materials, the drop that Kim Kardashian-broke the watch internet this week was the new Omega x Swatch BioCeramic MoonSwatches. Since the collection's debut, it has provoked viral discussion online – with everyone already trying to figure out what time they are going to arrive at their local Swatch store and what colour, or colours, are they going to pick. It's not often we see two brands, especially from different price segments, come together to launch an icon in an entirely new way. If you have been living under a rock this week, you can head here to dig into the full collection.
Last but not least, the excitement is nowhere near over with Watches & Wonders less than a week away. Upon arriving home in New York from Miami, I was already repacking my suitcase and off to the airport to head to Geneva. We have a lot planned for you guys, and we are so excited to share what's to come and dig into all of the hot releases of the fair. If you don't already, definitely make sure you subscribe to our YouTube channel as we will have a lot of video coverage coming soon.
Hope you all have a wonderful weekend!
– Zach
Watch meme of the week: Beating the two MoonSwatch per customer rule…
View this post on Instagram
You know a collection is hot when people are already strategizing how to bypass the "x per customer" rule. Clearly, come the 26th, people are going to be lining up to score one of the many variations of the MoonSwatch collection. That being said, with two being the limit, you likely won't be able to snag them all. So, at the risk of losing your integrity, you better invest in a solid fake disguise if you are going to do more than one lap of the store queue.
Wrist shot of the week: Anyone for ice cream?
View this post on Instagram
Totally cheating this week, as this is not a wrist shot. But this watch definitely sprinkled a lot of joy into my day, and it is an interesting set-up having such a candied lacquer dial of Rolex surrounded by rainbow sprinkles.
Time+Tide Weekend Watch Crossword #5 answers and winner of the "mystery prize"
For our fifth Weekend Watch Crossword, the theme was "Do You Speak Watch?" and explored the various terms you would hear at a watch meetup. So, if you are just getting into the hobby, or are looking to introduce a friend or partner into the watch community, this puzzle was a great primer. Taking home the "mystery prize" for this week, the randomly selected winner is none other than Dan (@911_dan). Keep an eye out for a DM from us on how to claim your prize!
Time+Tide select of the week: Tissot PRX Green Quartz
The PRX case has always been finished well for its price point, and the new 35mm models hold true to that. Although there are five new models to explore, the above green sunburst model is a price-approachable way to get in on the green trend. And don't forget, its integrated case design, satin-finished throughout, with subtle polishes along the flanks and on the bezel, is a handsome, unobtrusive design that is sufficiently versatile to meet many situations. The length has been reduced to a compact 34.6mm, though be aware of the first link adding a couple of millimetres on each side, with a total thickness of only 9.6mm. Powered by an ETA quartz movement, you can expect a three-year battery life while being backed by Tissot's two-year warranty.
Price: $550 AUD
Buy now at the Time+Tide Shop.
Our favourite Time+Tide coverage of the week:
LIVE PICS: The Bulgari Octo Finissimo Ultra is the new thinnest mechanical watch in the world at 1.8mm
The Octo Finissimo collection is known for being ultra-thin, the collection as a whole having seven records under its belt for thinness across varying levels of complications. This week, however, Bulgari set their eighth and most challenging record yet, with their new Bulgari Octo Finissimo Ultra that is astonishingly 1.8mm thick. Head here to read more about the new thinnest mechanical watch in the world.
"I promise I don't have a real Patek." OK, this is weird, Anthony the Blue Wiggle insists his watches are fake
We posted a story about Anthony "the Blue Wiggle" Field and how he's been repeatedly spotted wearing the ultimate IT watch, a Patek Philippe Tiffany Blue. The story generated a real buzz on the T+T site as Anthony is, of course, a founding member of the beloved kid's entertainers, The Wiggles. But here's where things got weird. Anthony must have seen our story as yesterday he posted a denial on his Instagram claiming his watch is, in fact, a fake. "Like my teeth, my watches are replica (sic)!" he wrote. "I promise I don't have a real Patek!". Head here to read more.
VIDEO: Unpacking why the Omega x Swatch BioCeramic MoonSwatch is out of this world
We're going to call it a space oddity. Albeit it a very welcome one at that. But the news that Omega have teamed up with Swatch to create a playful take on the Speedmaster Chronograph in the form of the BioCeramic MoonSwatch has caught the watch world by surprise and has since become the most discussed watch collection of the year. Click here to read, or watch, our full live "in the metal" launch coverage.