Out of 10, this week in the world of watches was a full Spinal Tap 11. What happened. Are you sitting down? Are you in a comfortable seated position?
WHAT HAPPENED?
Ladies, gentlemen, this was the week we witnessed the highest known price ever paid for a wristwatch – $10.3-million for the Patek Philippe 5016A-010.
Pardon the self-aggrandisement but it's fairly amazing to think that Marcus, our key videographer, and I handled this watch for a few hours like it was no thing. We were passing it back and forth, posing it in different ways for the shoot, trying it on our wrists. My phone is stacked with shots of the most expensive watch in the world next to shots of my kids and a burger (such a killer burger though, thank you Maha) and blurry shots of Felix and I in black tie from the Bond Premiere. That's some kind of #watchgoals attainment right there.
WHAT ACTUALLY MATTERED?
We misled you. We're so sorry.
Patek madness is one thing. It's lunacy, but it's almost expected these days. Sorry to follower @twig_83 who "just missed out" on it in the bidding. The "lol" suggests @twig_83 may be humouring us a little. So yes, it went for between two and four times what we expected (he said 5mil, I said 2.5mil).
But oddly enough, there was a watch that exceeded even this gross inflation. Yes, you know it, the Black Bay One. Felix guessed 55k and I guessed 80k. Forget the maths, it sold for $525,000AUD….. Our. Minds. Are. Blown. And we're really sorry that we wrote this story. What rubbish. Way off. A syndicate to buy it? We'll know next time to up the buy-in to 100k each. Just in case you're experiencing non-bidding regret for missing the Black Bay One, here are some other things you can spend $525,000AUD on.
$525k is this house in Queensland.
$525k is about ten of these brilliant Subaru WRXs. **tongue out panting emoji**
Or $525k is this watch.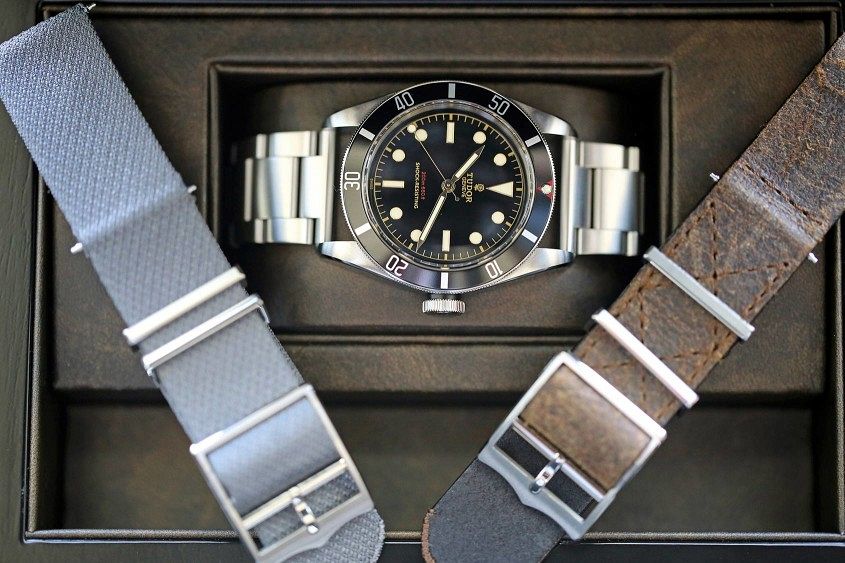 DAMN.
WHAT ELSE
So, we can't talk too much about what we saw in Bond for fear of #spoileralerts. We nearly gave away some watch related twists in the event wrap. But we stopped short. See the movie! Tell us what you think. The helicopter scene that kicks it off is unbelievable. We can say that.
Also, TAG Heuer finally unveiled their smartwatch in New York on Monday night. There's lots of information about it in our story. Our favourite details? The faux shadows under the hands. So cute. Almost the real thing, right? And the whole trade-in concept. Good insurance against the watch becoming obsolete tech in a few years. Read more here.
THE WEEK IN NUMBERS
50 – The power reserve in hours of the TAG Heuer Connected. Our review by TAG Heuer boss David Chalmers puts its actual battery life at more like a day.
5250 – The price in AUD of the giant-killing Sports Watch of the year (according to the GPHG) 2015, the Tudor Pelagos.
5 – The number of watches we suggested to James Bond (whoever that may be, Idris hopefully) for his next movie. One alien-proof, one shark-proof and one light-proof. Check them out here.
1 – The number of times Katie cried watching the Daniel Craig vs cute mini-Bond video. Substantially less
39 – One of the team turned this age during the week. He is doing ok. Cards, flowers and condolences can be sent to the Time+Tide office.