It's a public holiday in Victoria today – Grand Final Friday, so the Time+Tide office is officially empty, but that doesn't mean we're not hard at work, after a week that encompassed the grand launch of our survey (if you're Aussie, you have no excuse not to enter, I mean, what's the worst thing that could happen? You win a watch?) a photo shoot with some Panerai faithful, an afternoon in our 'hood with Bulgari CEO Jean-Christophe Babin (there'll be a very special video to commemorate this honour) and events with Piaget at Vue de Monde (Andrew now knows the lift staff by name) and Bulgari at NGV.
Believe it or not, the next seven days will not involve slowing down. Andrew and Ash are getting ready for their mancation / remote island getaway with Vacheron Constantin, while I'm is busy packing for a visit to Seiko's HQ in Japan. So, even though we're technically having the day off it's all action stations. But rest assured that we'll still find time to have a relaxing drink or two this arvo. Andrew will be having several to steady his nerves ahead of the 'Granny' tomorrow which will feature his beloved Sydney Swans, whereas I'm with Franco Cozzo. May your team, in whichever code you follow, win resoundingly.
What happened.
As you might have noticed we've been a little preoccupied with our second reader survey, and the entire team has been guilty of hitting refresh on Survey Monkey to see how many people have responded (at the time of writing, it's 2039, 1039 more than last year already). And though the crunching of the numbers and data analysing is still to come, we've been a little bit blown away by the response we've had, thanks everyone for taking the time to tell us what you think. Of course, the pretty awesome prize might have something to do with it too.
What else happened
It's not just the new watch market that's having hard times – the auction market is struggling too. The Financial Times tells us that the major houses are abandoning Hong Kong, which has been for so long the shining star of the Asian watch market, in droves. It looks like the era of bulk auctions may be drawing to an end, as the auctioneers' premium for pieces that can be found fairly easily elsewhere is becoming harder to swallow.
And finally, if the history of timekeeping is your bag and you happen to be in Sydney, the Australian National Maritime Museum has a must-see exhibition of navigational gear, including replica's of Harrison's H1, H2 and H3 chronometers.
The week in numbers
32: Felix's age, in years. Still not sure if the cake is meant to be a Moser or a Breguet – we ate it before we could check the reference.
82: The percentage of Swiss watch executives that forecast a gloomy outlook for their business, up from 41% in 2015.
22: The percentage of Swiss watch executives that cite the US as a possible growth market, up from 13% in 2015. The US is tipped by many to be the leading watch export market.
5: The time, in minutes, it took Felix to work out the slide on the amazing Bulgari L'Ammiraglio Del Tempo minute repeater. Totally worth it though.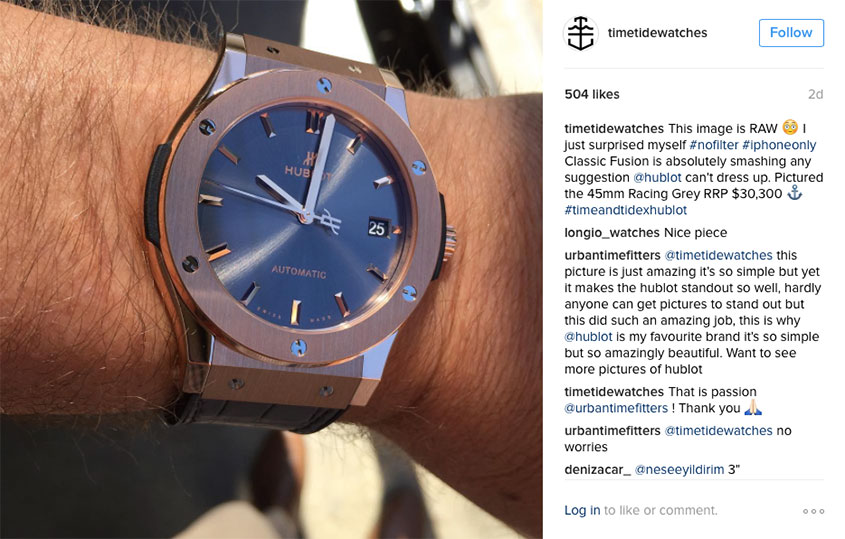 8: The number of times Andrew proclaimed his love for the Hublot Classic Fusion Racing Grey….in a 10 minute period.
3: Timezones Time+Tide will be occupying next week. #jetsettrash