Some weeks, the Wind Down is full of momentous news and calamitous happenings. Brands being sold, records broken – that sort of thing. This is not one of those weeks. We're in the eye of the SIHH/Baselworld storm, and, on the surface at least, everything is calm. At this point we're going to get all choose-your-own-adventure on you. Do you a: Enjoy this moment of peace, and pour yourself something light and sparkly? Or do you b: Hunker down in the corner with a tankard of foul-smelling swill and mutter cantankerously about 'trouble-a-brewin' in a thick rural accent. Either way, read on.
What happened
Depending on your relationship status, Tuesday was a day of blissful romance or a gross commercial exploitation of love. To celebrate, our homesick French intern Elise penned a note to the Swiss watch industry… but was it a bawdy love letter, or a breakup?
Later in the week, perhaps in a moment of remorse, Elise convinced us to run a little comp, giving away a love letter writing kit (basically a bottle of great red wine, a fancy pen and a posh notebook) to the viewer who could identify all the watches shown in her video. This proved to be quite the tricky task, but congratulations to Kayvan, who got the most correct! We'll be in touch.
The results are in on the latest Apples to Apples, and we reckon this was our most even match-up to date. We pitted the latest generation of the IWC Pilot's Chrono against Breitling's mighty Navitimer and called on you to decide the outcome. Based on our FB poll, it looks like the IWC is flying home the victor, but the Breitling put up a brave fight. Thanks to everyone who weighed in.
The latest watch in for review is the chunky 'Puck' from small Canadian brand Halios. While the watch is distinctive, it's a long way from a household name, so imagine my surprise on the train home yesterday when a burly man with a beard came up and said "Nice puck!" Turns out Angus is a fan, and his 10-second review of this latest version is, "Nice, looks a lot better in real life than pics." I dunno – the pics look pretty good to me.
What really mattered
The big news of the week was Hodinkee's latest limited edition. A run of 36 Vacheron Constanin Historiques Cornes de Vache 1955 in steel, for a cool $45K USD (actually about right for a steel VC chrono). Snaps to the 'dink for convincing VC to make such a beautiful watch in steel. But the watch itself wasn't the real story. That was the fact it sold out (as in: deposits paid) in just a few hours. (We'd wager a few key collectors got wind of the release a little early.)
Of course, this is far from the first custom edition made. Hodinkee has made a handful before, as has Revolution, and before them, forums like Timezone and PuristsPro have had special runs too. But coming off the back of the successful 'Speedy Tuesday' LE from Omega and Fratello, it's easy to see that the relationship between brand, media and customer is changing
The week in numbers
207: Votes for the IWC in Apples to Apples
101: Votes for the Breitling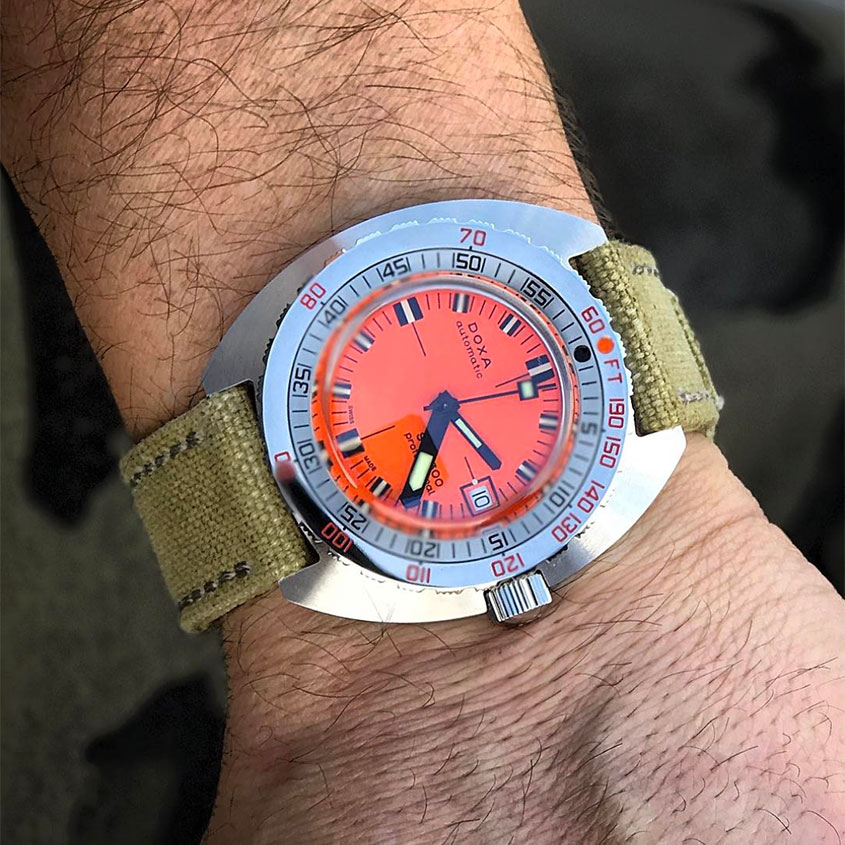 15: Superb wristshots selected by the team
1: Ridiculous Felix gif made. Same as last week then