Franck Muller's tagline is "the master of complications", and this watch delivers on that promise in dazzling style. This fully set Franck Muller Double Mystery from their Round collection (which goes to show that there's more to the brand than Curvex cases) is a great example of working smart.
The movement on show is the Double Mystery — the mystery being that there are no traditional hands at play here, rather two triangles nestled amongst the brilliance of the fully set dial. Of course it doesn't take long to work out that these markers sit in two rotating discs, creating an illusion of floating time. It's one of my favourite romantic complications, and Franck Muller has deployed it here to good effect. It's a smart complication because while it uses up a fair bit of energy to move a full disc (or two) rather than more lightweight hands, it's a complication that can be added to a base automatic movement, allowing the brand to spend their time focusing on other things — like that exceptional case.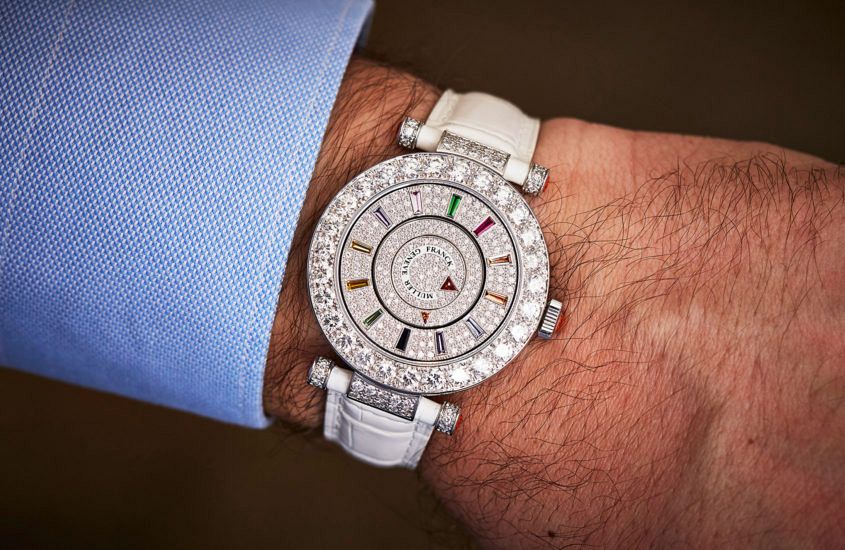 Speaking of the case, let's break it down into numbers. It's white gold, 42mm across (which means that, even though it's billed as a women's watch, a guy comfortable with this level of bling could totally wear it), and covered — I believe the technical term is dripping — with diamonds. We're talking a total of 203 brilliant-cut stones, weighing in at around 7.74 carats. Heck, there's even another eight diamonds on the buckle. Instead of hour markers, we're treated to 12 baguette-cut stones, in a subtle (at least compared to all the other rock action) rainbow pattern that is very much en vogue these days. Bonus points for extra coloured stones capping off each of the bar-style lugs.
There is absolutely no doubt that this watch represents a strong look that's not for everyone, but you know what — that's OK. Fully set, doubly mysterious watches like this Franck Muller are special for a reason. They're like rare birds — fleetingly sighted, but entirely majestic.
Franck Muller Round Double Mystery price
Franck Muller Round Double Mystery, DM 42 COL DR D1R CD OG, $145,700 AUD
Made in partnership with Franck Muller. However, the opinions expressed in this article are our own in
accordance with our Editorial Policy.