OPINION: Diamonds are a man's best friend
James Robinson
Up until a month ago, if you'd asked me whether or not it was appropriate for a man to have diamonds adorning his timepiece, my response would've gone something like, "Only if he's a vapid member of the glitterati, or his vocation is spitting bars".
Bedazzled, iced-out, frosty … whatever you want to call a wristwatch covered in cut-up pieces of highly pressurised carbon, I just couldn't get behind the the uber shiny aesthetic.
You see, I like to think that watches represent utilitarian practicality — they're a tool that should tell the time, not tell everyone else around you how poor they are.
My oh my, how times change, though, because after a revelatory afternoon back in early December, I now endeavour to own a dazzling, diamond-clad wristwatch before the decade is out.
How has this massive contradiction come to be? Well, perhaps rather surprisingly, it all started with a trio of Franck Mullers.
Long known for their expertise in precious gem-setting, Franck Muller really can make a watch sing like few other watchmakers.
And when we had three of their shiniest timepieces arrive in the office just over a month ago for a photoshoot, my revelation was set in motion.
The three models in question were the Franck Muller Sunrise, Color Dreams and Galet. All were precious metal — 18k rose gold for the Sunrise and Color Dreams and 18k white gold for the Galet — and all three watches featured full pavé bezels.
I remember seeing the watches being pulled out of their travel pouches, and just thinking, "There's no way I could ever wear a watch like that."
But then, Jason, our gun photographer, asked me to wear all three of the watches so he could get some wrist shots. Begrudgingly, I grabbed the rose gold Color Dreams, fastened the green alligator leather band to my wrist and gazed down at the shiny timepiece.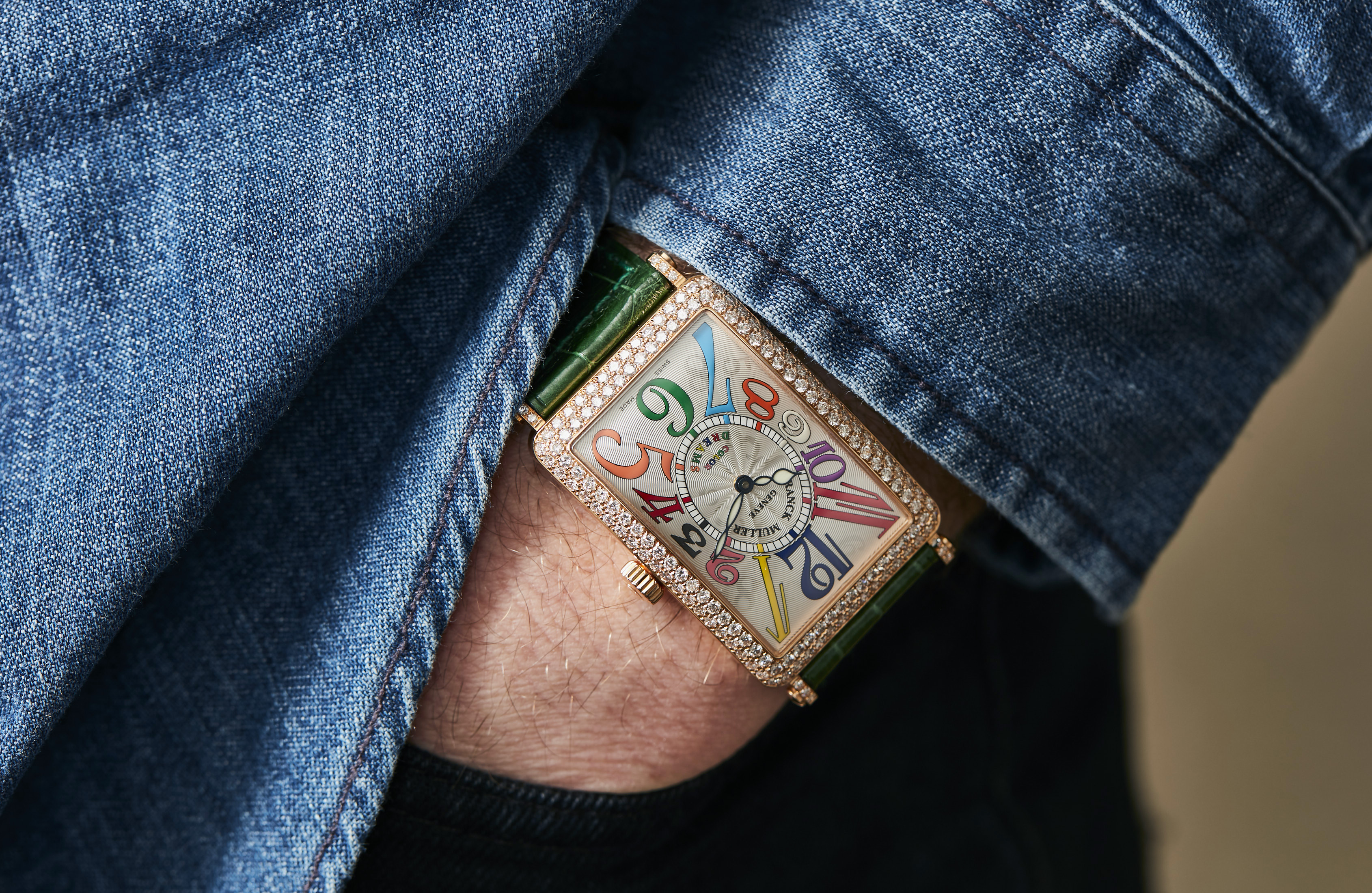 That's when it happened, and it's difficult to explain, but I just started smiling — it made me feel … happy. It was fun, it made me laugh, and after Jason had finished taking the photos, I couldn't take the watch off, I just strolled around the office with this stupid, ear-to-ear grin on my face.
Of course I eventually did have to take the Color Dreams off, but I replaced it with the Sunrise, and it had the exact same effect, as did the Galet when I tried that on.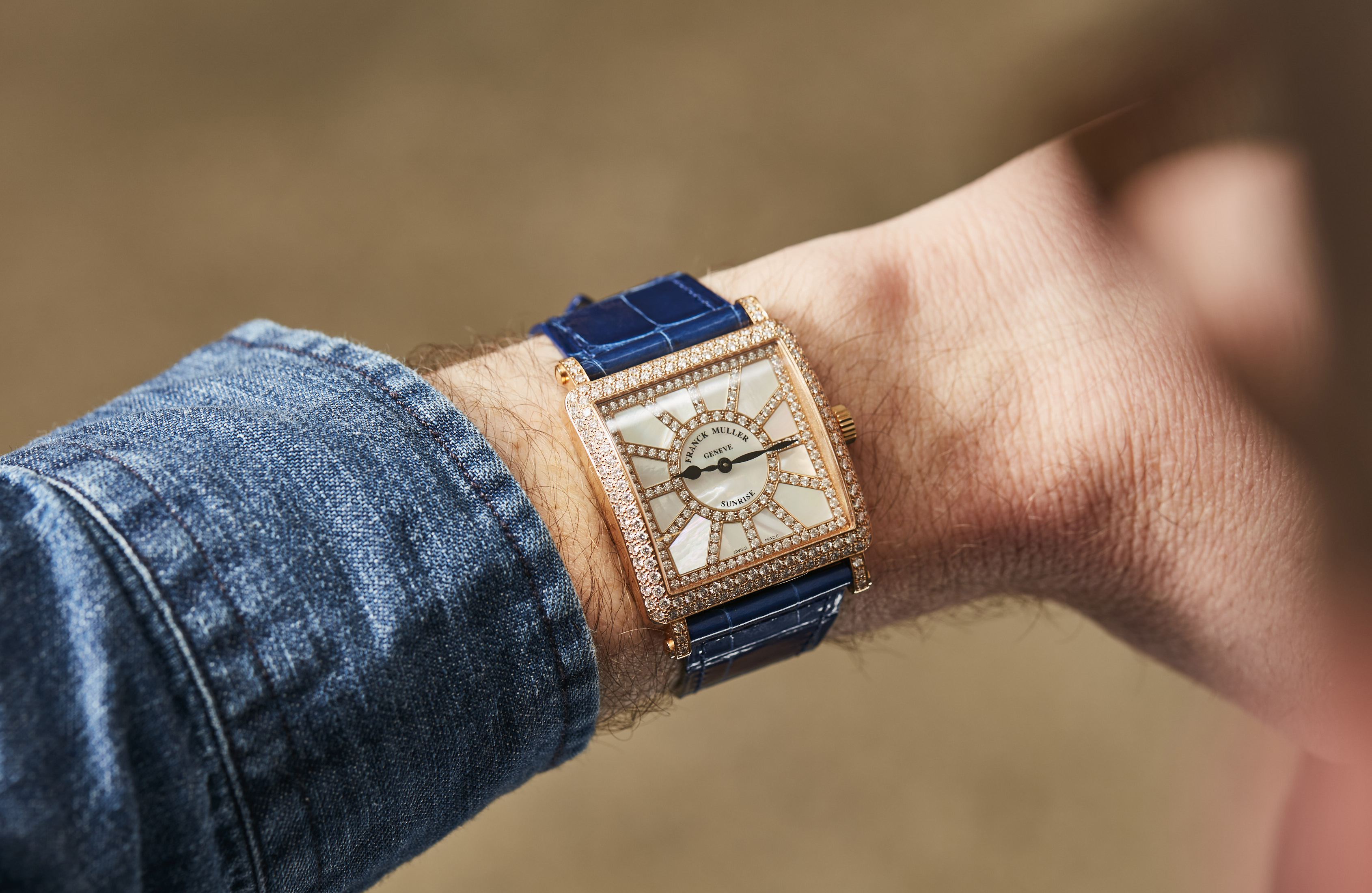 In the context of being a pretty diehard watch enthusiast, it's easily the biggest shock I've had. I just thought there was no way I'd enjoy a watch with so much flex. But I did, and now I can't get the notion of owning an iced-out timepiece out of my head.
Not for the flaunt, not for the clout, not for wanting to make my fellow man feel lesser than I. No, I want a star-studded wristwatch because when I wear one, it makes me happy.
I just wish they weren't so damned expensive!