For its 60th birthday, the Rado DiaStar Original gets sharpened up with a fresh, contemporary edge
Luke Benedictus
First released in 1962, the Rado DiaStar Original is one kooky watch design. Recognisable at a glance thanks to its striking, oval case, it exudes a retro-futuristic vibe – the sort of watch you can imagine George Jetson wearing in his flying car. But this quirky veneer disguises it's horological significance.  The DiaStar is, in fact, a pioneering watch that deserves more recognition and the 60th birthday celebrations in Zurich tonight should trigger a long overdue reappraisal.
Not that it needs one everywhere. The DiaStar is, after all, still one of Rado's most successful lines, a fact that I was reminded while flying over to Switzerland from Melbourne. In the duty-free boutiques at Qatar's Doha airport, I counted 47 (!) different models of the DiaStar that ranged from reverse panda-dial pieces in gold to others bedecked by diamonds. For despite its singular looks, the DiaStar remains a popular watch particularly in the Middle East and Asia.
"Rado was never a brand who made mainstream products," insists the brand's CEO, Adrian Bosshard. "A lot of designs are unique and particular."
But the DiaStar is influential for reasons that go beyond mere design. Today, you can buy watches in all sorts of materials from titanium to ceramic and carbon fibre. Prior to 1962, however, watches largely came in gold or stainless-steel. What the DiaStar showed the watch world was the possibilities of experimenting with novel materials. It was made from an alloy derived from tungsten carbide, a material selected because it was very, very tough – attributes that led the DiaStar to be billed as the first-ever scratch-proof watch.
In addition, it paired this rugged composition with a sapphire crystal. This was another bold move for the time – Rolex, for example, didn't adopt the material for another eight years.  The DiaStar is therefore an important watch both in terms of material innovation and design.  Yet for Bosshard another significant aspect is the way the DiaStar's design has endured for 60 years without "a facelift".
"In terms of size, in terms of proportions, in terms of design, in terms of material features, the existing collection is the same watch as in 1962," he says.
But that was the challenge for Alfredo Häberli (above), the industrial designer invited by Rado to reimagine the DiaStar for its 60th birthday. "The brief was to keep the DNA, keep the proportions, but make it a little bit more modern," Bosshard says.
Luckily, Rado picked the right man in Häberli, a charming Argentinian-born designer who's been based in Switzerland since 1977. For starters, Häberli is a genuine watch lover with a particular passion for watches from the '60s and '70s.  "In watchmaking, that era was when there was huge competition between the brands – whereas now it's dominated by a few big houses," Häberli says. "And so all these brands were trying to compete and stand out and do something different. That led to a lot of design creativity."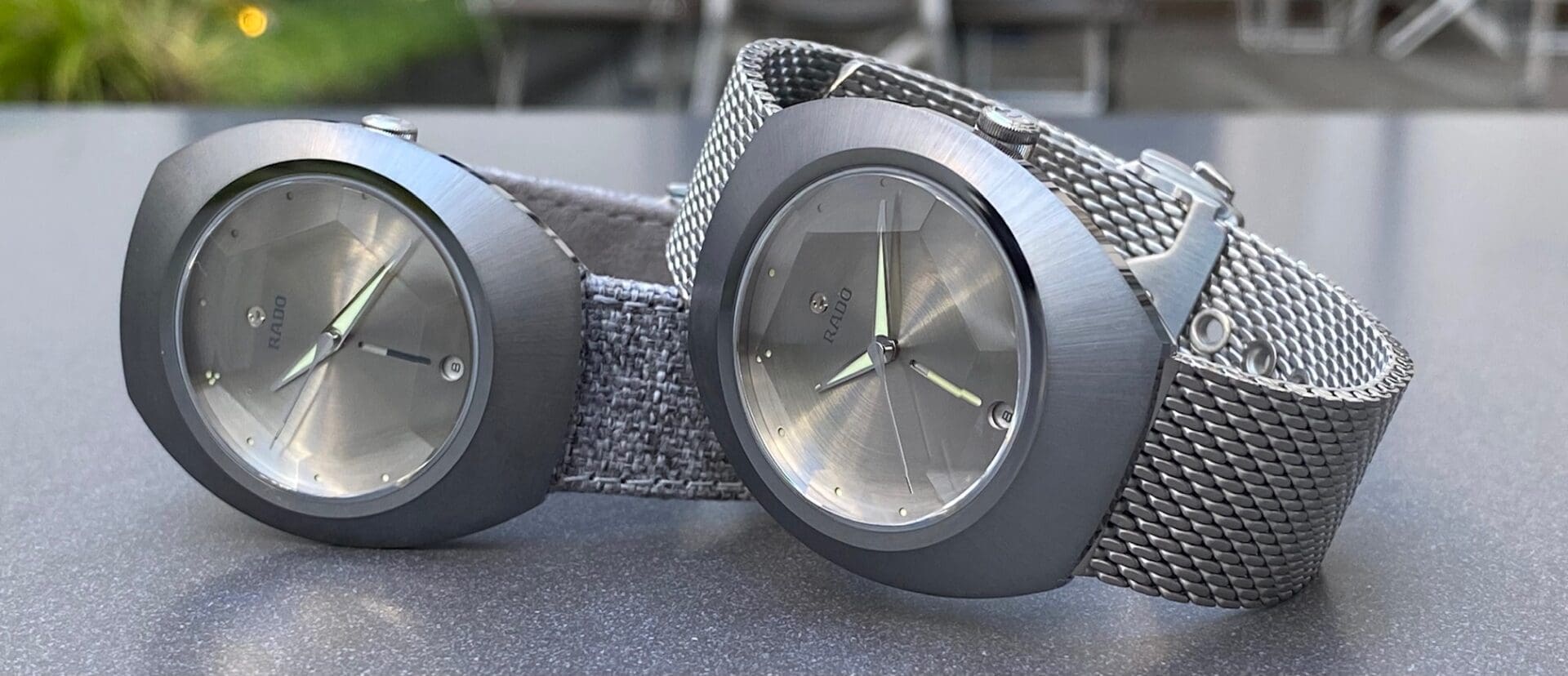 Häberli was already an admirer of the DiaStar, "I own one from the 1960s," he admits. What appealed to him about the design was the way in which it wore its hard-knock utility in such an elevated form. "It's really a watch for everyday life – a lot of people who worked in handcrafts wore it because it could handle a knock. But, at the same time, because of the shininess it always looked good, so it was a watch you could also wear out for dinner."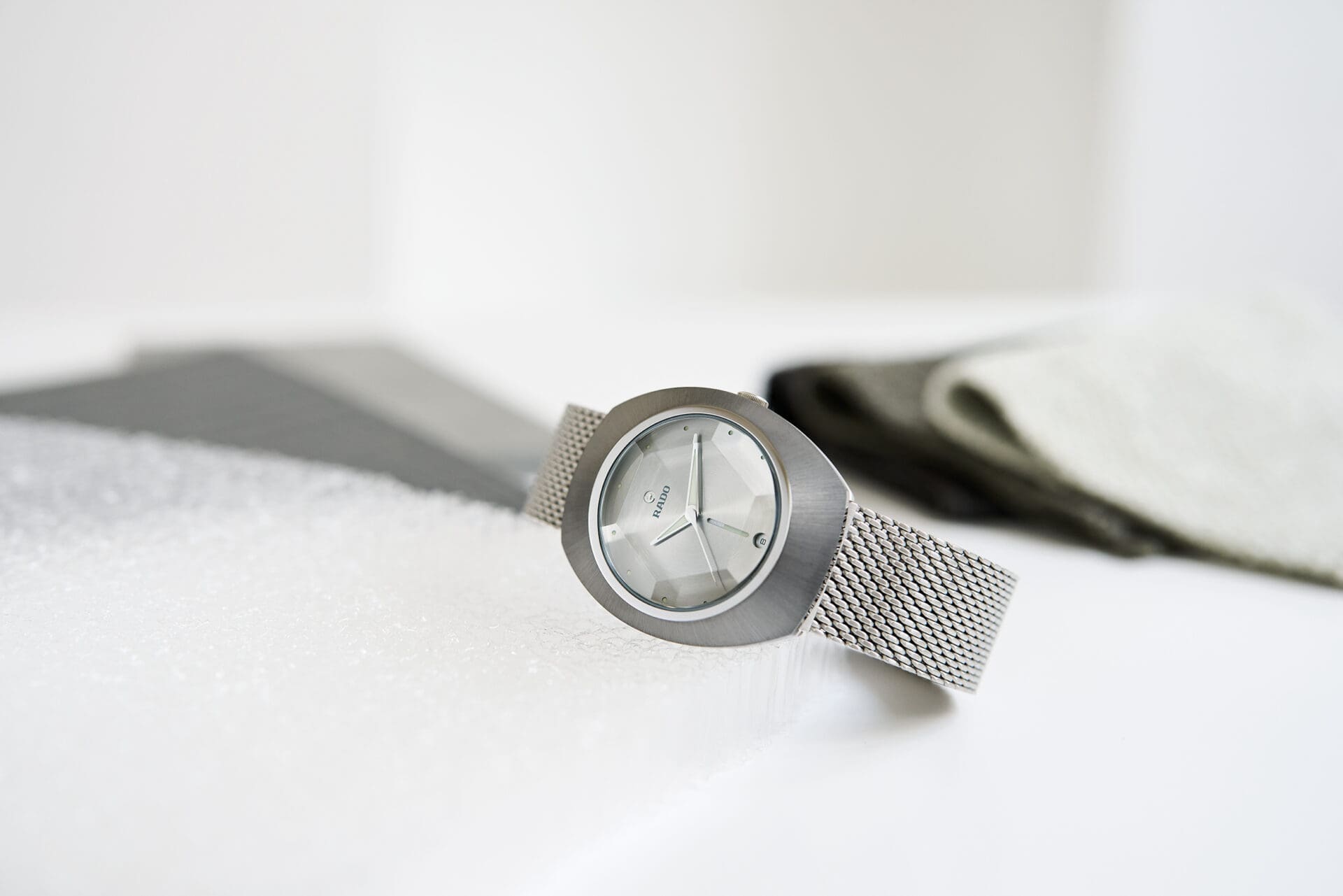 But how do you modernise a watch, whose entire image basically feels like a retro throwback to the 1960s? With the Rado DiaStar Original 60-Anniversary Edition, Häberli came up with a solution that makes it feel more sophisticated and contemporary without losing its soul.
Perhaps the most impactful change was Häberli's decision to change the exterior of the slimmed down case that measures 38m across and 45mm lug to lug. The name DiaStar is a portmanteau of the words diamond and star – "it's hard like a diamond and shiny like a star" says Bosshard. Häberli's new case on the DiaStar Original 60-Anniversary Edition, retains that strength as it's hewn from Ceramos, Rado's signature mix of ceramic and metal alloy. What's different is that he's strategically removed the sheen by brushing the case. "I brushed the case to show the geometry,"  he says. "With the shinier ones, the whole surrounding reflects so you don't really appreciate its architecture."
That unique case shape is further accentuated here by the muted colour tones of silver and grey.  Truth be told, some of the more extravagant, bejewelled iterations of the DiaStar can err on the gaudier end of the spectrum. But here, everything is monotone and ultra refined. The metallic grey dial, for example, is marked with dot indexes filled with natural colour Super-LumiNova, a silver-coloured moving anchor, a grey printed Rado logo and rhodium-coloured hands also filled with the same pale green lume.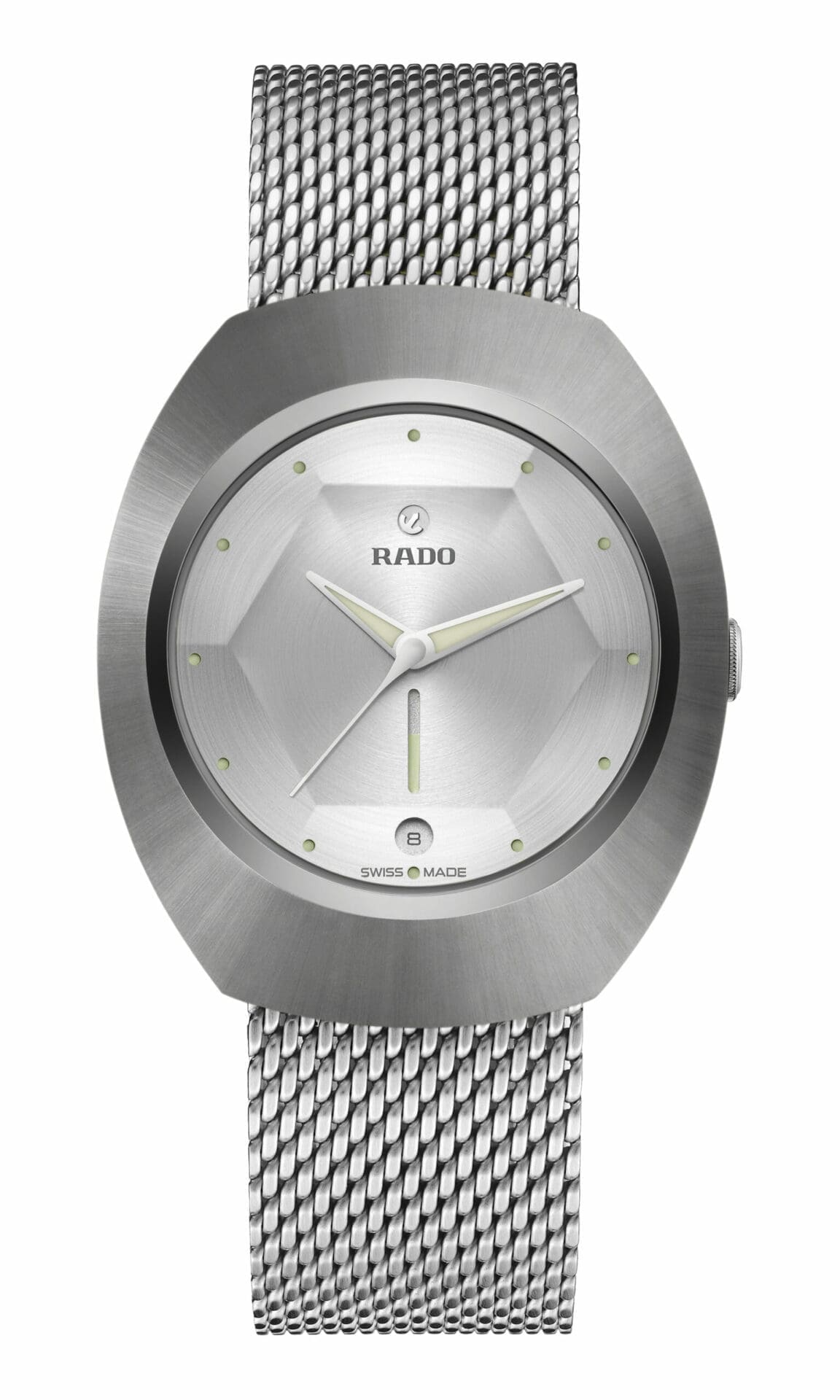 There's a very discreet date window at at 6 o'clock while the "day display" is brilliantly rendered in an inventive graphical form. The result is expressed a bit like a thermometer as a two-tone colour bar in grey and Super-LumiNova offers a rough suggestion as to how far through the week you've progressed without specifying the actual day. It's a nice touch that references the original design while reinterpreting it in a most stylish form. The sapphire crystal also nods to the 60th anniversary by having six facets to celebrate the number of decades.
The watch comes with two bracelets included. First there is a brushed Milanese steel strap with polished sides and openers. But the really interesting one is a grey textile strap that feels almost like tweed and highlights the textural variations across the case and dial. "It's a little bit more fashion, but done to create a stronger contract between the softness of fabric and the hardness of the Ceramos," Häberli says.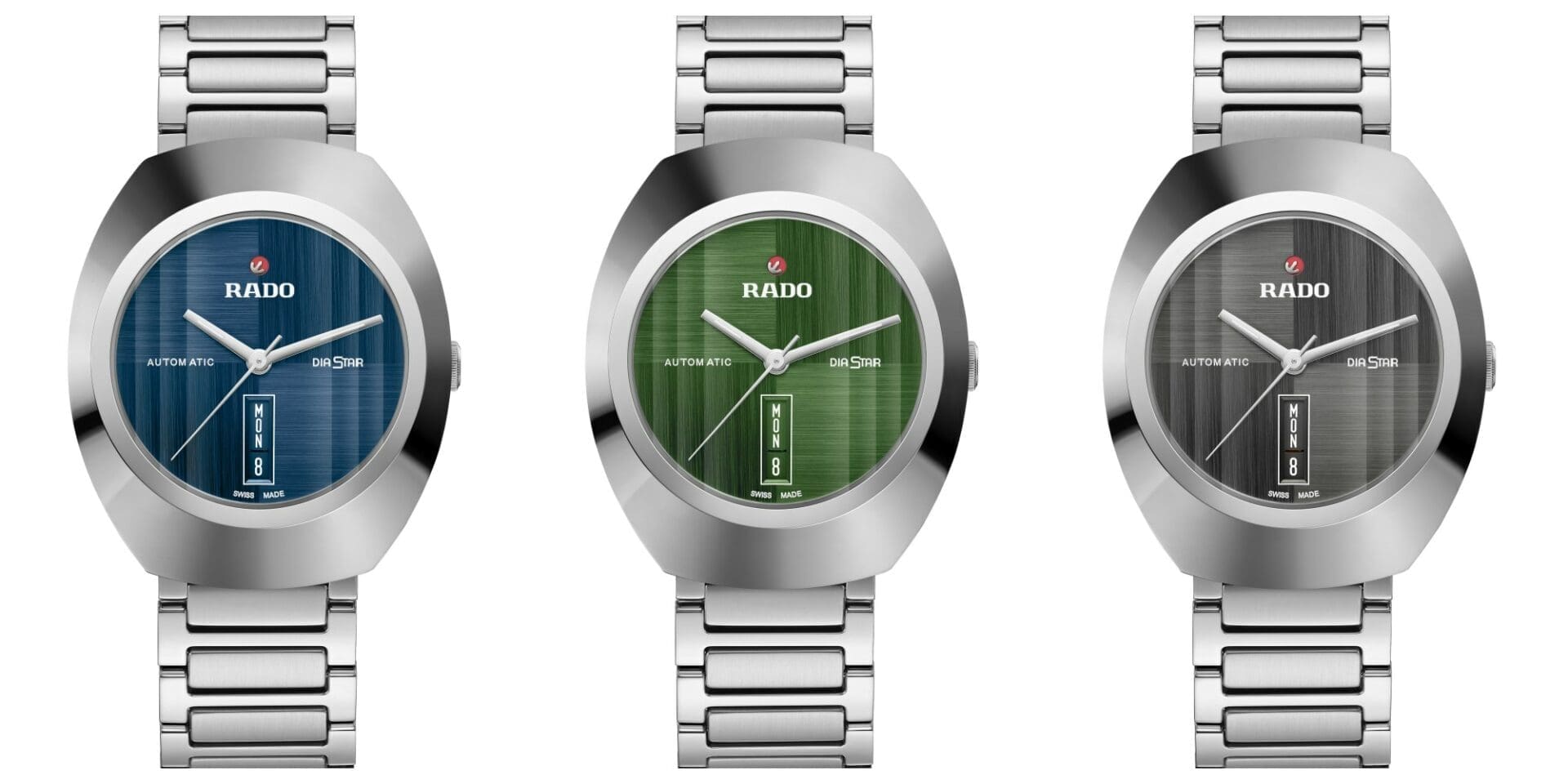 In addition to the Anniversary Edition, the other 60th birthday release is the DiaStar Original, a model with a polished bezel and a day/date window that's a little closer to previous incarnations. Available with grey, dark blue and green brushed dials, each has a linear pattern that adds texture while dancing in the light. Powering both this and the Anniversary Edition is the Rado calibre R764, an automatic movement with an 80-hour power reserve.
Collectively, the new pieces walk a nice line between creativity and restraint to bring the DiaStar into the here and now. While the original piece, for some, felt too much like a '60s relic, these new releases have a slinky minimalism to them in which every detail feels considered and precise.
Not that I personally need much convincing. What I've always enjoyed about Rado's most distinctive offering is the way that it packages its toughness in such a whimsical design. The DiaStar isn't that heavily tattooed bloke in the pub with the shaved head and biceps. It's the quirky character in the corner, who's not worried about trying to look tough because he's got nothing to prove. Although if push came to shove, he's actually really good at karate.
The Rado DiaStar Original 60-Anniversary Edition and Rado DiaStar Original pricing and availability:
The Rado DiaStar Original 60-Anniversary Edition is available now for CHF 1'850. The Rado DiaStar Original is available now for  CHF 1'350